Hello Everyone,
We continue to discover for you. Our container house on today's tour is from Westmont, Illinois, USA.
Modular living sounds good for those who know what this is. Modular living means living in a container area. Shipping containers made of steel can construct any location for living.
The sublime and robust houses are made through shipping containers presently. These give different looks. Sometimes, containers make a look of rough and tough and on the other times, these give a view of elegant living place. These may represent a decent home, or these can be a beautiful home in any nature existing location. Well, it all depends on the choice of the owner. ( Life Uncontained )
If you are an adventurer, you must want a home in the difficult places or you may be a rich person who wants an elegant home in the center of town.
The quality of the shipping containers that these fulfill all the demands. These can be assembled together in any design. We are consistently trying to discover container homes for your ease. Today, again a new different container home is going to be discussed.
A home in the town of Westmont Illinois, USA.
This container home is made through four shipping containers. These all are constructed at the construction site and then are transferred to this place. These all make a unique luxurious area collectively.
Two steel shipping containers are 40 feet. These are set at the upper level. One container 20 feet. It is set on the lower stage. The last one is the smallest container, and it connects two big containers. Overall, this home gives the look of one floor home. But it has a basement separately. Upper level has different portions and lower level has all the remaining parts in one shipping container. The other container contains remaining parts of the home.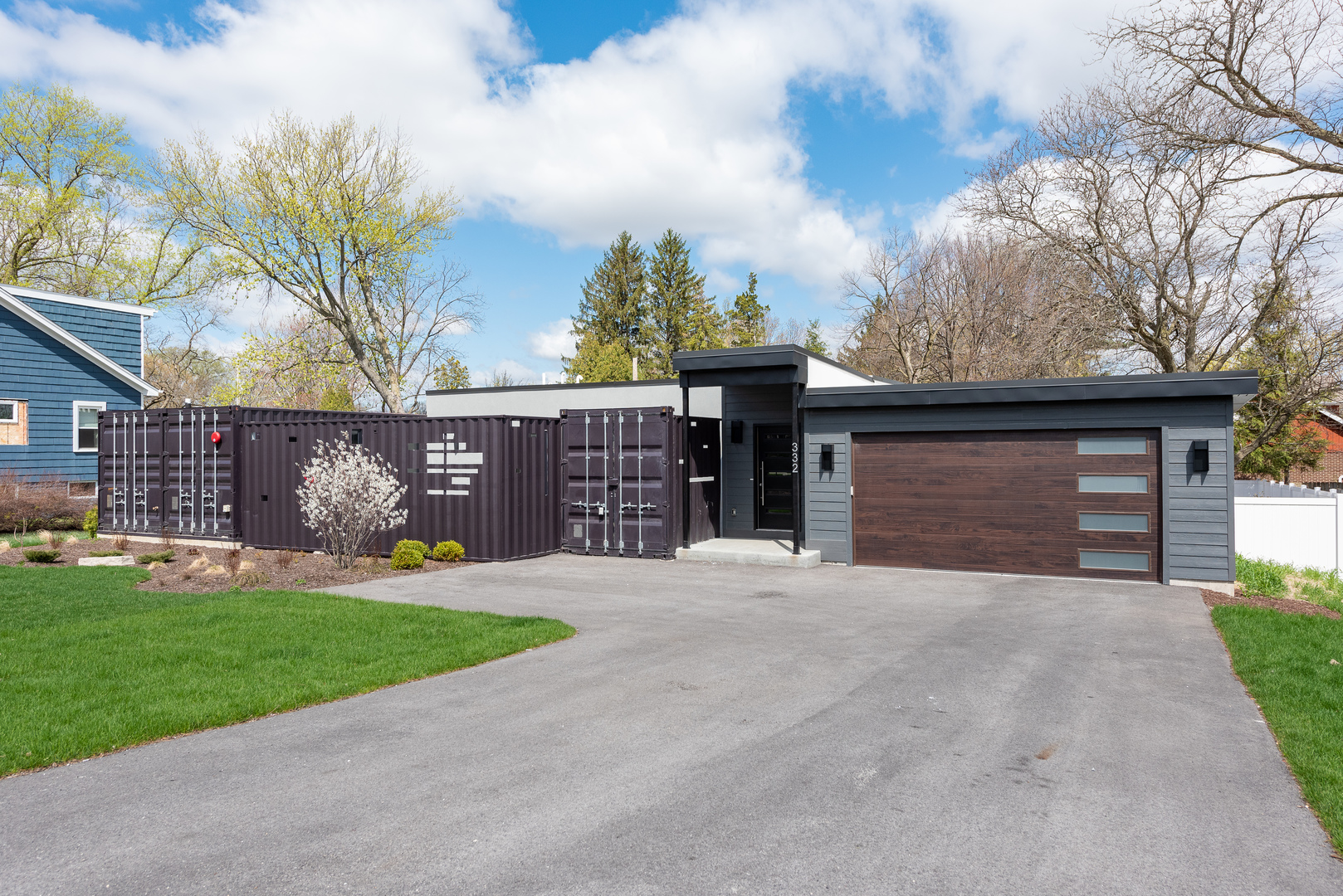 Entrance area with a parking area.
If we have an outer look of the home, first of all comes an entrance gate. This one is joined with a parking area for car or any other vehicle. The door is installed a few feet inside. Here, the ceiling has an LED light.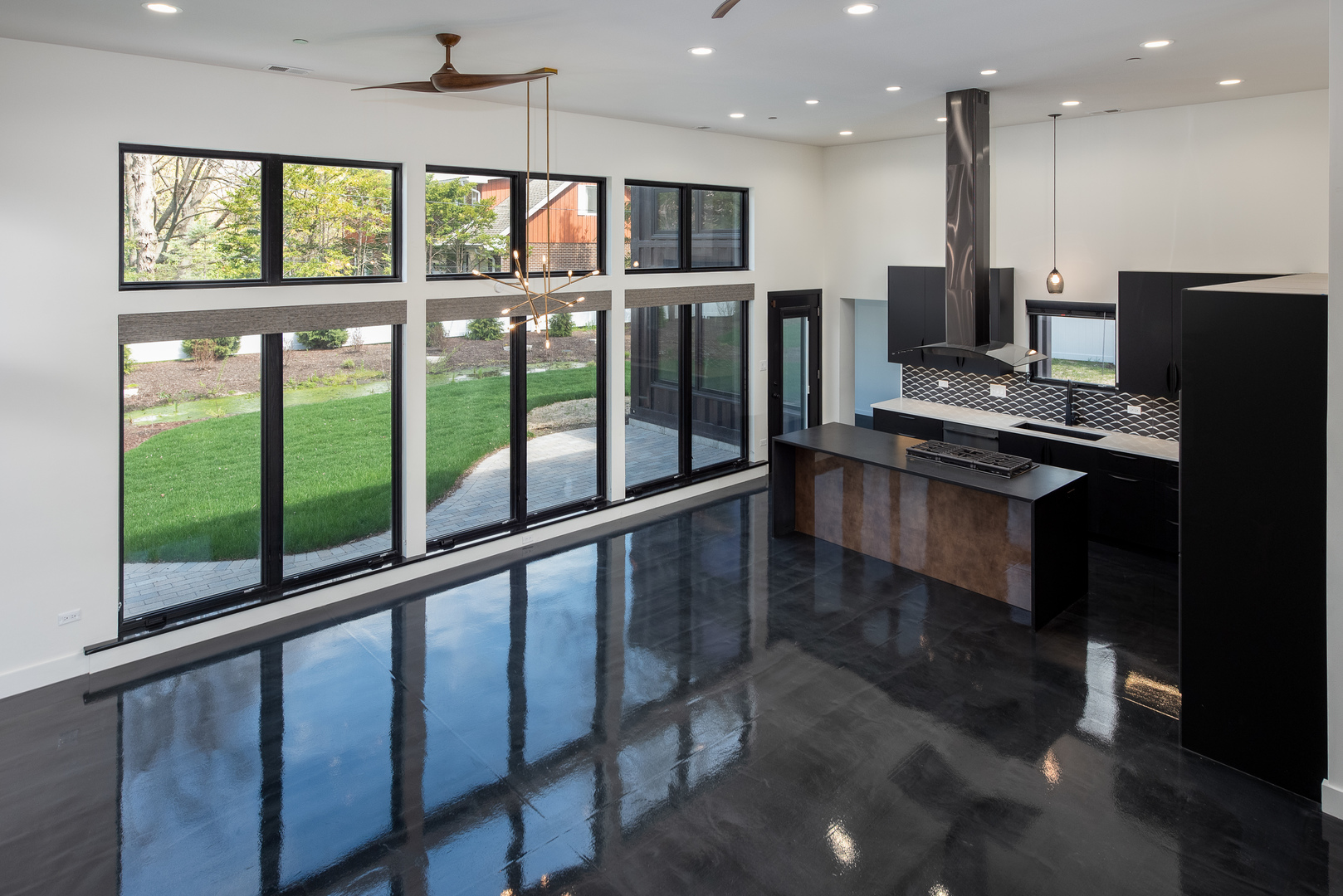 Upper-level architecture.
The higher part of the home begins when one enters from the entrance gate. The home has a large free space in this part. The floor is made up of tiles with black shine. The front wall of this portion is made of a series of glass slides. The day lighting directly comes here. In winter, it is the source of warmness as sun rays heat up this place.
By moving down to the stairs, kitchen is designed.
At the lower stage, directly comes the kitchen after stairs. This home has a kitchen with a black shine. Th kitchen also faces the glass slides. So, one can see outside easily while cooking. All facilities and accessories are provided here. This kitchen is unique in its look. The kitchen is aligned with a dining hall.
( Shipping Container House Models )
Next to kitchen, here is the lounge.
The sitting lounge for a family is joined to kitchen. These all are in one shipping container. Living room also faces the glass slides. Courtyard is easily visible from here.
The inner lighting system is well-maintained. The LED lighting system is fixed in the ceiling. In day timings, there is no need of electricity lighting. If sun light is there, it brightens the home enough.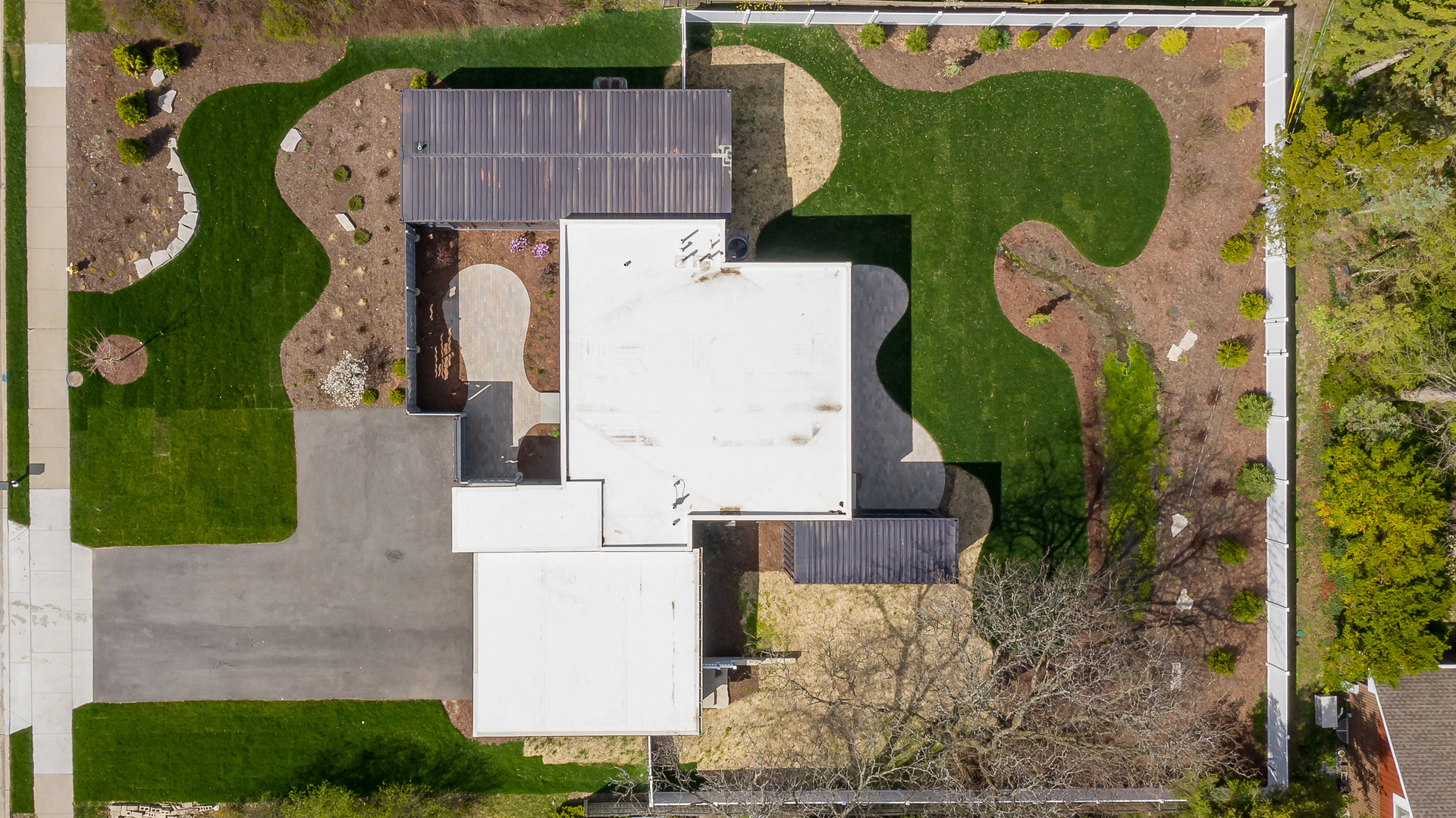 Courtyard between two containers.
If one comes out from the living area, a small container is used to make a courtyard. By crossing the courtyard, next container comes with bedrooms and bathrooms.
Architectural design of next shipping container.
Two bedrooms and two bathrooms are designed. One bedroom can accommodate double bed because this is large one. This has a bathroom with bathing and showering areas separate by glass walls. The other bedroom has also an attached washroom. One bedroom has a closet for keeping all the attire. This is large enough for a family.
This home also has a laundry system separately. The laundry is provided with voltage system to run all the appliances like washing machine, dryer.
Backyard for family.
On the rear of the house, there is a backyard. This is decorated with grass to enhance the calmness. In the evening, family living in this home, can have a teatime here. It becomes very important for a family to meet once in a day. Although, it is difficult in the present hustling bustling world, but this is essential to gain energy back. To unite once in a day, there must be a peaceful place in the home. This house fulfills this need. The backyard is broad, and it can be an area for playing cricket for children.
Price of this container home.
This one is priced as $525,000. This is still cheaper than the traditional home of same size. Traditional homes will cost more and will give less uniqueness. Container homes are different in this aspect. These are demanding by the people because their design can be modified at any time.
Heating system is designed to keep the home warm.
In winter, when there is an intense coldness in the weather, this home has the solution. The heating system is well-supplied to this container home to warm up in winter. In the day, if sun is there, direct sunlight warms the home. This gives a relaxation feeling.
Container homes can be yours.
Now, it is not only to dream about a premier looking container home. This has become possible that you can get a container home at cheaper price. Stay connected for a new one container home description.
Features
If you are interested in structures made with shipping containers, you can find what you want among thousands of container house models. Be aware of the contents by following our Facebook and Pintereset accounts.