Hello Everyone,
We continue to discover for you. Our container house on today's tour is from Columbus, North Carolina, USA.
Container houses are one of the best and different ways to live. Container houses are the houses which are made by shipping containers, container house design just gives us a new experience of living it also gives us a unique sight to see the world, today we have a Green Creek Shipyard Container Home, which is placed in Columbus, North Carolina.
It is a beautiful container house which is placed in a very peaceful place surrounded with trees and gives you are really sweet natural vibe.
This container house is a 40-foot shipping container that has been transformed into a very beautiful and suspicious vocational house. This house featured with modern style and well equipped interior space which is surrounded with a beautiful nature which allows you to live in nature with your privacy settings.
The interior design of this container house is a linear arrangement where are the most of the indoor functions linear part of the rewards creating enough room space for open plan and living movement.
Space has been split between a bedroom with a loft on one end, an open plan living space in the middle, and a bathroom phone at the fastest end.
The exterior of the container house is surrounded by the forest setting. The container house from the exterior has a black metal exterior with wooden beams and accent.
Number of containers: 1
Habitable space: 320 square feet
Container House Features
This beautiful container house contain
● 1 bedroom
● 1 Loft
● 1 kitchen
● 1 bathroom
● 1 open plan living space
● 1 pond
● 1 roof
● 1 deck
● 1 hot tub
Bedroom
The bedroom of this shipping container house occupies the opposite and of the shipping container, it has one large double bed with an ample amount of cushions.
The walls of the bedroom are painted with a bright white color which is illuminated by the light coming from the wall size glass which is placed right in the front of the bed.
That glass wall lets the natural light pass so the room illuminates with very peaceful light and it also gives you a very peaceful natural view whenever you wake up, morning with a beautiful view can charge you up and gives you positive vibes.
The minimal design of this bedroom feels cozy even though it's small.
Loft
Above the bedroom, there is loft space that can be accessed by a black ladder. The loft space is enough and well furnished with enough beddings and ample amount of cushions.
Loft space with beddings gives you more space for sleeping, loft space also contains a rectangular glass window which gives you an incredible view of nature with natural light, A glass window which didn't just connect you with nature it also spread the positive vibes in the form of natural light.
Kitchen
The kitchen of this container house is fully fitted with all the essential cooking accessories and appliances which make you feel like home, the space fitted with the sleek green under the counter black cabinets.
The kitchen is open-air and kitchen shelving with their gorgeous countertops making this container house flawless unit, with the bright space of the kitchen gives you more than enough light it to perform your cooking skills.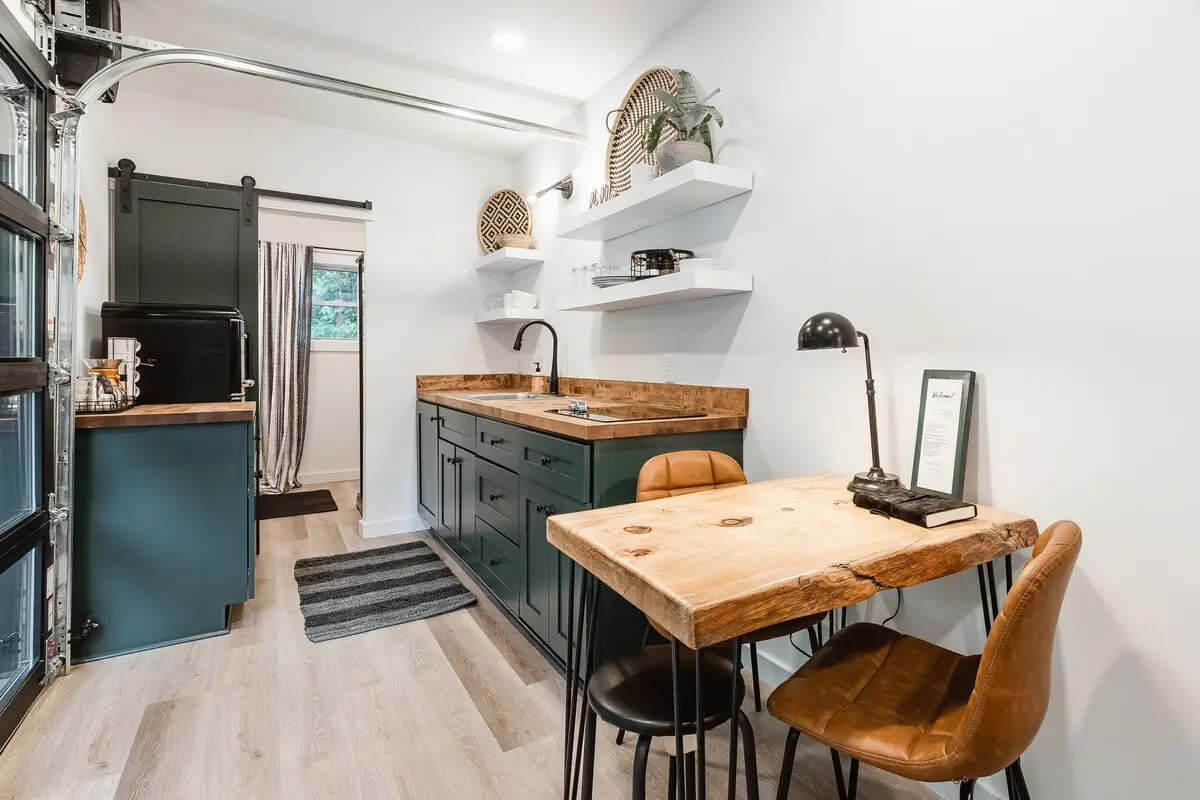 Bathroom
The bathroom of this container house is fitted with a stylish vanity top with a lot of storage and towel shelves, there is a toilet seat and also have a big mirror, for the bathing, there is a very beautiful glass shower box which has a rainfall showerhead which gives you a feeling that you are having a bath in rainfall.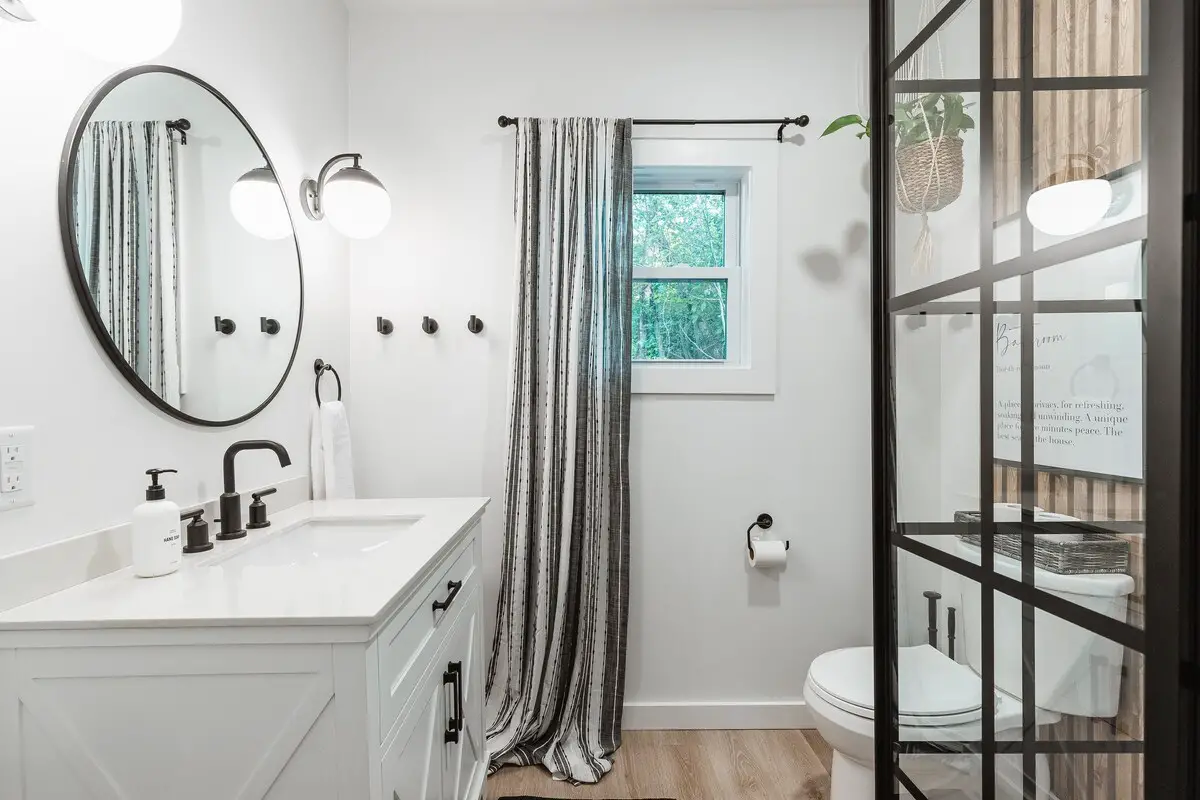 Open plan living space
This container house has an expensive open plan living space which features a cozy launched space furnished with a comfortable couch and custom coffee table, the open living space features wall-mounted TV, custom coffee table, comfy couch, beautiful floor mat, e.t.c.
Open plan living space has a full view wire remote control garage Glass Door that opens widely to the great outdoors. The entire container house opens up to become a livable indoor and outdoor living space so you are just one door away from nature just open it and connect with nature which has an incredible view and positive heartwarming natural light. ( Life Uncontained Shipping Container Home )
The open living space have the colored cozy sofa, which some selected pieces of artwork, pop up colors to their open living space, custom design dining table which is finished with raw edges with two chairs allows you to sit comfortably, living space has a split mini air conditioner to maintain the temperature of the house and it also has the regular house accessories which make you feel that you are at your own home.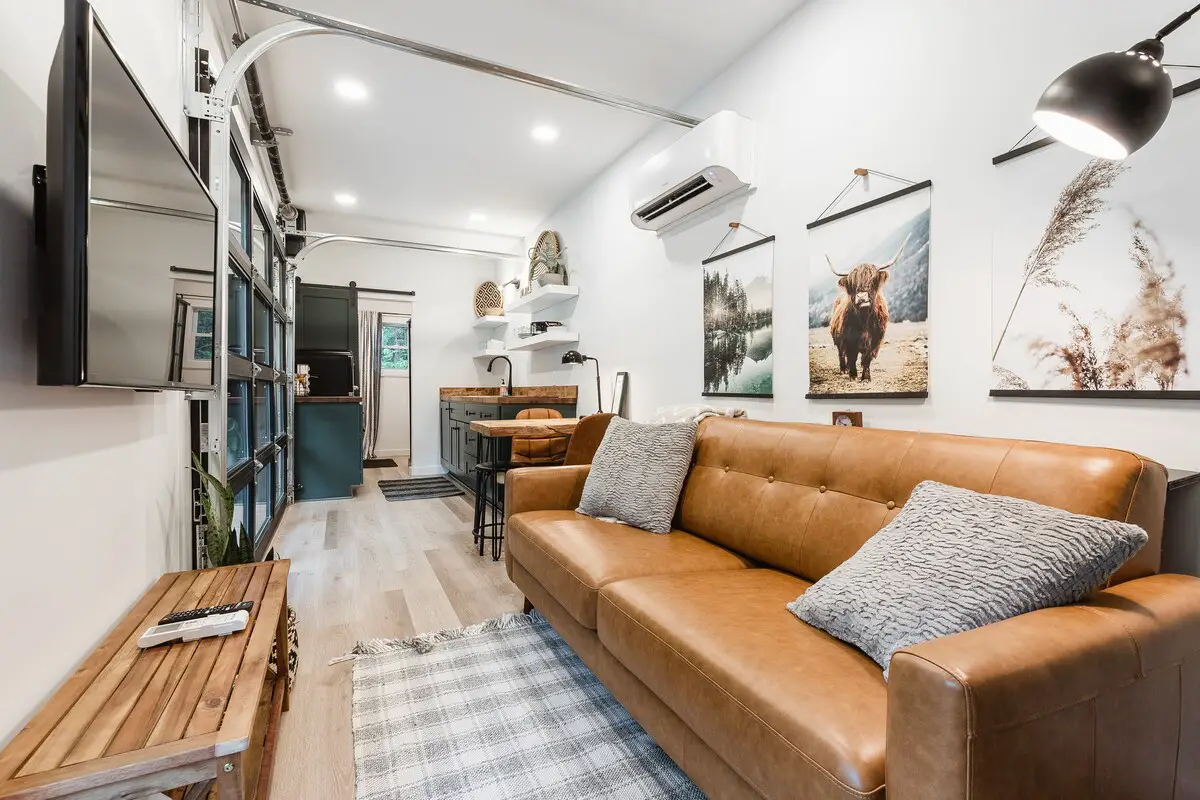 Pond
Holidays become very beautiful and peaceful when you are connected with nature and it affects more when you are sitting next to the pond, with well-manicured down hard landscaping with the ballast footpath which you will follow then it will lead you to the large water pond which is next to the forest, with the wooden chairs you can sit peacefully and have a beautiful outdoor nature connected experience.
Roof
The rooftop is very important for every house because it doesn't just show you the incredible view it also gives you the feeling that you are in the air. The rooftop of this container house has an incredible view where you can reach with the spiral steel stairs which are right next to the deck of the above entrance.
( A Breathtaking Shipping Container Transformation in Nature )
The rooftop has enough space for sitting, lounging, and outdoor dining. Holidays become incredible when you have outdoor dining like barbeque or evening cookout. The rooftop of this container house contains a barbecue section where you can cook and get directly into the holiday mood.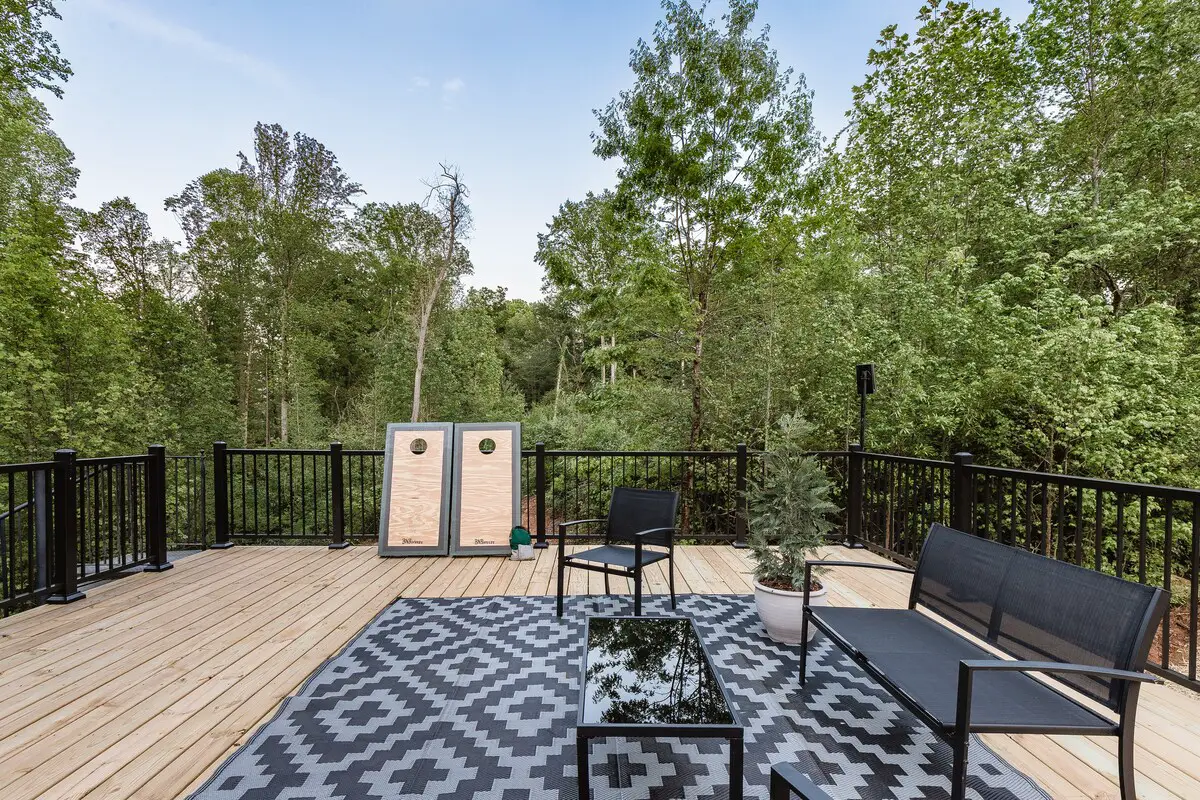 Deck
The outdoor experience with nature becomes incredible when you can sit peacefully without getting worried about the rain, the incredible Deck of this container house features stylish outdoor sitting chairs which are ideal for the outdoor lounging, and just because that deck is covered by the roof so you do not need to worry about the rain. the Deck gives you a beautiful outdoor experience so you can feel connected with nature.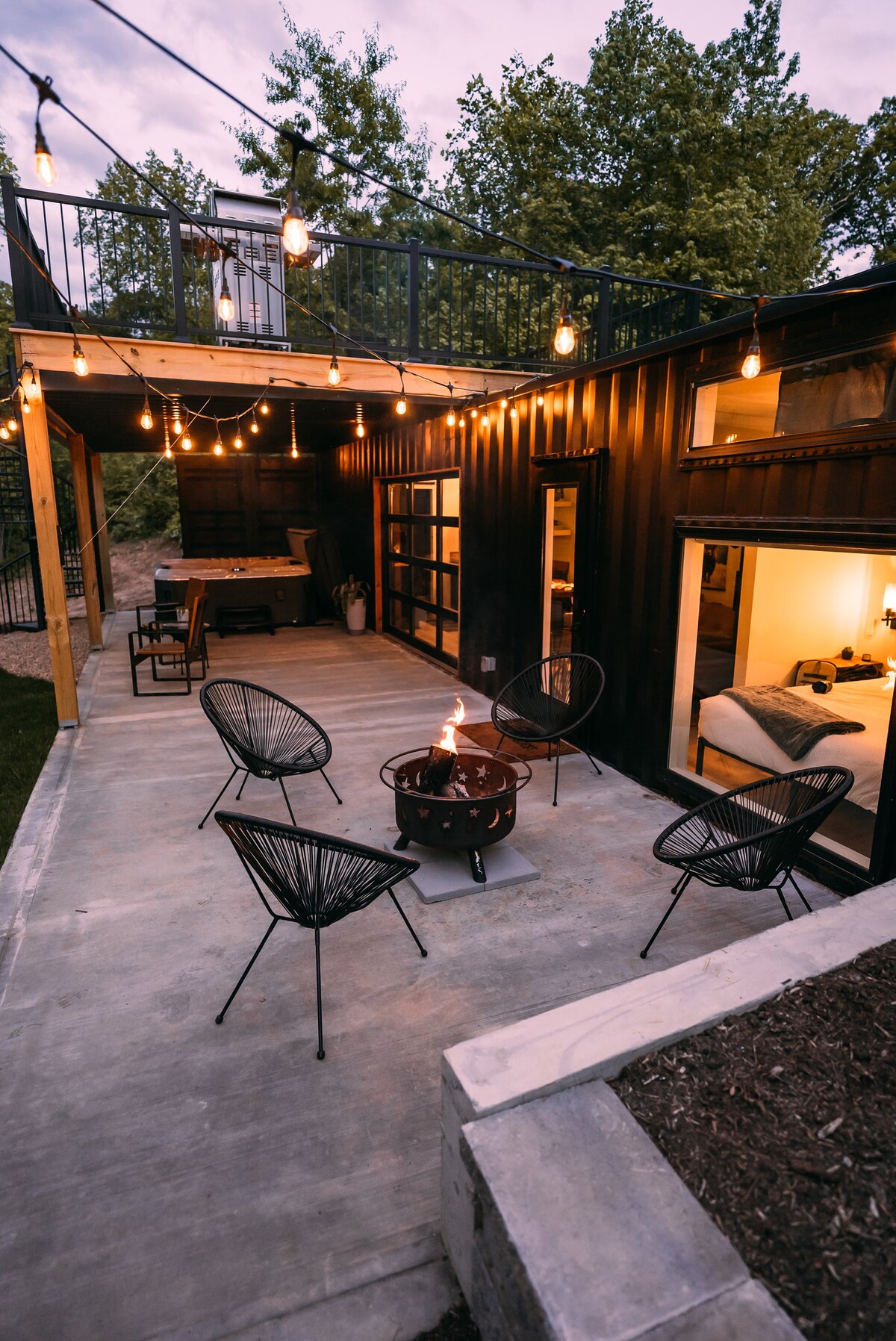 Hot Tub
When it's been a long day and you are so stressed then a normal bath is not enough to burst your stress and tiredness. so this container house fulfills your need with the hot tub which is on the Deck.
A beautiful outdoor place where you can have a hot bath which films your all the stress and tiredness at the same time connecting you with nature.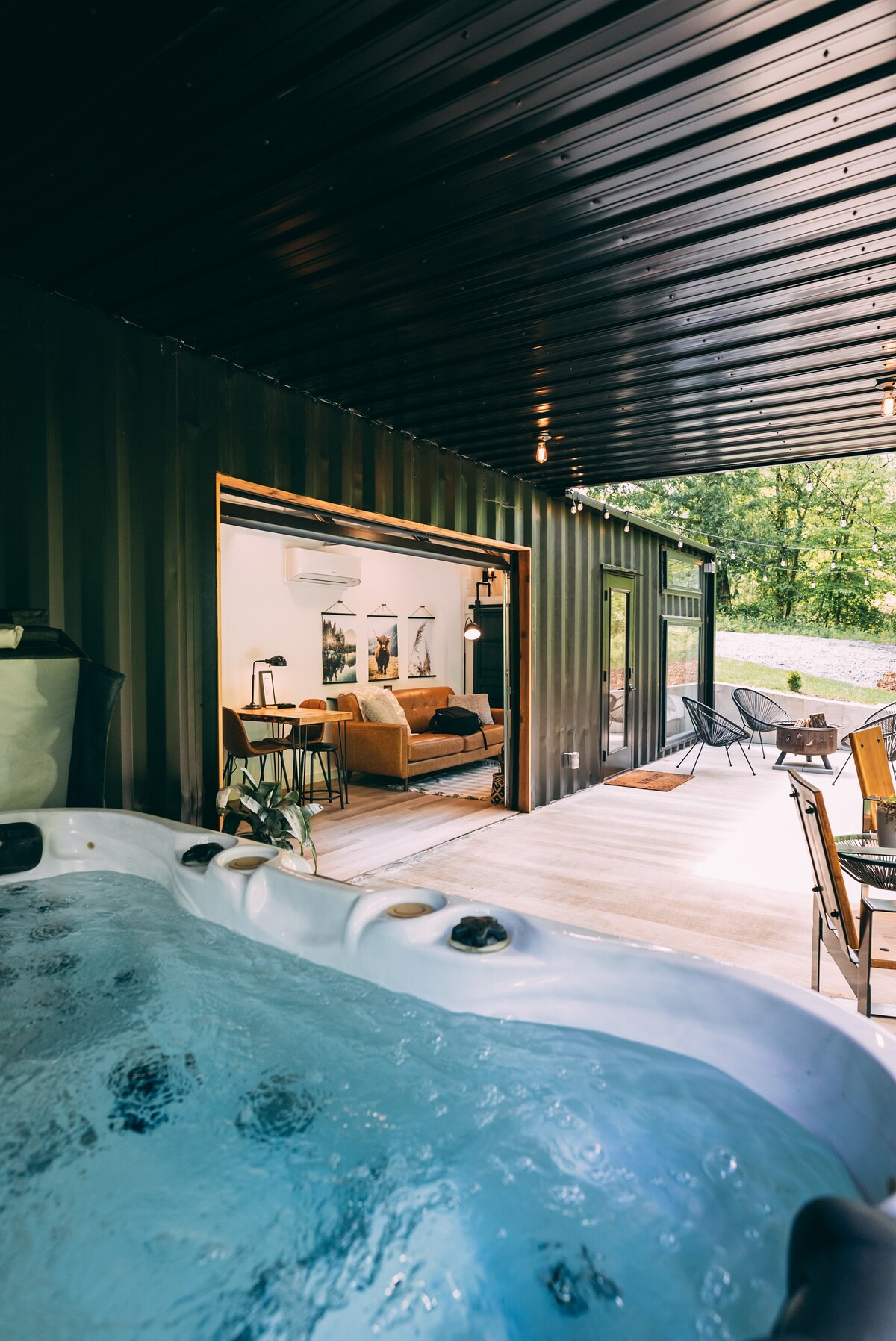 This container house has everything but you need to stay. It did not just enhance your relationship with nature it also so gives you everything that you need to live peacefully. $180 per night this is one of the best container houses to live in. ( Check Out AirBnb )
This gorgeous shipping container house transformation brings to mind one of the hugely popular container homes, The Lily Pad Container Home. I leave the link of this magnificent house below.
( The Lily Pad Cozy Container Home )
If you are interested in structures made with shipping containers, you can find what you want among thousands of container house models. Be aware of the contents by following our Facebook and Pintereset accounts.