Are you the person who is in search of stylish modern architectural design for his house ?
Are you confused about the selection of material of home ?
Have you ever seen a home made of steel shipping containers ?
Today, I am going to inform you about a fully modern home which is made of nothing other than containers made of steel. This is one of the most stylish homes on this earth.
Home is of intermediate size with all places which should be included in an elegant home of this modern era.
Do you think why modern era is shifting from concrete material to shipping containers?
There are many reasons behind this act. Never a thing can replace the other until it gets approved for it beneficial effects in the world. Same did by the steel shipping containers. These have replaced other materials for construction because of their well known qualities.
Home which is going to be discussed is modern and according to classic nature of the owner.
If you want to make a such home, ten you are at the right place.
Homes can never be beautiful until they are made according to the best architectural structure. Base of the home should be strong. Paint of the house matters. If it is not done in accurate way, then it will transfer into bad patch soon due to harsh effects of weather. Then owner will be worried.
So, each step should be taken with precautions in making of a beautiful home. Home is dream place of every person. Everyone wants that his home should be loaded with all facilities according to his capacity.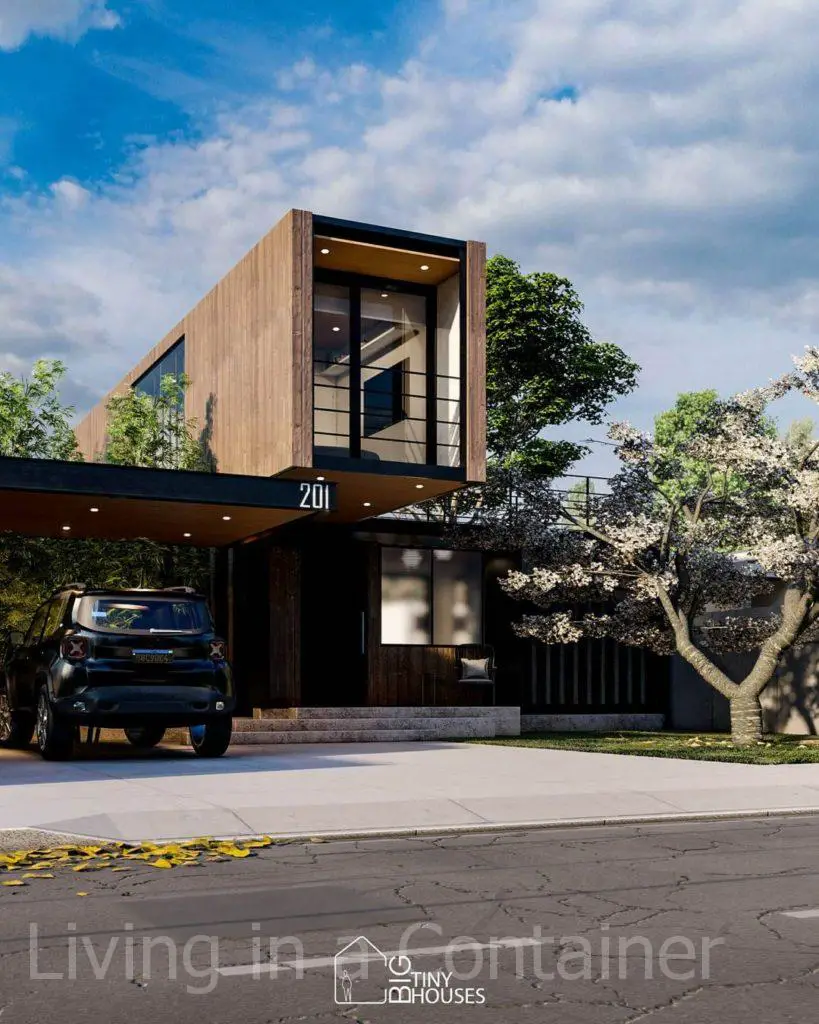 Home made of two steel shipping containers.
This amazing home is made of two shipping containers. These are of 40 feet. Wonderful thin is this that containers are making right angle to each other. One is set on the foundation length wise and other is set in the opposite direction on the container.
Home is of large size with enough space. It has mini lawn in front area and a large lawn at the back. Outer side of the house is painted black. The inner part is full with white tiles and white paint.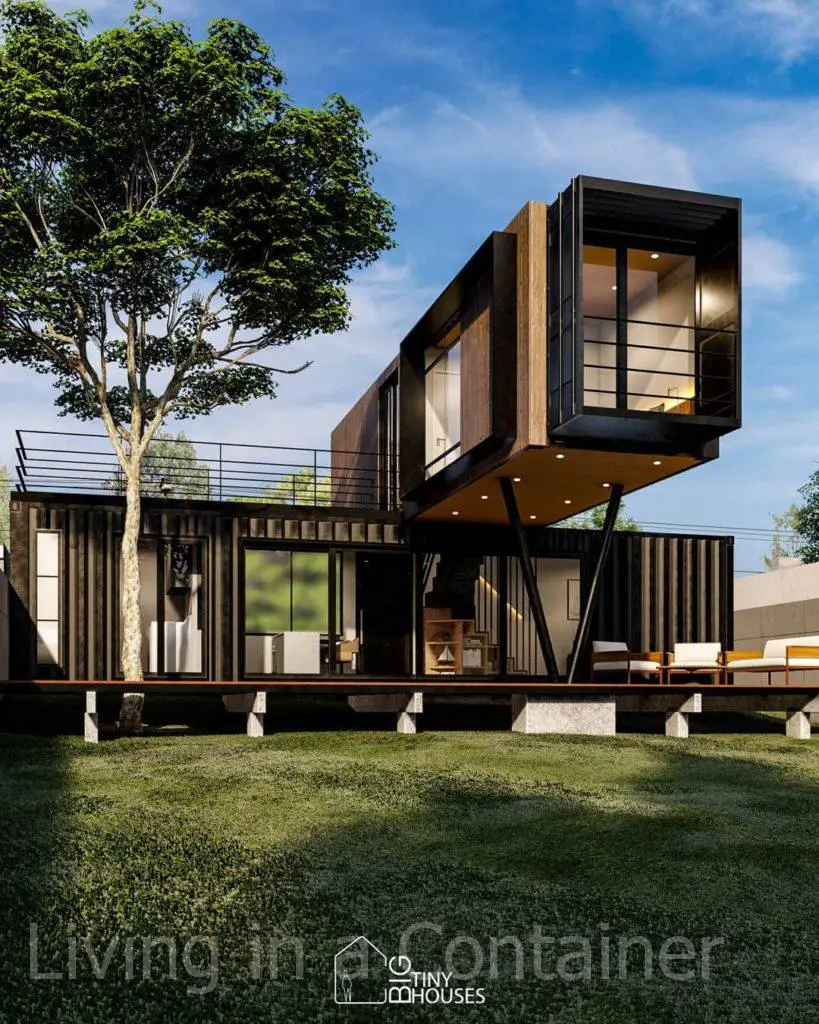 Home consists of two bedrooms.
This home is for a large family. Four people can accommodate in this lovely living area.
Two bedrooms, bathroom, shower room, kitchen, living room, laundry room, garage, balcony, terrace, study area.
Ground floor presents kitchen, bathroom, shower room, laundry room, living room.
All these parts are arranged in one shipping container on ground floor.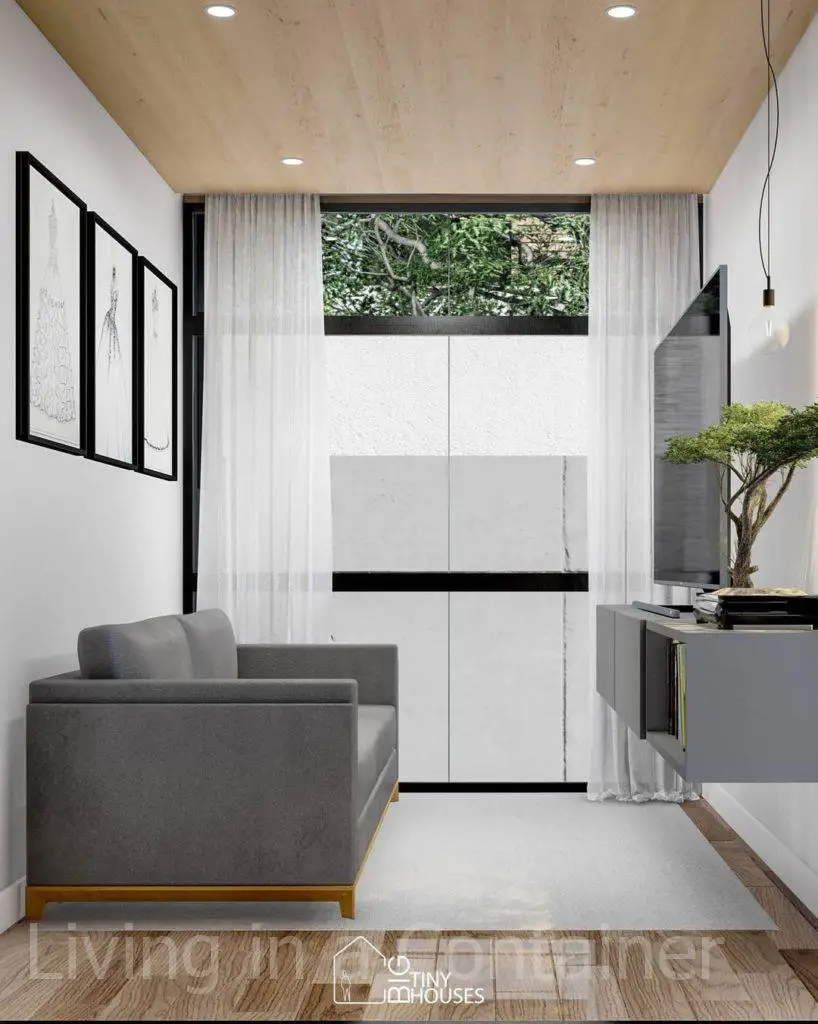 There is very stylish living room. This has a large LED which is set in wooden shelf. On the side of this, there is a glass window. Curtain is hanged along the window. In front of LED, there is a seating sofa. This is white in color. Table is placed in front of sofa.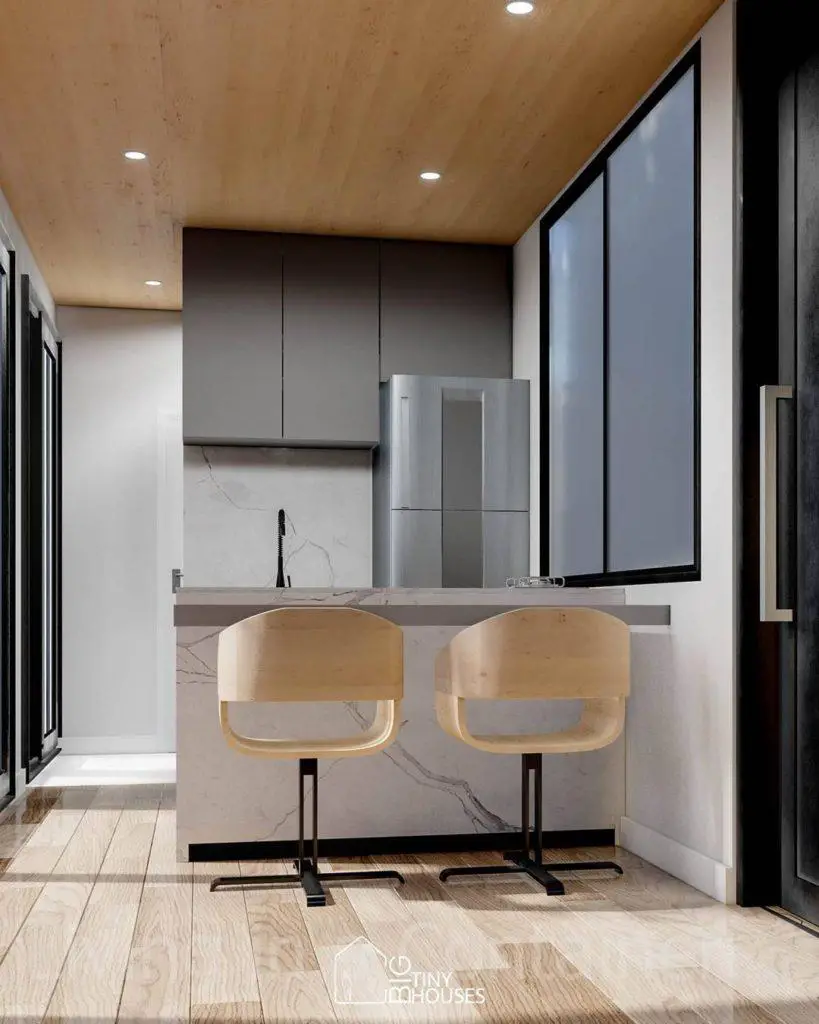 Kitchen has a sink, stove and grey colored, large sized refrigerator. This is set in the shelf. Cabins are designed. Lights are fixed in ceiling of kitchen area. There is shelf of tiles. Two white colored sitting chairs are placed in front of this.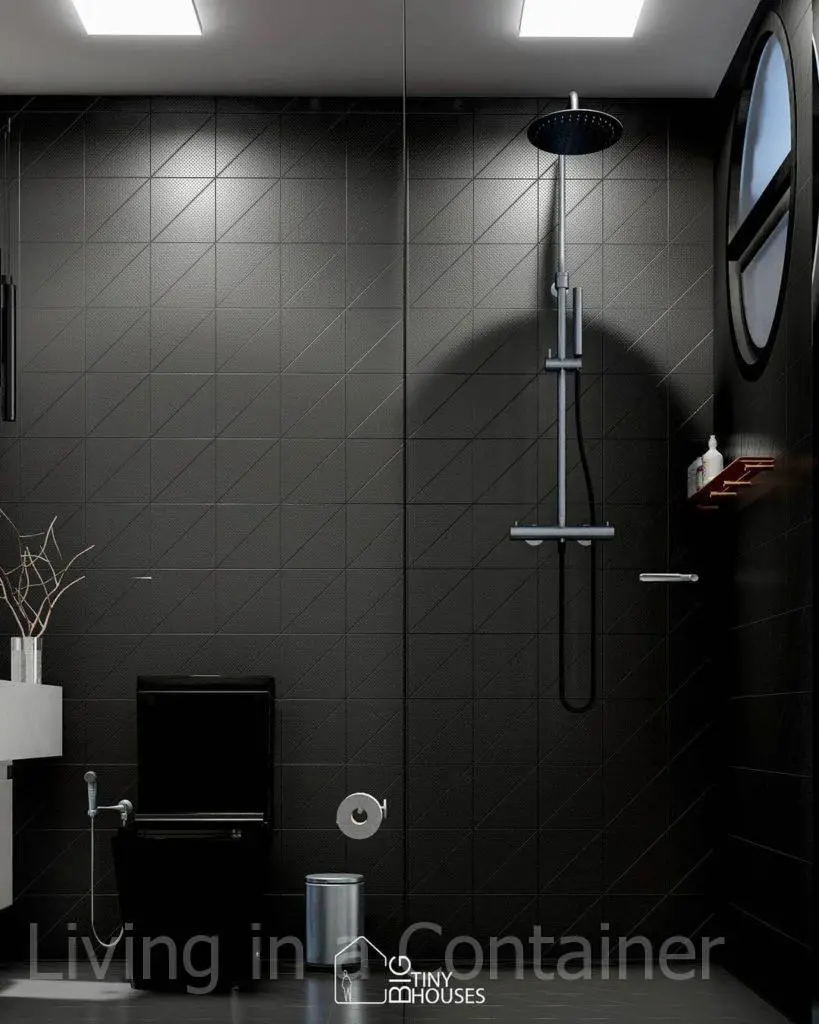 Bathroom has a white colored toilet. Bathroom walls are black in color. Then nearby is shower room. It has a shower and black colored walls.
Black colored stairs move up to the first floor. These stairs have a turn. Railing is along the stairs. Below the stairs, there is a shelf made of wood. This shelf has space for books. So this area also gives a classic view.
Similarly, when stairs present a turn, there is a broad part. Here, a table and a chair are placed. One can sit here to study or have some work on laptop. Exact front of this part is glass window. This window gives the outer view.
In one corner, washing machine is placed for washing of clothes. Sink is set there. Anyone can easily wash clothes here.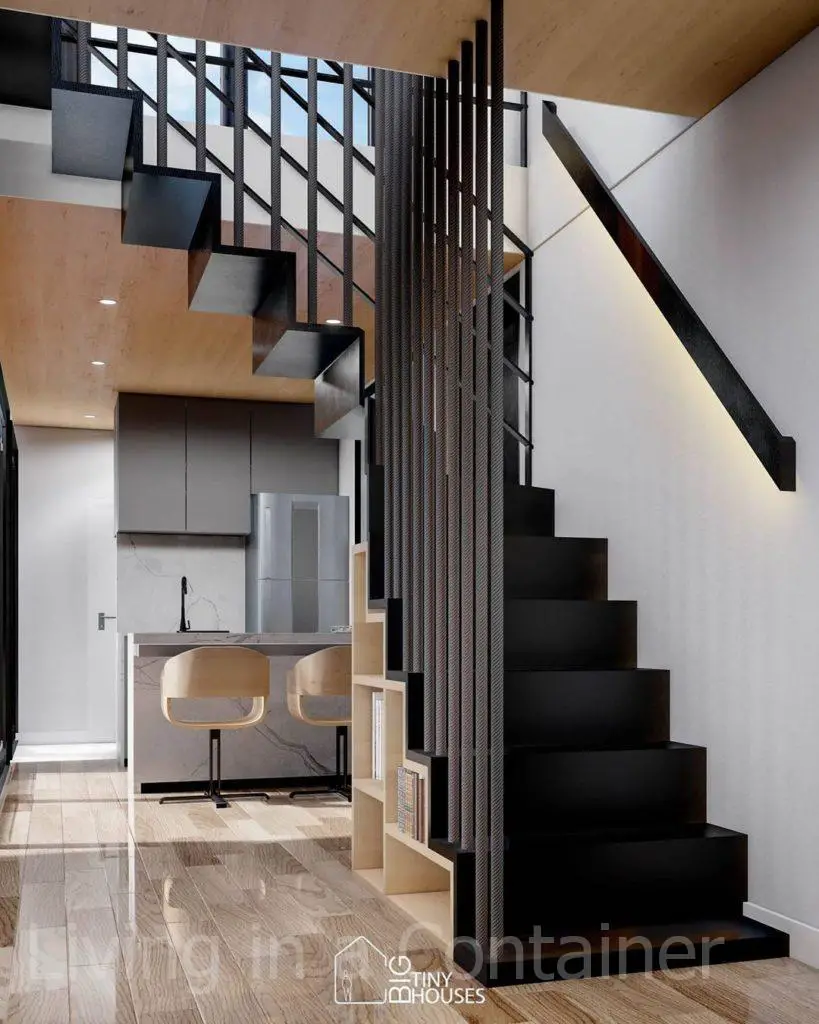 Moving to first floor, there are bedrooms.
Two bedrooms are on first floor. These two are master bedrooms. One bedroom is at one corner and other is on the other corner. Closets are set these bedrooms.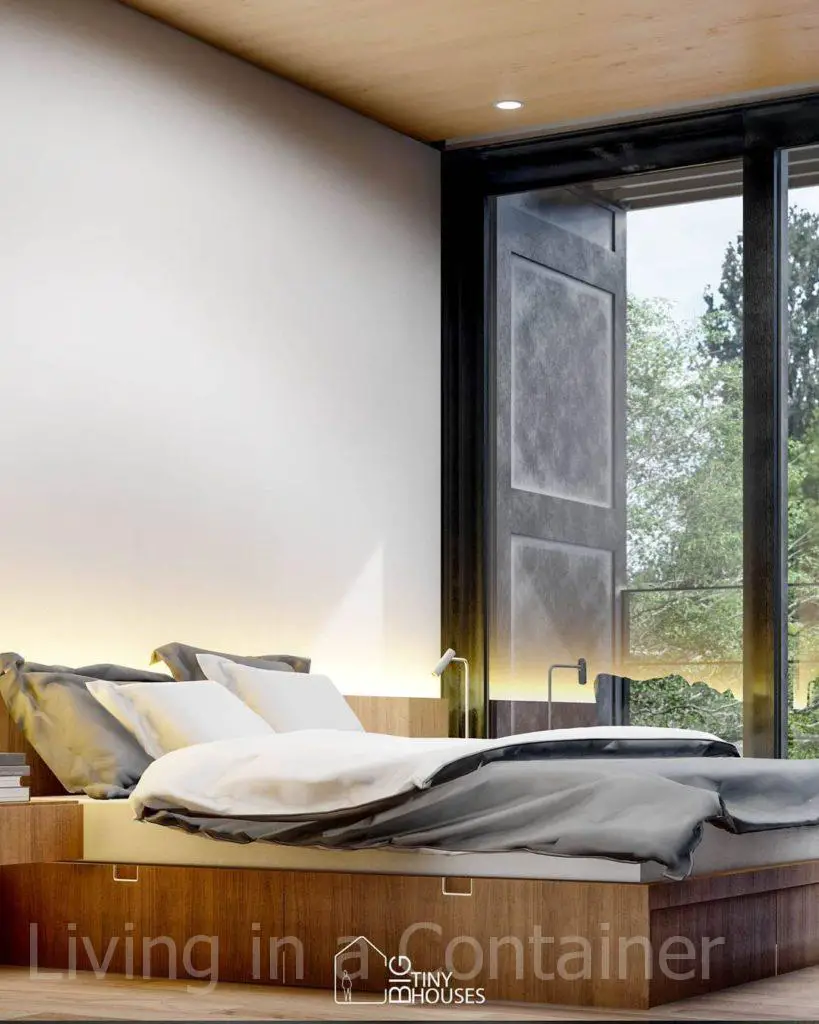 Both bedrooms have glass sliding windows. Terrace is at the center of container. Outer side of container is covered with designing. Terrace is surrounded with steel railings.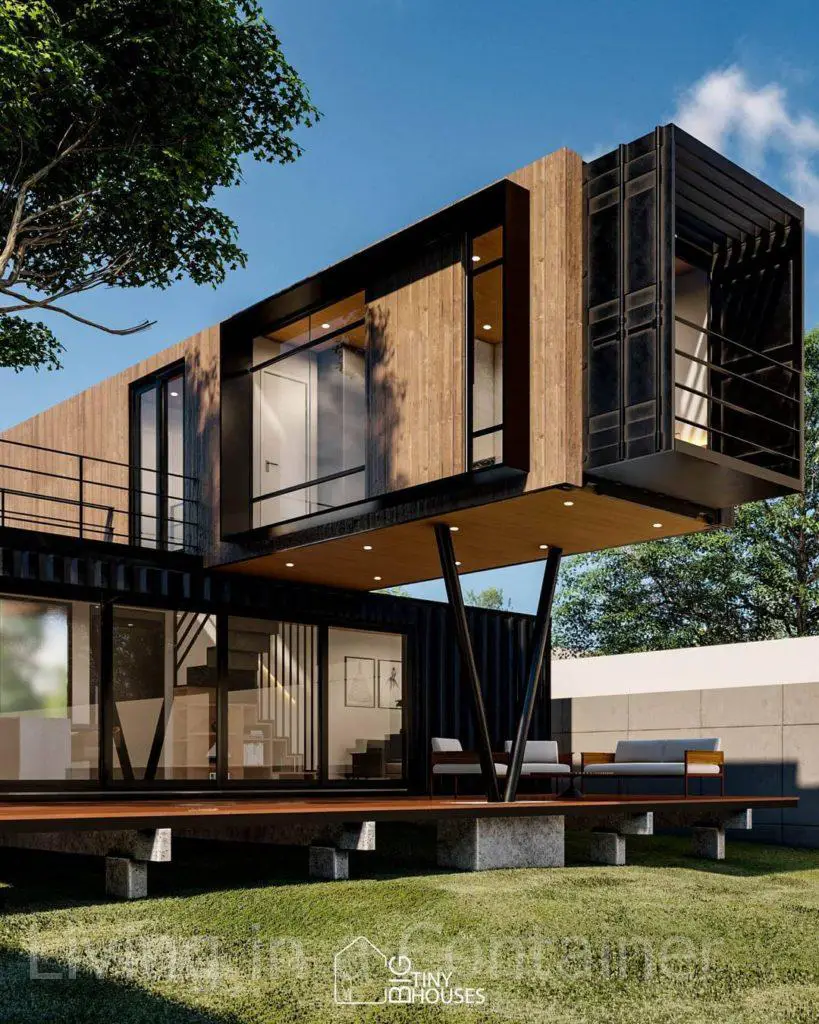 Exterior of the home presents a garage, balcony, lawn.
On front of the house, there is a garage. This is covered by a shade. In front, there is a small path of grass and a tree is there. On the back of house, a porch area is designed. Its floor is made of wood. This area has large seating sofas of white colored.
Lawn is large in size. This lawn has plane grass. Whole area is covered with grass.
Description of this modern styled container home ends here.
If you are interested in building this container house, you can contact 'Big Tiny Houses' here.
INTERESTED IN MORE CONTAINER HOUSE PLANS?
---
CHECK OUT MORE AMAZING CONTAINER HOMES BELOW!
Great Container House from Mexico
The Lily Pad Cozy Container Home
Life Uncontained Shipping Container Home
Shipping Container Home Ontario – Canada
We are researching and showing you the structures made with shipping containers around the world to give you an idea.
Do you come across stunning stories of individuals who built their cargo container houses with their own hands on Youtube, Instagram, or many other platforms? Okay, so now is the time to be one of them!
This e-book, which we offer you and contains all the theoretical details and practical steps you need about the container home building process, will be your real assistant! What's in this book? Let's explore now!
Buy now for more!