$579,900 Shipping Container Home in Saint Petersburg, FL
Looking for an affordable, unique container home?
This shipping container home in Saint Petersburg, FL may be just what you're looking for!
Priced at $579,900, this 3 bedroom/2 bathroom home is perfect for those who want to live outside the traditional box.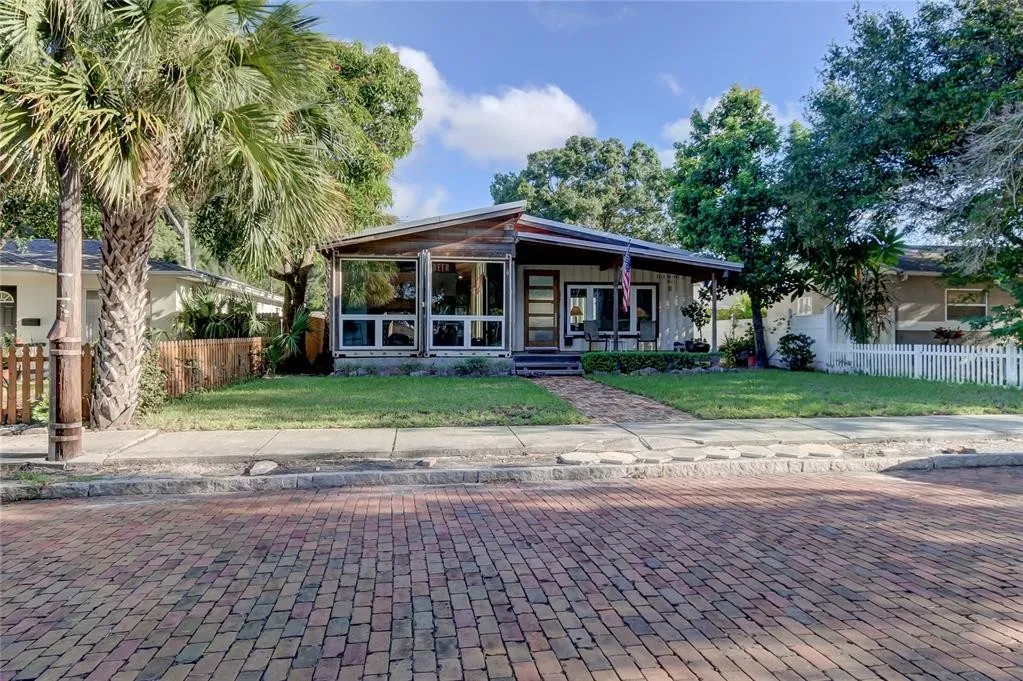 If you are looking for a unique house that stands out from your typical suburban home, this custom-built shipping container home on the brick streets of 5th Avenue S. in Bellecrest Heights is the perfect option for you.
From the outside, this 2017 house has the classic look and feel of an old neighborhood that has been well established, while inside it is completely modern with all the creature comforts you could ask for in a home.
Whether you appreciate being part of a beloved community or prefer to challenge your comfort zone with something new, this property offers its residents both.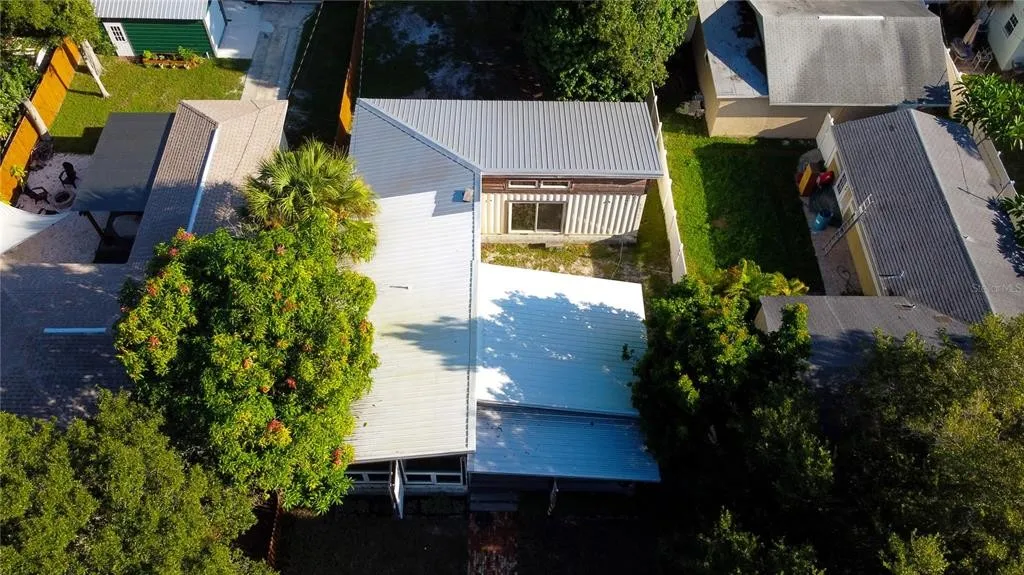 Who would have thought that their dream home could come in the form of 5 reclaimed shipping containers?
This home is the perfect combination of industrial style and modern living, offering a robust 1600 square feet within three spacious bedrooms, two full bathrooms and interior laundry.
Now being able to enjoy all the amenities indoors, this unique house also sits atop a block stem foundation reinforced with rebar and concrete for extra support and long term enjoyment.
Read Also : 3 Bedrooms Luxury Shipping Container House Model by Priscila Azzini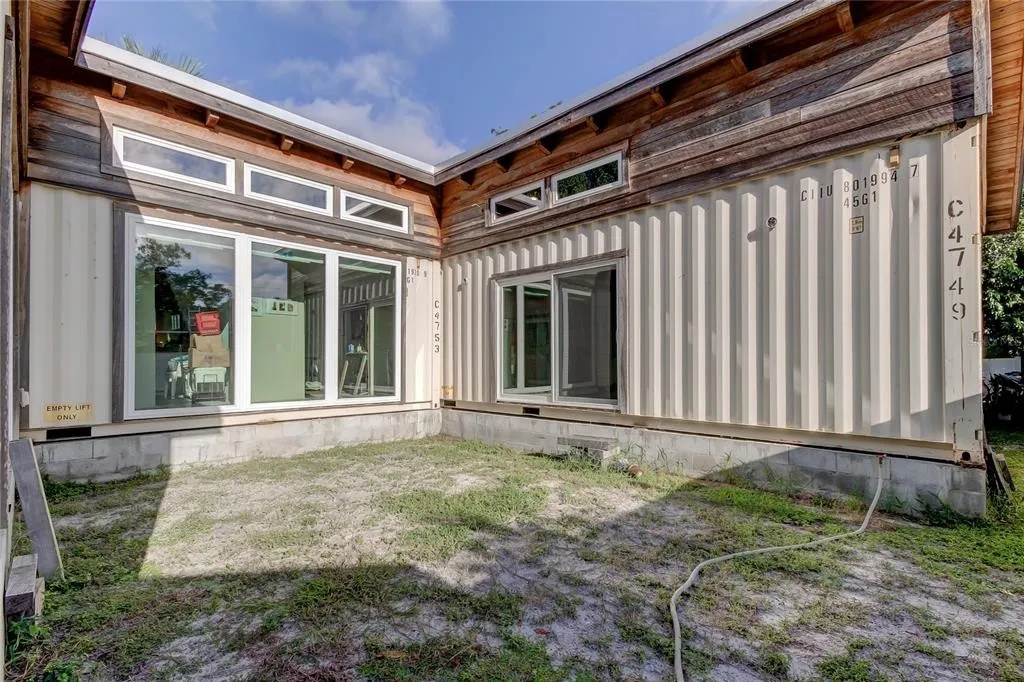 A perfect choice for anyone looking for a convenient, classy home made from sustainable materials – this is truly a must see!
As you approach this home, it's clear that every element has been carefully curated. The unique Chicago brick sidewalk sets the tone as you make your way up to the porch made of cypress wood.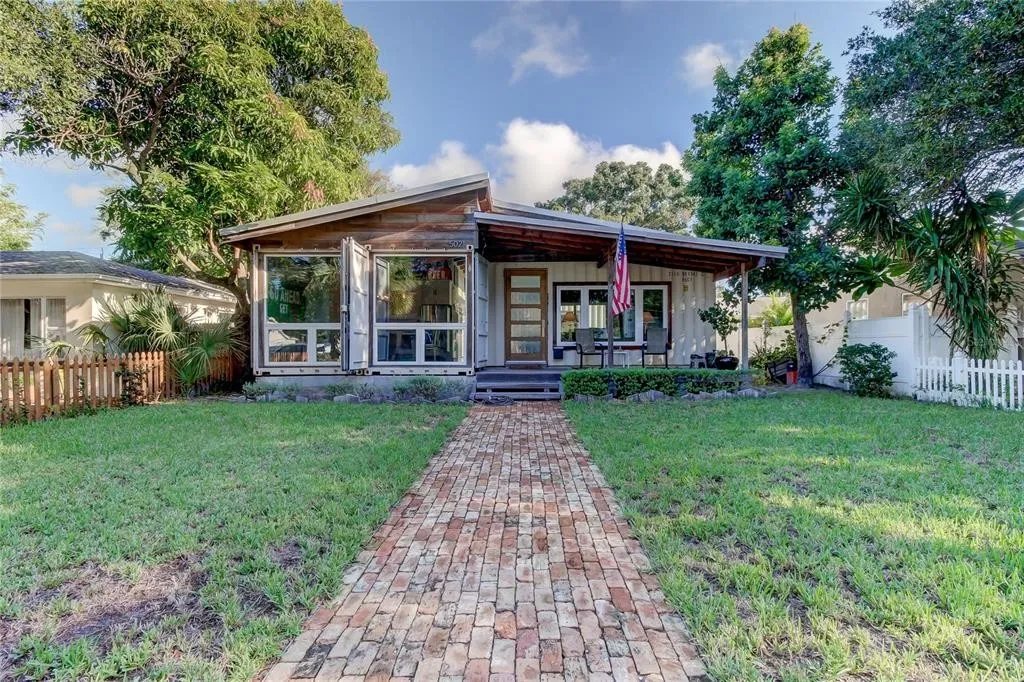 Furthering the awe-inspiring entrance is a modern 4′ x 8′ Red Oak Colorado front door with five intricate rain glass inserts. It provides a seamless integration of traditional and modern influences sure to create lasting memories for visitors.
Upon entering the home, it's clear that every detail of its design has been carefully considered and implemented. A spacious open floor plan with plenty of light and airy space is made even more stunning by the gorgeous vaulted cypress tongue and groove ceilings – truly an eye-catching feature!
More light fills the house due to the large high efficiency Pella windows and sliding glass doors.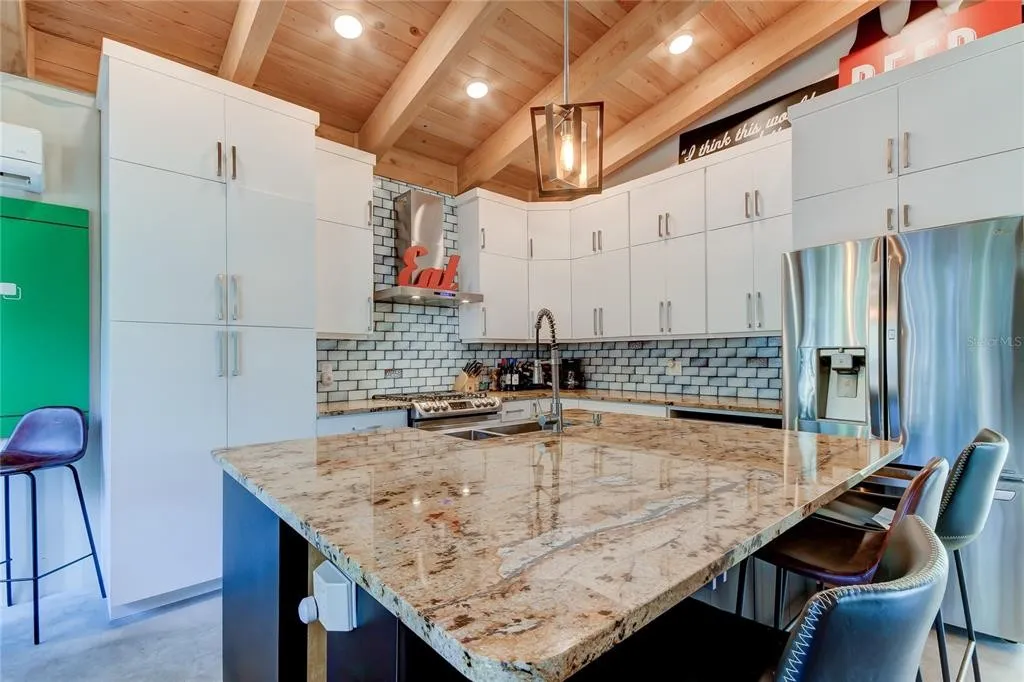 Kitchen
This beautiful kitchen is truly a dream come true. Whether you're an aspiring chef or just like to prepare meals for your family, the Brazilian Lapidus granite countertops and the large island with seating will give you plenty of space to make all of your culinary creations.
With the stunning blue Portuguese backsplash tile that perfectly complements the cabinets and stainless steel LG appliances, including a gas range, microwave and refrigerator, all of your baking, cooking and meal prepping needs are right at your fingertips.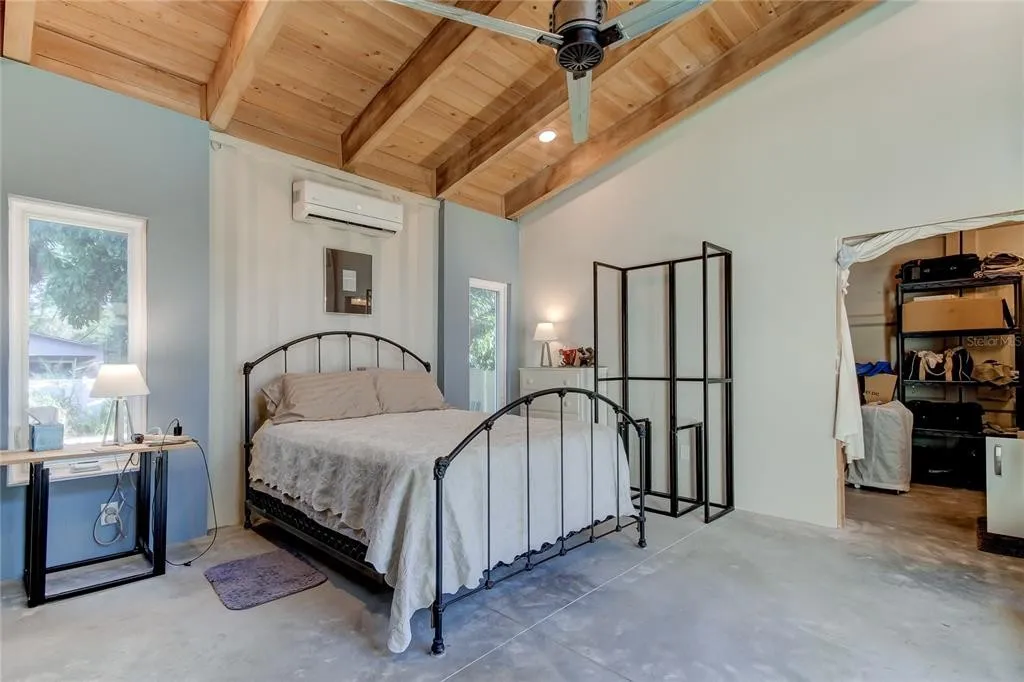 Bedrooms
Two additional bedrooms (one does not have a closet), hall bath and the interior laundry closet with washer and dryer complete the home.
The home is complete with two additional bedrooms, one of which doesn't have a closet. Each room is a cozy place that allows for comfort and peace.
Read Also : 3-Bedroom Container Home in Isabela
The hall bath provides an area for cleaning up and freshening up no matter the time of day.
An interior laundry closet with washer and dryer allows for washing to be done quickly, easily, and conveniently without having to leave the home. This perfect addition adds efficiency and usefulness to the residence.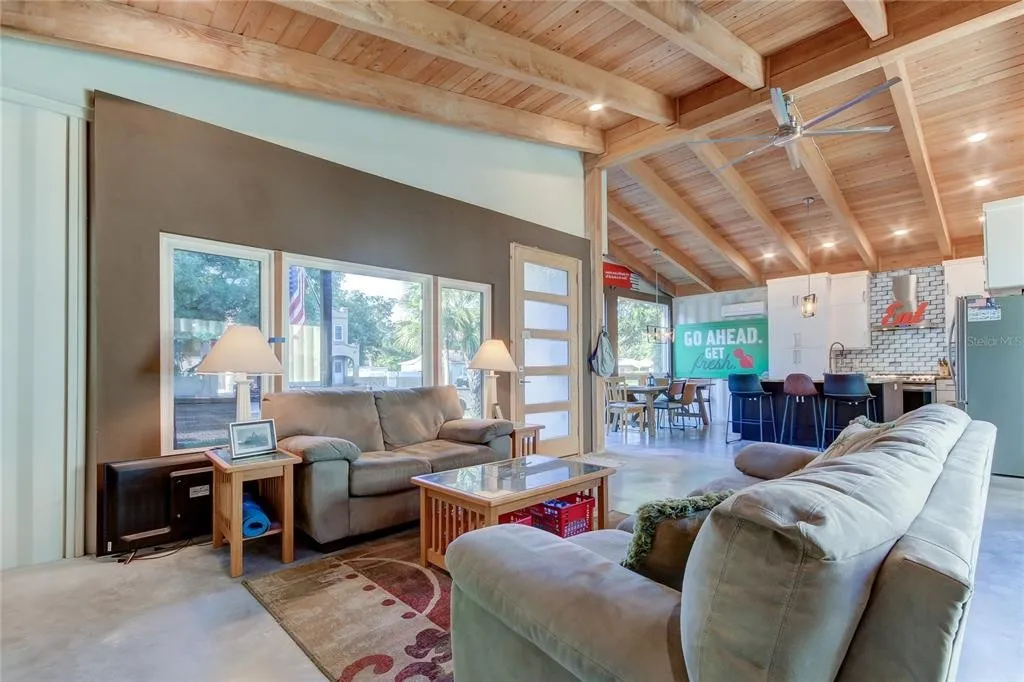 The roof of container home is protected with the help of NASA created Super Therm an R19 Value.
It not only provides insulation, but also helps maintain a comfortable temperature within the building.
Adding to that, between the ceiling and metal roof there is a Hyper Insulation an R14 Value that works in combination with the Super Therm to offer a total Insulation Value of R33. This feature ensures that both heat and cool air are retained resulting in significant energy savings on monthly bills.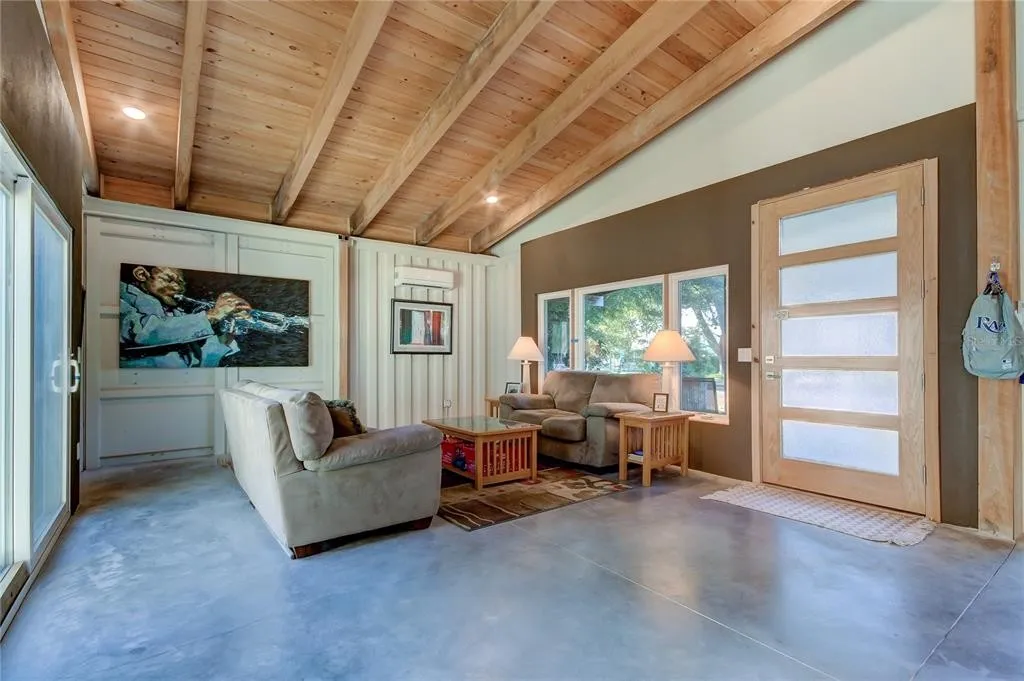 Sitting between two towering shipping containers is an outdoor courtyard, one so amazing it transports you to another world. The courtyard is enveloped in lush landscaping of vibrant greenery, boasting beautiful fragrant flowers that burst with a rainbow of colors.
Read Also : 3-bedroom Container House Design
To make the space even more inviting and serene, a small fountain cascades into a quaint pond that is filled with colorful koi fish. An intricately designed footpath leads the eye through an archway made up of climbing ivy.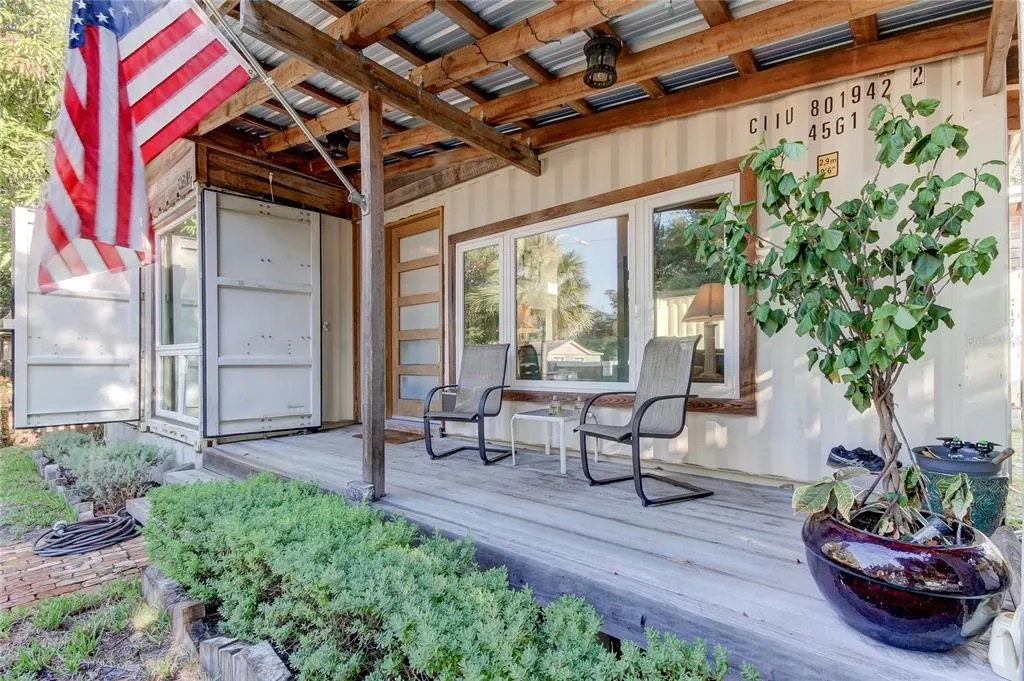 And the patio, adorned with comfortable seating and elegant accents, is ideal for relaxing evenings spent in good company. All who enter this enchanting retreat will be captivated by its spectacular surroundings, creating memories that will last a lifetime.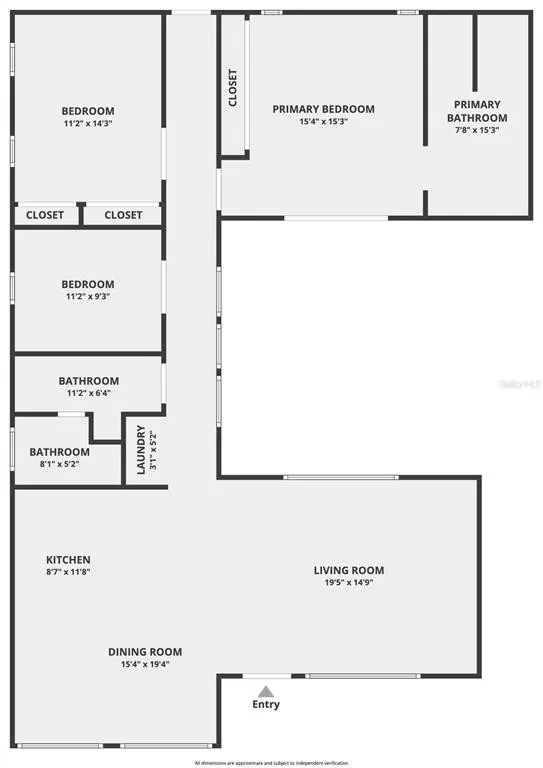 Conclusion
In conclusion, living in a container home certainly has its advantages and disadvantages. The convenience and affordability of buildinig with containers is unmatched, but there is some unique maintenance that comes along with this type of construction.
If you're looking for an alternative to traditional homebuilding, container homes are definitely worth considering due to their ease of assembly, cost savings, and versatility.
For more ideas and inspiration on shipping container home designs, be sure to check out our blog Living in a Container !!!. We hope you thoroughly enjoyed learning about building a container home today!