Many individuals dream of living in a modest, loving home surrounded by trees. However, this dream was extraordinarily accomplished in 2018 by Honomobo Container Home. The shipping container house, which is on Bowen Island, seems like a metal castle among the trees. The house is quite sturdy, which is why I say it resembles a castle. In this case, the primary determining factor is that fiber cement and metal boards completely enclose the house. Thus, this metal box is absolutely safe against many natural phenomena, especially fire.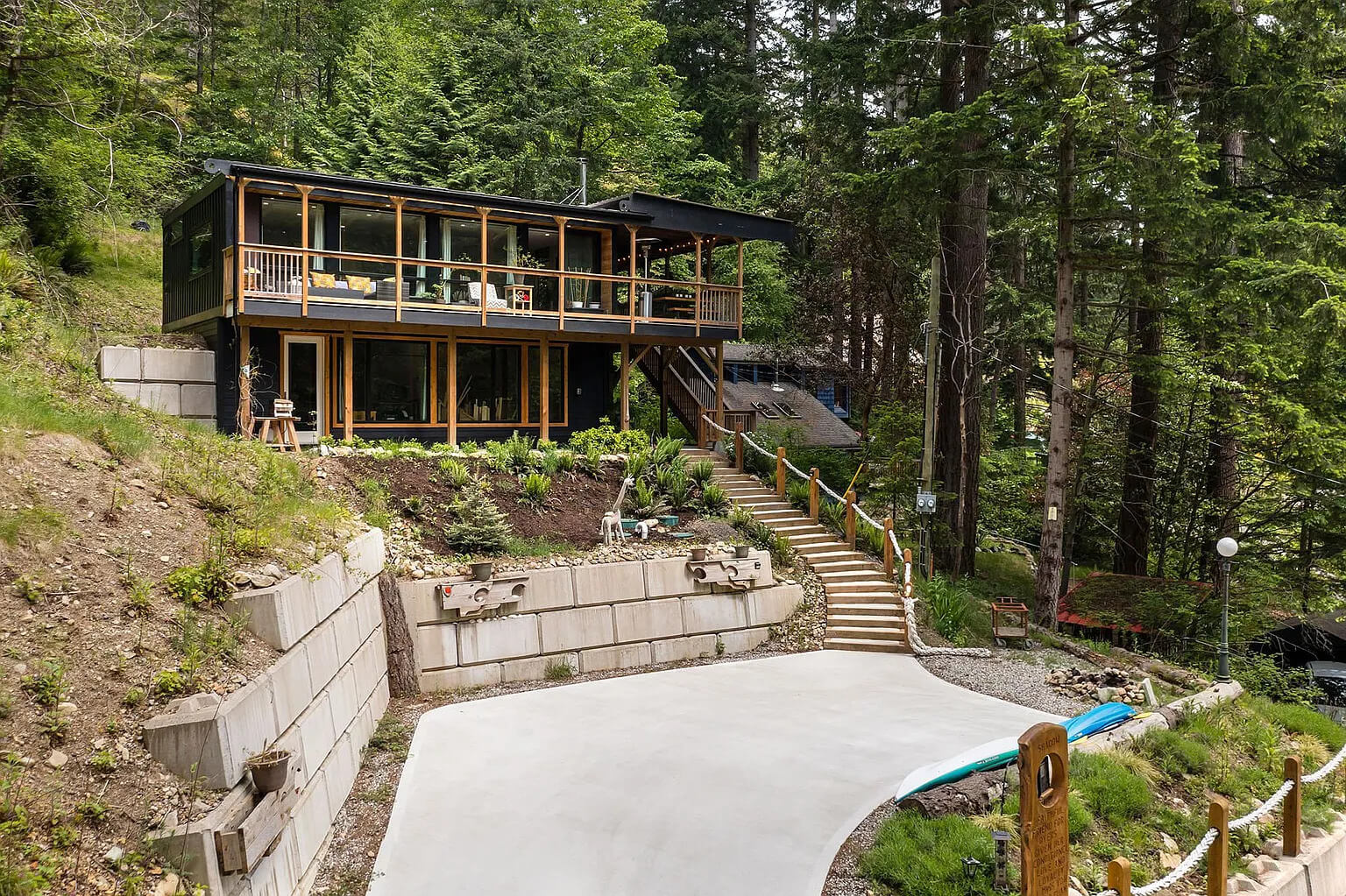 Built using four 20ft shipping containers, this charming home challenges the traditional homes in the area. This situation is because it is the only prefabricated house on Bowen Island. The sale price of this shipping container house, where you can spend an unforgettable time with your friends and family, in short, with all your loved ones, is C$1,180,000 (Aprox. 853.000 USD )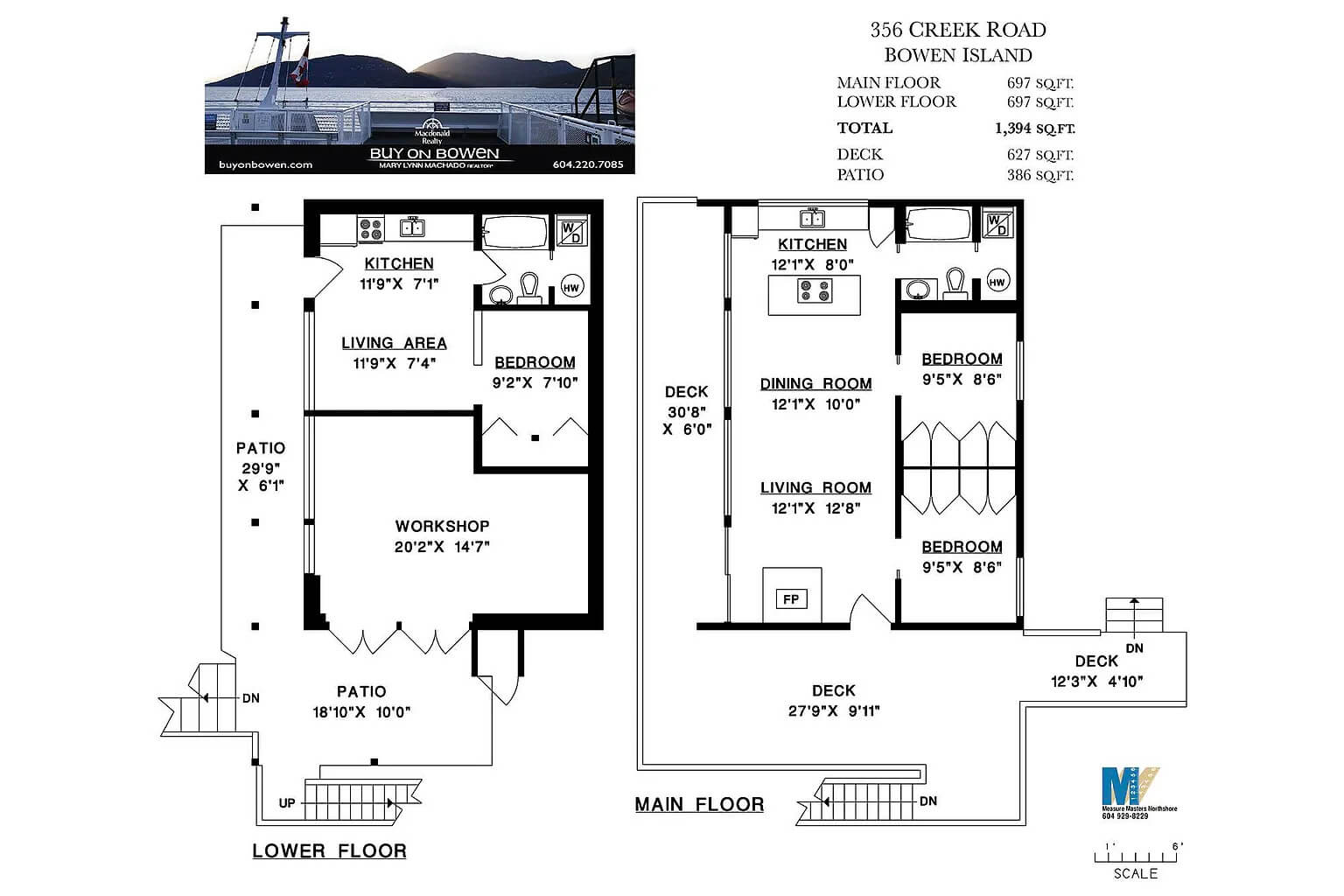 Floor Plan of the Shipping Container House
With two bedrooms, two bathrooms, a studio guest suite, and a workshop, the house is not as small as it looks from the outside. Consisting of 2 floors, the total area of the house is 1394 sqft, while the main and lower floors are 697 sqft each. In this way, every aspect of the building's construction, down to the last detail, was carefully thought out, with the welfare of those who would live there being taken into account in every way.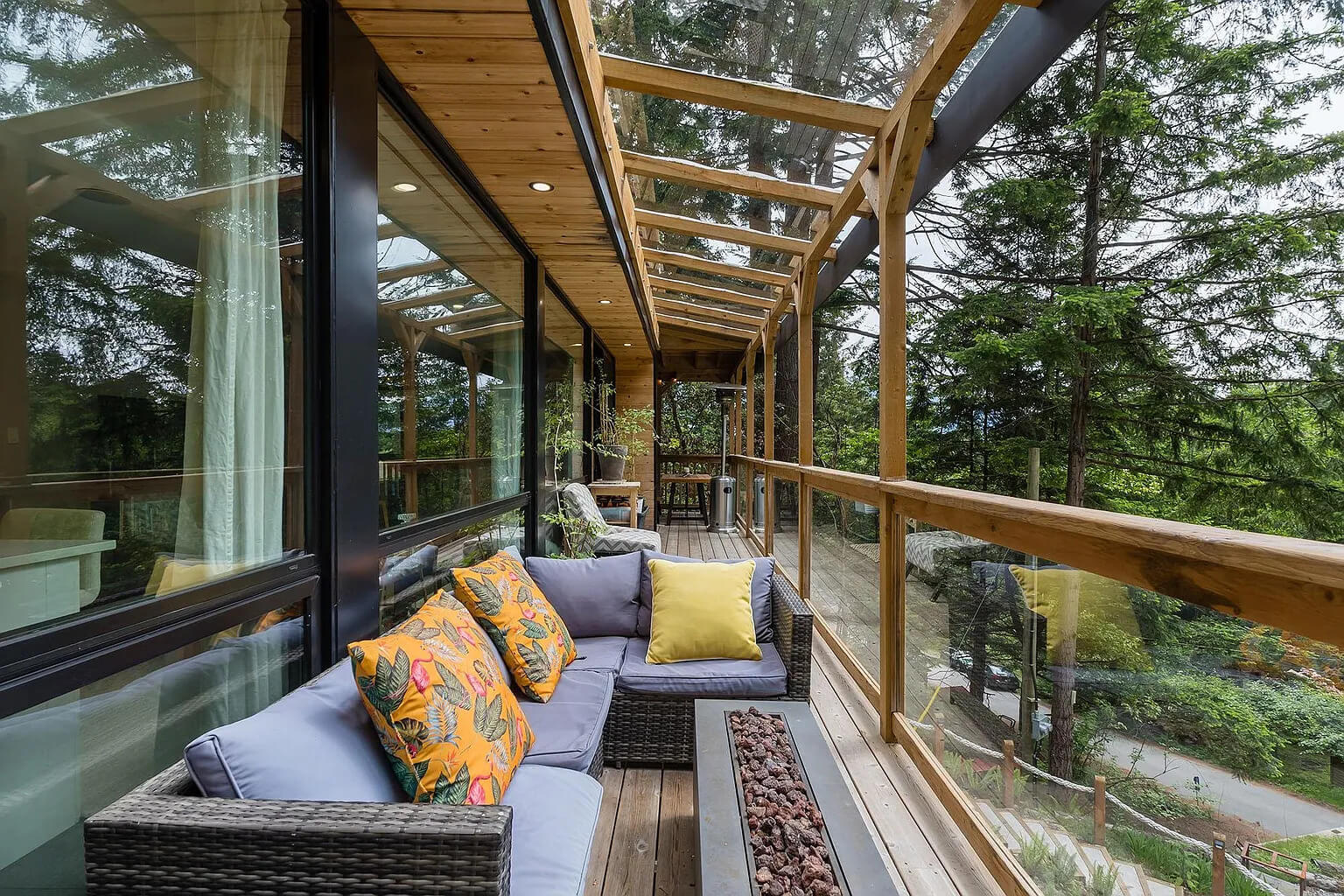 There is also a 627 sqft area reserved for the deck and a 386 sqft patio area built for you to find peace while drinking your coffee. So, you can live your little world in an enormous space as you wish.
Main Floor
The living room, dining room, and kitchen are all located on the home's main floor. Additionally, the floor has a complete bathroom. For the south-facing facade, there are floor-to-ceiling windows on the ground floor. So, on a rainy day, you can get under the blanket and watch the outside or witness the snowfall. There is even an exit on the floor to a 600+ sqft enclosed spiral deck for such occasions.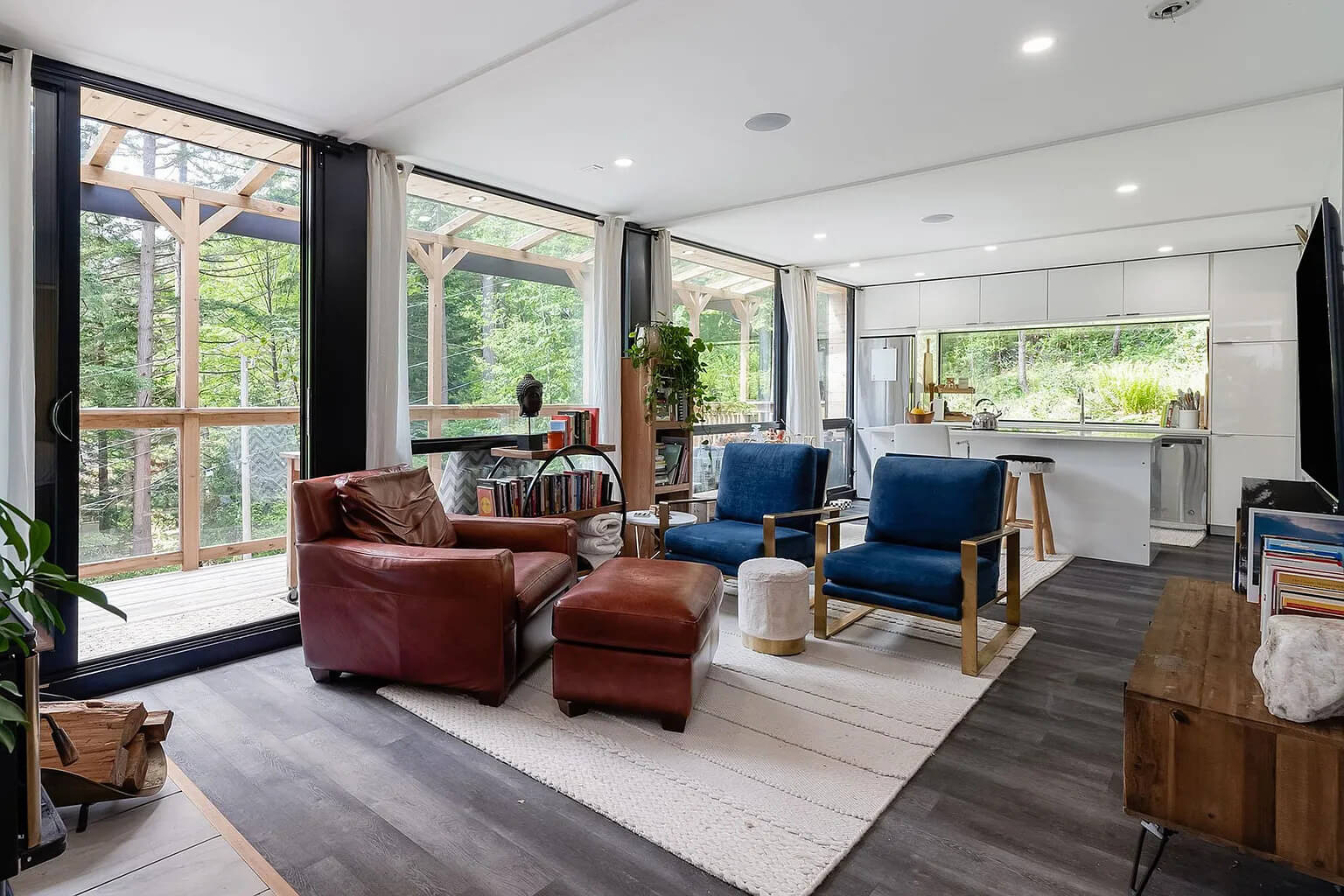 On the other hand, the floor has 9′ ceilings and is entirely covered with vinyl plank flooring. So you can live a country-style life in the forest. You can get even more into the country mood with the freestanding wood-burning stove, which is WETT-certified. At the same time, this stove can quickly heat your space, as it can be switched on immediately in the event of a power outage. This way, you won't get cold.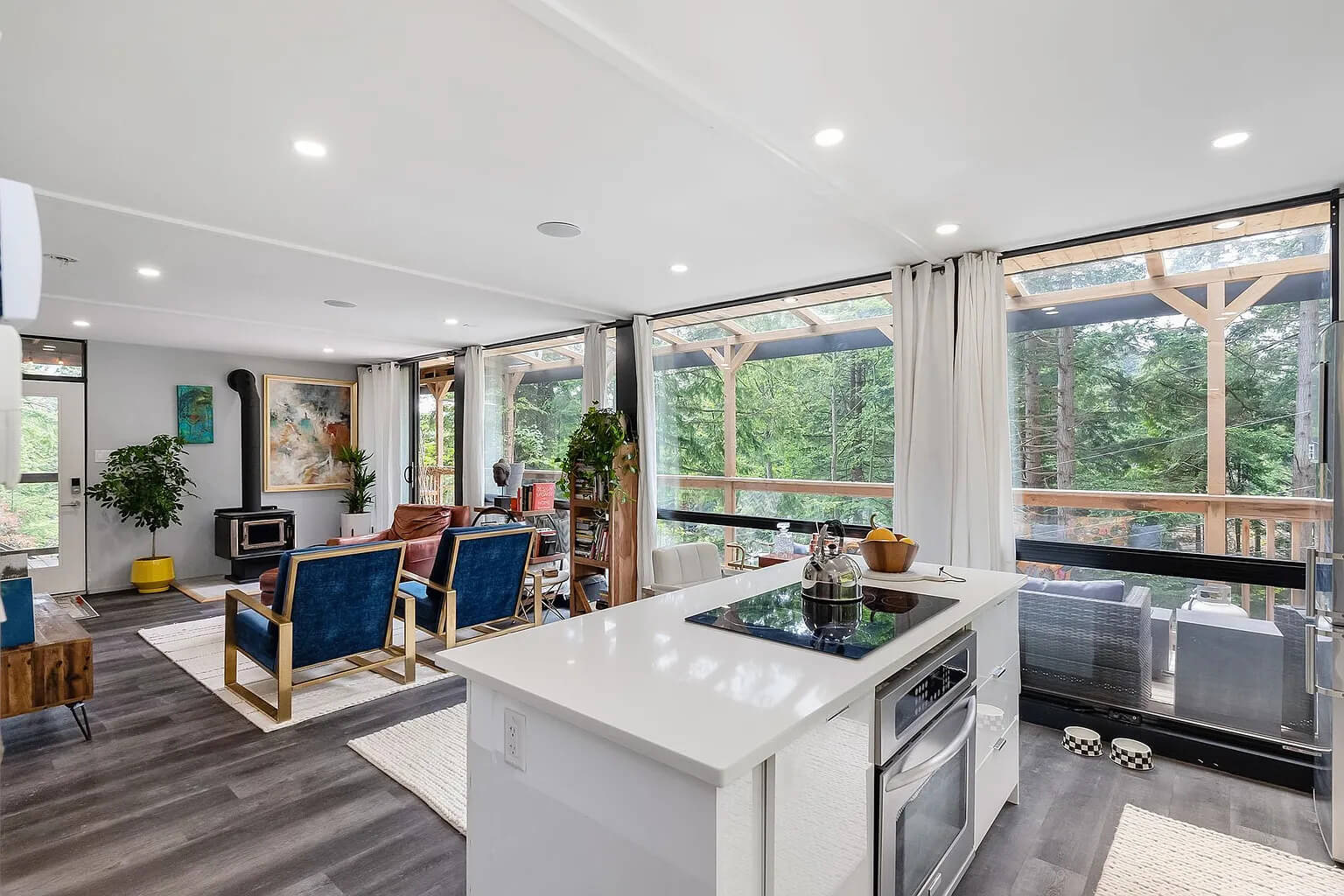 Finally, with the laundry room on the floor, your laundry stays tidy. Thus, the messiness of your newly washed or be washed laundry will not lead to chaos.
Lower Floor
The floor of the container house is built on a 0.5 acres plot. In addition, the entire floor is covered with fiber cement board to increase its durability. The lower floor, which is entirely designed with modern furniture, can be examined in more detail under two sub-headings: studio guest suite and workshop.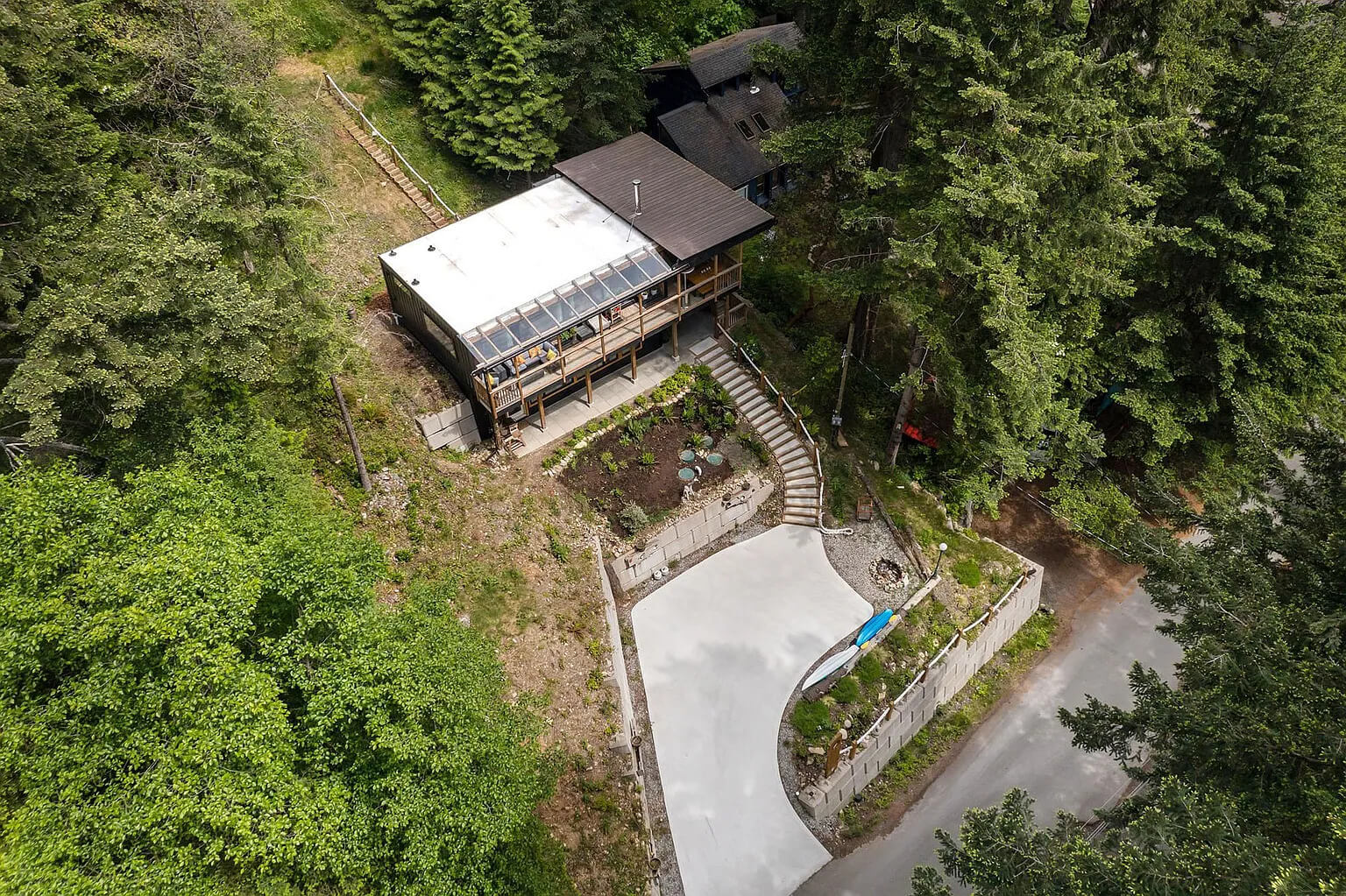 Legal Studio Guest Suite
This section, whose construction was completed in 2020, primarily has all the fixtures that the homeowners may need. The area, whose floor is covered with laminate flooring, has large windows facing south. In short, with these windows, you can watch outside while cooking in the kitchen, and make cooking more enjoyable.
On the other hand, you can take a relaxing bath in the studio's fully equipped bathroom, which even has a bathtub. Again, with the specially designed laundry room, you can wash and dry your laundry in one place. Finally, you can revitalize your shipping container home by turning the covered veranda with its modern architecture into a perfect winter garden.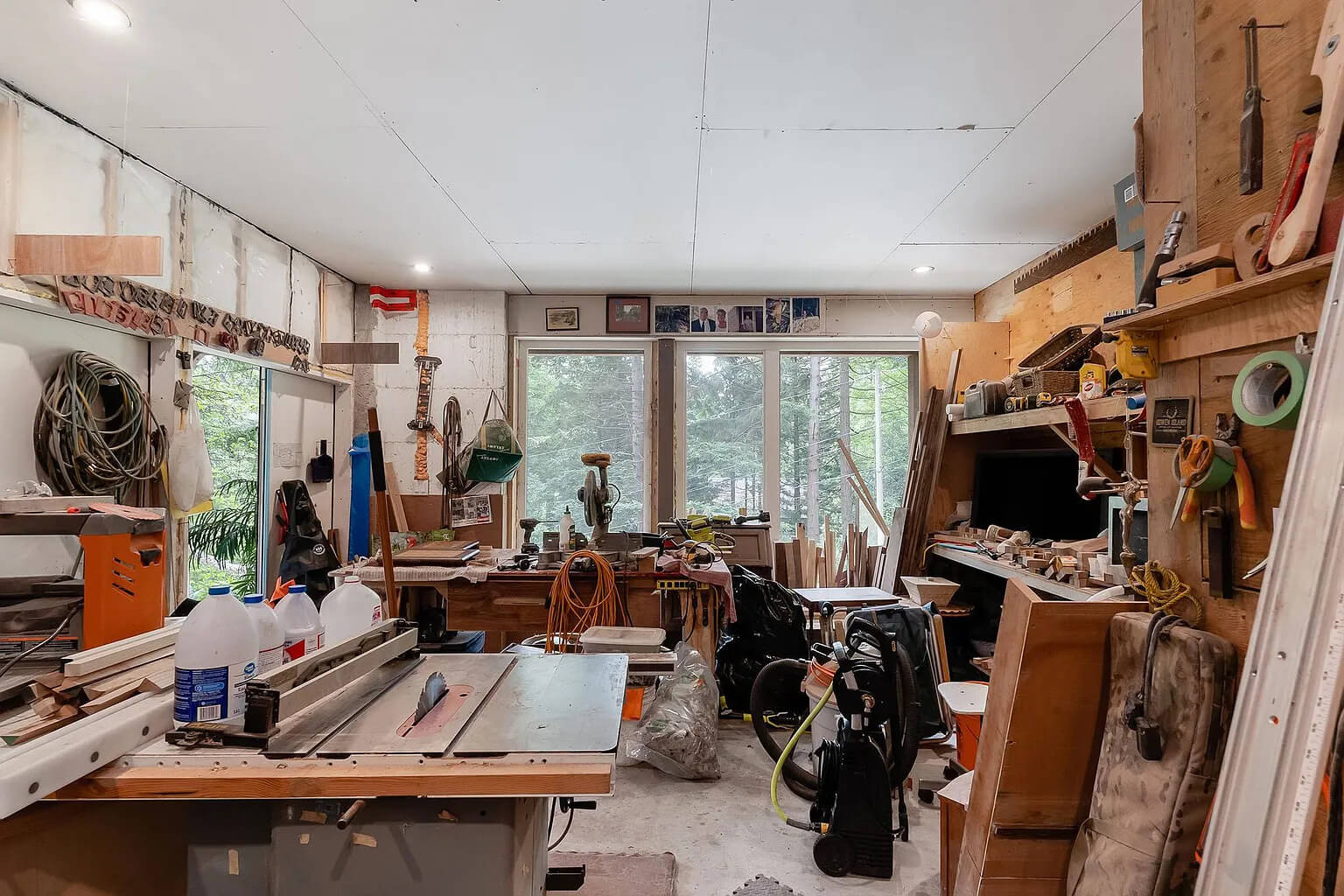 Workshop
The workshop, the last part on the lower floor, is actually a redeeming part designed to be converted into more living space. This fully insulated area has south-facing windows, just like the whole house. Furthermore, the workshop can easily be tailored to personal preferences, supplemented by a large covered veranda for extra open workspace.
The workshop, which has two sets of double entry doors, is an area that is easy to enter and exit with these doors. In this way, the homeowners make sure that the workshop is not disconnected from the rest of the house while evaluating the workshop as they wish.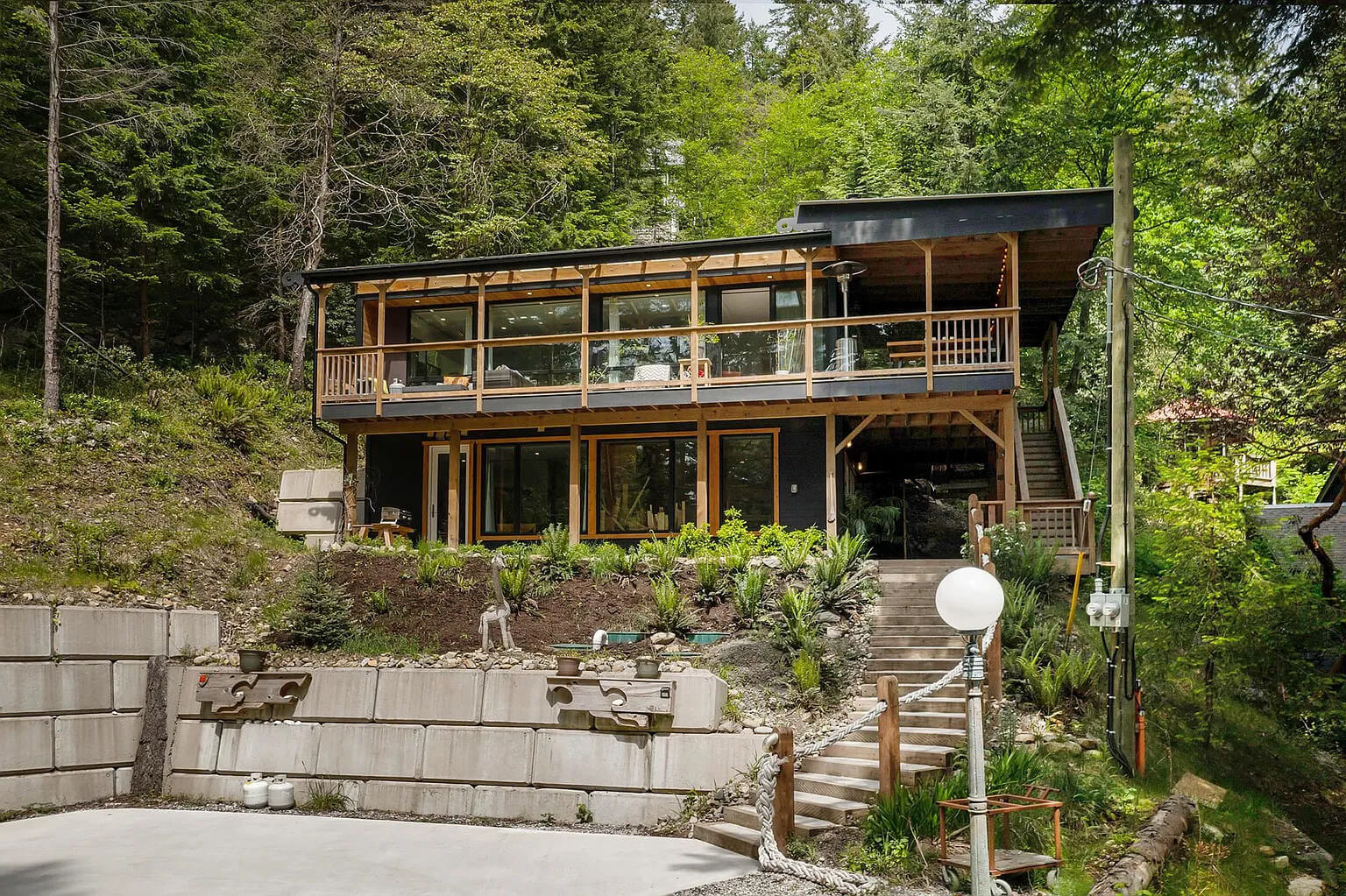 Shipping containers are increasingly being used for a variety of purposes beyond their original intended use. Shipping container homes are becoming more popular as people look for alternative, more sustainable and affordable housing options. Used shipping containers are also being repurposed as storage units, offices, retail spaces and more. The versatility of shipping containers makes them a popular choice for a variety of applications.
If you're thinking about living in a container home, be sure to check out our huge selection of designs for inspiration. You're sure to find something that suits your needs and taste.
So if you're interested in learning more about used container homes, be sure to check out the Living in a Container today! What are your favorite shipping container homes?
Follow Living in a Container on Facebook, Instagram and Pinterest for more stories like this. If you have a story to share, email us at [email protected].