Shipping container homes, which come to the forefront with their ease of construction and being economical, have become very popular in recent years. Since shipping container homes are portable, they can be used as vineyards, country houses, cottages, etc. can be used practically in the fields.
In addition, in shipping container homes, you can adjust the number of rooms, the items to be placed in the house, the insulation properties and many other features according to your own needs.
Let's take a look at the world's biggest favorite shipping container homes!
Biggest Shipping Container Homes
With the popularity of shipping container homes, the construction of container houses has increased in many parts of the world. So where are the world's largest shipping container homes?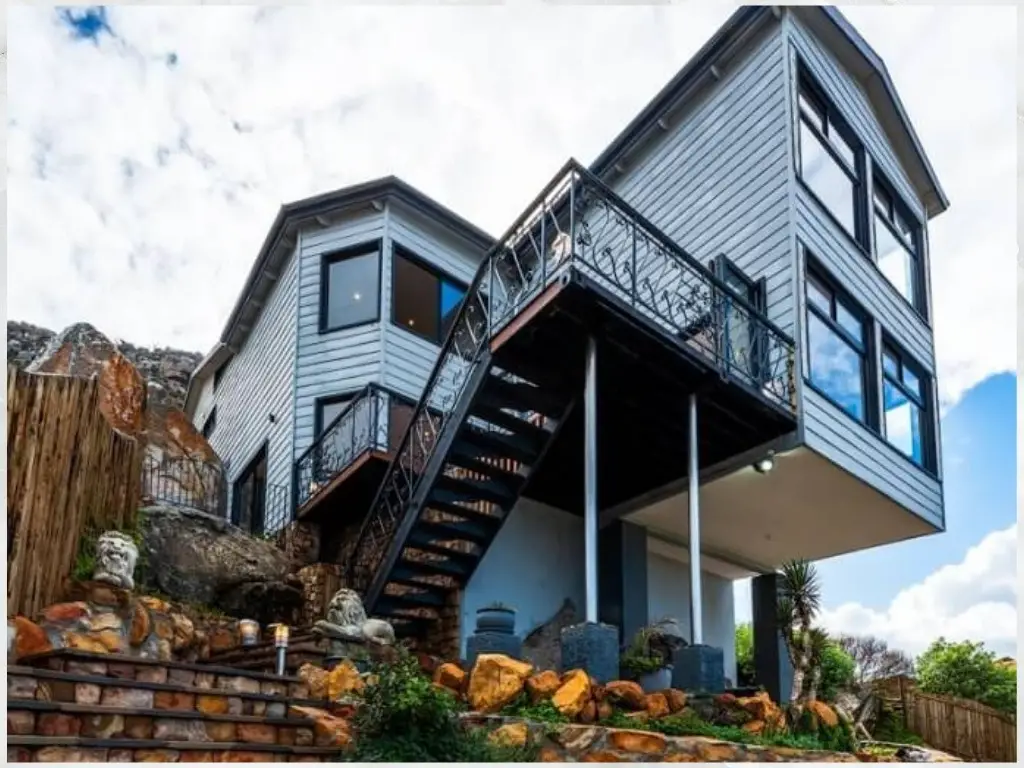 Cape Town, South Africa
The first shipping container home comes from South Africa. Located on Cape Town's Southern Peninsula, the house looks like a normal house from the outside, but is made of only seven old shipping containers. Also, the house has quite a nice view.
Three of the four bedrooms on the upper floor have magnificent sea and mountain views. The owners of the house were initially uncomfortable with the fact that the house was in a stony place, but as they started to build the house, they placed the house according to the stones and the mountain, and it turned out to be a very beautiful appearance. Finally, the house costs about $300,000.
Read More : Shipping Containers Convert into Super Luxury Container Home (Aprox. $300.000 )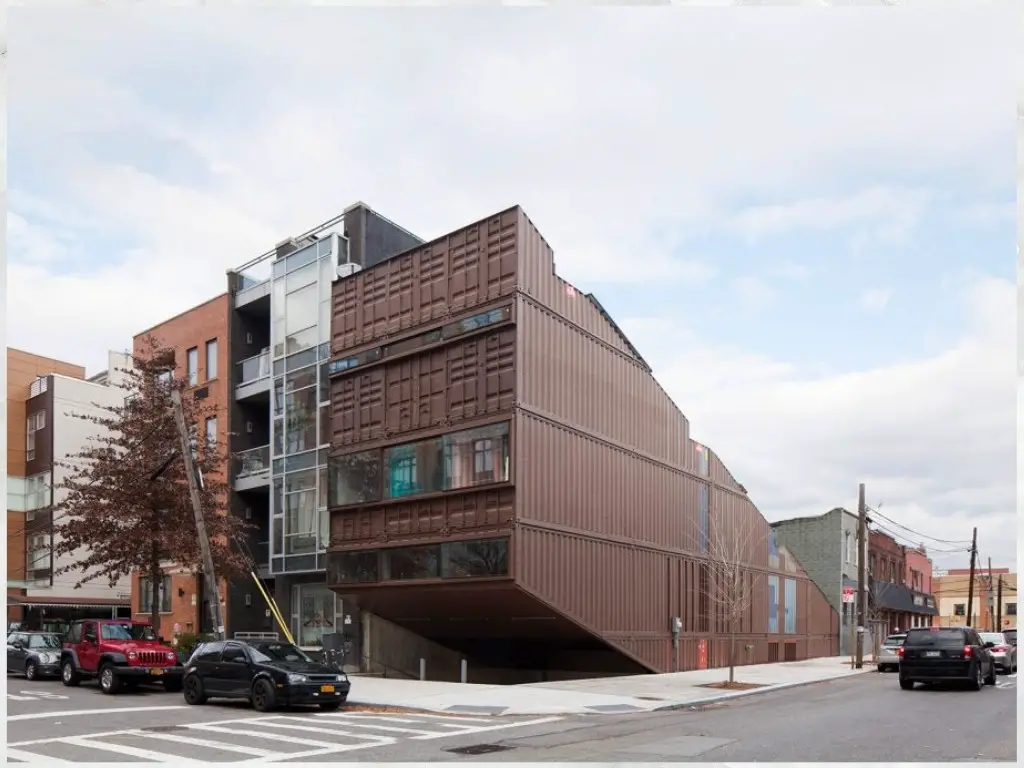 Williamsburg, Brooklyn, USA
Located in the Williamsburg region of the United States, this house with a very contemporary and modern look is made of 21 old shipping containers in total. You can see that this $5.5 million shipping container home has quite a different structure.
Thanks to the windows standing horizontally in the part of the house facing the neighborhood, the interior of the house receives the necessary light. The house has three floors and an attic.
On the first floor of the house, there is a room where you can do many activities, and on the second and third floors there are special rooms such as bedroom, study room, children's room. In the attic, there is an enormous suite where you can sit and enjoy the shipping container home.
Read More : Peek inside a $5.5 Million Container House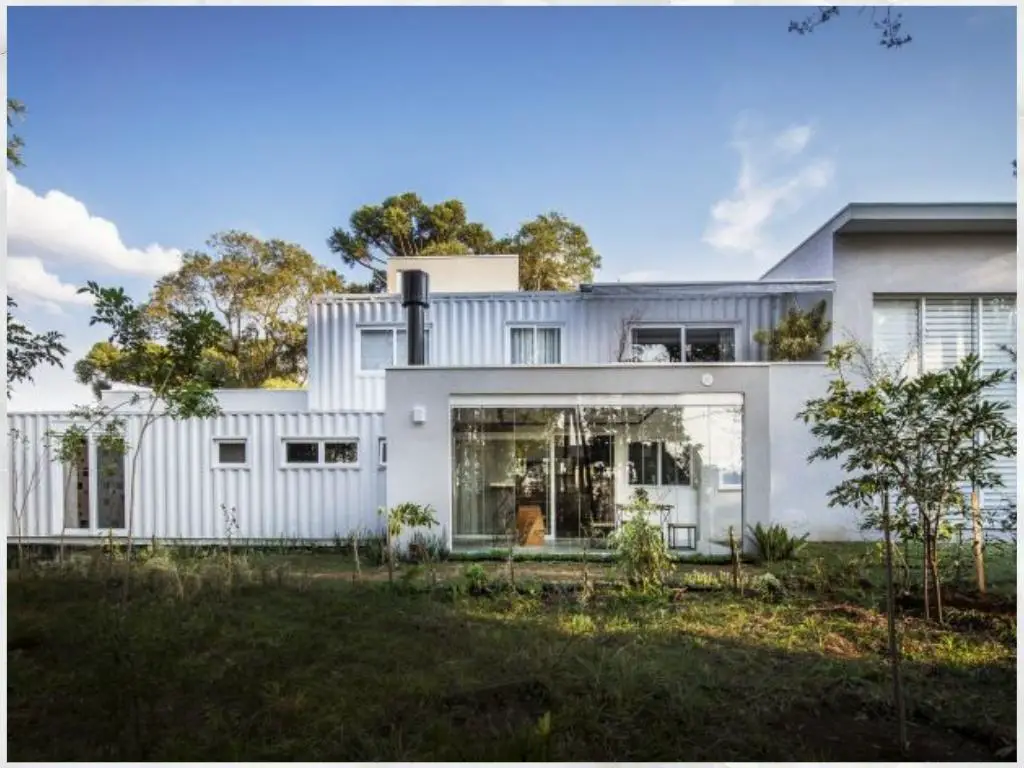 Curitiba, Brazil
Next up is a 375-square-meter shipping container home. Located in the Curitiba region of Brazil, the custom container house has a total of 23 rooms. More than 50 expert architects and planners were worked on for this house called Mostra Container.
The biggest feature of this house is that some of the electricity consumed for the house can be produced by the house itself. 20% of the electricity consumed is produced by the house itself. In this way, some of the electricity is used without paying any fee. In addition, the aim of the project is to bring this rate to 100%. When the project is completed, the house will be able to meet its own needs.
Read More : Wonderful Sustainable Container House from Curitiba, Brazil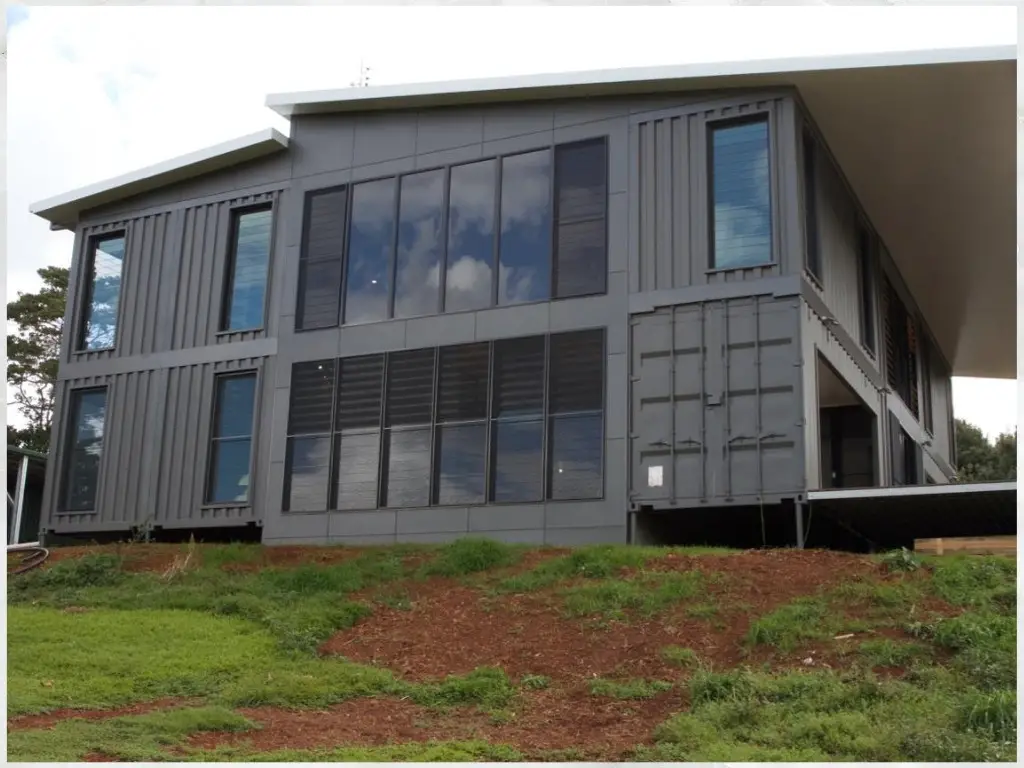 Australia
Just having money is not enough to build such a custom container home. You also need to have an innovative perspective.
The next house is located in Australia. Made by Container Build Group and called "The Lindendale", this house has intermediate and top links as well as shipping containers. Thanks to these connections, the shipping containers are connected to each other and the appearance of a house has been achieved.
It took about 10 weeks to build the house. It took 5 hours to bring and place the house, whose construction was completed.
Read More : One of the Most Beautiful Container Houses in the World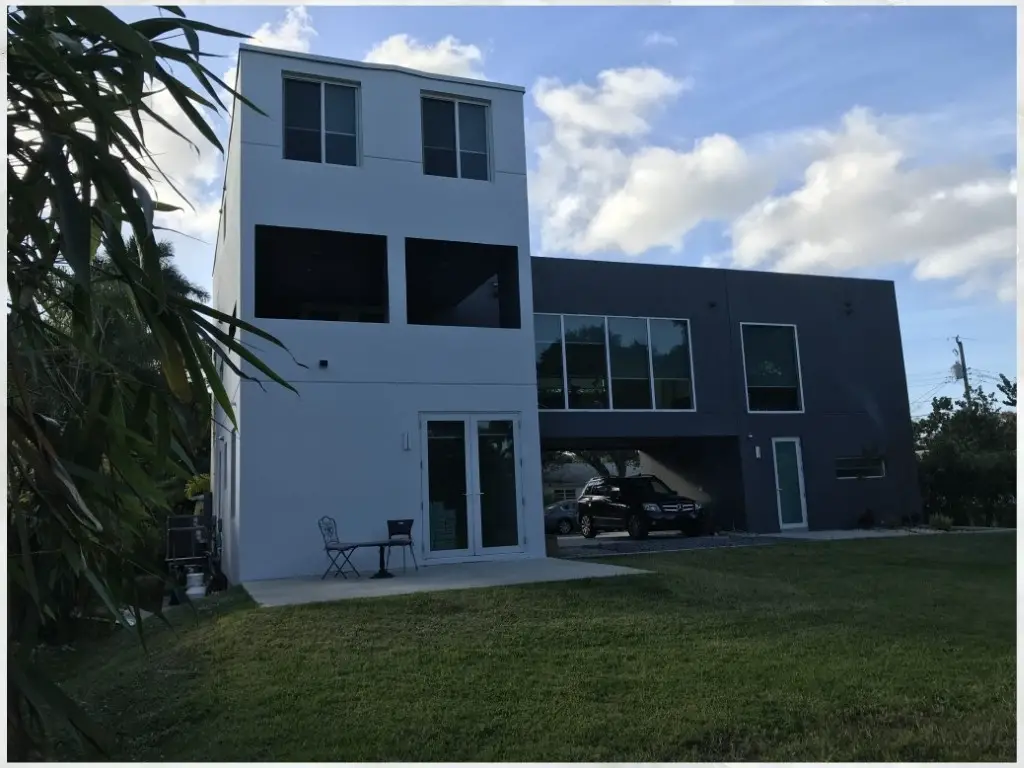 Davie, Florida, United States
Our next home is located in Florida, USA. The container home built for $250,000 is claimed to be resistant to all kinds of hurricanes, earthquakes, fires and even termites.
This house, built by an architect named "Fathi", who is also a designer, came into being when Fathi could not persuade the clients to build the house and built it for herself.
The house has a living space, dining room, kitchen, a two-car garage and a studio. According to Fathi, shipping container homes are the most suitable way to build a house. Also, Fathi predicts that shipping container homes will be used quite widely in the future.
Read More : Built a Three-Bedroom Home for $250,000 from Eight Shipping Containers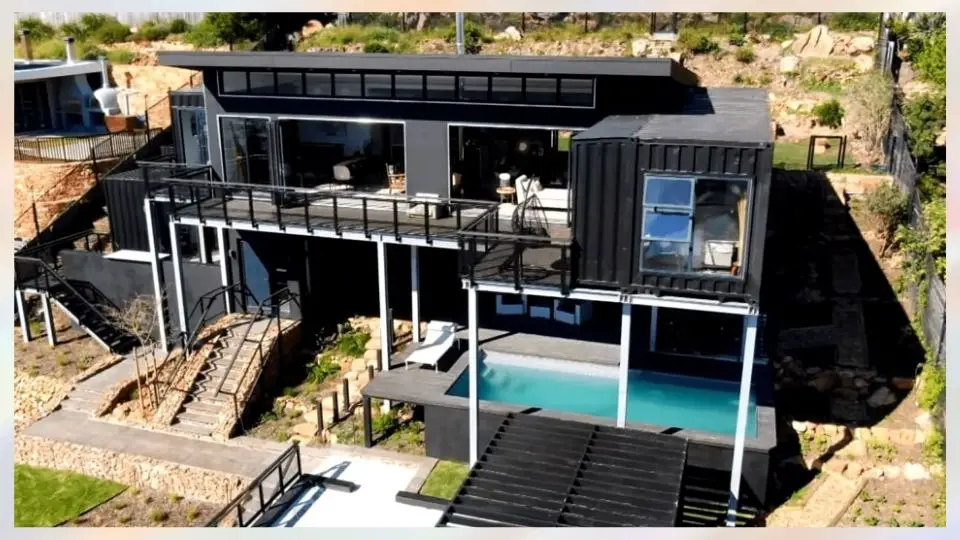 South Africa
We are here with another container home from South Africa. Built by the landlord for $380,000, this container house was built using a total of five shipping containers.
Before the container home was placed, it was carefully prepared and then concrete foundations for the shipping containers were poured. Next, the shipping container home is placed on the site and finally steel columns are placed to hold each container in place, forming a support frame.
The landlord requested that the outer view of the shipping containers not be covered. In this way, the house continues to preserve its container structure. White and black colors dominate inside the house as well as outside. Thus, a modern look was obtained.
Read More : Ultra Modern $380,000 Shipping Container Home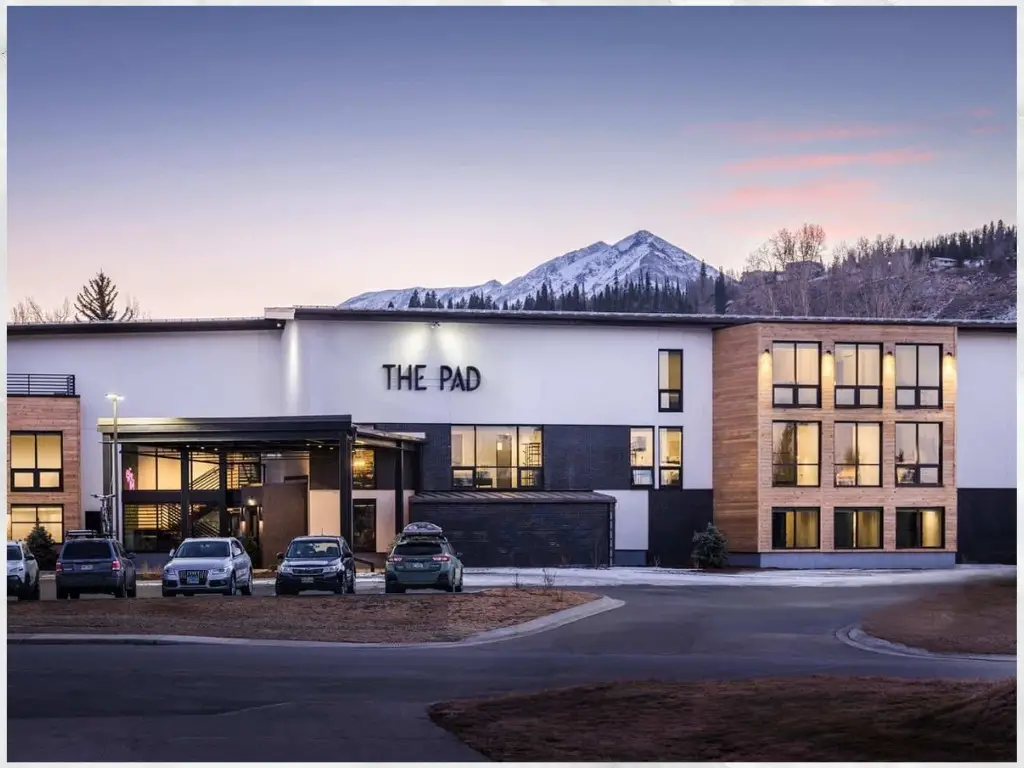 Colorado, United States
The next container home is used in a different way than the others. Located in the state of Colorado, USA, this shipping container home is used as a hotel.
18 shipping containers were used in the construction of the container hotel with 24 rooms. It is possible to stay in the hotel for short and long term, with wooden and white color tones.
Also, the hotel is built in a pretty nice area. Thanks to the ski area located right next to the hotel, guests can stay at the hotel instead of just staying at the hotel and have fun with the activities in the surrounding area.
In order to prevent the hotel from being destroyed or damaged in case of any natural disaster, quality and protective materials were used in the construction of the hotel. In this way, guests can stay safely without any problems.
Read More : 18 Shipping Containers Used to Build a Ski Lodge Hotel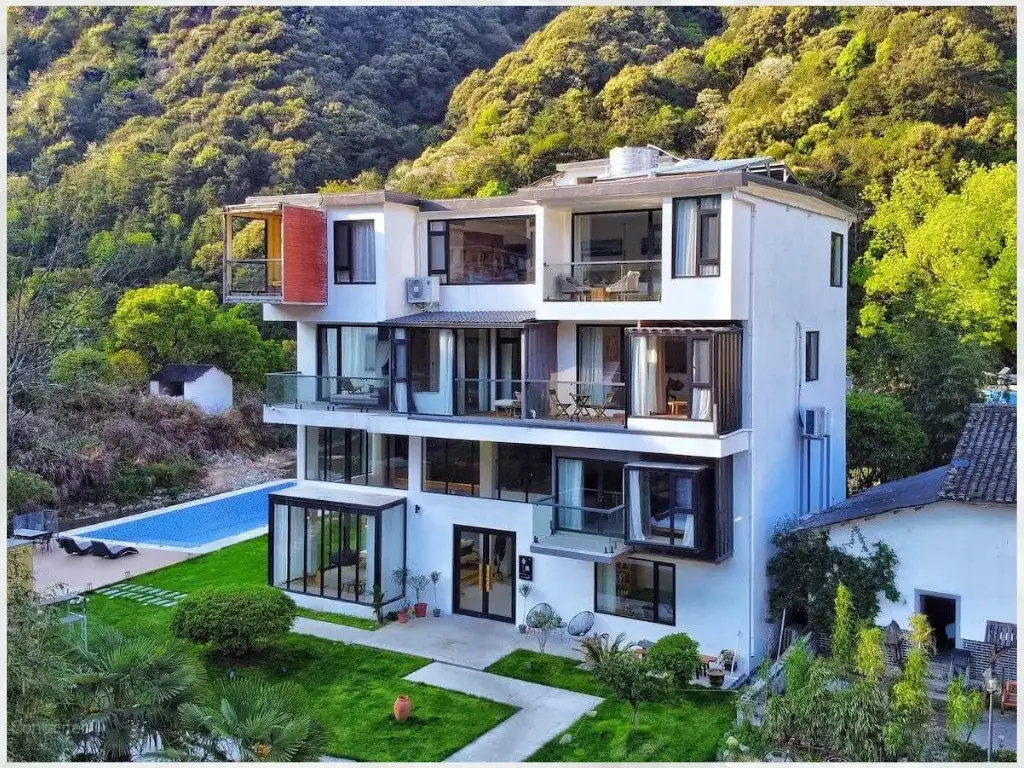 Shipping Container Home in China
Our next container home comes from Asia. This container house is also used as a hotel. The 4-storey container house has a magnificent view of nature. In addition, thanks to the pool located next to the house, you can enjoy both nature and pool views.
This container house, built at the foot of the mountain, is very suitable for those who want to live the rural life and catch the inner peace of nature. Each room of this container home, which is used for hotel purposes, is 310 square feet and has many areas such as bedroom, balcony, bathroom, living room and work area.
You can rent this container home in China for about $300 a night and stay here.
Read More : Container Homestay Building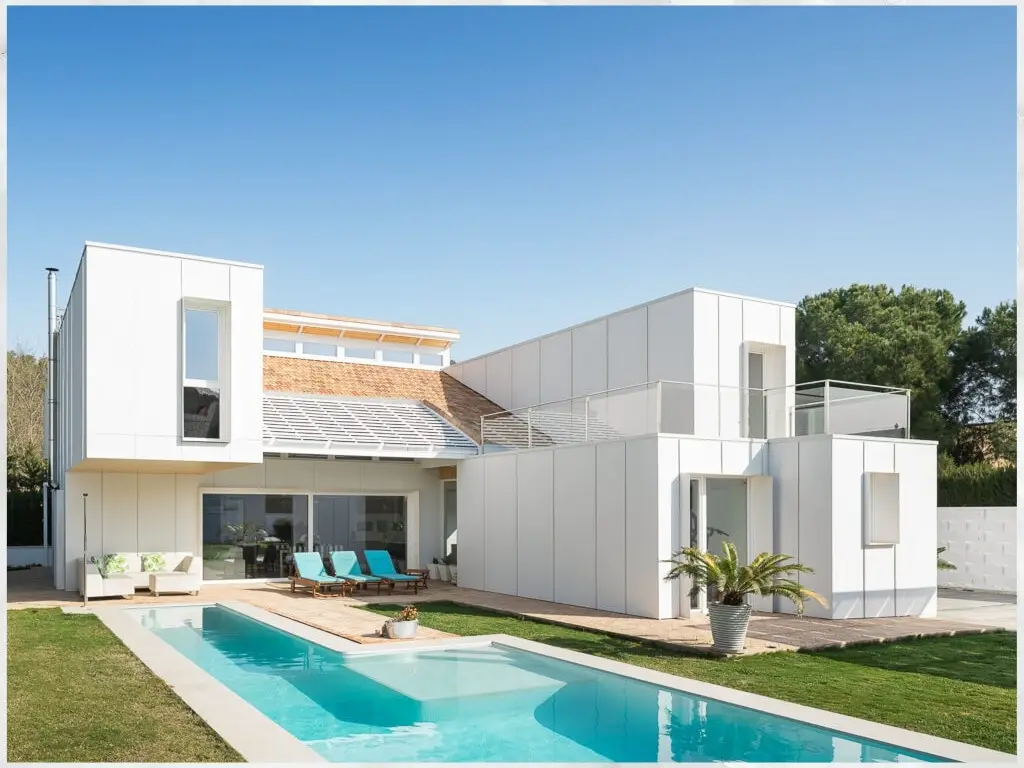 Alcalá de Guadaíra, Seville, Spain
Now we are going to Spain, a Mediterranean country. From the project drawing of this container home in Seville, Spain, to the shipping containers arriving at the site, one thing was certain; designing the house with reused materials.
While the architecture firm was designing the container home, it abandoned the idea of ​​making a room in each shipping container and a more modern-looking design was prepared.
It is much easier to create more wonderful homes with shipping containers than classical architecture. This house is a pretty good example of that.
Read More : Incredible Family House Made of Recycled Shipping Containers from Sevilla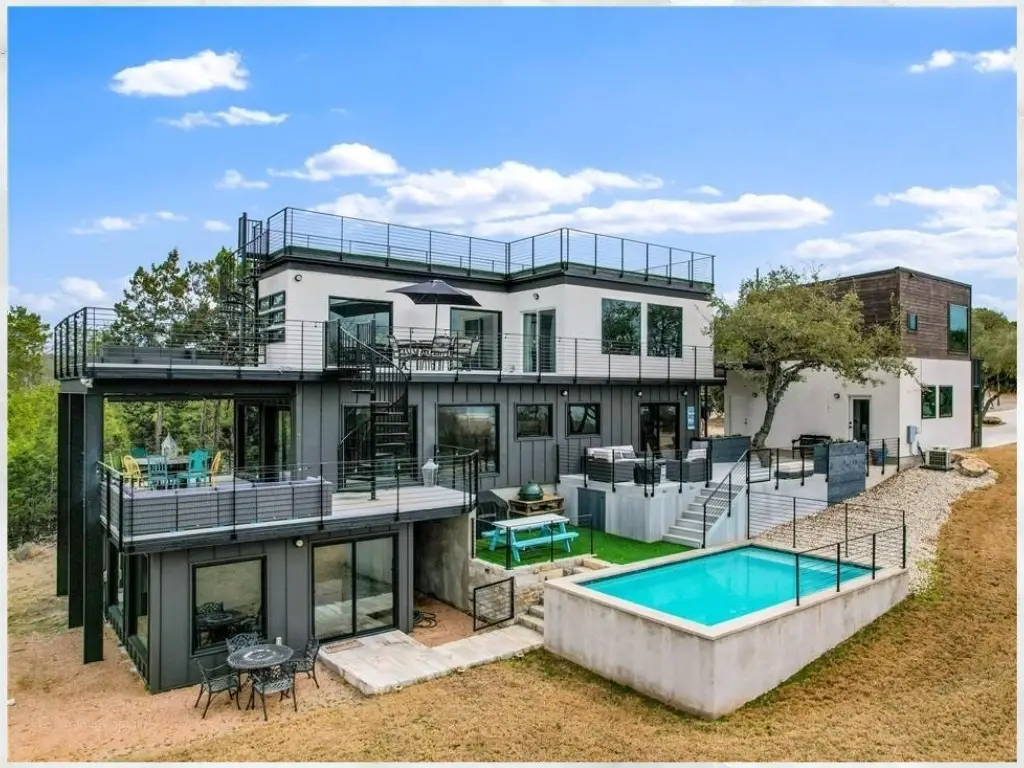 Lago Vista, Texas, USA
We are back in the United States. Located in Texas, United States, this container home overlooks Lake Travis.
Two architects, Melissa and Tony Magana, designed this house for their family. Although they usually build traditional style homes, they wanted to try something different and beautiful for their family. Thus, this container home was born.
The Magaña family started living in a trailer when they first started the construction process of the shipping container house, but it soon became clear that it would take longer than originally planned due to permit issues.
After this incident, they moved to their current apartment and managed the process from there. The value of this house with an area of ​​2238 square feet is exactly $1.3 million.
Read More : One of the Most Beautiful Houses Built with Shipping Containers in the World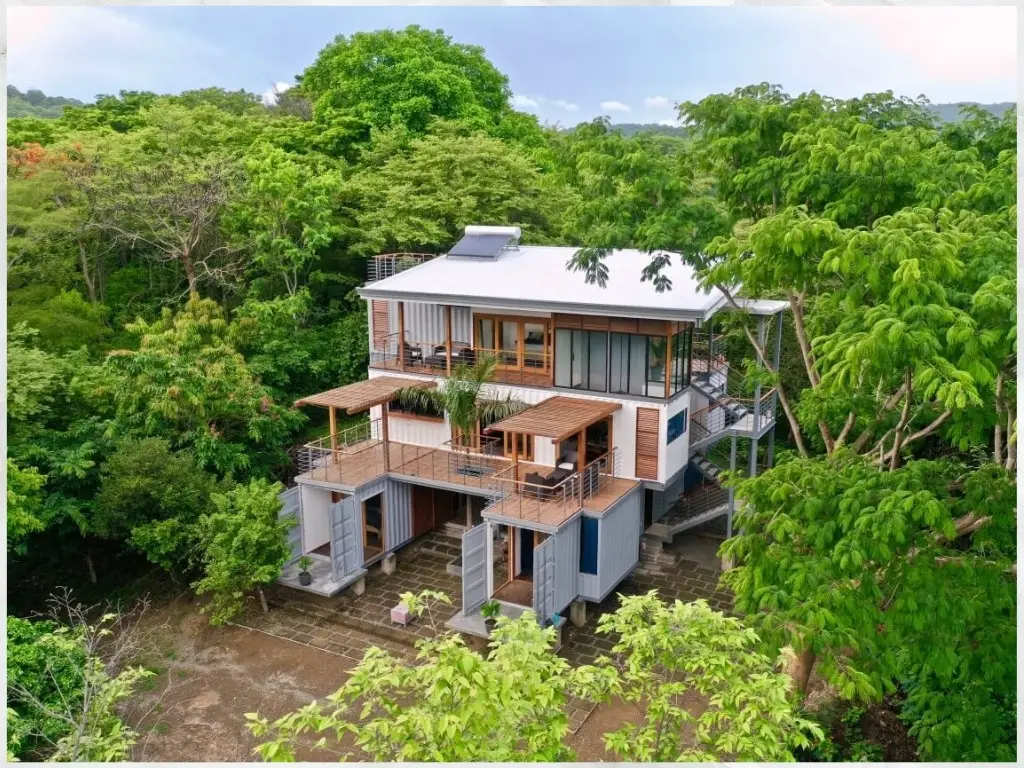 Costa Rica
Shipping container homes can be found all over the world. This container house comes from Costa Rica, a Central American country.
This gorgeous eco-friendly container home is designed to be highly energy efficient and sustainable. The house was built using recycled shipping containers and features features like a green roof, solar panels, rainwater harvesting and gray water recycling.
House; It is located on a very special 3.25-decare land with hundreds of trees as well as fruit trees such as linden, orange, star fruit, mango, banana and avocado. Since there is no house around, it is very suitable for those who want to relax and those who want to be at peace.
Read More : Absolutely Gorgeous Eco Friendly Container Home – Costa Rica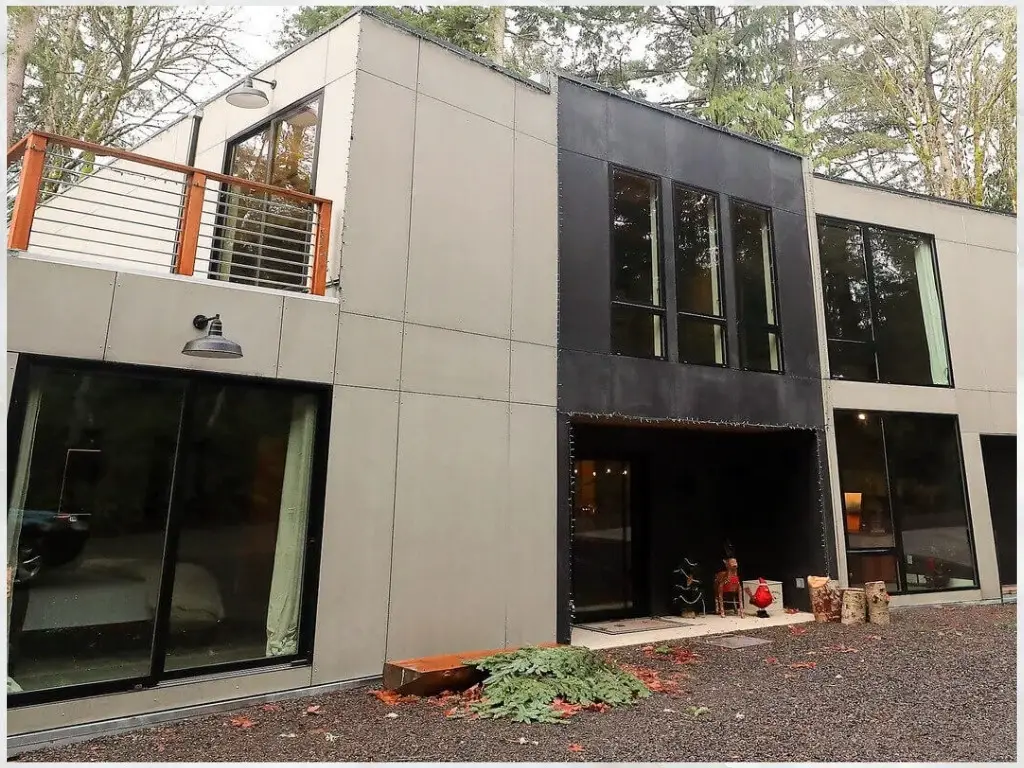 Bremerton, Washington, USA
The construction of this container house in Washington state of the United States began on July 17, 2020. The completion of the construction took about 1 year. Construction was completed on August 24, 2021.
Container home, which has a two-storey structure, has an area of ​​​​approximately 2900 square feet. The house called "Ritter Retreat" is located in a forest intertwined with nature.
It has a desolate location, especially thanks to the forested area around it. It is a container house that will calm you down thanks to its location in the forest.
The house was built with seven shipping containers. The shipping containers in the house are designed and placed as four shipping containers on one side and three shipping containers on the other. (four recycled shipping containers)
Read More : How to Convert 7 Containers Into a Beautiful Living Space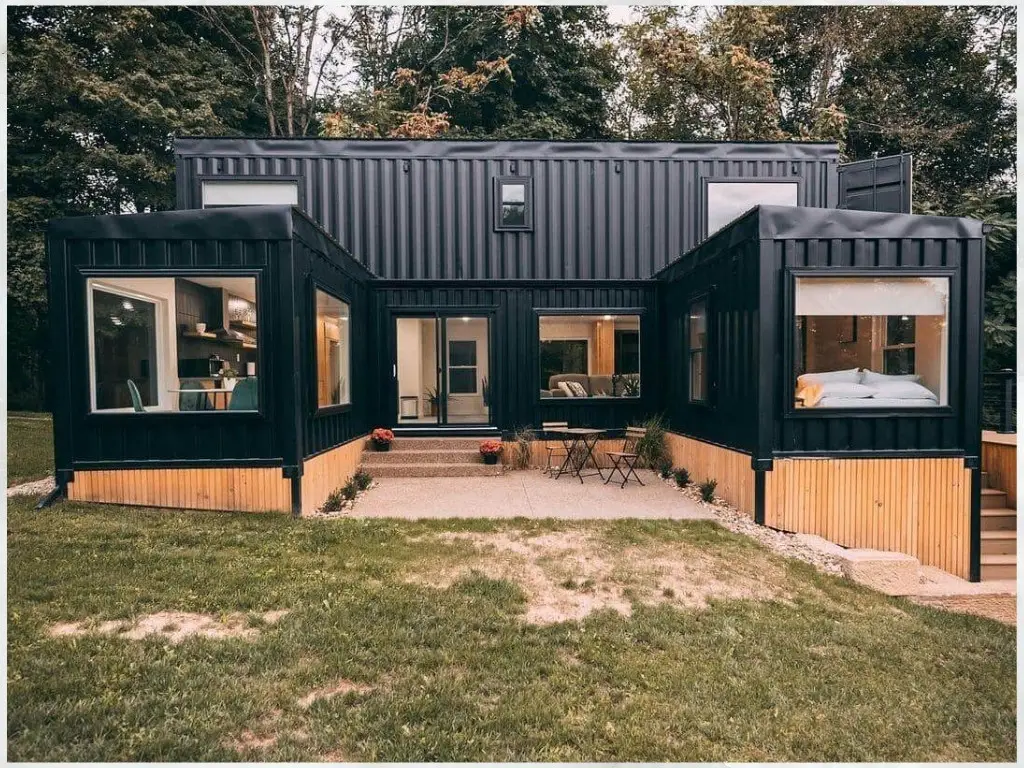 Millersburg, Ohio, United States
Here we are again with a container house in the United States. Located in the state of Ohio, this container home is made from a total of six shipping containers. You can stay peacefully in touch with nature in this house built on an area of ​​1600 square feet.
For those who want to have a nature holiday, this container house is a very reasonable option. The house, which you can rent for $289 per night, has two floors.
The house has two bathrooms, two bedrooms, a kitchen and a living room. Two kitchens and two bathrooms, one on the lower floor and the other on the second floor. You can have a nice holiday in the house prepared to meet all your needs.
Read More : Massive 6 Unit Shipping Container Home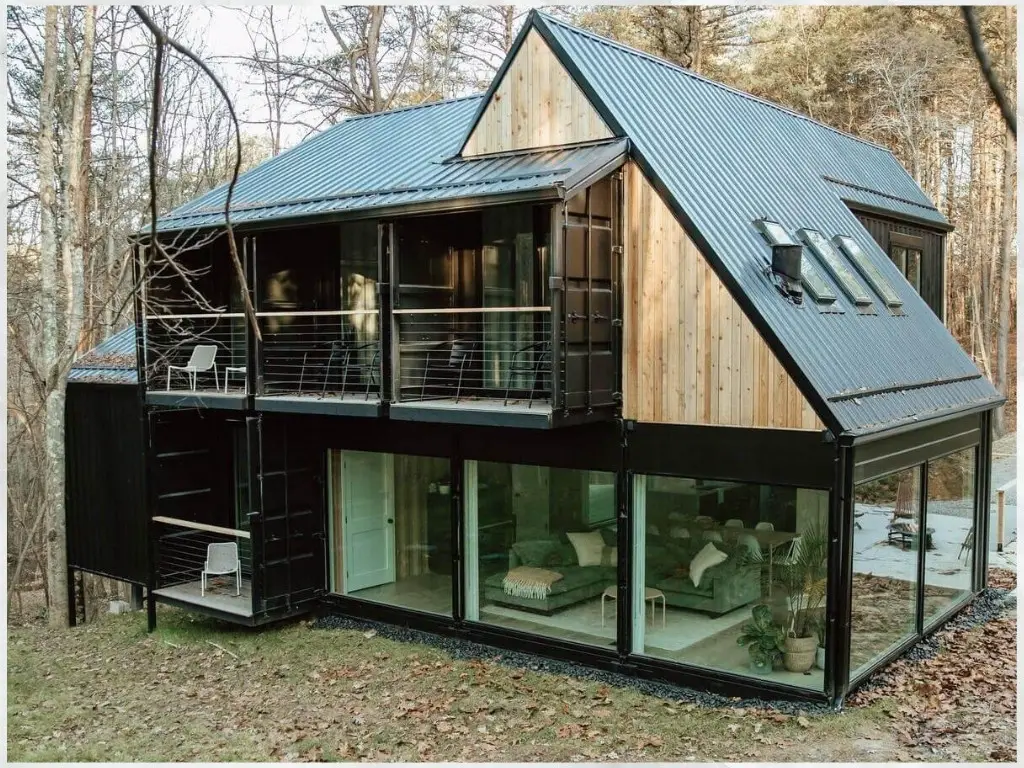 Rockbridge, Ohio, USA
As you can see in our list, the majority of the world's largest shipping container homes are located in the United States. Our next container house is located in the country's Rockbridge area of ​​Ohio. This container house called "Hygge Box Hop" has luxury equipment.
Thanks to the British decors reflected in the interior design and the American-style exterior, it appears as a beautiful blend of American and British structure. The house, which is made of seven shipping containers in total, is used as a hotel. It serves 10-12 people in total.
Read More : The Hygge Box Hop Luxury-Equipped Container House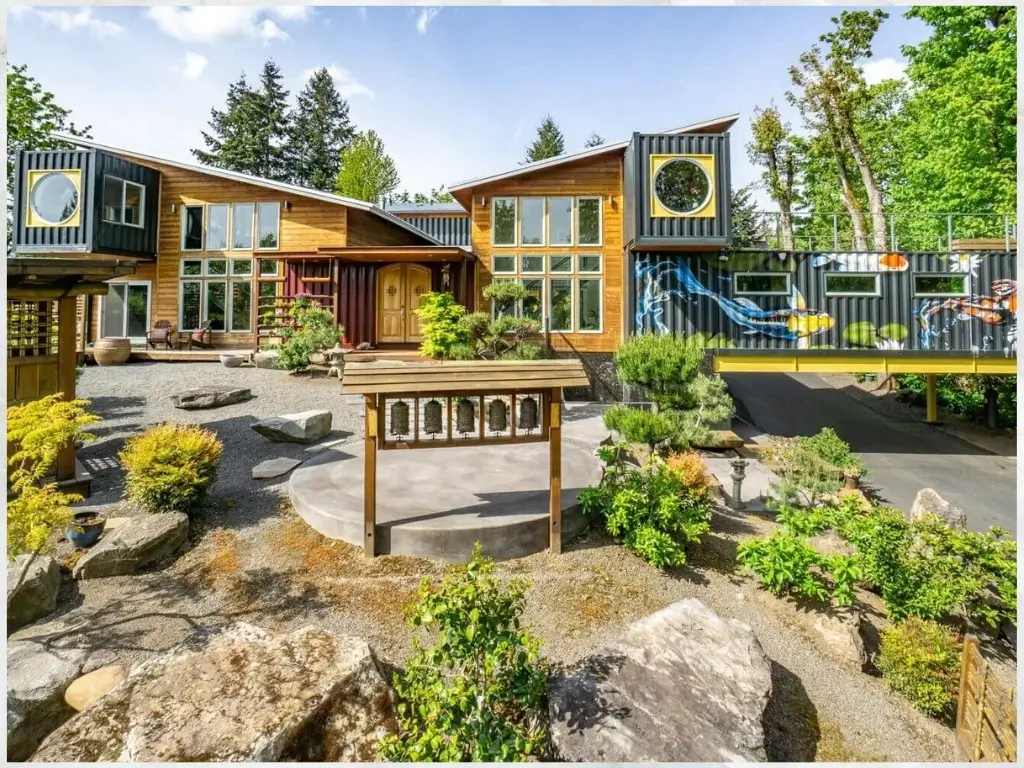 Vancouver, Washington, USA
We can say that the next house is one of the largest container homes on our list. This house with an Asian-style look has ample space and a large open space. This Asian appearance distinguishes it from Western-style homes.
A total of 11 shipping containers were used in the construction of the house, which was built in 2015. The house has an area of 4074 square feet and cost $2 million.
Read More : $2M Asian Inspired Container Home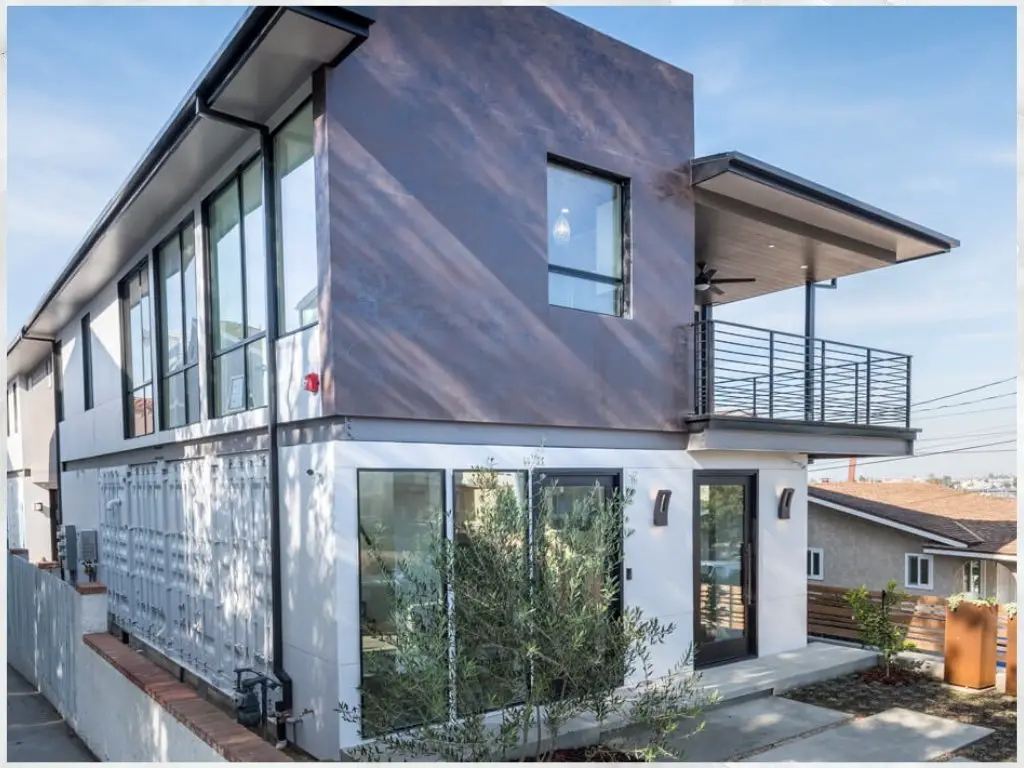 South Redondo Beach, California, USA
Launched as the largest shipping container home project in California, "Lucia Container Home" is located on a single 6,000 square feet plot.
In the project where 14 repurposed shipping containers were used, upcycled shipping containers were used. This resulted in the framing cost about 25% less than traditional framing of a house of similar size.
A modern look has been achieved by using white and gray tones both inside and outside the house.
Read More : Lucia Container Homes California
So if you're interested in learning more about shipping container homes, be sure to check out the Living in a Container today!
More on Livinginacontainer.com