Hello dear readers! Lately, there's been a growing trend that's capturing the imaginations of eco-conscious folks everywhere: shipping container homes. These marvels not only demonstrate our ability to reimagine and repurpose, but they also show just how stunning, luxurious, and innovative modern living can be. Today, I'm thrilled to give you an inside look at a true gem – The Light-filled Nature Haven Eco Home in Main Arm, New South Wales, Australia. This isn't just any container home; it's an experience!
Overview: Nestled amongst the lush green hills of Main Arm and surrounded by the serenading melodies of nature, this unique eco home is a seamless blend of innovation and luxury. Available on Airbnb for $362 a night, it can comfortably accommodate up to six guests.
Features:
Location: Main Arm, New South Wales, Australia.
Capacity: 6 guests.
Facilities: 3 bedrooms, 4 beds, and 1 bath.
Unique Design: Crafted out of three 20-foot shipping containers, with an additional conventional build section sandwiched in between. It's a harmony of modern architecture and eco-conscious thinking.
Special Highlights:
Nature's Bliss: The back verandah offers a tranquil spot where guests can relax, enjoy the bird's serenade, and get lost in the beauty of their surroundings.
Star-gazing Bath: One of the unique features of this home is its outdoor bathtub. Imagine soaking under a canopy of stars, feeling every bit of stress melt away.
Innovative Interiors: The inside of the home showcases feature walls made directly from the shipping containers, providing a rustic yet modern charm. The smart design stands out, making the home truly one of a kind.
Space Smart: The open-plan layout, combined with high ceilings, creates a feeling of vastness and freedom. Additionally, the loft area situated above the container ceilings serves as extra storage and a cozy lounge spot.
Builder's Touch: All this magic was brought to life by the renowned Container Build Group, known for their expertise in crafting unique living spaces out of shipping containers.
Architectural Elegance: The pitched roof isn't just functional but adds an element of character to the structure, enhancing its overall aesthetic appeal.
Conclusion:
The Light-filled Nature Haven Eco Home is more than just a place to stay; it's a testament to human ingenuity, sustainability, and the endless possibilities of design. If you ever find yourself in New South Wales, or if you're just looking for some architectural inspiration, this is a must-visit!
Up next, I'll be diving into some visual insights, with photographs of this beautiful abode. Stay tuned!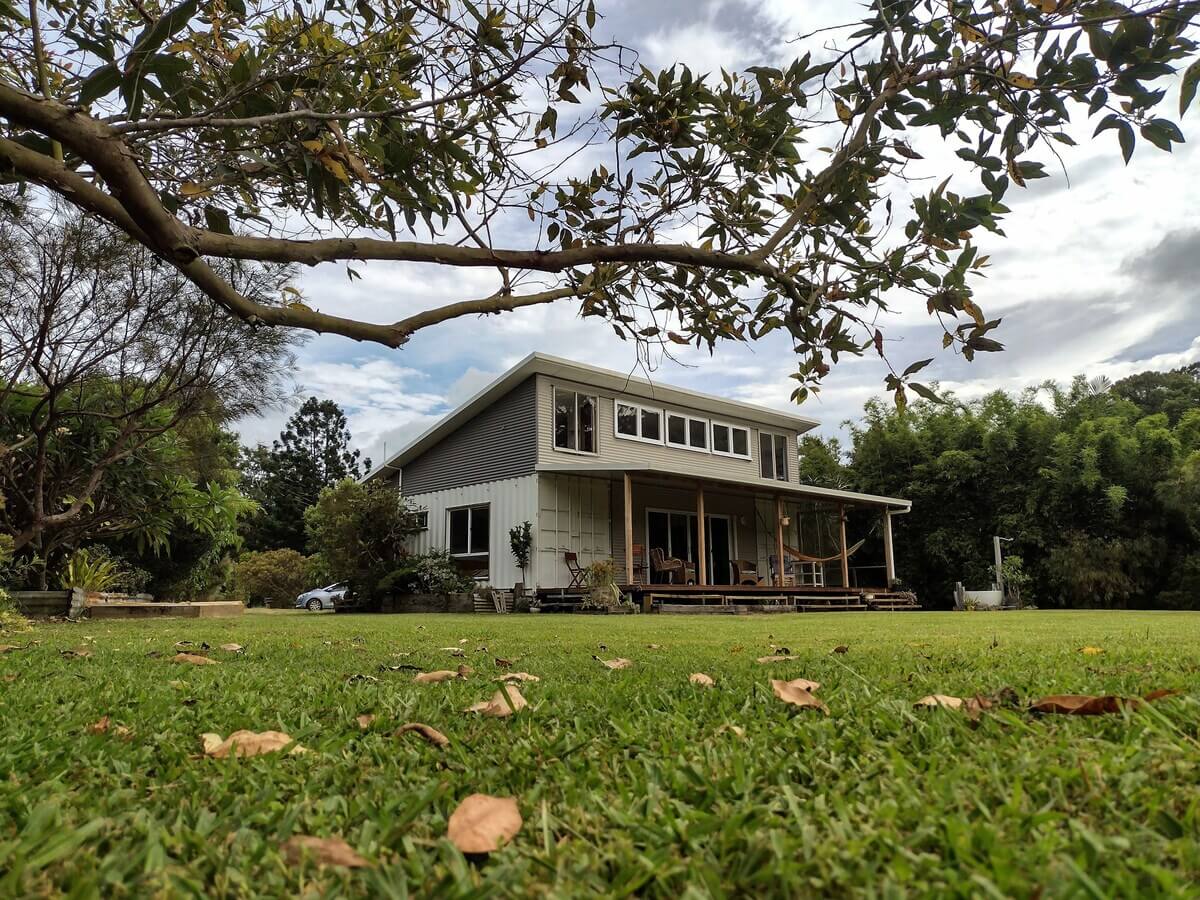 Exterior Beauty and Surroundings:
Ah, what a breathtaking view! At first glance, the Light-filled Nature Haven Eco Home effortlessly establishes itself as a serene retreat. Set against a backdrop of verdant green hills, the home's exterior paints a picture of modern elegance combined with rustic charm. The sleek design of the pitched roof, the pristine white walls contrasted by the dark framing of the windows, and the expansive verandah all come together in architectural harmony.
The wide lawn stretches invitingly, adorned with fallen leaves, symbolizing a harmonious coexistence with nature. To the left, a well-maintained garden adds a splash of color and texture to the landscape. The overhanging tree branches frame the image beautifully, drawing attention to the tranquility of this environment.
The open verandah, decked with inviting chairs, beckons guests to relax, unwind, and enjoy the beautiful Australian outdoors. The positioning of the home, slightly elevated on the landscape, ensures unobstructed views of the surrounding beauty. And, let's not forget the car – hinting at modern amenities and ease of accessibility.
This image perfectly encapsulates the essence of the container home: a perfect blend of modern design, comfort, and the unspoiled beauty of nature. A place where one can truly relax, rejuvenate, and be one with nature.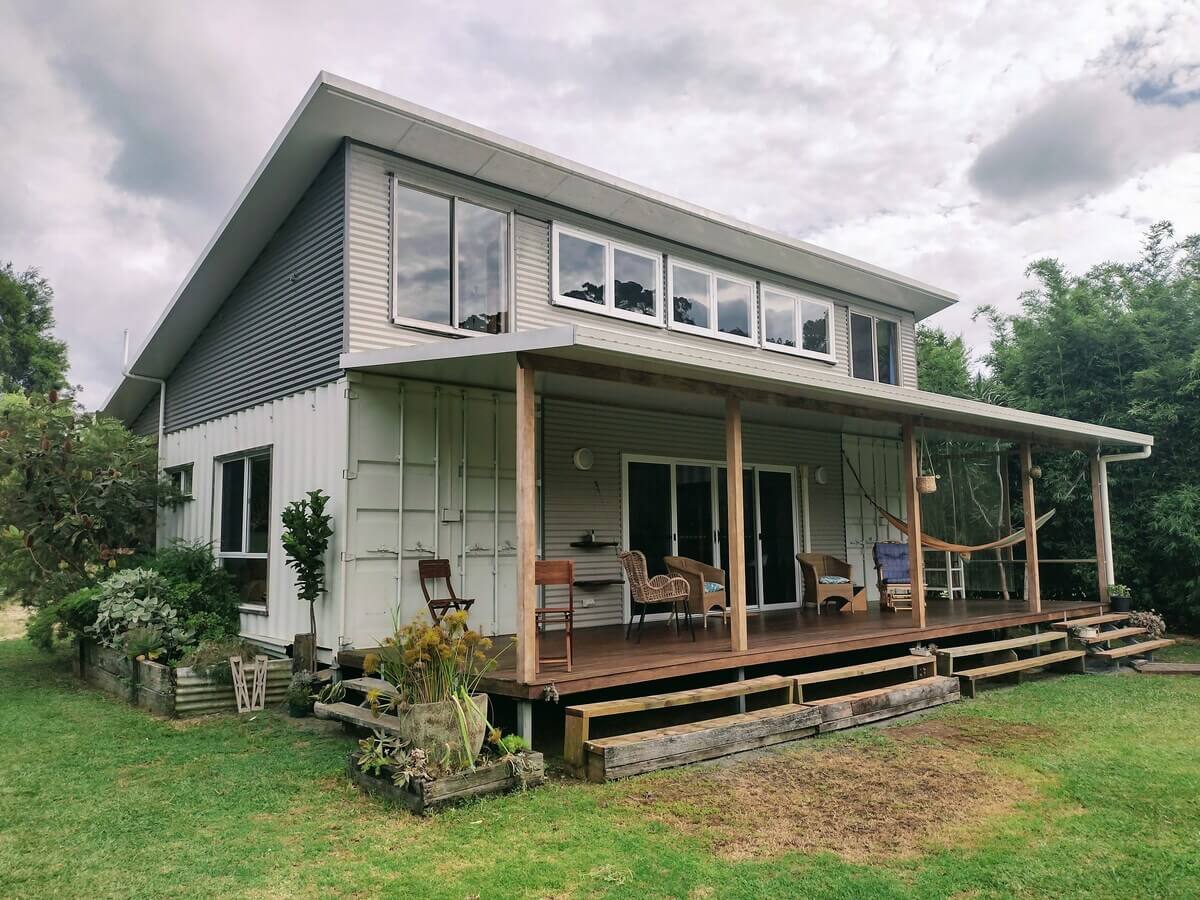 These are beautiful images of what appears to be a contemporary home. The exterior showcases a modern design with corrugated metal sidings and large windows. The outdoor space is complemented by a spacious wooden deck, plants, and casual seating. It looks like a great place to relax and entertain.
The interior is equally impressive.
It features an open and airy layout with high ceilings, allowing for an abundance of natural light. The decor seems eclectic, with a mix of rustic wooden furniture and vibrant, modern art.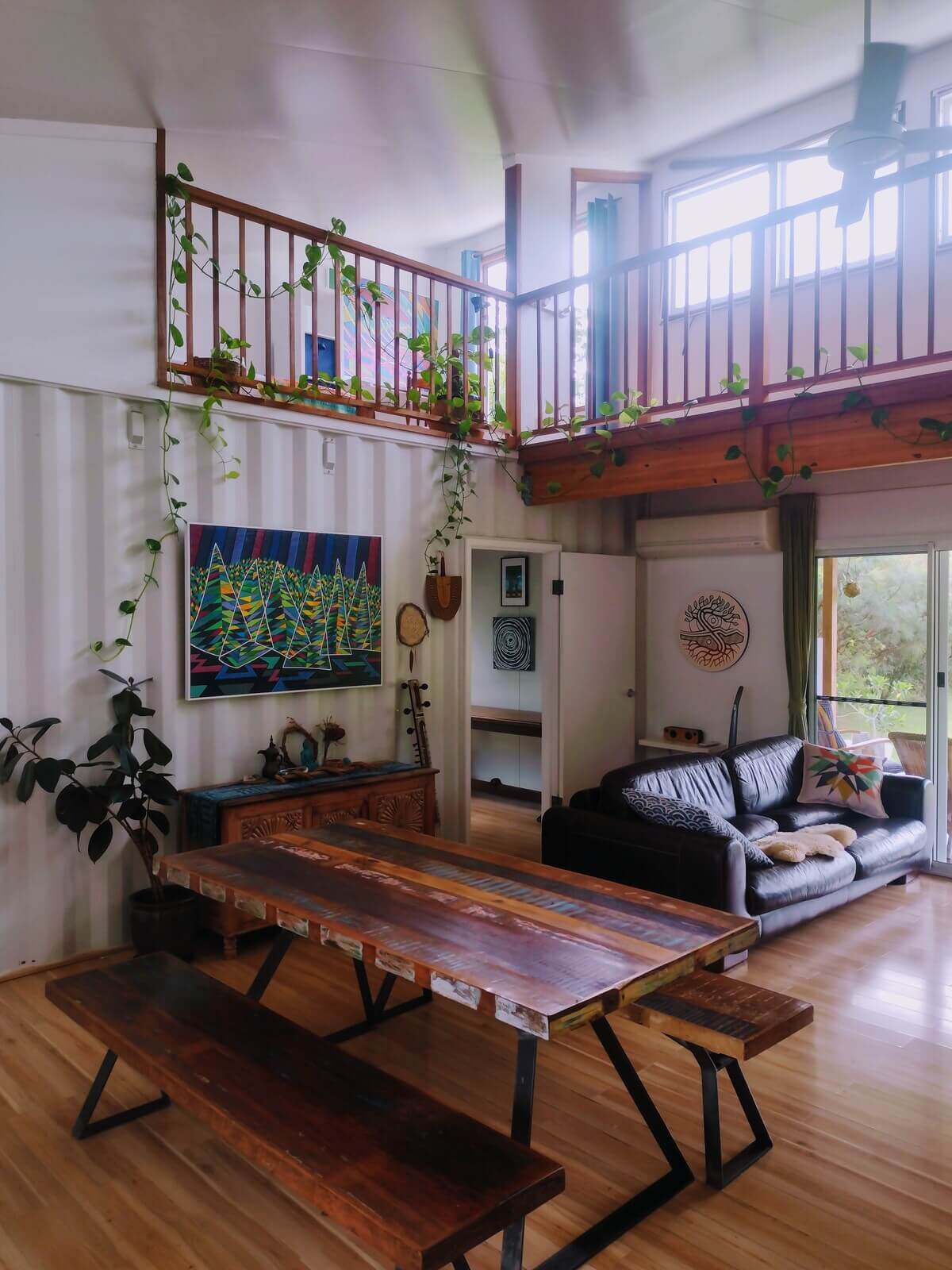 The plants draped over the railings and placed around the rooms add a touch of nature and warmth. The intricate details, like the wooden chest and the variety of art pieces, show a personal touch and a love for unique and meaningful decor.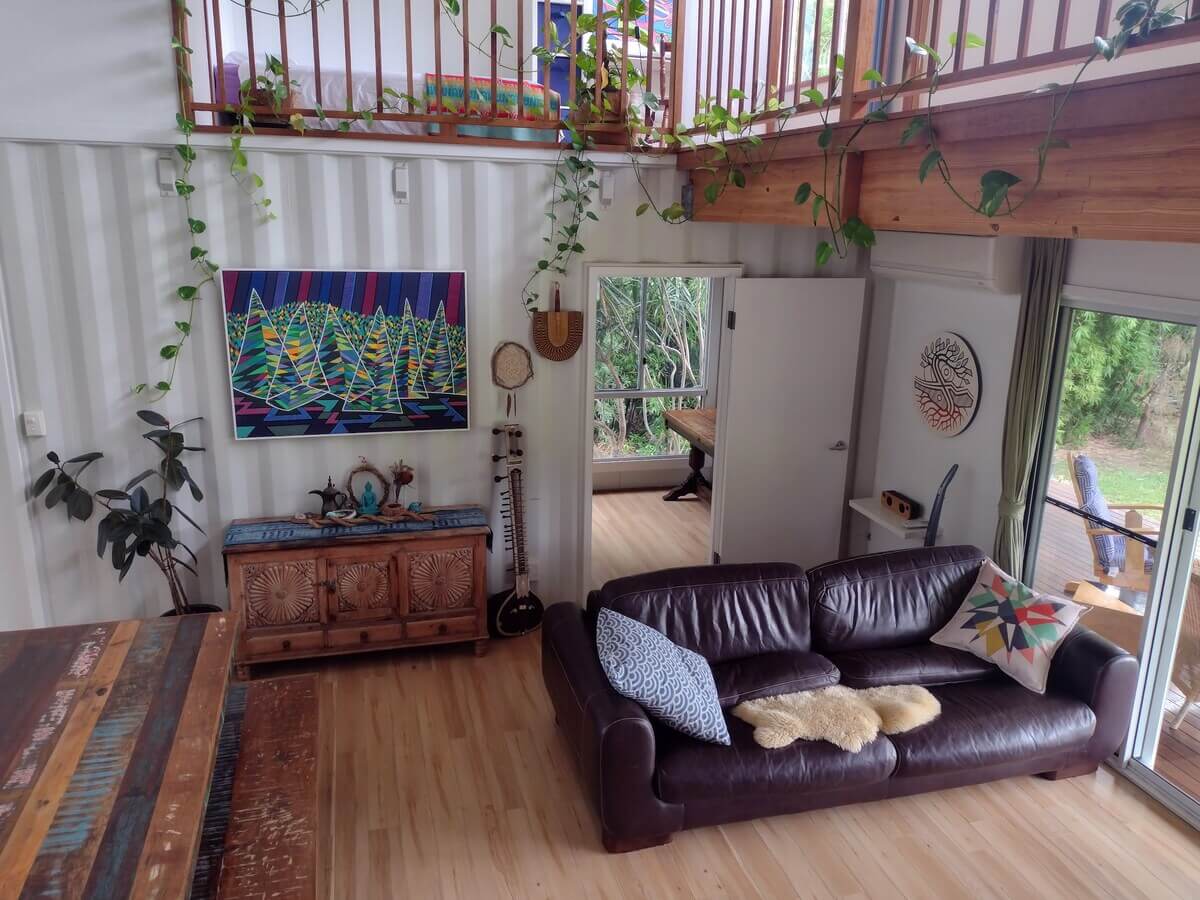 Overall, this home seems inviting, comfortable, and a reflection of the owner's personality and taste.
You may love to read!
Dive deeper and take a look at other captivating container homes in Australia that might grab your attention.
She Herself Designed and Built Her Tiny House with a Recycled Shipping Container in Australia
The Transformation of a Shipping Container into a Gorgeous Home in Australia
The Executive Container Home – Australia
Experience Cozy Container Living: Nature Meets Minimalism for Just $280 a Night!