Casa Kemilau Bintang
Container homes are one of the most preferred holiday options by holidaymakers in recent years. It is now much easier to have a pleasant and wonderful holiday in carefully designed container homes.
These houses, which we know as shipping container homes, offer great opportunities to their guests in terms of convenience and comfort.
Therefore, you can have a pleasant weekend getaway in these houses, which are preferred by more and more people every day, or you can spend the whole holiday season with your loved ones in a magnificent atmosphere.
Among the shipping container homes whose examples are increasing in the world, one of the most preferred projects recently is in Indonesia.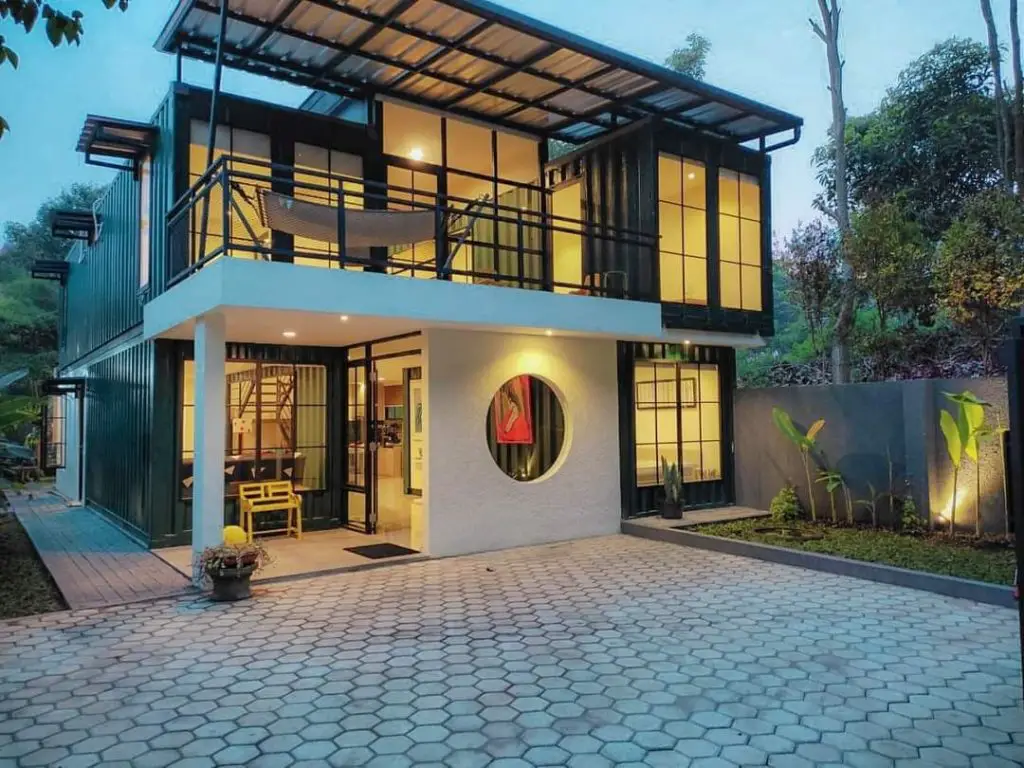 Shipping Container Homes
This house, which is intertwined with nature in Indonesia, was also designed using repurposed shipping containers. 3 x 40 ft and 1 x 20 ft shipping containers were used to build the house.
However, the space left between the containers draws attention by offering a wide living space. Thanks to its unique design, this house is one of the most ideal holiday options for those who want to spend their holidays in shipping container homes and have a large family.
The facilities of the container house with a capacity of 10 guests are sufficient to meet all the expectations of those who want to have a comfortable and enjoyable holiday.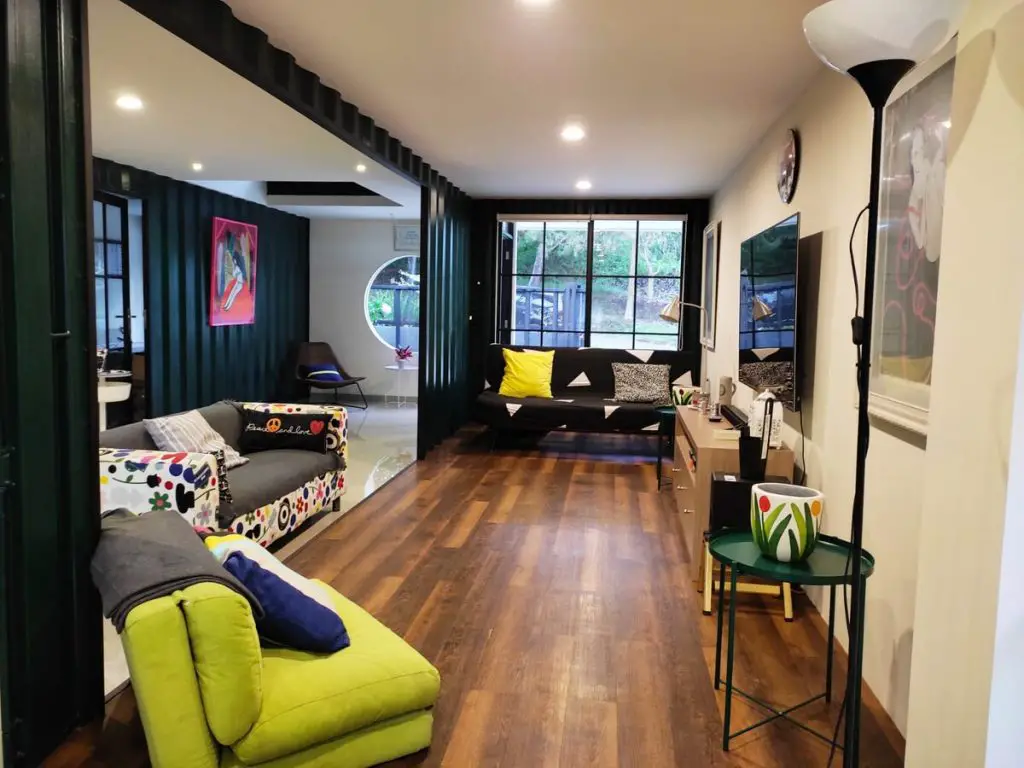 Shipping Container Home Dimensions and Number of Rooms
The house, which was prepared with an extremely stylish design from old shipping containers, has a large interior volume. The container home , which has 5 fully air-conditioned bedrooms and 4 bathrooms with water heater, attracts great attention from holidaymakers.
It is located on the summit of North Bandung with its cool and comfortable mountain air, which is the touristic triangle area of ​​Bandung City in Indonesia.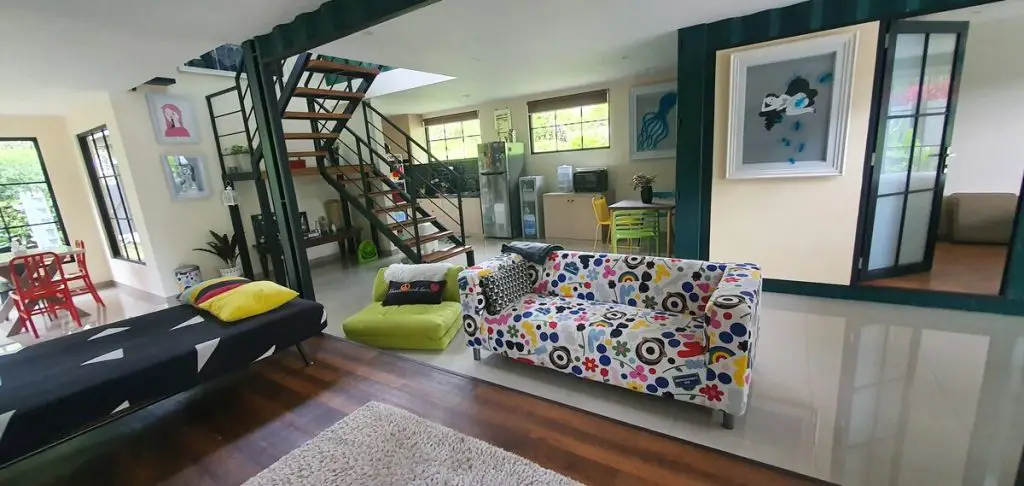 All rooms in this container home provide a spacious and comfortable living space.
Designed for vacationers using four shipping containers, the house has 5 bedrooms and 7 beds. Thus, an environment where 10 people can live comfortably at the same time is offered in the house.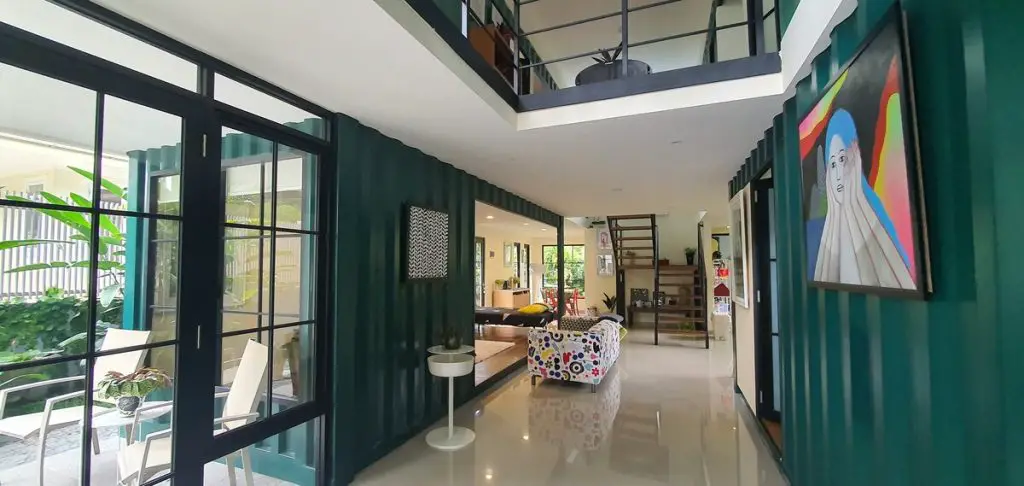 Thanks to its unique location and its campus intertwined with nature, it is seen as an ideal option for those who want to spend a holiday with their loved ones away from the noise of the city.
Just behind the shipping container home is a hammock and sitting area with forest view. In this area, you can rest your mind by reading your favorite books or have very special conversations with your loved ones.
Features of Container Home
A large bedroom on the ground floor welcomes you in the two-story container home. The use of intermittent shipping containers in this structure, which has a special design compared to container homes, has enabled it to reach a large interior volume.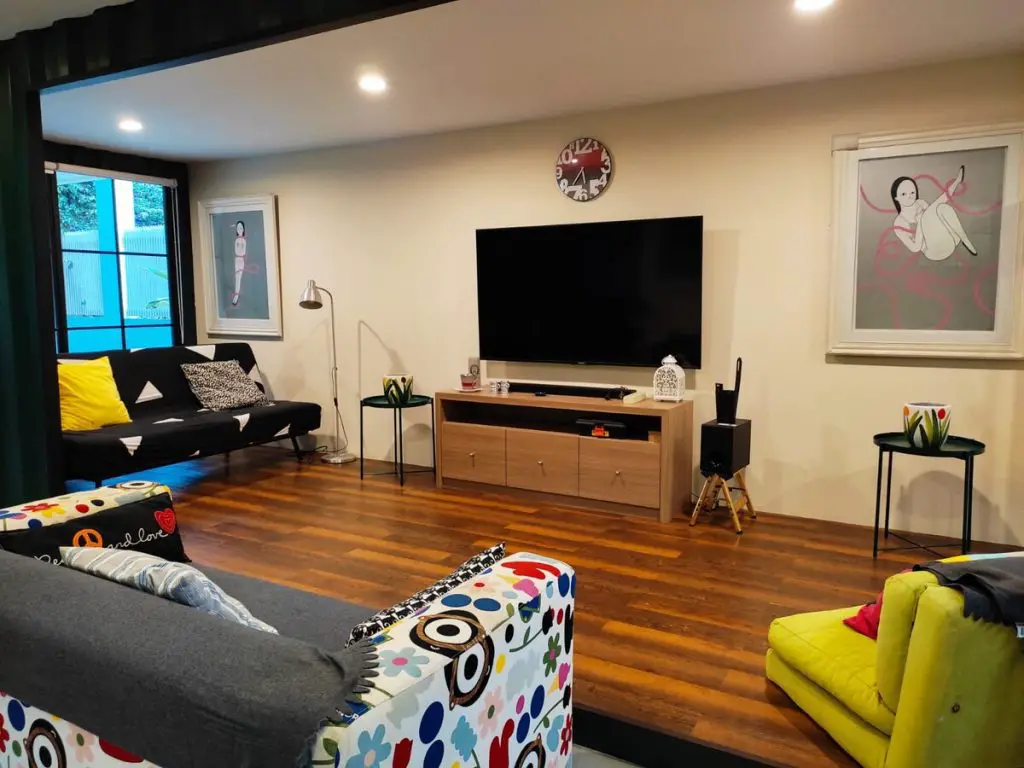 At the same time, there is a small hobby garden at the back of the container home. In this location, you can have fun with your pet, or you can watch your children have a pleasant time in the inflatable pool.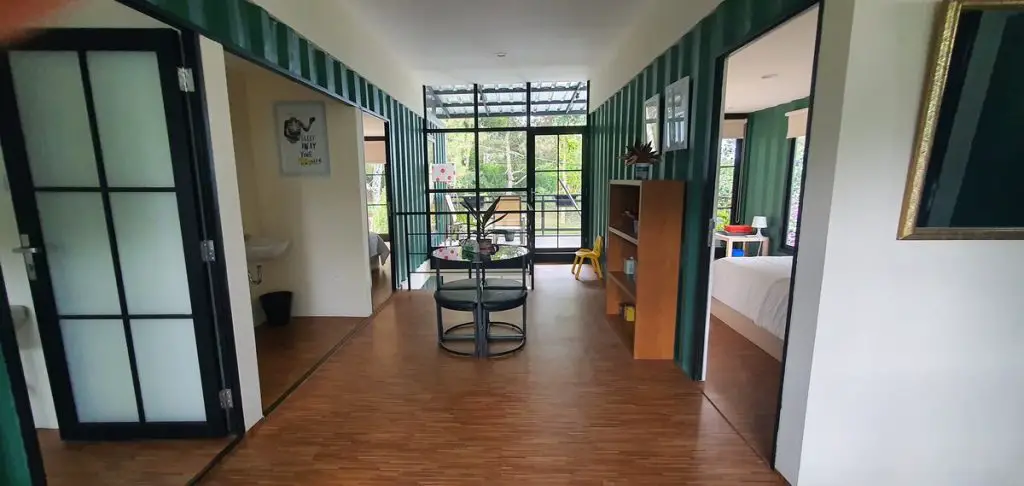 Thanks to the large windows extending from the ceiling to the floor, the interior of the container house looks very airy and spacious. Stylish decoration products and comfortable armchairs in the living room of the shipping container home designed with special furniture are enough to meet all your expectations.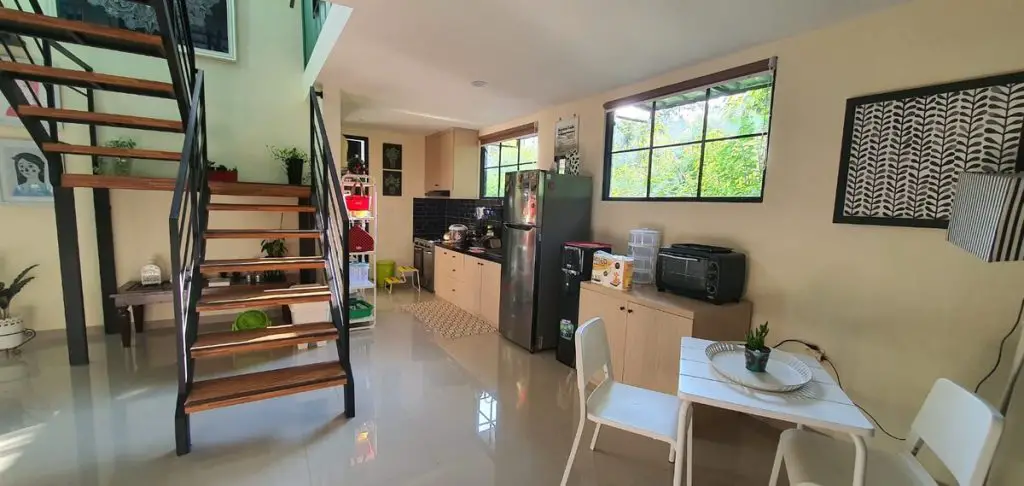 While the kitchen on the ground floor offers a very large area, you can prepare your meals in a pleasant way in this section.
Nightly Price of Shipping Container Home
The price of this container home, which offers a comfortable and enjoyable stay with your family, is $236 per night.
All the furniture you need is available in the stylishly designed and specially equipped house. Having a garage in the front of this villa, which has an average nightly rental price compared to other container homes, seems to be an important plus.
It can be an ideal choice for those who want to stay in such a pleasantly designed container home at affordable costs.
Follow Living in a Container on Facebook, Instagram and Pinterest for more stories like this. If you have a story to share, email us at [email protected].