In order to own a house, you can choose reinforced concrete, wooden or steel construction structures, which are among the durable structures of recent years.
But sometimes you can also own a home thanks to a much shorter construction time, sometimes a lower cost, or sometimes due to the consideration of reusable materials.
For your economical new home with practical and useful features, an old shipping container may offer you the home you are looking for with these features.
Old shipping containers that have been used in recent years are among the most preferred building materials in this regard. Containers, which allow installation in a shorter time than prefabricated or steel structures, also provide an economy much higher than the traditional method.
Container houses, whose construction is completed in a short time and practically with the advantage of saving time, can also turn into a brand new house with interesting and creative designs.
Today, while the container house market is growing in many countries of the world, it can be seen that this market is growing easily in America. There is also the possibility that the market will grow by 2 or even 3 times in the coming years.
In this content we have prepared for you, we will help you understand what it is like to live in a house that has been rebuilt in containers, thanks to one or more containers.
In this respect, we have tried to present you dozens of interesting container house examples with different explanations, with a pleasant compilation from many different countries of the world.
Let's start to examine this delightful list together.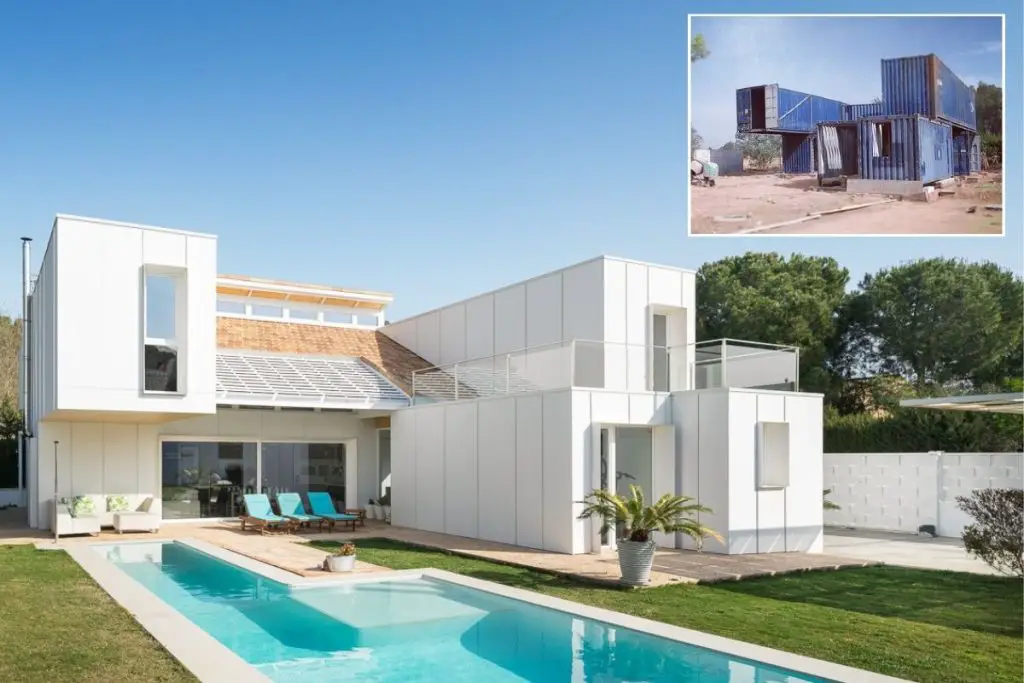 1- Amazing Family Home from Recycled Shipping Containers, Spain
Built from containers in Seville, Spain, this house was designed by Architect Alejandro Martin Torrente.
In this house, which was designed with the reuse of old container structures, shipping containers were transformed into a house project with an interesting design proposal.
In fact, the basis of building the house is to design a house with the use of reusable, that is, recyclable materials.
In order to realize the design of the house, 7 containers of the same size and almost the same characteristics were brought together.
Thanks to these containers, it was possible to build a house with a duplex structure. In the design, instead of placing a room in each container, a different concept was created. For example, while some containers were placed on top of each other, stairs were created in the interior of the containers by placing them 5 meters in front and some a few meters back.
The house, which has a structure far from classical architecture and has many details such as a pool, landscape garden in the front with its creative visuality, and a terrace with solar energy addition on the upper part, has succeeded in creating a very colorful structure.
In addition to being multi-colored, the house, which has a white and heartwarming visual appearance on the outside, has provided a pleasant living space by offering a fascinating atmosphere both inside and outside with its modern look.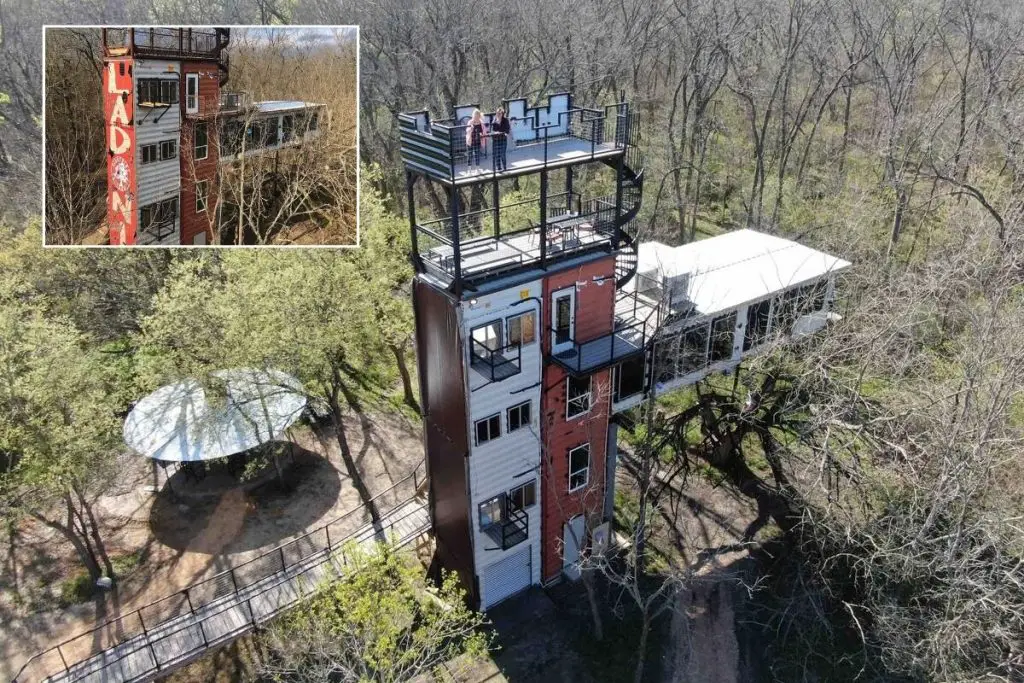 2- Vertical House Design from Shipping Containers, USA
With a much more interesting design, this vertical shipping container house, arranged both as an example of a home and an accommodation facility, is located in Texas, USA.
This building, which has a very cool appearance, can be built in any forest or on your own detached land.
Although this structure, which was built by the use of containers using the stacking method, has an unusual and tacky exterior, it actually contains a very comfortable and even luxurious structure.
Today, this house, which is rented for overnight stay in Texas, has a 6-storey design, and each room offers a view of nature that opens to the forest.
While each floor is an apartment designed with a container, important areas such as bedrooms, bathrooms and jacuzzis are placed on each floor.
In addition to providing a wide usage area in the interior, it is also possible to breathe forest air easily thanks to the balconies.
This type of design can be preferred especially to get cool forest air and to obtain breathing areas, especially in hot regions.
3- Triangle Design Container House, Thailand
This building, which was built as an important example thanks to the container houses in Thailand, offered the opportunity to obtain the opportunity of low cost in an efficient way.
Although the house was built to achieve a quiet settlement in the countryside, it was also designed to be very hospitable and open to the environment.
The house, which has an unusual, that is, an unusual design, is designed not in the form of a rectangular box, but in the form of a triangle.
In the design of the house, a varying number of containers are brought together in the interior. Thanks to the cuts in the interior and exterior areas, a living space of 200 square meters has been provided, although it is not obvious from the outside.
While a steel frame support is provided for the door and walls, this tranquil pondside container house can be adapted in many spots for relaxation and vacation.
This container house, which has become a very popular building in the area where it was built in Bangkok, is truly peaceful in every detail as it is located by the lake and in an area surrounded by trees.
At many points in the United States, it may be preferable to make a similar design using old shipping containers to build this type of house by rivers and lakes.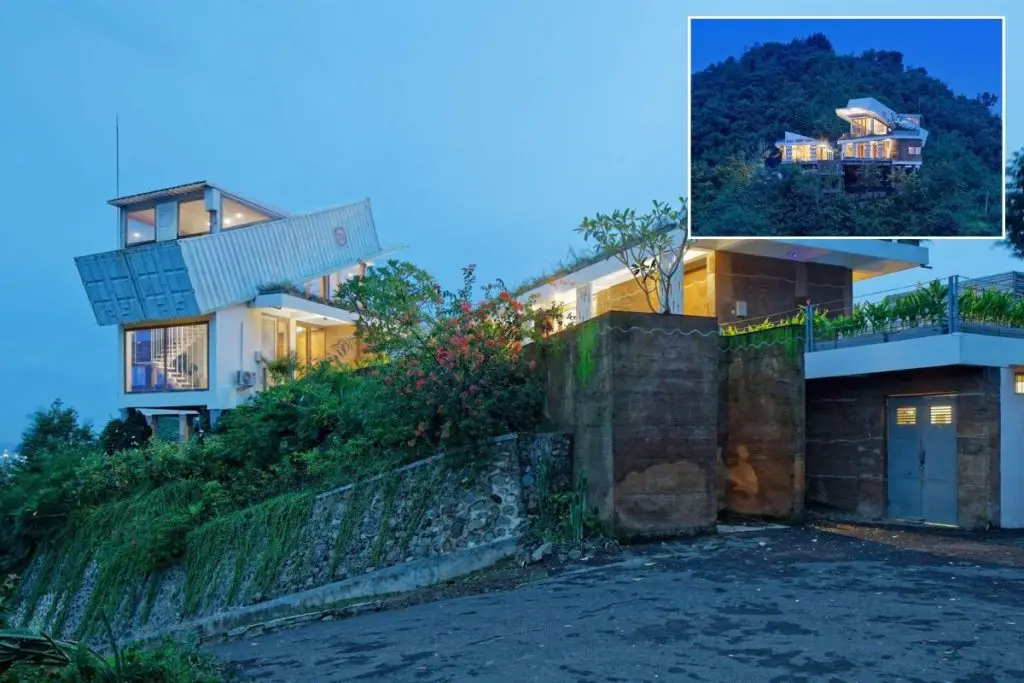 4- Sustainable Container Residence, Indonesia
This structure, which was built in Lombok, Indonesia, in order to achieve sustainability in recycling, was also obtained by recycling shipping containers.
Today, while the construction of buildings continues at many points in the country thanks to shipping containers, such residence structures such as residences, mansions and hotels are also offered.
This residence-style exemplary shipping container house structure has provided a complete usage area with the isolation made from the outside, the combination of different container sizes, and the completion of the energy and installations in the interior structure.
In fact, the building sets an example that destroys the notion that only small houses can be built thanks to containers.
Thanks to these containers, which practically form a residence structure, an elegant-looking and creatively designed result has been achieved.
This residence, which was built on a hill right next to a waterfall, is offered as an accommodation center for tourists, while many different areas such as bedroom, bathroom, living room, kitchen and corridors are effectively designed and offered for use with very high quality materials.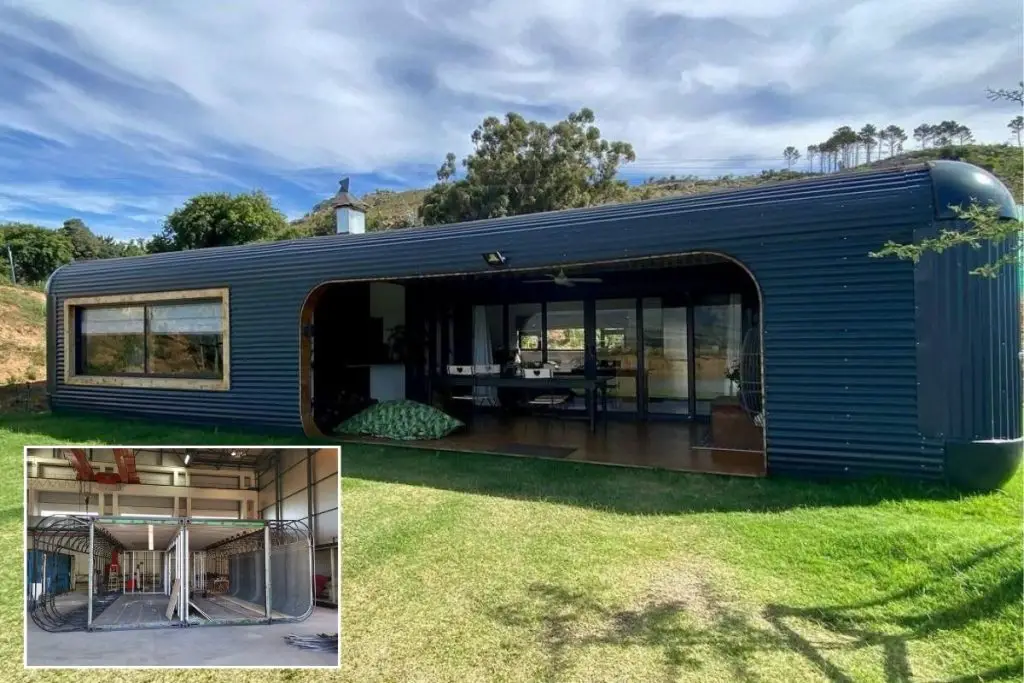 5- Luxurious Recycled Container Farmhouse, South Africa
Presented as an example from South Africa, this container house was built with converted old shipping containers.
This structure, which was designed to build a comfortable farm accommodation structure, was transformed into a very naive and pleasant image with soft corners, free from sharp metallic lines.
The project, located by a pond, was built by a South African-based company, while the same company also receives many different sample projects in the region.
After the two shipping containers were placed side by side and placed in parallel, the windows, doors and connections were completed, resulting in a very spacious and complete farmhouse in its interior.
The container house, which has a mountain view, has provided a very special area of ​​use with its veranda on the shore of the dam lake, the heating system inside, its pleasant decoration, furniture, bedroom, living room, kitchen, bathroom and garden.
After the container interior decorations were completed in a factory environment, the design of this delightful private and economical farmhouse was completed by combining the two parts placed on the construction site.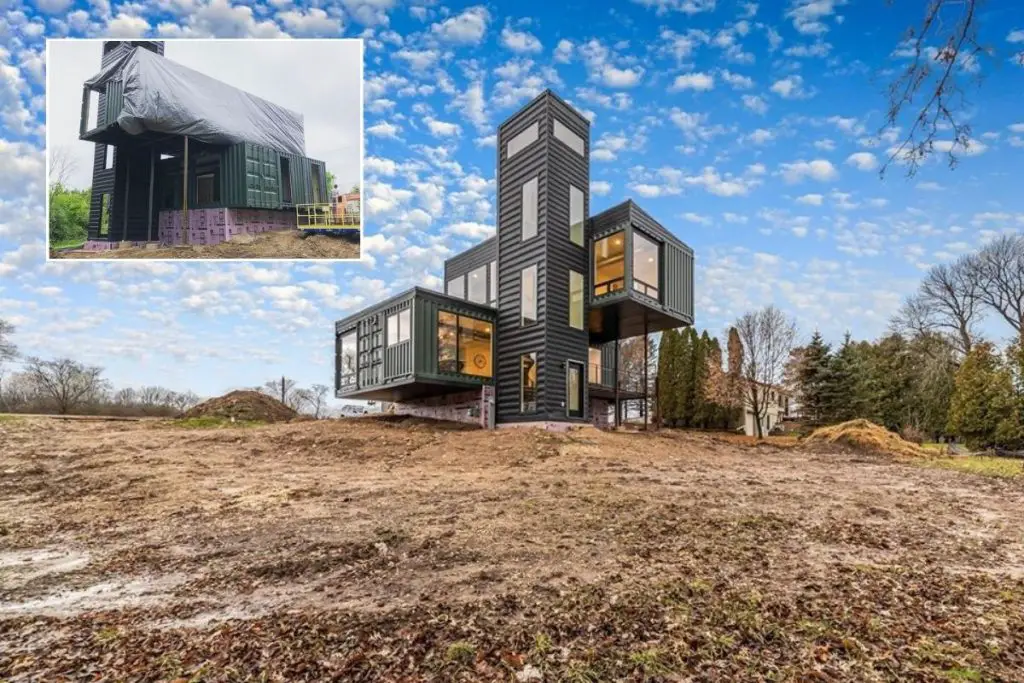 6- Gorgeous Container House by Factotum Fabricor, USA
This container house, which is also an example from the United States, was specially built by a family that owns farm land.
In other words, this house, which has been used for many years, was built using 6 x 40ft shipping containers. A very different result has been achieved both on the exterior and the interior for the container house, which has been completed by a company called Factotum Fabricor, which provides service in the region, making it unique.
While the containers are overlapping to make it a duplex structure, 1 container is used with a completely vertical structure, providing stairs and balconies in the interior.
In fact, this stair tower placed vertically gave the house a very different look. In addition, the large windows, the choice of colors in harmony with the land, and the fact that the house was built with an eye-catching splendor revealed a separate pleasure.
Every separate point in the interior of the house, from the kitchen to the bedrooms, from the living room to the garage, which will be needed for a living space, has been placed in a special way.
Many details, such as the ventilation system, interior installations, dressing room, wardrobe rooms, bathrooms and a large kitchen, are neatly placed in the large interior space created by the large cargo containers.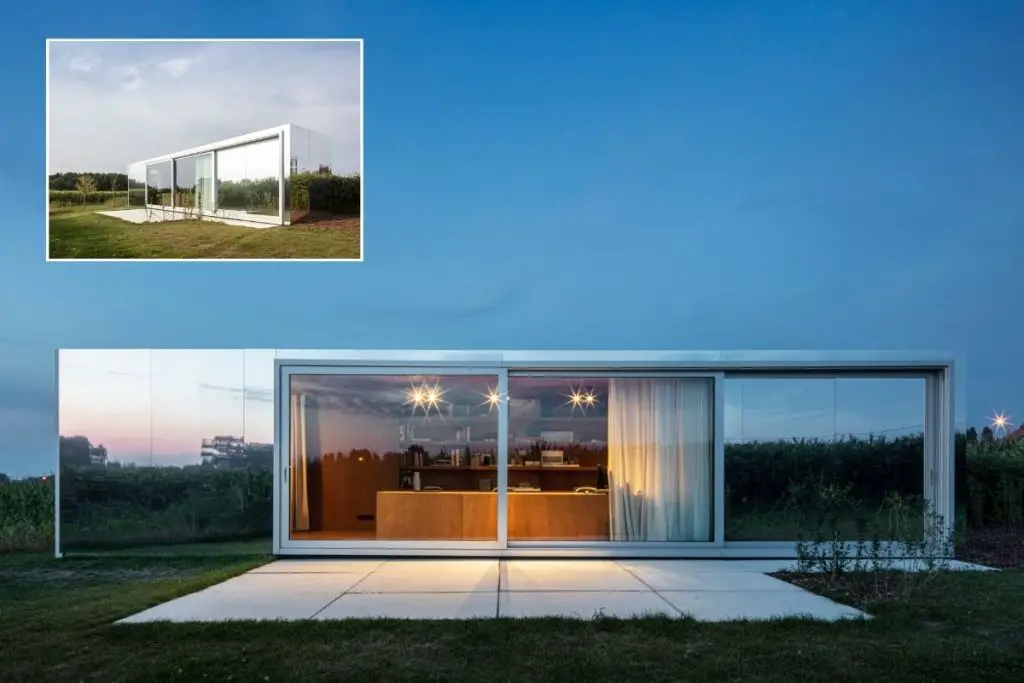 7- Mirrored Shipping Container Office, Belgium
This building, which was designed in Belgium, was originally designed for office use apart from being a house. When shipping containers were preferred for the construction of an office by an architecture firm called Toop Architectuur, an area of ​​36 m2 was provided with 1x40ft container.
With this office design, the architecture company aimed to create an intellectual center that could be called the "Architectural Laboratory".
Since the outer structure of the container is covered with mirrors, a completely mirror image appears when viewed from 4 sides.
The building is designed for a small office use. But the building, which is remarkable at every point, is also prepared in a very stylish way in its interior.
By bringing together the meeting area, work desks and a closed office, an adequate office design has been achieved in the area belonging to the company.
In fact, this structure shows that thanks to shipping containers, businesses and work offices can be set up in a very pleasant and creative way as well as houses.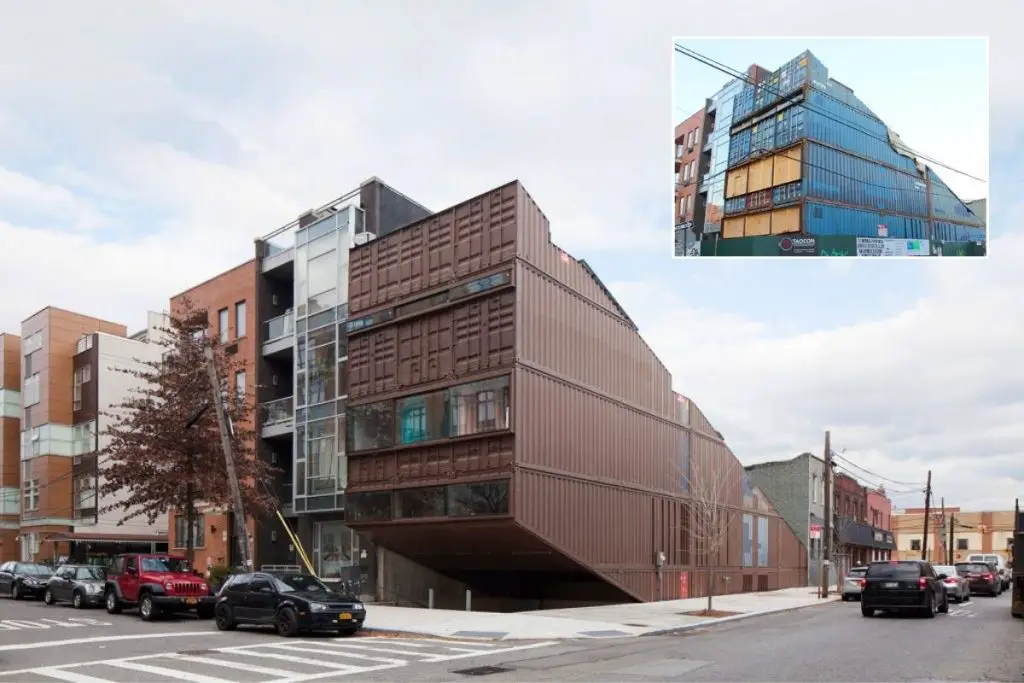 8- $5.5 Million Luxury Building From Shipping Containers, USA
If we need to give an example for a much more comprehensive structure among container houses, this building in Brooklyn, USA, is a giant example of a $5.5 million container house.
21 shipping containers are used for a magnificent design, while providing 5000 square meters of space that acquires a contemporary style.
The building has a very interesting and fascinating appearance from the outside, and is presented as a multi-storey building, a different apartment design, in combination with the containers.
While it was designed by a company called LOT-EK, the aim was to add a different air to the area and many different details such as floor-to-ceiling windows, fully placed usage areas and terraces were added to the structure.
In fact, while there was a detached building at the same spot, this container house was built years ago after a million-dollar investment.
The house, which is only a few minutes away from the city's largest park, has created one of the most impressive structures in the city thanks to its location.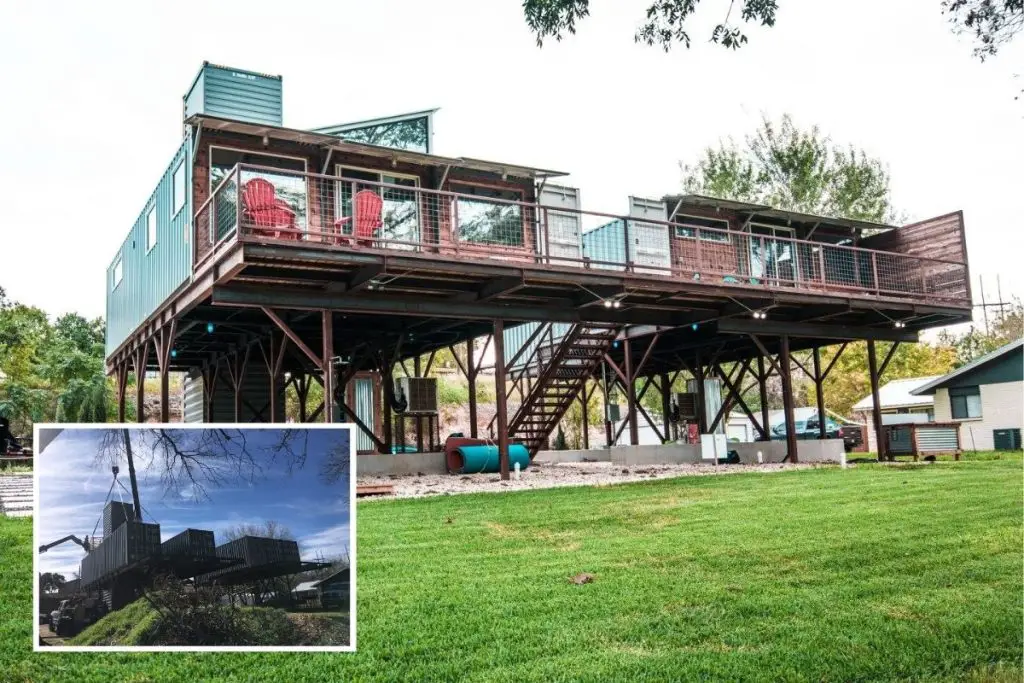 9- Container House by the Lake, USA
This building, which is an example of a container house built in the state of Texas in the USA, has been put into use as a beach property.
The structure, which was built using high quality Conex containers in a special camp area, provides settlement with different sections within itself.
This design, which has been used at the most interesting points in a campground called New Braunfels, is offered to users specially during the weekend holidays for a small getaway.
It is possible to sit on the veranda of the house and enjoy the dam lake. In fact, with this structure, it was built as a summer or holiday home.
This structure, which was built by bringing together a varying number of durable containers, is designed for a home use that is quite adequate in its interior space, especially with the two containers joined together.
In this primitive apartment, a summer residence is provided with bunk beds, small but adequate bathrooms, living rooms, kitchens and all white goods.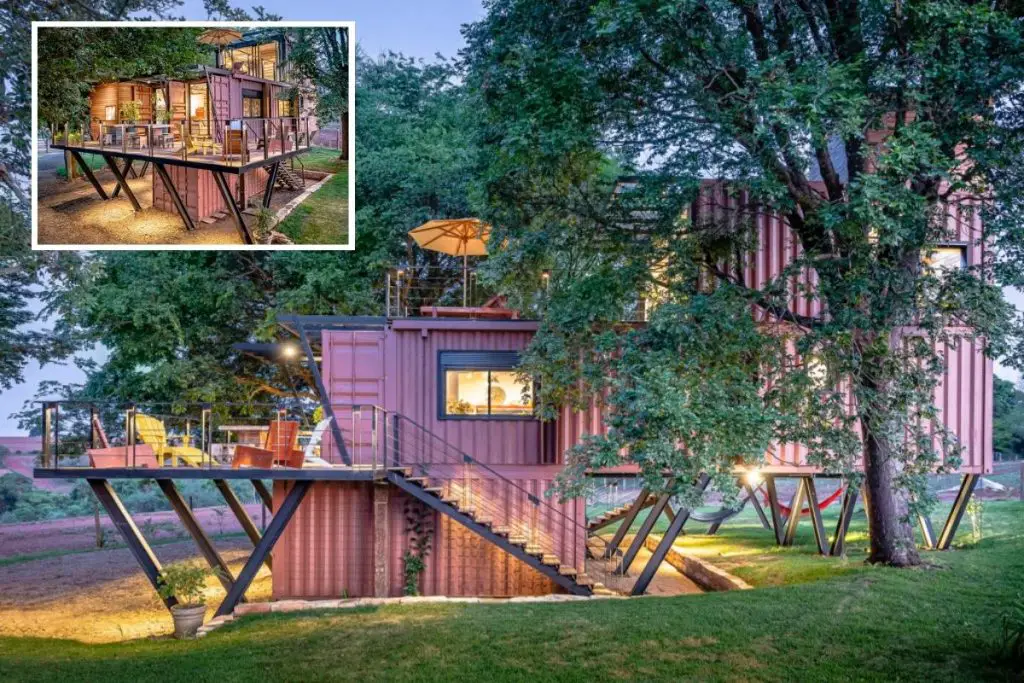 10- Container House Compatible with Forest, Brazil
This container house, specially designed for a pleasant rest in the forest in Brazil, is put into use above the natural ground level of the area.
Because the area where the house is built is surrounded by trees, it is aimed that the windows are in line with the tree peaks and the balconies are intertwined with the tree branches.
Except for the combination of the containers, a very low amount of concrete is used in the foundation, and it is aimed not to harm the environment and the soil.
While the house built with recyclable materials is presented as a project suitable for the ecosystem, the materials are selected from 80% recyclable materials.
While the use of recycled wood is preferred even in parts of the house such as walls and ceilings, rainwater is made to be collected and purified for reuse.
Many similar prominent beneficial features were obtained in the strongly insulated house.
The container house, named Casa Container Marília, has a large veranda and has been fully designed for a pleasant holiday with many parts such as bedroom, two-storey usage area, kitchen, living room, dining room and children's room.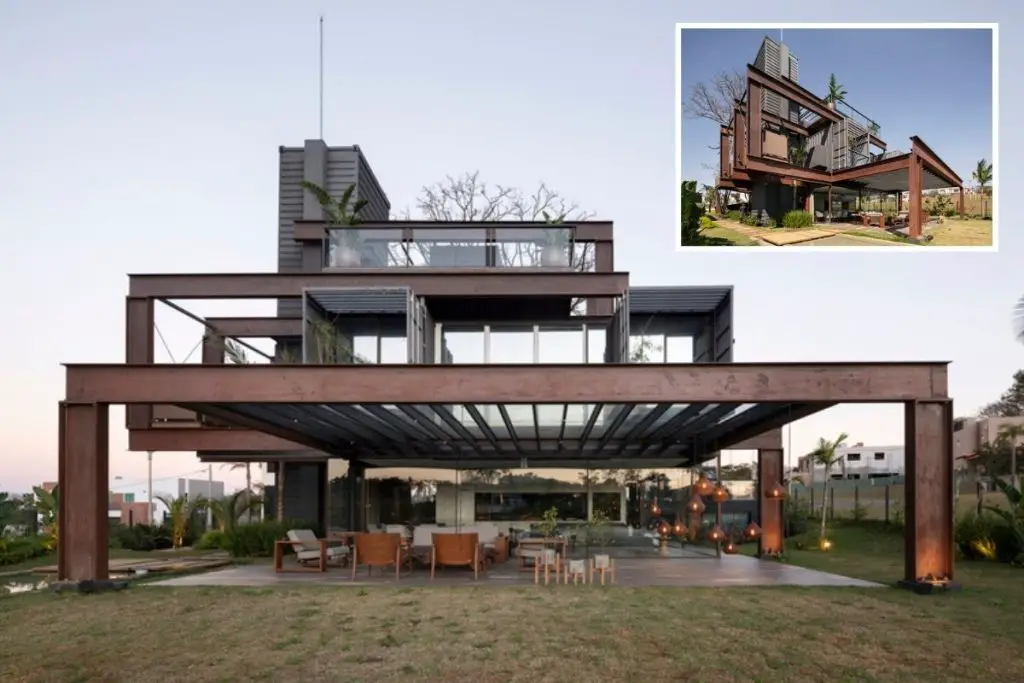 11- Majestic Container House, Paraguay
This container house, built in Paraguay by the Bauen architectural firm, is designed to achieve low carbon emissions with fully portable and recyclable materials.
While the main purpose of the design was to achieve a sustainable structure, a very low cost was achieved at the same time.
While there is a clear and sharp image revealed by the metal material at every point, multiple containers were brought together in pieces for the design.
This house, which was designed with the aim of free use in the open area, has been created as wide as possible in the indoor areas.
While the building is located on a wide usage area of ​​440 m2, it is positioned in its own garden for a peaceful holiday due to its location.
Many opportunities such as a large veranda in the terrace area, a lake view right next to it, the possibility of obtaining energy with solar energy and the use of a three-storey building were included in the project.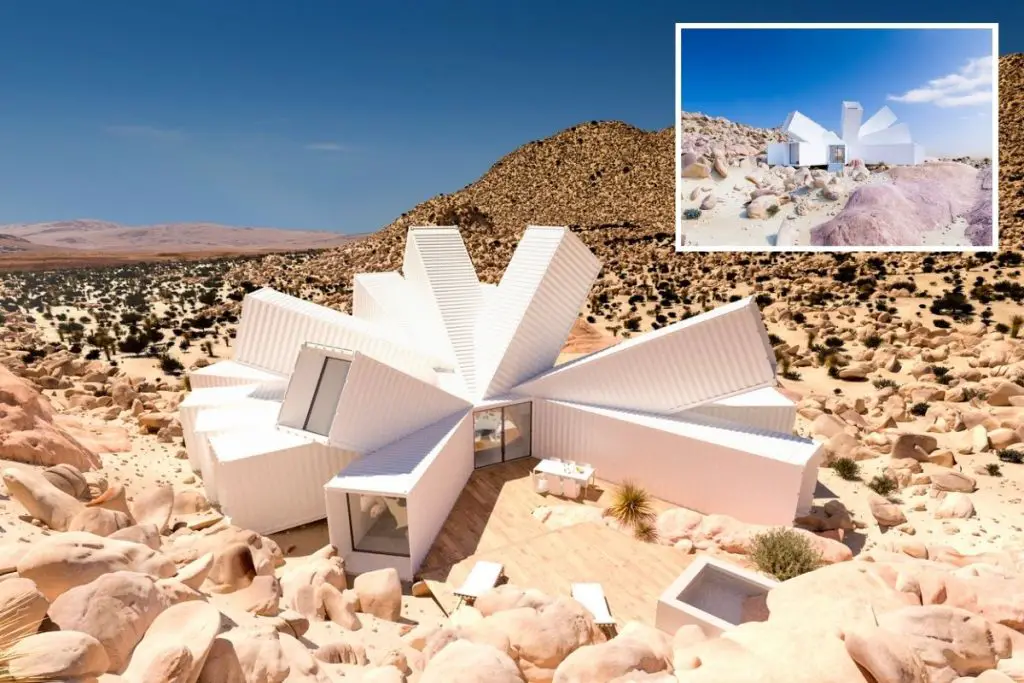 12- Desert Flower Container House, USA
The structure, true to its name, was built by bringing together many containers like a flower in the middle of the California desert.
This building, which was specially designed to achieve a different architecture and visuality in the desert landscape, provided a truly interesting architectural project in every respect. In fact, the project has taken the houses that can be built with shipping containers to a much higher level.
While the building, which receives a lot of light, is achieved by rearranging an office, rain water actually flows from its lower part and the building rises above this water flow.
In the building, which has been turned into a house with the latest works; many different sections such as kitchen, living room, dining room and bedrooms were created. Along with the hill next to it, a spacious appearance was obtained with the white color in the interior.
The large windows used on all four sides of the building ensure that every area gets a lot of sunlight, while the good insulation and the careful thought of every detail offer a comfortable usage opportunity.
This style of container houses is emerging as a result of changing architectural understandings, especially in the United States.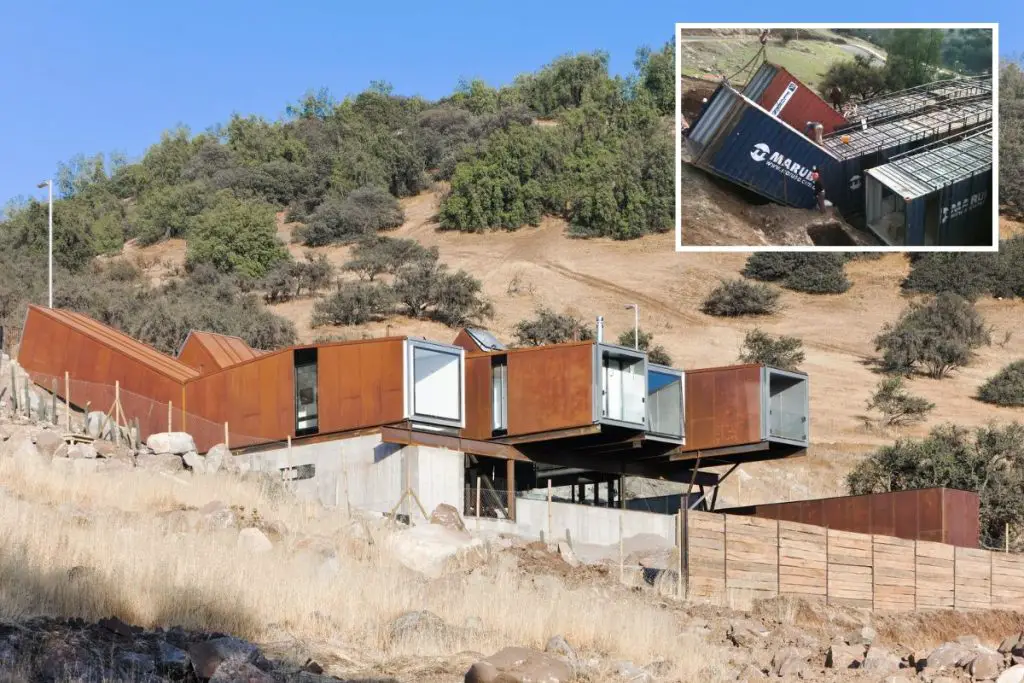 13- Caterpillar Container House, Chile
Built in Chile, a South American country, this container house was manufactured for an art collector's family.
Located in a suburban residential area on the outskirts of the city of Santiago, 12 containers of varying sizes were used for the construction.
All products are second-hand shipping containers, with a construction made of recyclable materials.
The exterior design of the building was adapted by using similar colors in order to be in harmony with the tectonic features of the Andes Mountain in the region.
This project, which was built with different sections on a sloping ground, was completed with a coop for use as a farm on the side and many fine details in mind.
In the project, many details such as jacuzzis in the open area, terraces, large kitchens, sections formed by the combination of mostly metal and glass, use of solar energy, light-filled rooms and good insulation were emphasized.
A structure that will protect itself for many years has been created with the materials chosen so that the maintenance costs and the need are very low.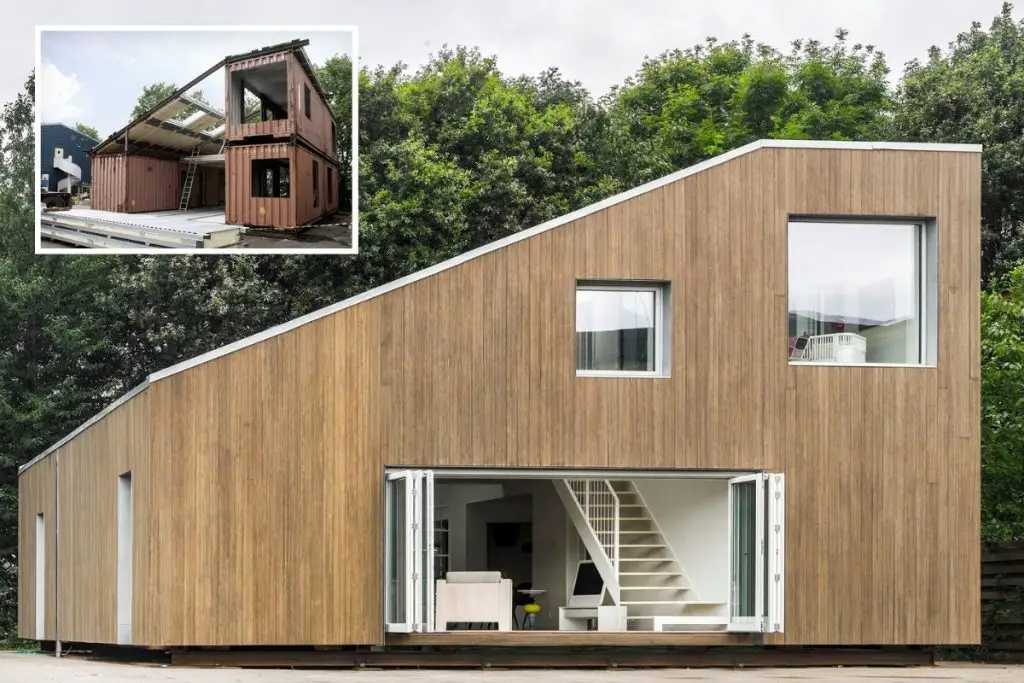 14- Recycled Duplex Container Villa, China
For this project, which was prepared by talented architects, a duplex villa was designed using 3 recycled shipping containers as a basis.
Designed by an architecture company called Arcgency as an environmentally friendly solution, this structure provides a very practical and useful visual for structures that can be built with container houses.
With only 3 shipping containers, a fast and minimalist structure has been achieved in a way that will provide a very wide use in the interior area.
Looking at the interior parts of the building, there are sections such as the dining room, living room and kitchen in the lower part, while separate sections such as the bedroom, bathroom and children's room are placed in the mezzanine floor and upper container created by an internal staircase.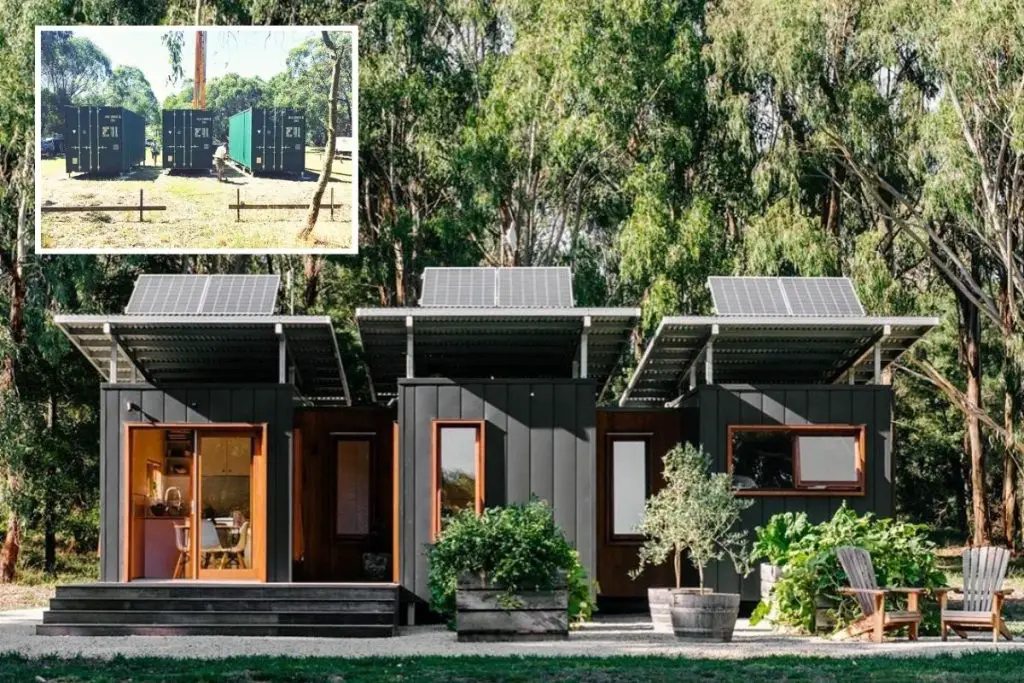 15- Amazing House with 3 x 20ft Shipping Container, Australia
As an example from Australia, this house was created by combining only 3 x 20ft containers with side-by-side attachments.
Project; It clearly shows how cold, hard and unimaginable metal containers turn into a pleasant home. Because the building presents an example of a summer house that can be controlled with solar energy and has sufficient interior space.
This house, which was built with the use of containers for low cost purposes at the request of a young couple, provided a moderate and ideal living space for pleasant holidays.
While every piece that should be found in a standard house is also present in this house, in addition to every detail such as both heating and cooling conditions in a spacious living room, bedroom, kitchen and bathroom, a pleasant garden patio has been added.
In the house, which aims to strengthen the insulation with wooden coating on the interior, both heating and cooling systems were installed for ventilation, considering all four seasons.
While 3 containers were combined with each other from the rear section, a house was formed with insulation and windows in the intermediate passages.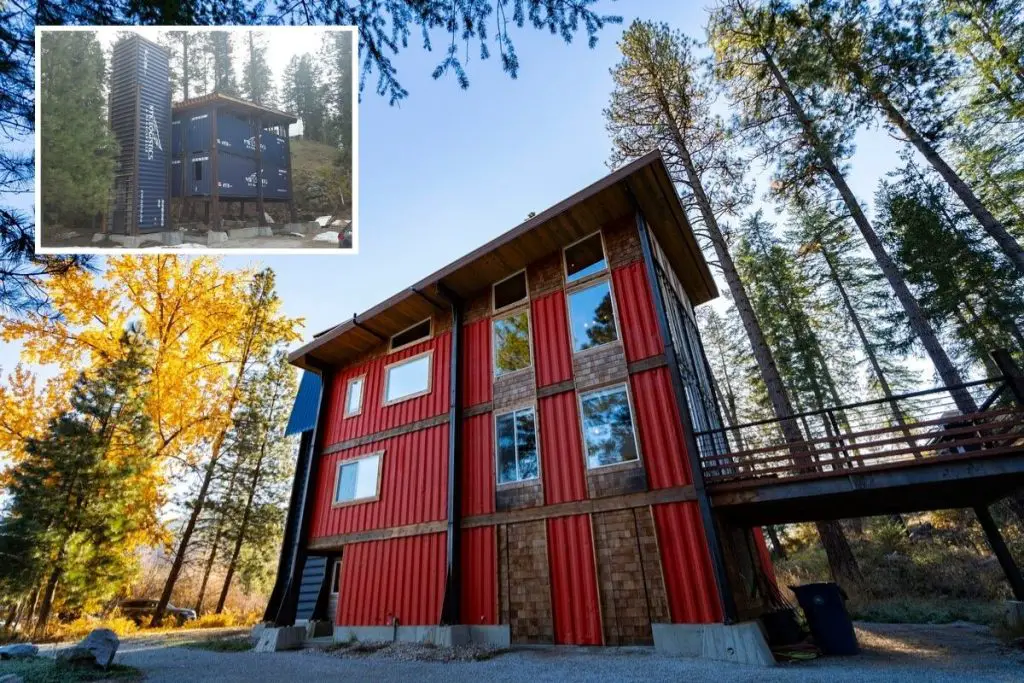 16- 3 Floor Container House Built in 3 Years, USA
A period of 3 years was spent for this house, which was built on a hill in the Leavenworth area of ​​the Capital Washington, USA.
In 3 years, only 5 containers were used to create a 3-storey structure. Even in terms of design, 1 year of work has been done for this steel structure, which was created by the combination of a little reinforced concrete and thousands of bolts and nuts.
Today, this building, which is offered for rent as an accommodation facility, is considered a very pleasant area in nature with its unconventional visuality and unique living space.
Surrounded by lush green mountains, this house built from recycled materials provides a uniquely calm and peaceful structure.
This house, which is preferred by many for forest walks and holidays, is dominated by a red tone on the exterior, and a luxurious design is also preferred on the interior.
While wood comes to the fore in the interior of the house, a design has been realized with the most comfortable items at every point such as the living room, kitchen, bedroom, interior stairs and terraces. The project is also called the "Red Steel House" in terms of its exterior color.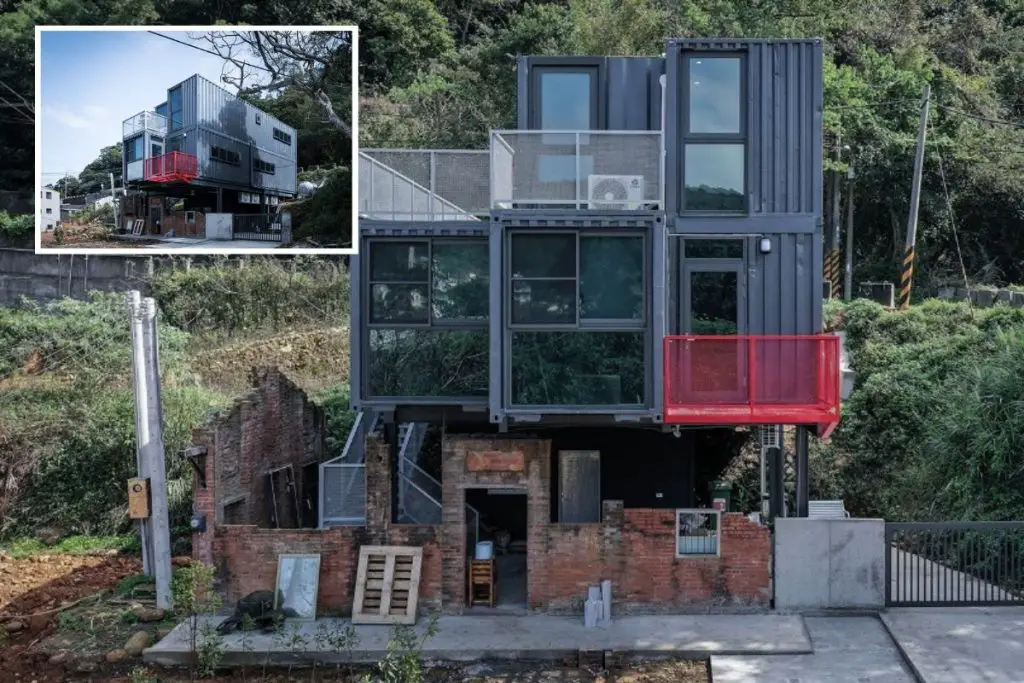 17- Container House Built on a Ruin, Taiwan
This container house in the last row is built on top of an old ruin in a forested area outside the city in Taiwan.
Built on the ruins of an old brick house, this container house was created by blending a modern building with an old one. Because the landlord aimed to preserve the memories of the old house on the land without losing it.
When you observe the house from afar, it is possible to see a structure rising from the bottom up towards the modern.
While a 3-storey structure was created using 5 shipping containers, the old structure was preserved with an open plan on the ground floor.
While steel poles were used for the containers placed on the upper floors, the rising structure also made the view more enjoyable.
Many areas such as a living room, a kitchen, four bedrooms, two bathrooms and a warehouse were fitted in the three-storey building.
Instead of installing so many sections in a reinforced concrete structure with very high costs, shipping containers were used by the construction company.
While there are areas such as the laundry room and warehouse of the house in the old building at the bottom, a very peaceful container building has been obtained with the forest next to it.
At the Last Point…
While container structures create many different examples of this type, these structures are preferred all over the world due to their low costs.
Regarding container houses, which can be built by combining recyclable materials that change for every imaginable building design, you can also obtain architectural structures that change in your country, based on the examples in the list.
So if you're interested in learning more about shipping container houses, be sure to check out the Living in a Container today!
More on Livinginacontainer.com