Steel shipping containers are used in various constructions. These are used to built homes for living, guest houses, apartments, villas, mansions.
These all living structures are constructed through shipping containers and these enhance the elegancy of any living area. These are preferred now, and the reason is very clear. Containers are reliable and more modern.
This article is going to inform you about apartments made of shipping containers. These apartments are prepared through containers after hard work. This hard work is fruitful because the apartments are very decent. These are designed in this way that these fulfill the need of modular living in perfect way.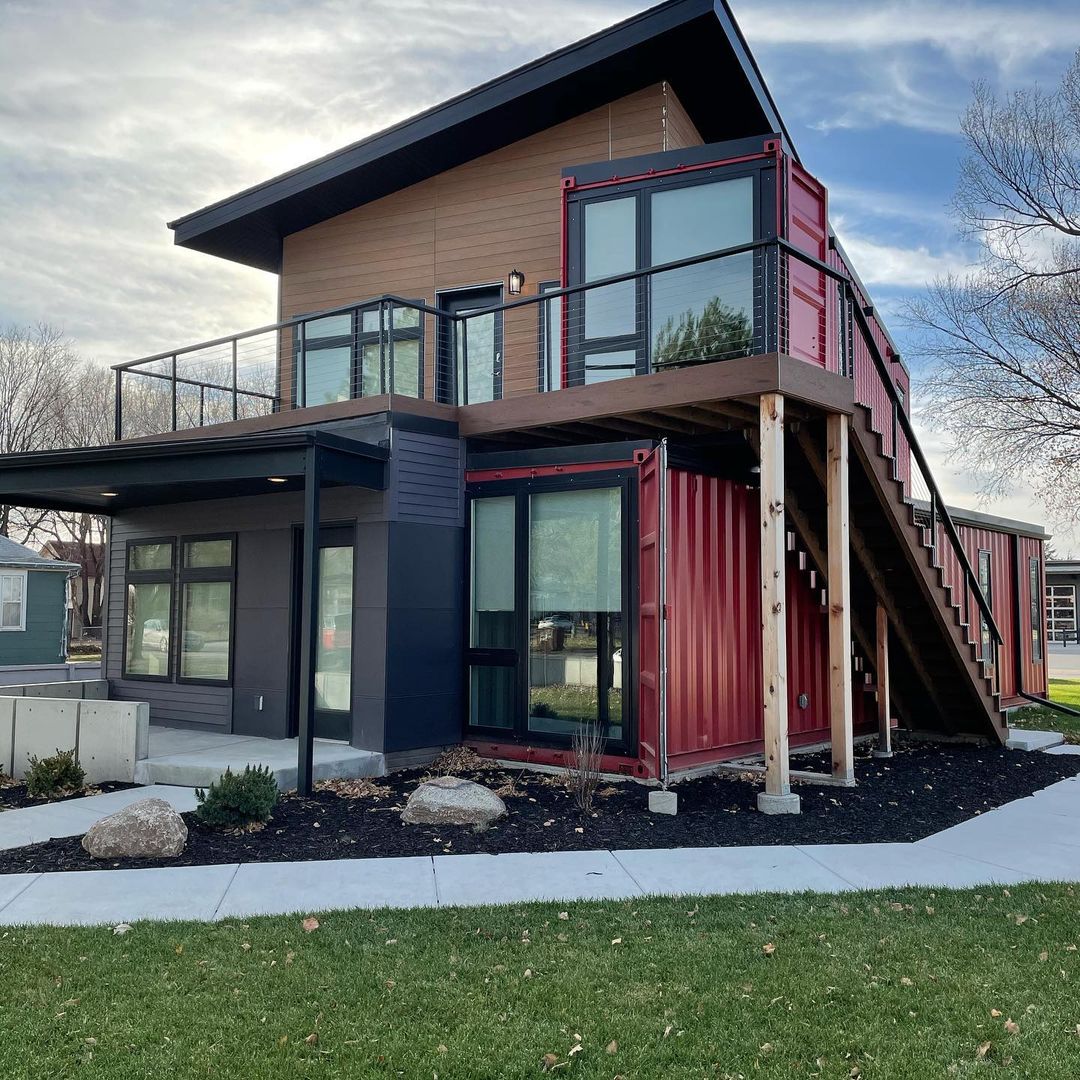 Apartments designed by shipping containers in Lincoln Nebraska.
These apartments are designed in USA. These are apartments for rent. These are projected by TJK Investment. These were constructed in 2020. The architecture of apartments is by Studio951 Architects.
This is a wonderful project which is handled in a very precise way. Elegant apartments made ready through the usage of steel shipping containers.
Read Also : Two-Storey Container Homes
Area of the container.
These are two steel shipping containers which are kept together in such a way that one container is placed on the ground level and second is placed on lower one that it almost makes a cross design. This is a different and new look design. Two containers have an area of 40 feet.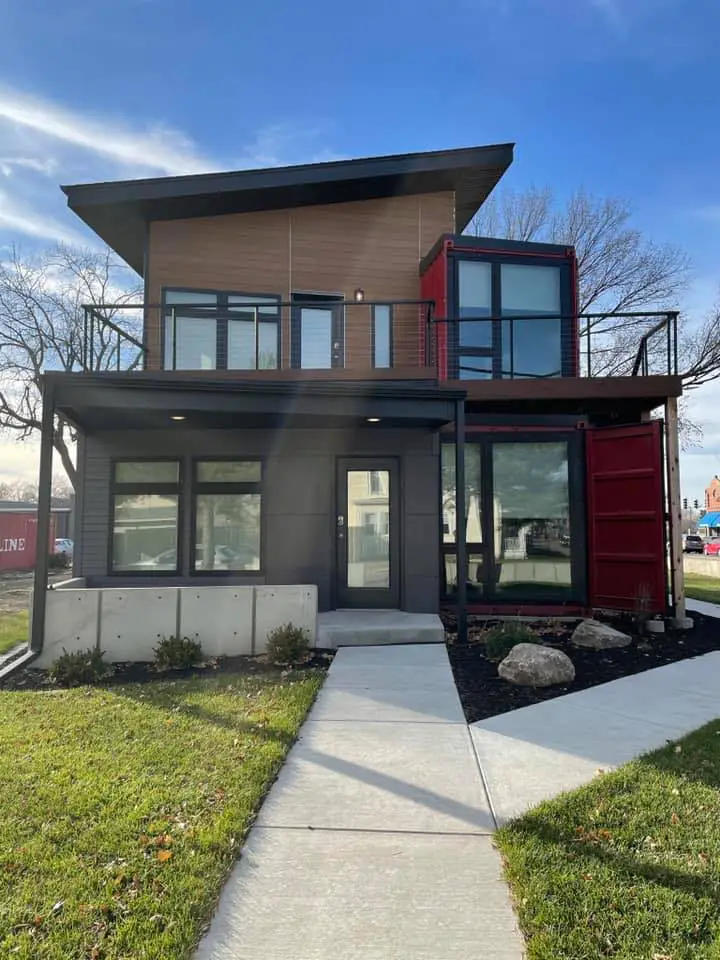 Apartments are designed in two floors.
This shipping containers area has two floors. One floor is set on lower level which has different portions and other one is upper storey. It has also different portions which will be discussed in next section.
Unique harmony of steel, wood and glass.
The beauty of these apartments lie in this thing that these are not only made of shipping containers but also from wood, glass and all these things give a unique look.
On front, garage supports the upper container which is constructed through concrete material. Front look also made through glass windows and sliding doors. The wood is used in construction of floor, terrace and various other parts to make a beautiful architecture.
Read Also : Life Uncontained Shipping Container Home
Paint of apartments.
These are painted in red shade. Wood in painted in wood color. The lower container is brighter in color and upper apartment is also red but this one is less intense. Rest of the building gives the looks of materials which are used in construction.
Ground floor has following portions.
Within the entrance gate, there is a garage. Then entrance gate is designed. Rest of front is occupied by glass. After entering the building, there comes different spaces which are specified for different parts. There are two bedrooms on ground floor. These are large in size. Two bedrooms share a single bathroom. This bathroom has all the facilities.
There is a specific space for living room. The furniture has to be set here because these apartments are for rent. Then kitchen is completely available with all appliances. The stainless steel has been used in construction. The refrigerator is placed in kitchen. All facilities are provided.
Within kitchen, there is an area for setting dining table. The chairs and table can be set here easily.
Stairs are designed outside the home.
Stairs are constructed outside the home. These are painted black. These are various in number. One step is not joined with other. Because these are designed with gaps.
Architecture of upper floor.
By stepping the stairs up, one can easily move to second floor. The upper container also has various portions. One bedroom is there for a large sized bed. This bedroom is designed in this way that bathroom is attached with this with all facilities. The bedroom is bestowed with a terrace made of wood.
Wooden deck is outside the bedroom.
This bedroom is decorated with terrace. Terrace is really a beautiful thing. This is made of wood which enhances its beauty. The railing is constructed here. Standing or sitting in the terrace is really a nice feeling. One who will stay in upper apartment is really lucky. Because people often compete for a room with terrace who live in the same place.
Read Also : Shipping Container Home Ontario
Outside environment of the home.
This apartment is provided with very beautiful surroundings. The area is neat and clear all around the apartments. This is right to say that these apartments give a posh look. I think this is a very important thing for a living place. outside area must be peaceful. This fulfills this need.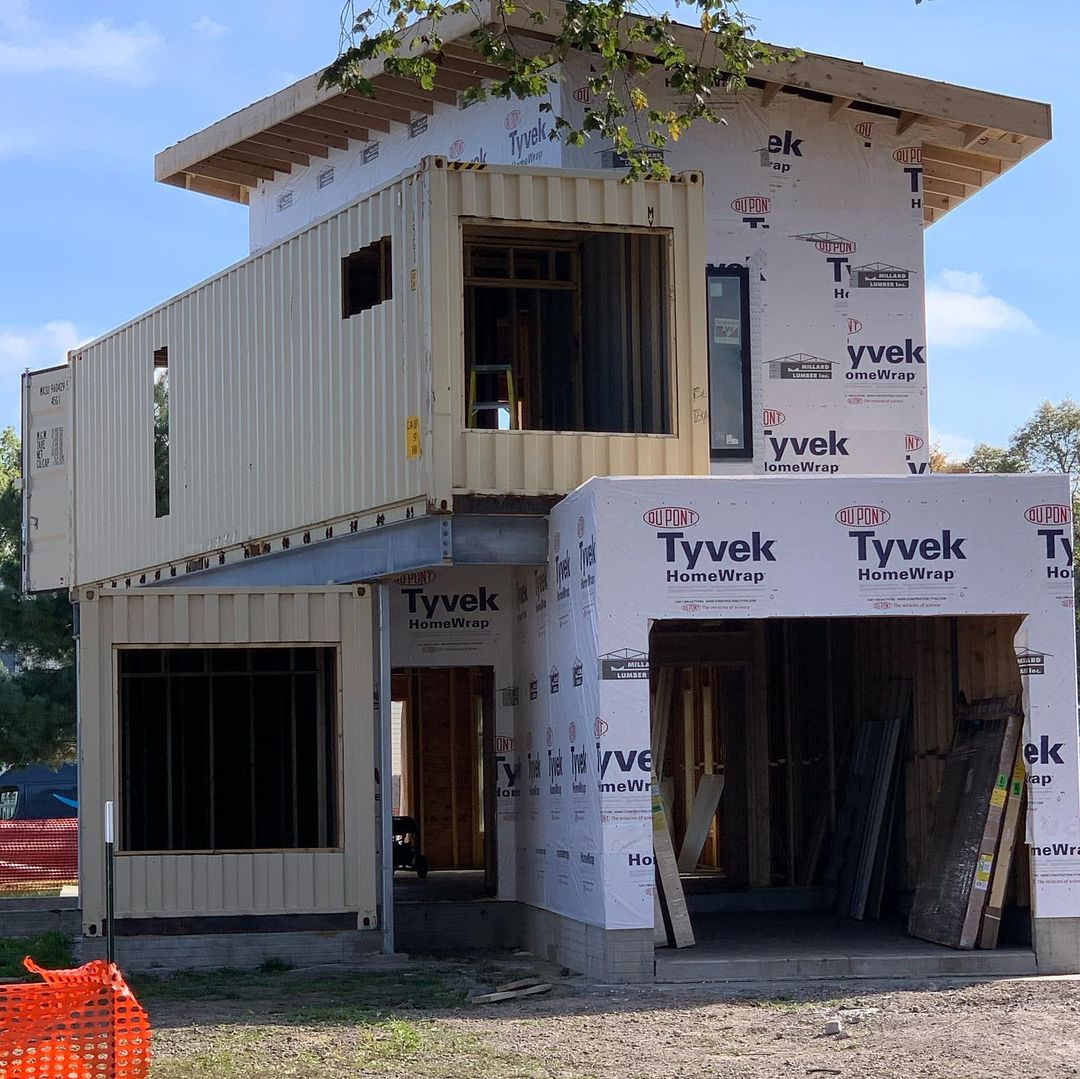 Containers are best for construction of buildings.
Containers are best for construction. These are durable and robust. These are also preferred due to their beauty. These give an entirely different and modern look to living places. This enhances the elegant and utter touch of the constructed places.
This was all about these apartments made of steel shipping containers in USA. This description gives a complete information related to architecture of these apartments.
If you want to learn more about the design of the house, you can contact TJK Investments here.
Living in a Container explores projects made with shipping containers around the world and shares them for you.
Don't forget to take a look at the structures made with other amazing shipping containers on our site!
We invite you to send in your story and container homes photos too so we can re-share and inspire others towards a simple life too. Thank you!
You can share this using the link and social media re-share buttons below. Thanks!
» Follow Living in a Container on Social Media for regular shipping container house updates here «