Hi everybody
We continue to discover for you. Our container house on today's tour is from Halfmoon Bay, British Columbia, Canada.
Steel shipping containers are used in construction of many homes. These are used to construct guest houses, residential homes, villas, mansions, hotels, cafes and every living place.
Shipping containers are made of steel. These are also used in transpirting goods from one place to another place. Well, these shipping containers which are used in transportation, can be reformed to construct buildings. depending upon the variety which containers provide in construction of buildings, these are getting progress day by day.
Concrete material versus shipping containers.
Every person knows that homes are made of concrete material. This was limitations until containers have been discovered. Now, no one is bound to use only concrete material in the construction of any living place. The variety that shipping containers provide is marvelous. These containers are finally changed into elegant, decent homes with all facilities.
If we compare concrete material with steel shipping containers, then we will come to know that container homes are cheaper than the traditional homes. These consume less money and time. As a result, less hard work is required. This quality attracts the constructers.
Moreover, containers are used to construct homes at places where traditional material cannot provide a home. It is impossible to transfer concrete material at that place. Reality is this, that shipping containers are being prepared at one site and then transferred to location where one wants to build a home. It becomes quite easy to transfer ready made material to such place in one time. Where concrete material cannot be transferred.
Today, the discussion is for such a guest house which is located near an ocean and unique in its designing. This home is really nice for the staying of a small family. This home is actually for nature lovers. An utter home with distinctive architectural structure.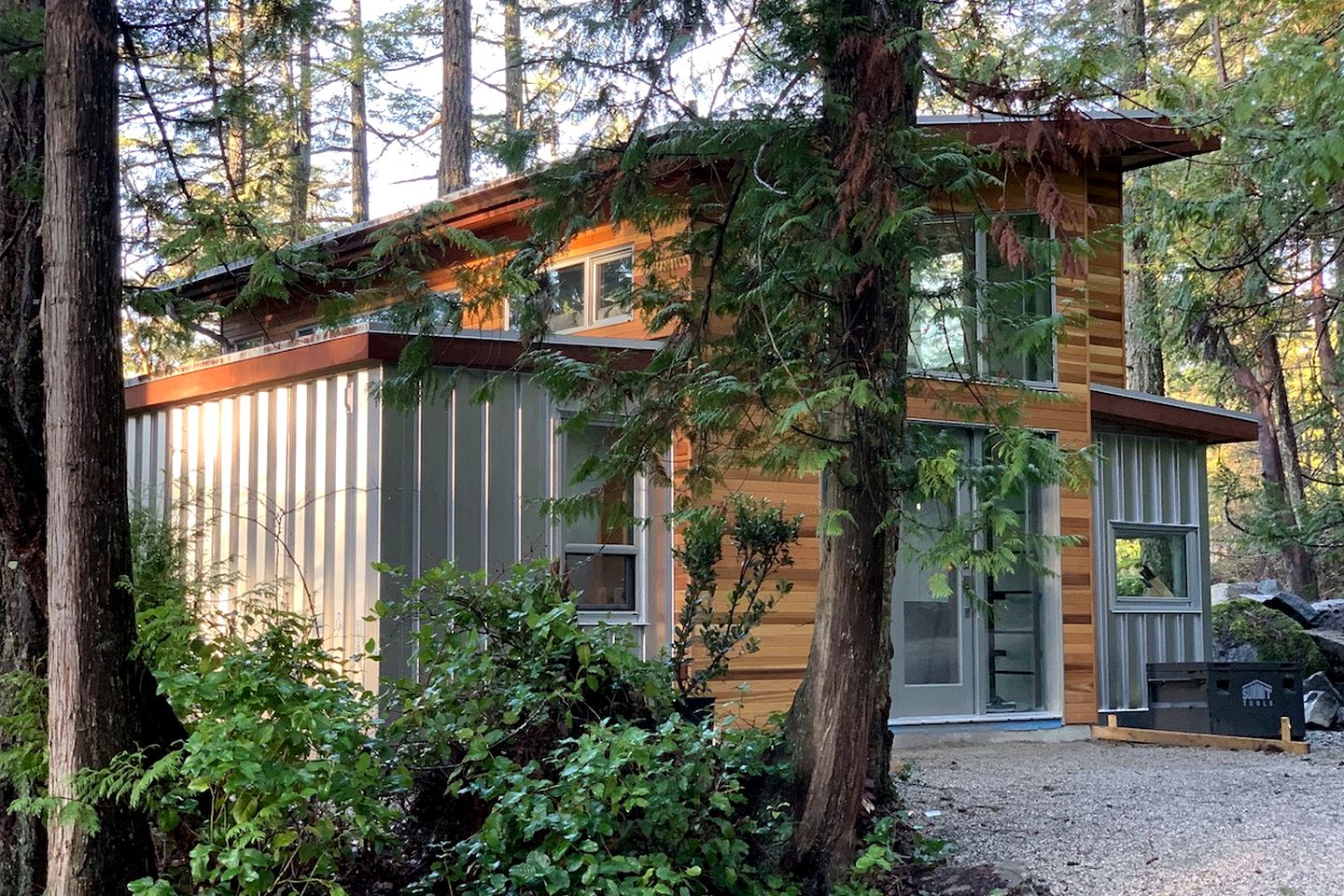 A shipping container home near an ocean.
This home which is actually a shipping container home, serves as a guest house. It is made of two steel shipping containers. It has an area of 592 square feet. The home is double storey. The hose is painted in wood color. The location of the home is attractive for natire lovers. A beautiful home with a peaceful enviroment.
Architectural designing of the home.
This home has all portions and facilities. Here we will make a list of all portions.
Two bedrooms
One bathroom
One living room
One kitchen
One dining table
One fireplace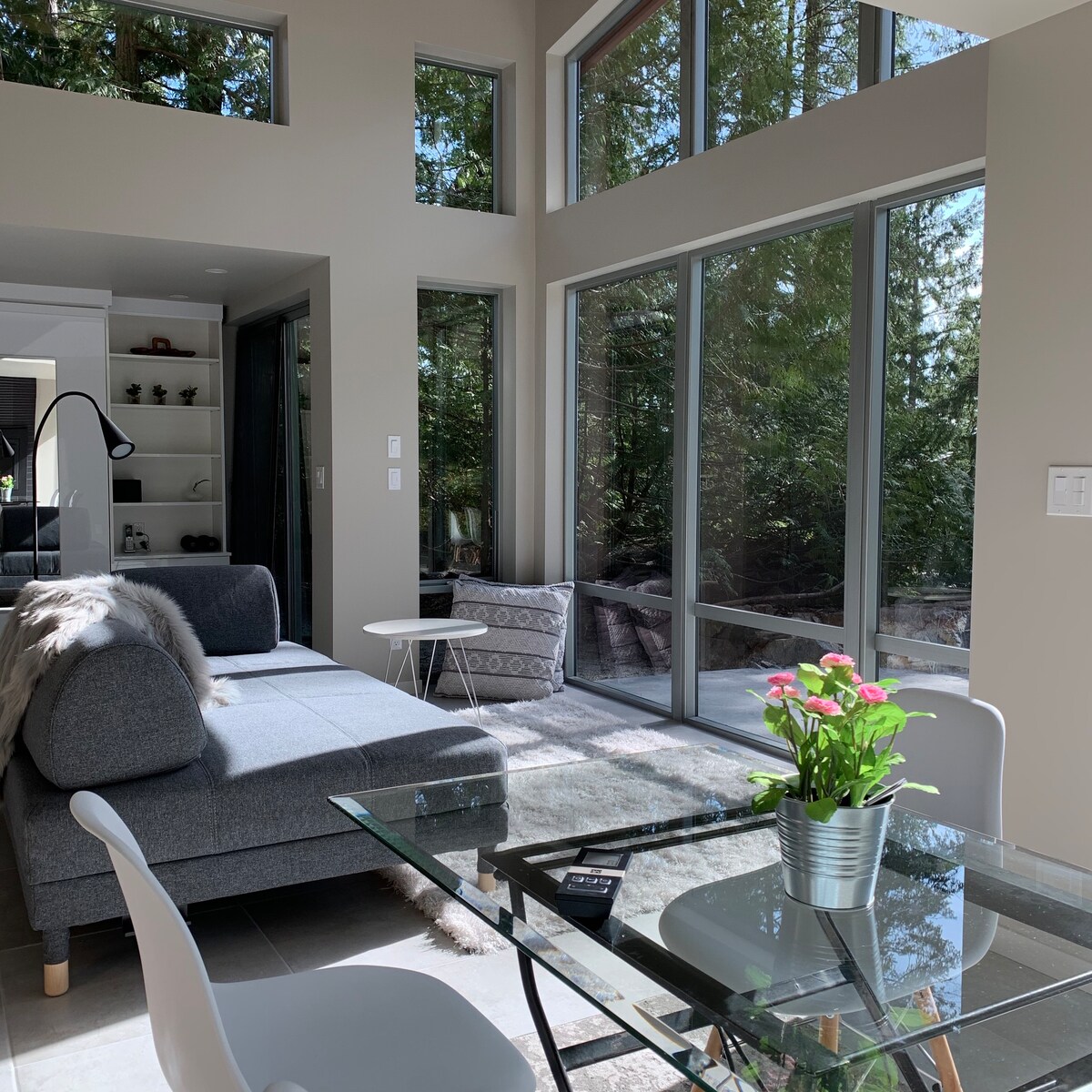 Interior designing of the home with detail description.
This home has all portions in a sequence. The ground floor has been set a bit higher than the earth level. The foundation of the home is made strong enough. These all steps collectively make a home resilient. In making a shipping container home durable, one must do its insulation and foundation in perfect way. If these will be done strong enough, then these homes will last for more than 15 years without maintenance.
This home is well furnished. All things of need are set. The floor is white in color. The tiles have been used in construction. Interior of the home shines like a crystal. Interior of the home is painted white. Living room has a very decent arrangement of sofas with LED. The sofa is white in color. A black colored sofa is in front of the large glass window and a fire place is present in its side near to the dining table.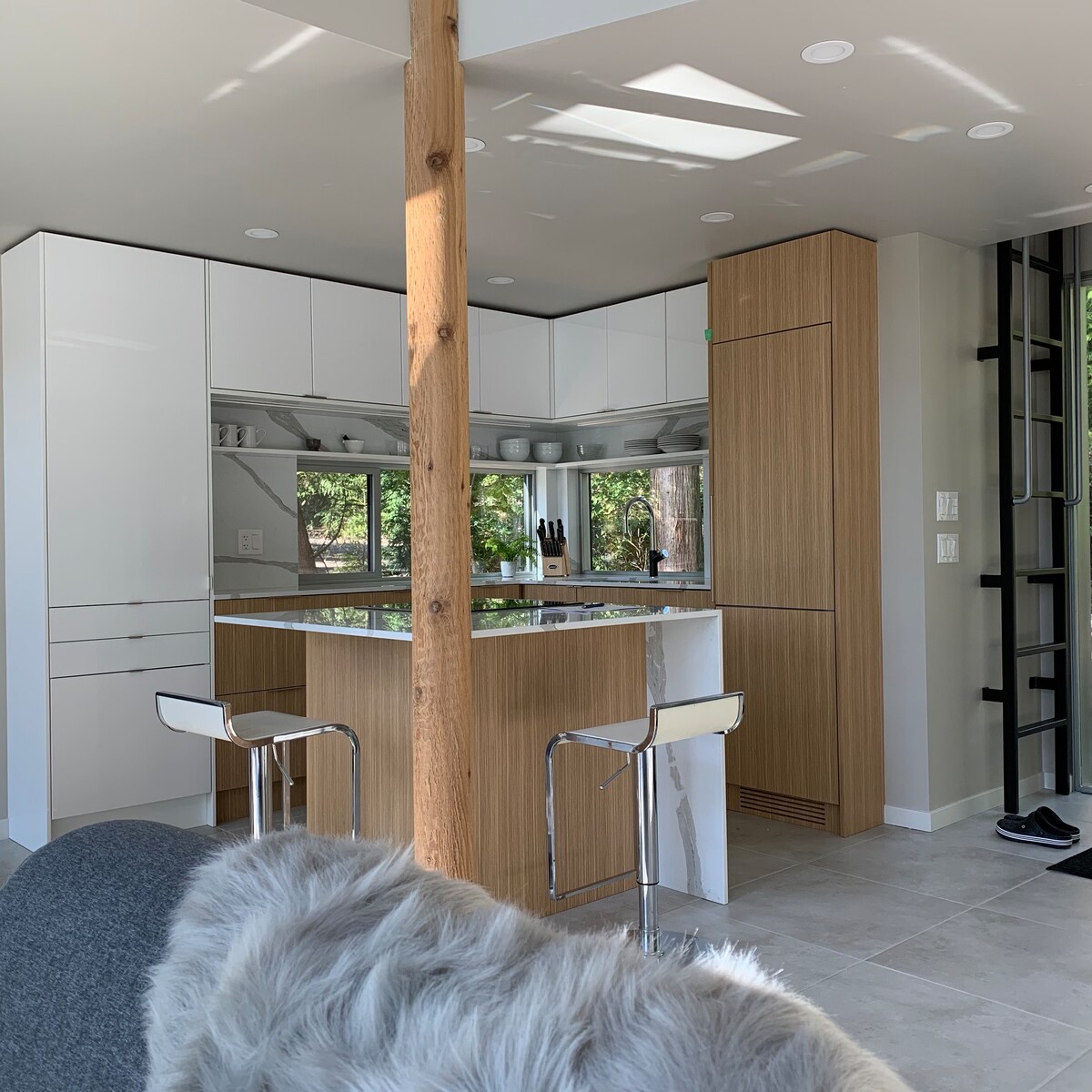 Kitchen has microwave, stove, refrigerator, shelves, cabins. The kitchen has a large central table made of tiles. The stylish stools are set around this for sitting in kitchen area. Dining table is designed near the fireplace. The white colored four chairs are set with a central table. The area is cold, therefore, fireplace is made in the living room.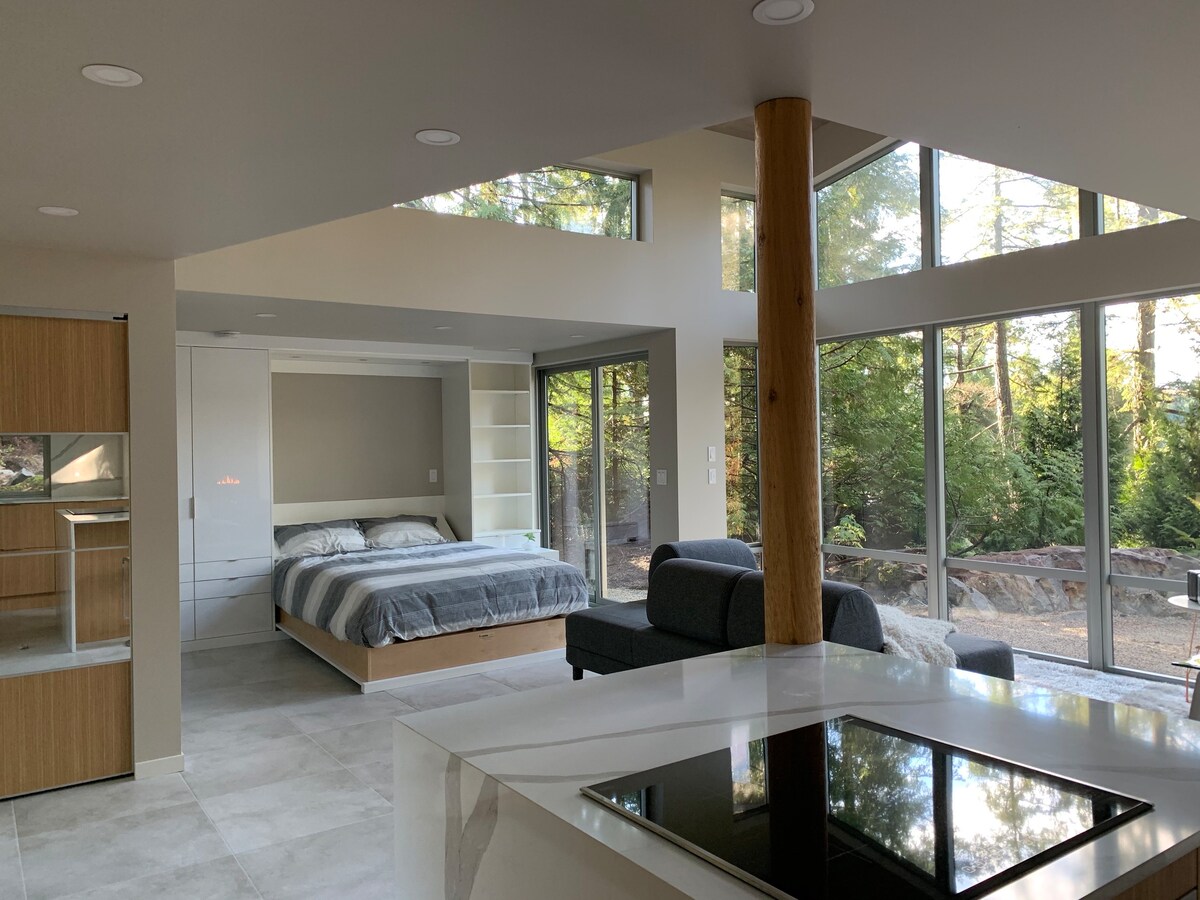 The bedrooms are two in number. One bedroom js really wide with a large sized bed. Closet is designed. Other bedroom is small in size. The bed is set on upper level. An LED is front of this bed. Bathroom is set with all facilities. The tiles have been used in its construction. The home looks cool with its all accessories.
Voltage system is maintained in good way. The electricity is without any obstruction. The internet supply is good. Home is good enough for staying. The hot water is supplied in kitchen and bathroom. Fireplace facility is already present. Affordable charges for staying in this home during your visit.
If you have not seen any container home, or you have no experience of staying at such place, then you are missing a really interesting experience. Container homes attract a person living in it. Its facilities in a small area and with less consumption of money, fascinate the observer. Therefore, world is heading towards them and living the concrete material.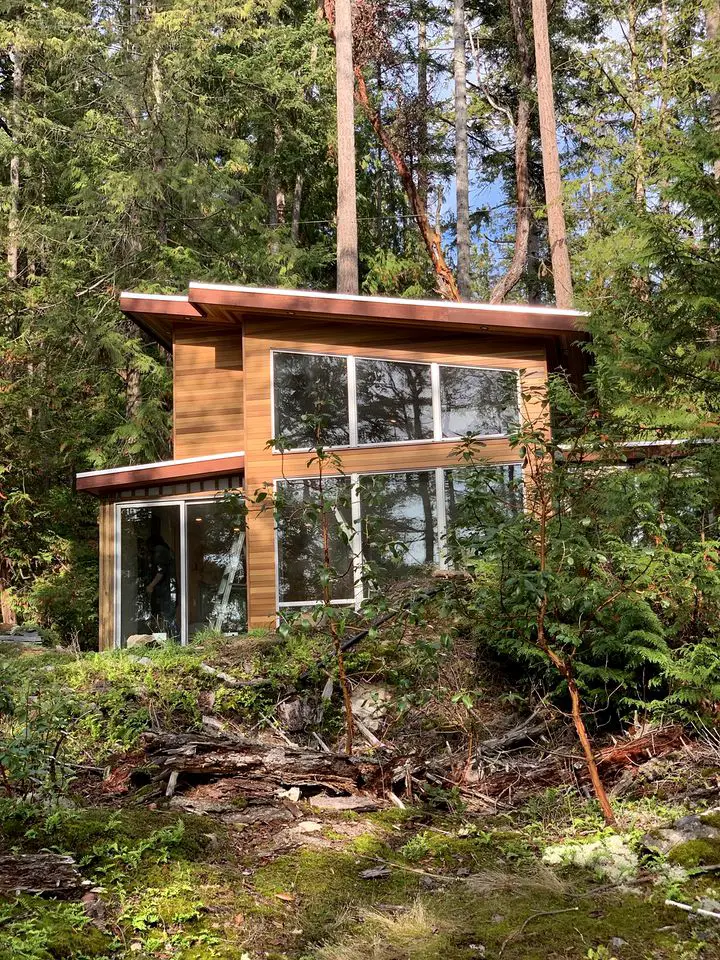 Use of wood and glass in construction of this living area.
This guest house has been constructed by using three materials, steel shipping containers, wood and glass. Glass sliding doors and windows are set in this living place. Wood has been used in kitchen, for doors, and around the windows. Harmony of these three, makes a home more fascinating. The final architectural Designing of the home becomes really nice.
Description of this guest house ends here. If you visit this area, must have the experience of staying in this home. Thanks.
Shipping Container House with Ocean Views is available to rent via Airbnb.
---
Related Reading:
Modern Shipping Container House Connected with Existing Cottage
Life Uncontained Shipping Container Home
---
If you are interested in structures made with shipping containers, you can find what you want among thousands of container house models. Be aware of the contents by following our Facebook and Pintereset accounts.