Grey colored container homes with lining designs are quite unique. These are attractive as these give a simple utter look. The beauty of this home enhances by its simplicity. This home is designed in one color which is greyish black. This home is made of steel shipping containers.
The architecture of this home is going to be discussed in detail. Different container homes are in search. These are described with their complete architectural designing. The architecture is discussed for your ease so that you may know about a container home completely.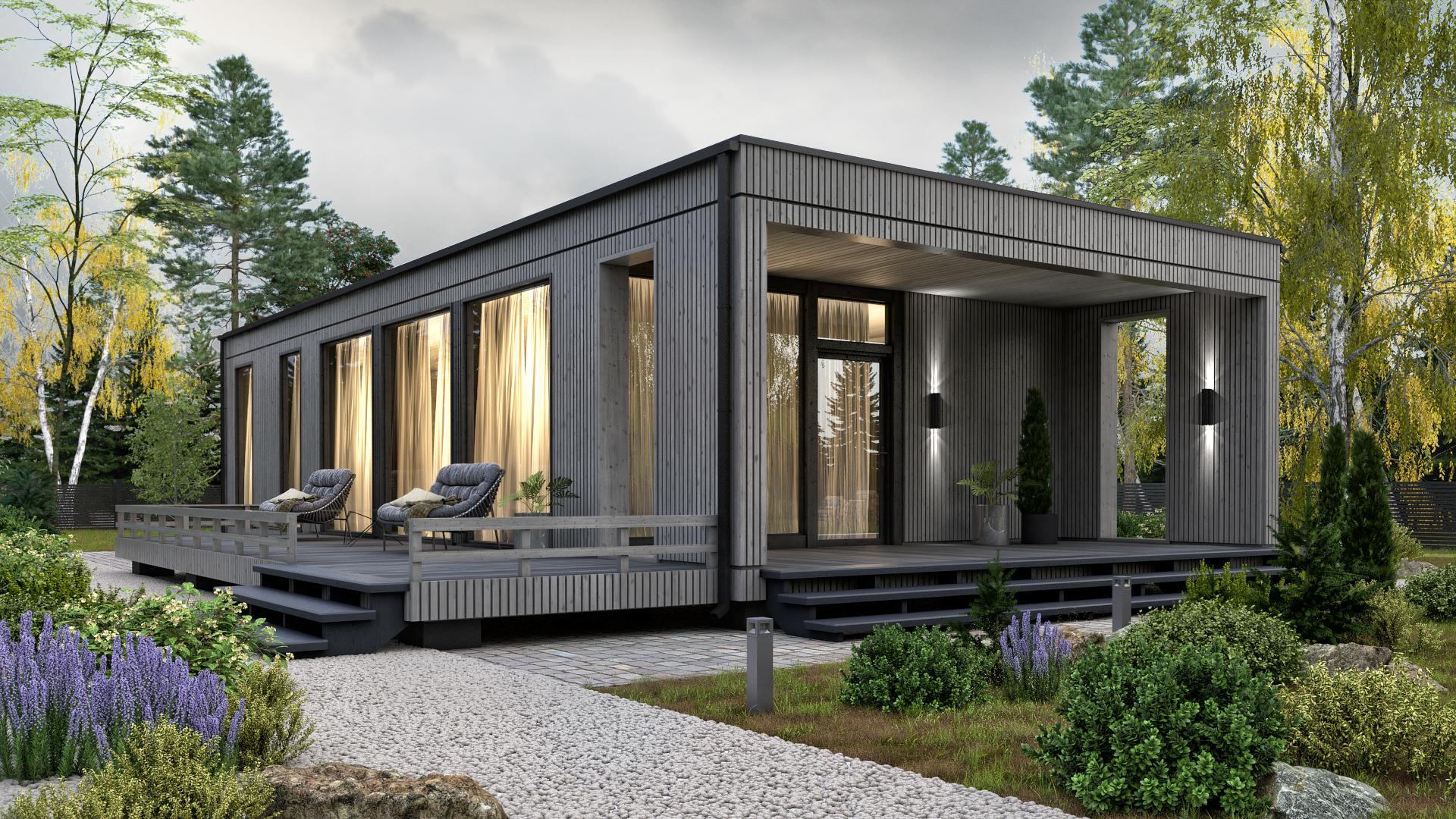 Container home grey black in color with nature attracting environment all around
This is made of containers which are made of steel. These basically offer modular living. Living in a container home give a modern life style. This house has a ceiling height of 2650 mm. This is single story container home. All portions are located on the ground floor. Its design is broad. All portions are closer to one another.
The house gives a rectangle look but spare areas are on the sides of the home and at the front. These play the role of balcony and verandas. The house which is in center is like a long box or it may be like a train cabin. The home is unique in its architecture as it has all the necessary portions for a single family.
Read Also : Life Uncontained Shipping Container Home
Portions are designed a little bit higher than the earth level
This home is slightly above the level of the ground. The first floor is located after a few steps which are made outside the home. The reason is this that container house foundation must be strong. Foundation is base on which home lies. The homes become resilient and robust when constructer pays full attention in making the foundation strong.
The framework of the home also matters a lot in making a home durable. This home is made of container so, its framework is made of steel shipping container. Good steel material must be used in making containers.
Insulation of the home must be perfect enough so that, it must resist all the damaging impacts of the weather. The changes in weather make a home dull and less attractive. That is why, the insulation demands much concern in constructing the home made of steel shipping containers.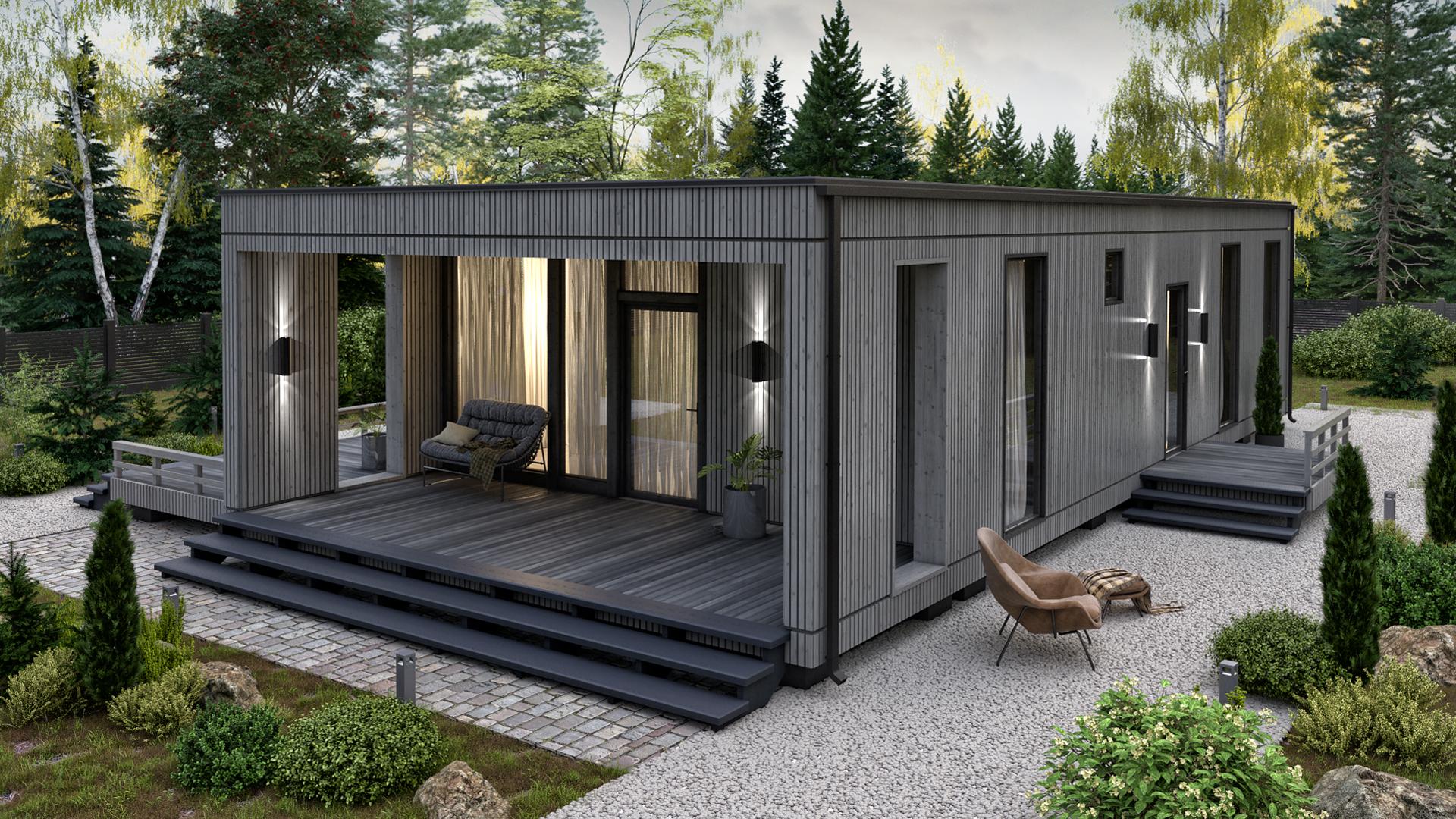 Uses of shipping containers
The steel shipping containers are used in many field. These are used to ship things from one place to another. The things which are heavy in weight, are transported in them at distant places or even from one country to another country.
These are used in the construction of family homes, guest houses, villas, mansions, resorts, hotels, cafes and many more buildings. The use of steel shipping containers is increasing day by day. Because these are reliable, people are preferring these containers.
We have discussed many homes made of steel shipping containers which offer modular living. These all are unique in architectural structure. One home does not match with other home. Container homes give diversity in designing. Therefore, their use is increasing. The design can be modified at any time during life. It is a really big quality of homes made of steel shipping containers.
Read Also : Noble Looking Container House Model
Architectural designing of this home made of steel shipping container
Following are portions of the home:
Two bedrooms
One bathroom
One living room
One kitchen
One dining table
One balcony
Two verandas on both sides.
Detail discussion of each portion of the home.
By entering the home from front door, there is eye catching view of all portions of the home.
The living room is occupied by sitting sofas, central table and LED. These are set in decent way. The loving room is designed simply.
The kitchen is on one side with all facilities. The shelves are made in kitchen. Cabins are also constructed.
The stove, sink, refrigerator, microwave are placed in kitchen.
The dining table is at the front of kitchen. Four chairs and table are placed. This is set for a small cute family. Chairs can be increased according to your need.
The two bedrooms are in a line in the last area of the home. A chair and a table are placed in both bedrooms for studying and working. Closets are made in the bedrooms. Curtains are hanged.
The bathroom is one in number with toilet and showering facilities. Showering facilities maintained by the availability of hot and cold water.
At the front of the home, balcony is made. Sitting chairs are placed. Two verandas are on both sides with sitting chairs. The entering glass sliding doors are on both sides for entering the home.
Read Also : Unique Shipping Container Home Building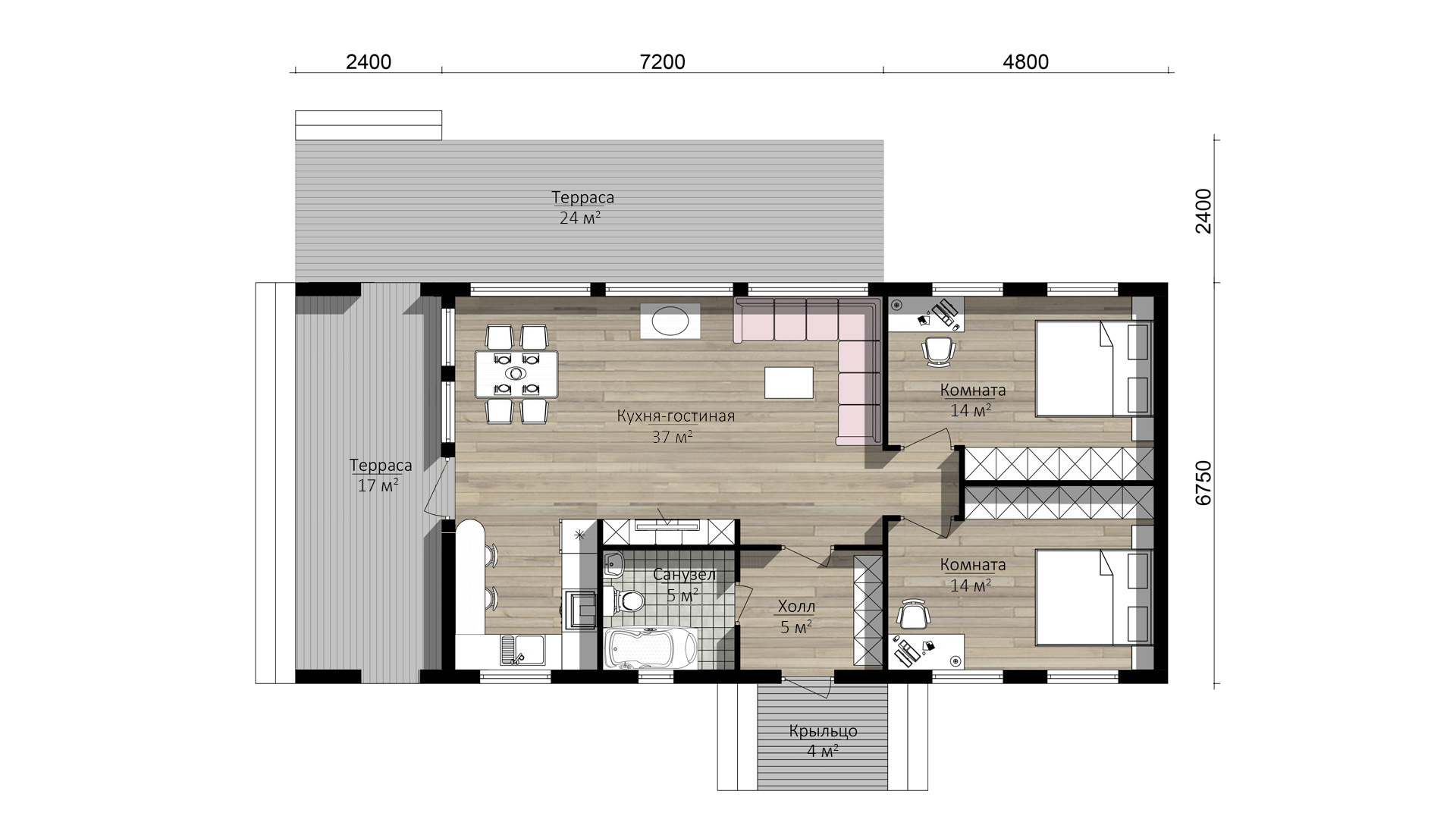 Areas occupied by each portion of the home
One bedroom is has area of 14 meter sq. Other bedroom is also occupy 14 meter sq.
Bathroom occupy 5 meter sq.
Spare area between bedrooms and bathroom occupy 5 meter sq.
Living room, kitchen, dining table occupy area of 37 meter sq.
Front balcony occupy area of 17 meter sq.
Side veranda occupy 24 meter sq.
Other side area is of 4 meter sq.
Home is surrounded by green trees
The home is made in the center of trees. The home has its own lawn with maintained green grass. The outer verandas are spots for enjoying nature. These offer comfortable sitting for enjoying evening tea or morning views of nature.
Side walls are made of glass windows
The home has glass windows in both walls. The curtains are hanged along the walls. The home is best decorated with lighting, glass material. Dining table faces a large window. Bedrooms also have large glass windows. The living room also has a sliding glass window.
This is a beautiful home with all facilities. Stylish and modern material is used in its construction. Description of this container home ends here. Thannks.
If you are interested in structures made with shipping containers, you can find what you want among thousands of container house models. Be aware of the contents by following our Facebook and Pintereset accounts.