Stacked shipping containers
It is everyone's dream to escape from the crowded environment of the city on holidays or special days and relax in nature. Preferred holiday centers are of great importance in order to leave the busy work schedule behind and relax both mentally and physically.
Especially in recent years, the structures known as "Container Architecture" and created using recycled shipping containers are becoming the biggest favorites of holidaymakers.
Holidaying in these container homes, which are gaining popularity in America, not only meets all expectations, but also provides an unforgettable holiday experience.
Among the most interesting container houses, exemplary projects in Brazil attract great attention today.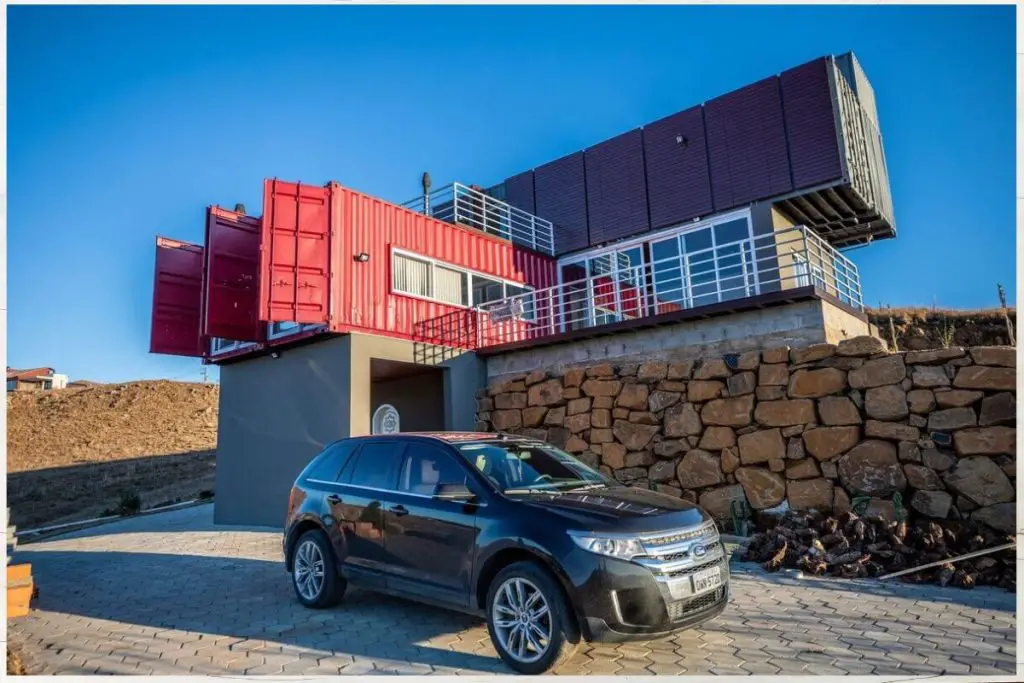 Located in the Bom Jardim da Serra region of Brazil.
The container home offers an extremely comfortable and spacious living area. It has been specially designed for those who want to have a comfortable holiday experience with their loved ones in nature, completely away from the noise of the city.
In this place, which attracts great attention both on weekends and on other holidays, everything is specially designed for the needs of holidaymakers.
This container house is located in a magnificent location, offering a wide view from a hill that dominates the land it is in.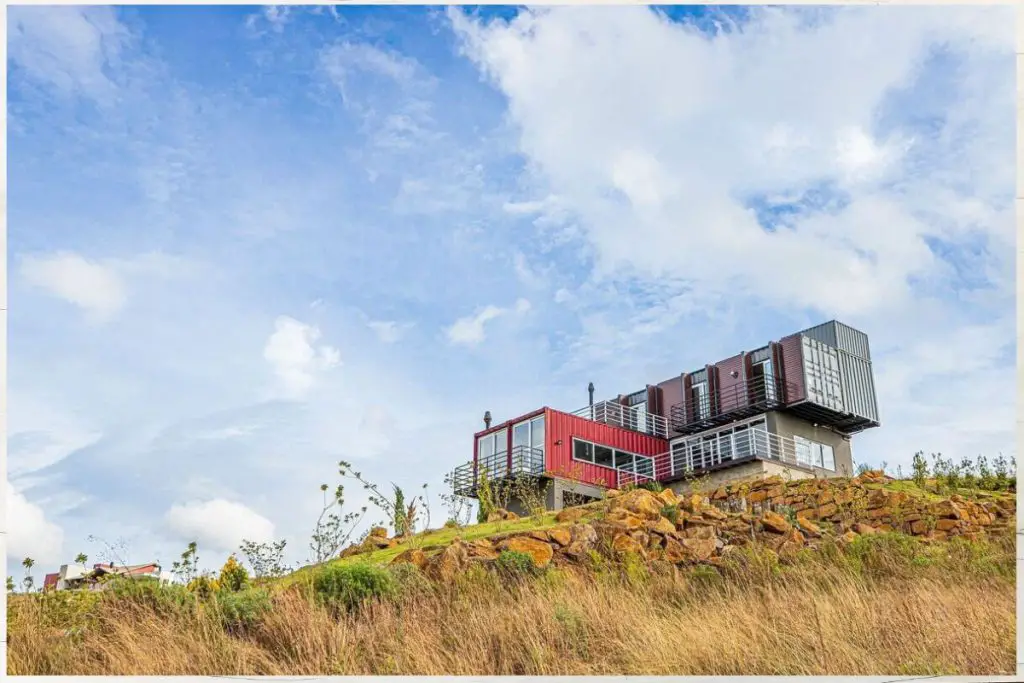 Shipping Container Home Dimensions and Number of Rooms
For those who want to have a holiday in a unique place in nature, this property consists of 4 x 40 ft old shipping containers and additional concrete structures.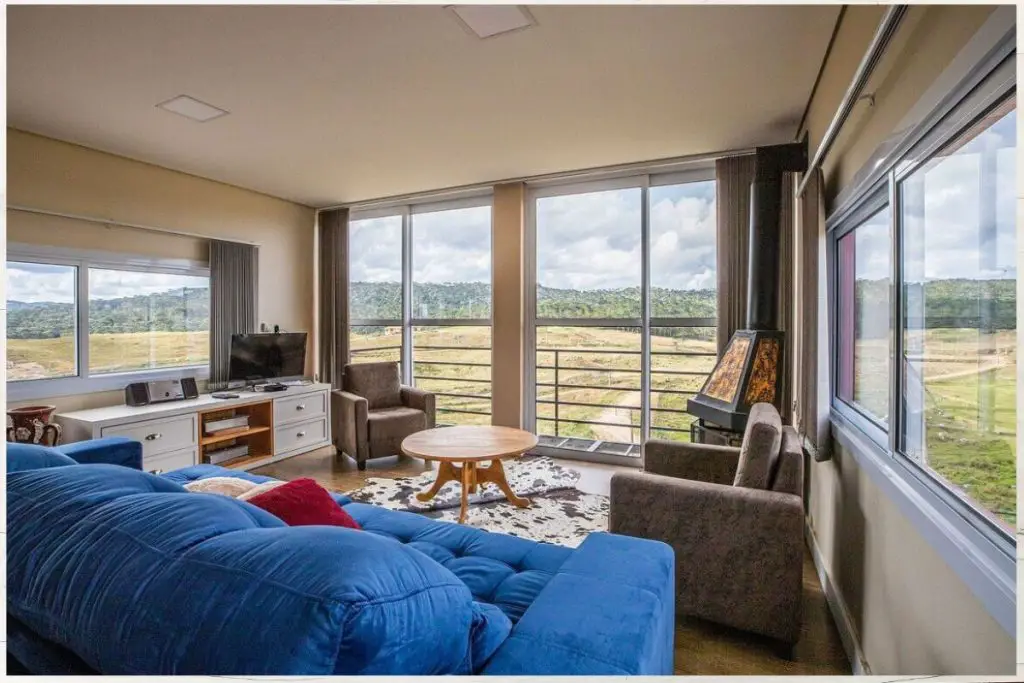 Large windows extending from the ceiling to the floor also provide a spacious and bright living space in every part of the house.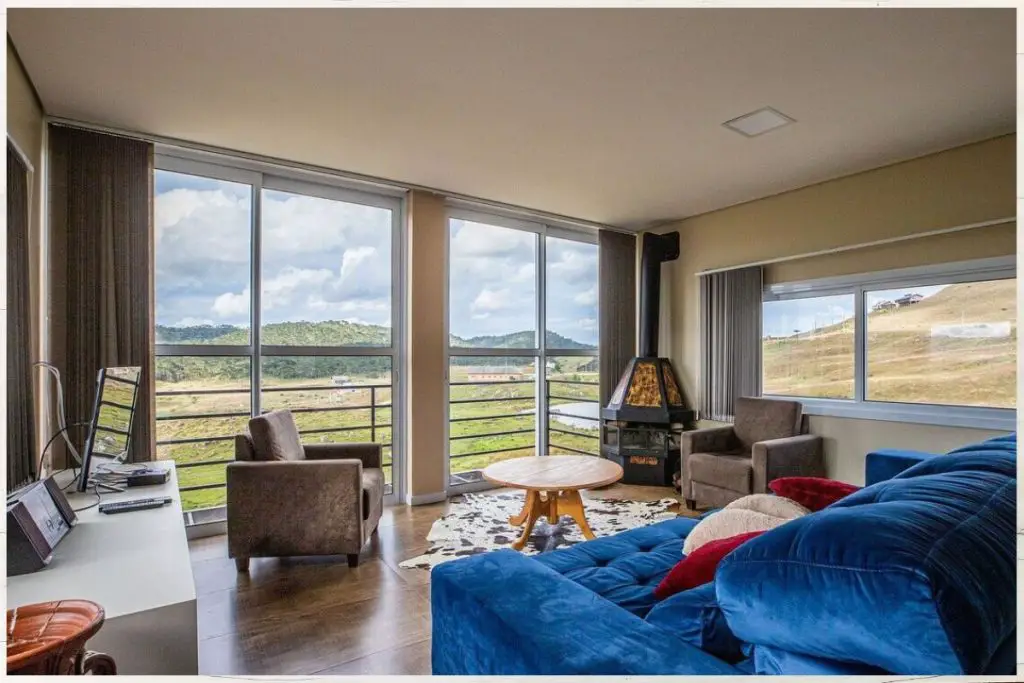 Especially in the living room of the shipping container guest house, the front facade consists entirely of windows, while the half windows on the sides allow the fascinating view to be seen from every angle.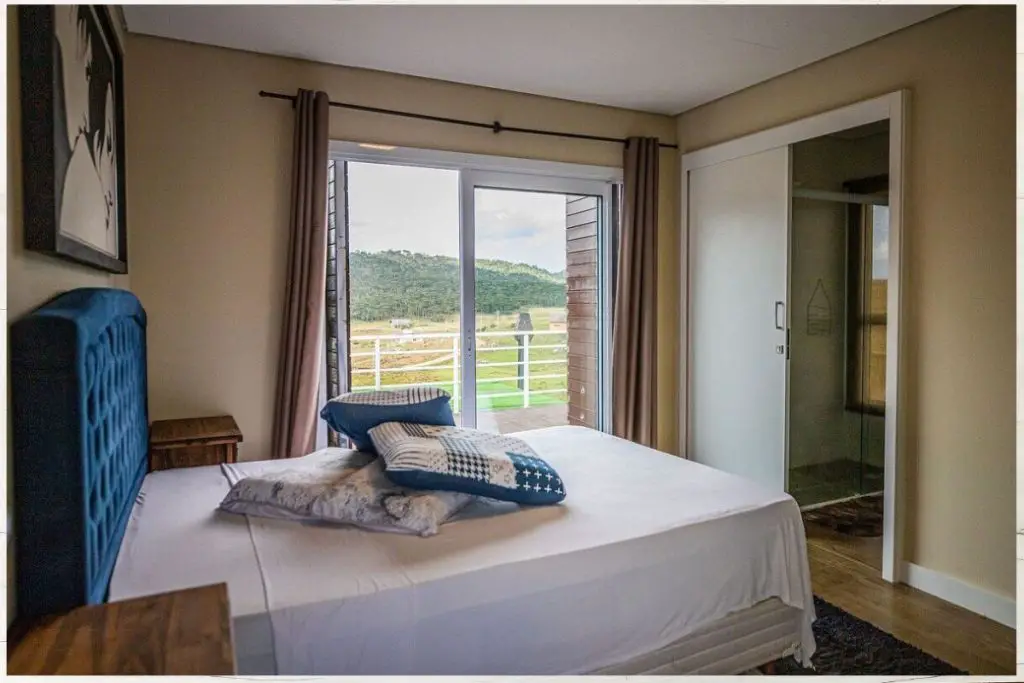 Shipping Container Homes
The container home, which is an ideal holiday place for large families, has 3 bedrooms and 4 bathrooms. In this concept, a holiday can be made comfortably with 6 beds in a shipping container house that can host 8 guests at the same time.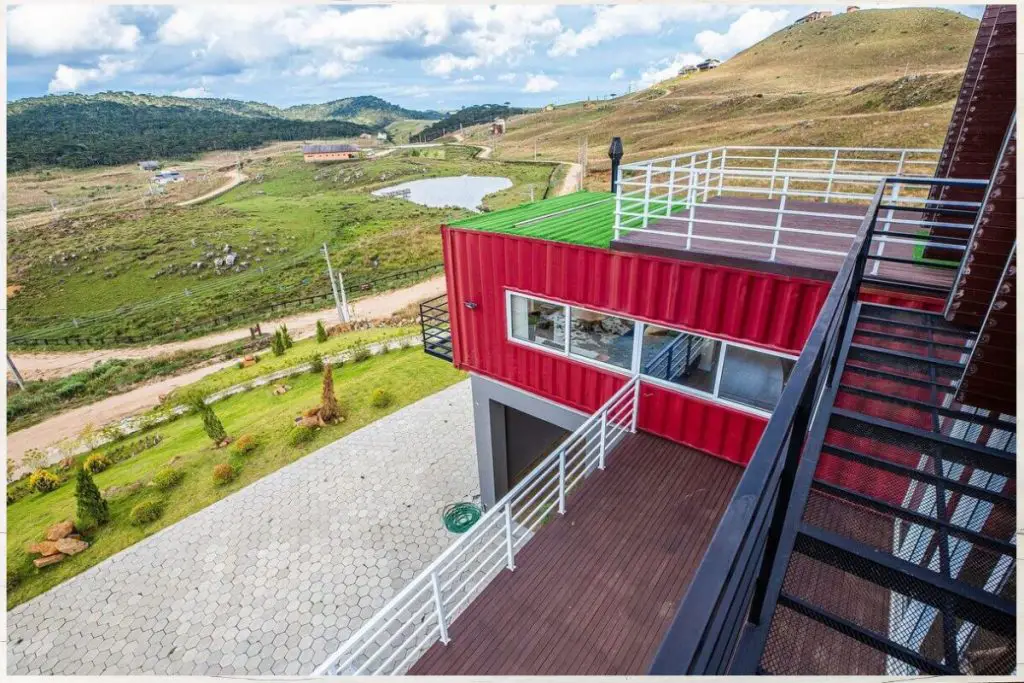 The balcony and terrace design draws attention right in front of the large living room and some bedrooms of the house. In this way, when the pleasure of staying at home is integrated with the clean and open air, it becomes much more relaxing and peaceful.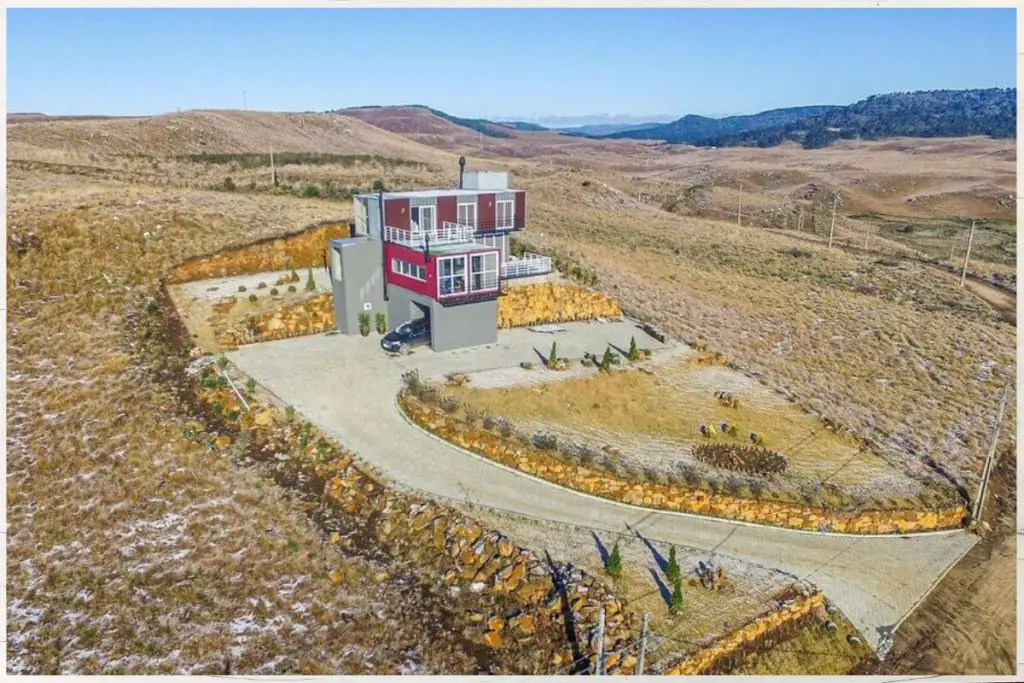 It is noteworthy that the container home, located in the middle of a large land, is placed on a concrete architecture. In this shipping container home with a closed garage, you can host your loved ones as well as your family and give them a pleasant weekend holiday.
Container Housing
Every corner of the container home has been specially arranged so that vacationers can enjoy the fresh air and the heartwarming nature view.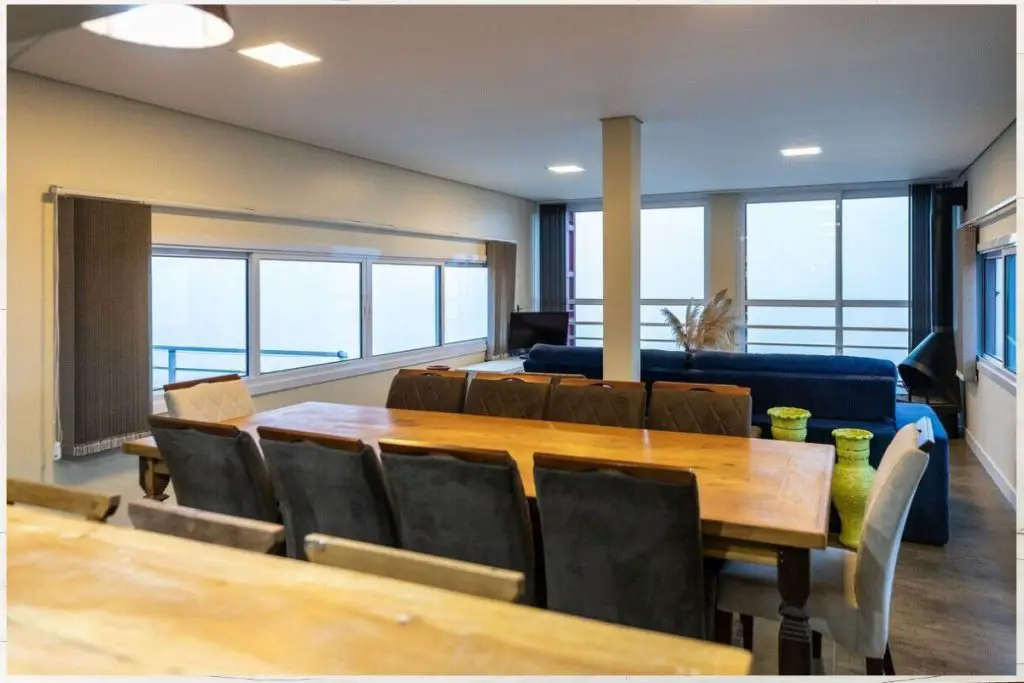 A large living room where you can have pleasant conversations with your family is located on the ground floor of the container house. Just behind the living room is a large dining table for 10 people and a kitchen counter.
Thanks to the use of more than one container in the construction of the house, which also appeals to large groups of friends in the best way, a large living space has been obtained.
Located on a hill overlooking the land, all the furniture used in this house has been decorated to meet the needs of holidaymakers.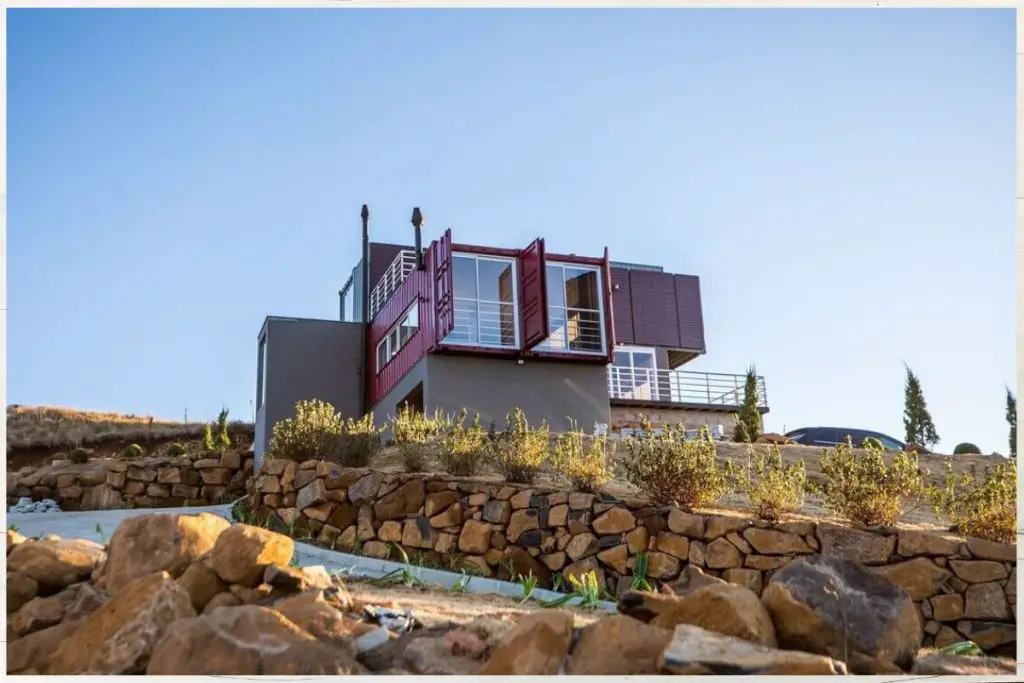 Nightly Price
In this design, which is one of the most popular shipping container homes in Brazil, everything has been specially thought of.
You can have a pleasant holiday in this place, where used shipping containers are especially brought together to create a comfortable living area.
The nightly rental fee of the shipping container home is $323. This shipping container home for rent, which is close to the touristic canyons in the region, attracts great attention from holidaymakers at all times of the year.
If you like this house, you can book your trip with Airbnb.
Follow Living in a Container on Facebook, Instagram and Pinterest for more stories like this. If you have a story to share, email us at [email protected].