Beautiful container homes have been designed up till now in this world. These are designed according to choice of the owners by the engineers.
These are located in different parts of the world. They are mostly found in the United States, New Zealand, Australia, Malaysia, Indonesia and many other countries.
Container homes are absolutely stunning and experience of living in a container house is really interesting and cool because container homes are usually located at the sites where nature exists. So, one enjoys nature plus modular living at one time. This is really amazing.
Containers have made many homes of different architecture like some are small, some are large while some are extra large. ( Life Uncontained )
Again it depends on choice of the owner. If he is investing large budget then he will use many containers and if he wants to make a small home then he will use small number of containers. There is no limitation about use of numbers of containers. These can be many or these can be minimum.
Official buildings are made by using large number of containers. Hotels are also designed by using many containers. So, it also depends on architectural structure of building.
Different homes have been discussed at this page made of steel shipping containers. Today we are going to talk about a container house design that is totally unique.
This home is made by using containers as well as other material. Combination of three is increasing the elegance of this living place.
The architectural structure of the house is entirely unique. This does not match with any other houses. Basically it is a L shaped container home. Let us move in this awesome living place to know about this in detail. ( Shipping Container Home Ontario )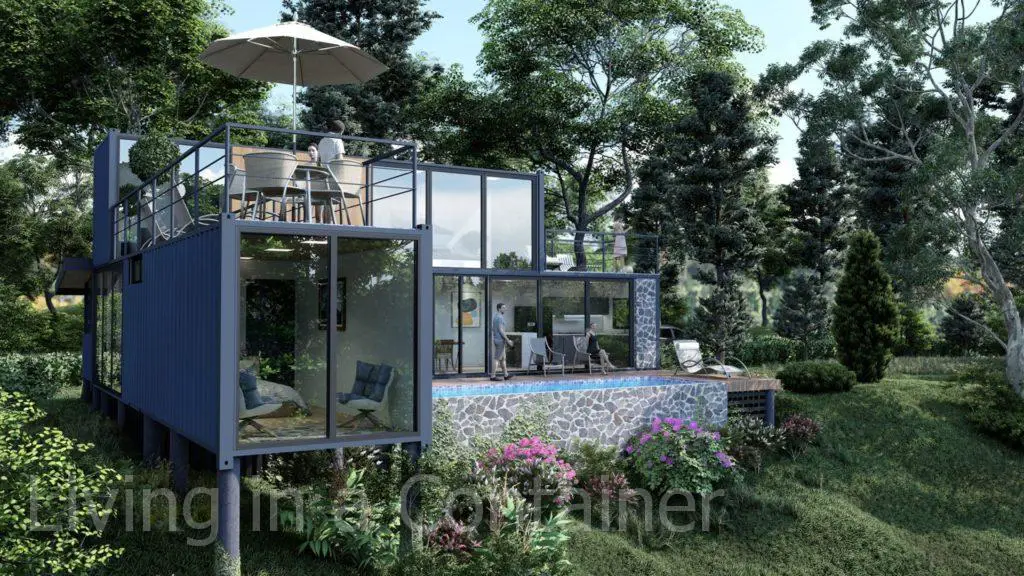 Container home with glass walls
This is double storey container house. Two containers are fixed one above the other at one place. Other container is placed at the site perpendicular to previous ones.
The containers are painted in sky blue color
The front of the containers is made of glass windows. The glass is making front of two containers placing one above the other.
Interior of house is painted white. The floor of the house is made by using wood.
3 shipping containers were used in the design of the container house
The containers are not placed directly on the ground. These are place on string framework set by using iron pillars. Containers must be stable in order to last for a long time. Therefore, they need a multi-form foundation on which they can stand for a long time. ( Luxury Container Homes )
Parts of this living place.
Two bedrooms
Two bathrooms
One living room
One kitchen
One dining table
Two terraces
One porch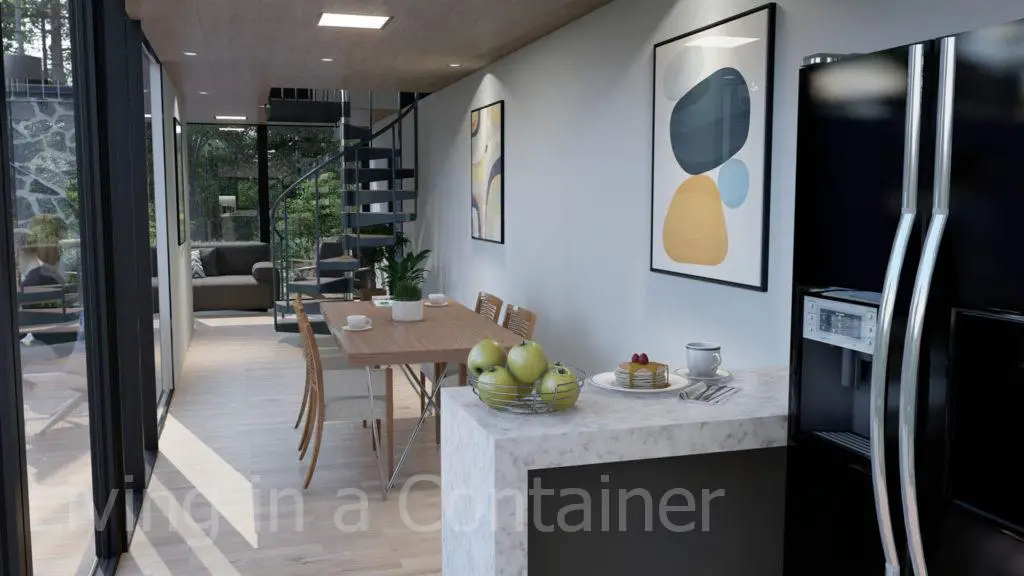 Interior designing of the container house which is some kind of mesmerising site
Entrance in the home is done after raising a few stairs. These are made by using rocky material. Then comes a porch. This porch has various seating places. Chairs are set here. Evening snacks can be enjoyed here in good weather. The floor of the house is made by using wood.
There are sliding glass windows. These are large windows with insulations. Insulation of windows is very important. These maintain the framework of windows.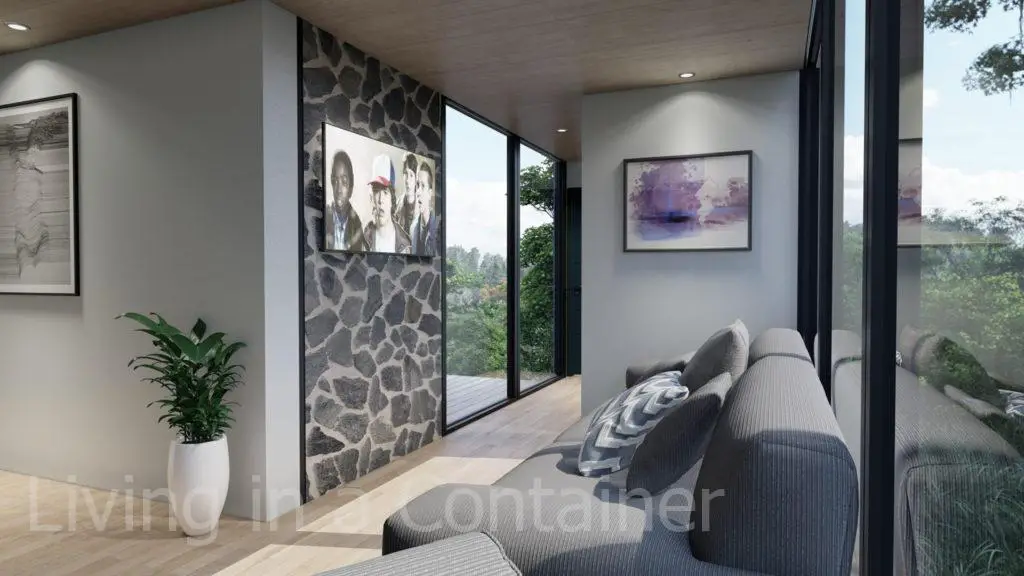 Then there is a living room. This room has large seating sofas and LED on the front wall. This is for entertainment.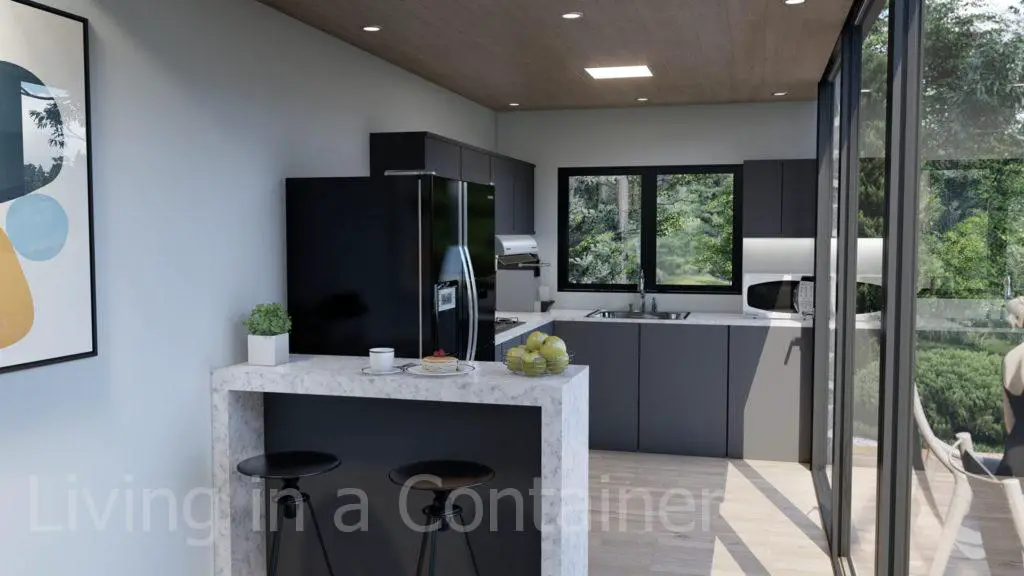 Then comes a kitchen. This kitchen is having all facilities. Utensils are set in this kitchen. The cabins are made by using wood. These are set according to other interior portions of the house. These are in combinations.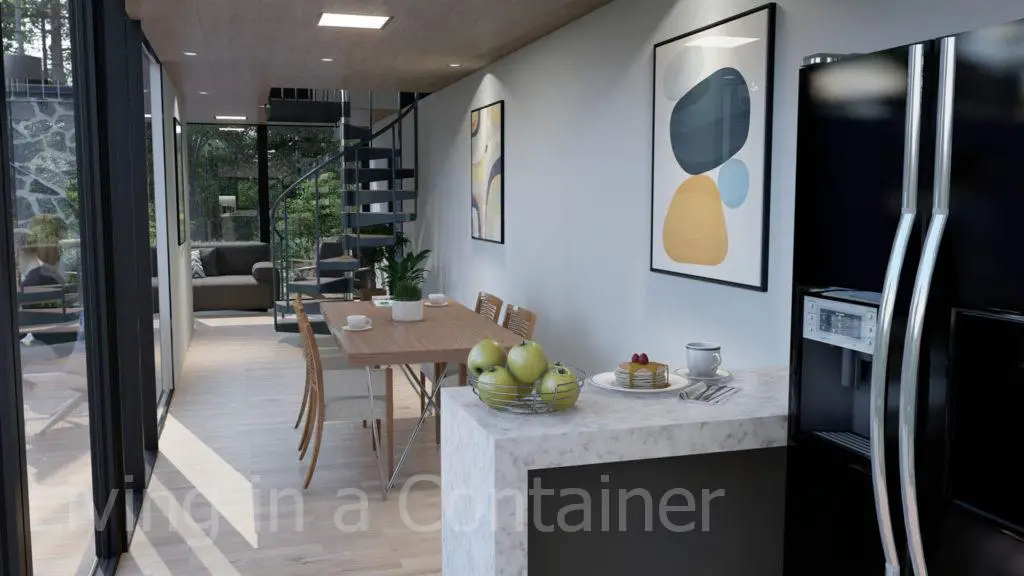 Then comes dining table. This is set along the sliding window so that one may get outer views while enjoying the meals. The chairs are made of wood table is also made by using wood.
Bedrooms and bathrooms
There are two large bedrooms. These bedrooms have large beds and glass windows. Sundays fall from these windows. These have proper ventilation and lighting systems.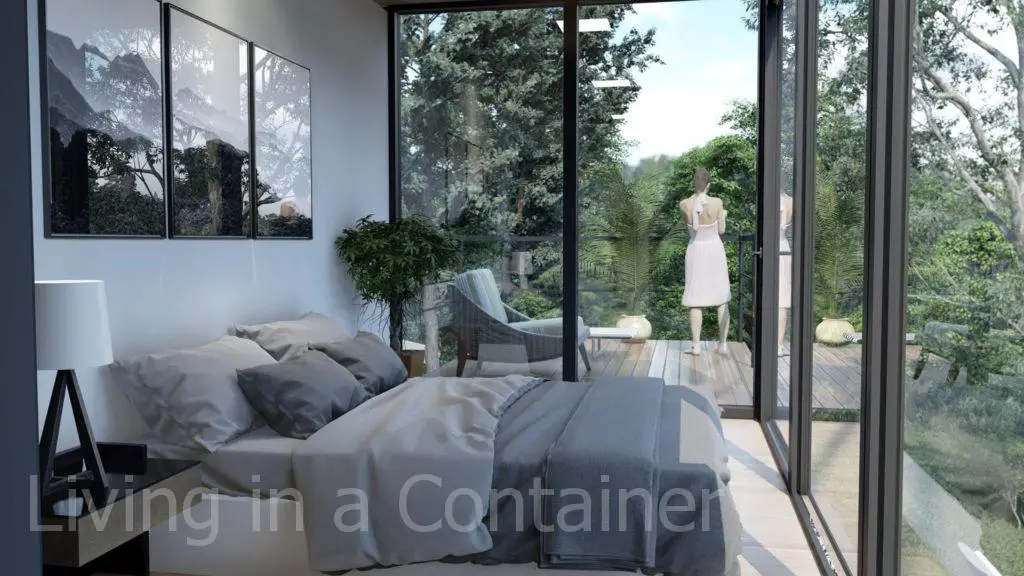 Terrace is joined with both bedrooms. At one terrace, there is shade set and seating chairs are placed there with central table. These seating chairs can be used as dining table if one wants to enjoy here during night.
The floor is made of wood. The railings are parts of terrace. These are surrounding it. At the other terrace, there is relaxing seating points. Evening coffee or tea can be enjoyed at this point or even the breakfast.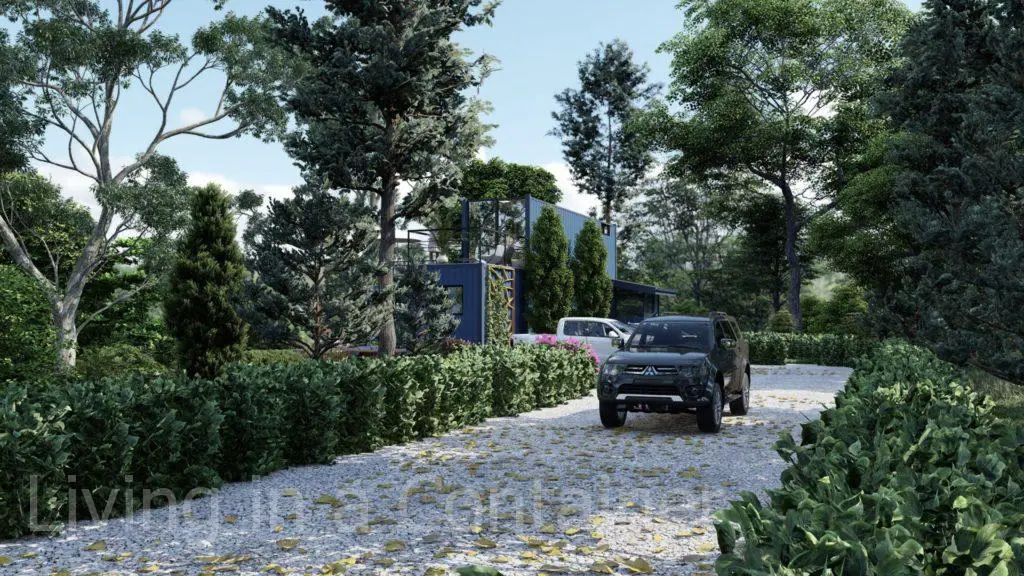 Environment around the house is really nice and home is surrounded with greenery. These are many green plants grown at the sides of the house giving the feeling of freshness and providing air for breathing which is free of pollution.
We describe entire detail of the house for your comfort. This house description ends at this point. Of you are also a container home lover, then you should go for this without any hesitation. Thanks.
Living in a Container publishes container houses that can inspire you to design your own container house.
If you want to learn more about the design of the house, you can reach designer Perez Sanchez here.
3D Design : Created by Perez Sanchez
Created with Lumion 10.0
Sketchup 2019
If you are interested in structures made with shipping containers, you can find what you want among thousands of container house models. Be aware of the contents by following our Facebook and Pintereset accounts.