Shipping containers are making wonderful homes. Homes according to modern lifestyle are made of shipping containers. These are stylish according to modern demand of era.
Shipping containers homes are reliable and are more advantageous. There are many reasons behind this fact. One fact is also this that shipping containers are making homes at faster rate so, trend for using them is increasing day by day.
This is important in construction industry. If anything is making its place in this world, then it is really amazing. Shipping containers are replacing concrete material.
The material was used in building of homes for years. Now, world is changing its trend only because of advantages. These are many. Shipping containers are more cheap than concrete material.
This is a very attractive thing for a middle class person. One who is going to make a home and has a limited budget in his pocket, he will obviously find a thing which must be affordable. Shipping containers fulfill this criteria.
Moreover a person, who wants a home immediately and he has a job shifting in that area and he is in search of a very fast building material, he will obviously go for steel shipping containers.
Shipping containers can be used branded new or can be used which are reformed.
Reformed shipping containers are cheaper. Maintenance is the demand of new as well as reformed steel shipping containers.
As we continue discovering homes for your information which are made of shipping containers, our tradition is same.
Today, a home has been discovered which is made of shipping containers. These containers are making this beautifully designed elegant home.
Elegance is the demand of classic people. The modernity liver persons ask for stylishness in each thing of this world. Same criteria is for the homes.
To know about the detailed architecture of this living home, we have to step in this building made of shipping containers.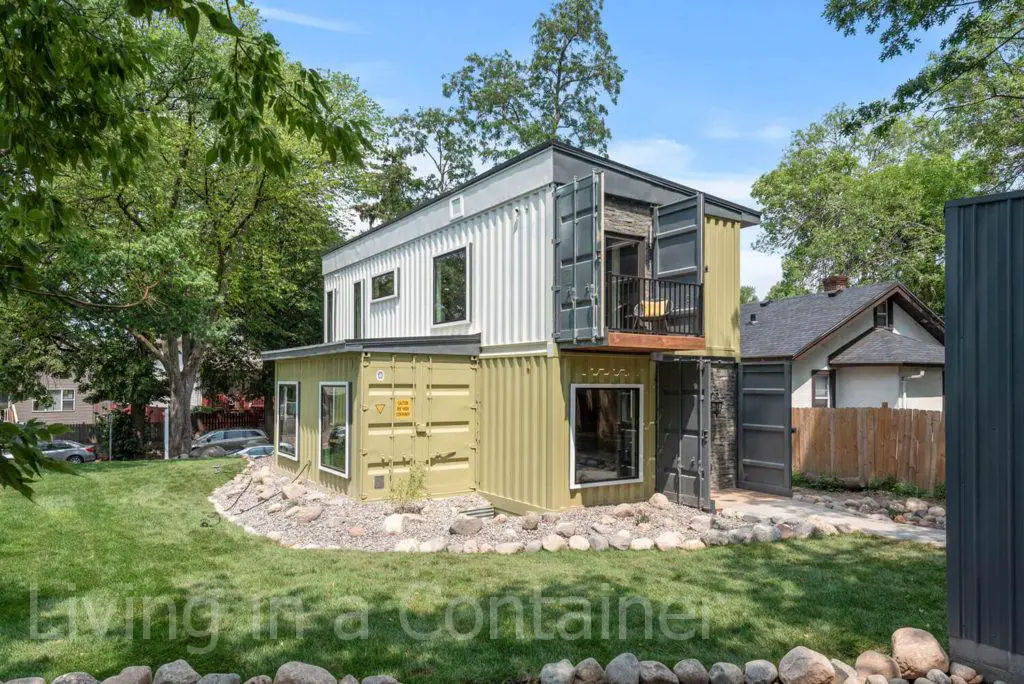 Container Home made of 5 Shipping Containers
Today we will be showing a container house with 3 bedrooms and 2 bathrooms.
This home is located at 2434 Irving Ave N, Minneapolis and is currently for sale. This beautiful home made from shipping containers has a selling price of $270,000. Realtor
The container house, built on a plot of 8.712 sqft, has a residence area of 1.302 sqft. Built in 2021 using shipping containers, the house has a 2-car garage.
This one is a container home which is designed by using five shipping containers. These are making this home after joining.
This is the first shipping container home built in Minneapolis and the team behind this build is Paragon Designs.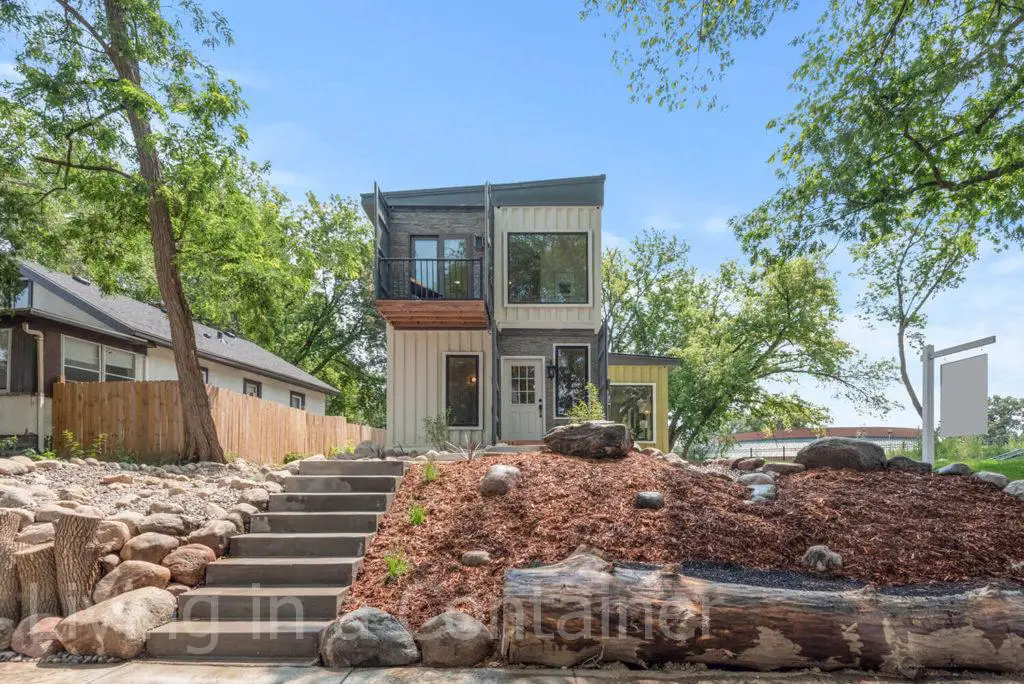 4x40ft and 1x20ft shipping containers were used in the construction of the house.
The containers are being ready at the construction site and then are transferred to desired site by using transportation. So, these can be transferred at the hills, in a desert, near an ocean as well as at the top of a snowy mountain.
This house is painted white from outside as well inside. Rest of the containers are painted in grey and blackcolor. Overall look of the Josie is nice and fulfilling the modern criteria.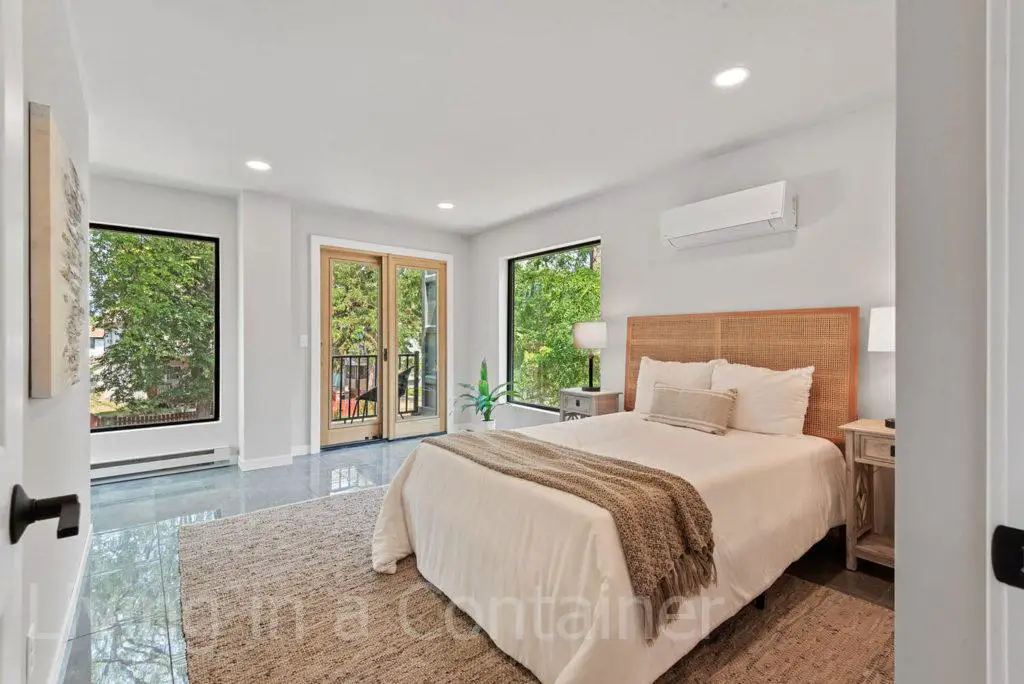 This house has three bedrooms and two bathroom
All necessary portions are part of this double storey living space. We are continuing to step in this home to know about the all portions in detail.
Three bedrooms, Two bathrooms, Kitchen, Living room, Two terraces, Dining table.
Kitchen and one bedroom are on the ground floor
Ground floor has been designed by setting a level higher than the original ground. The stairs are leading to the main gate of the house. These are constructed through concrete material. Overall the area is rocky. However, there is also some greenery.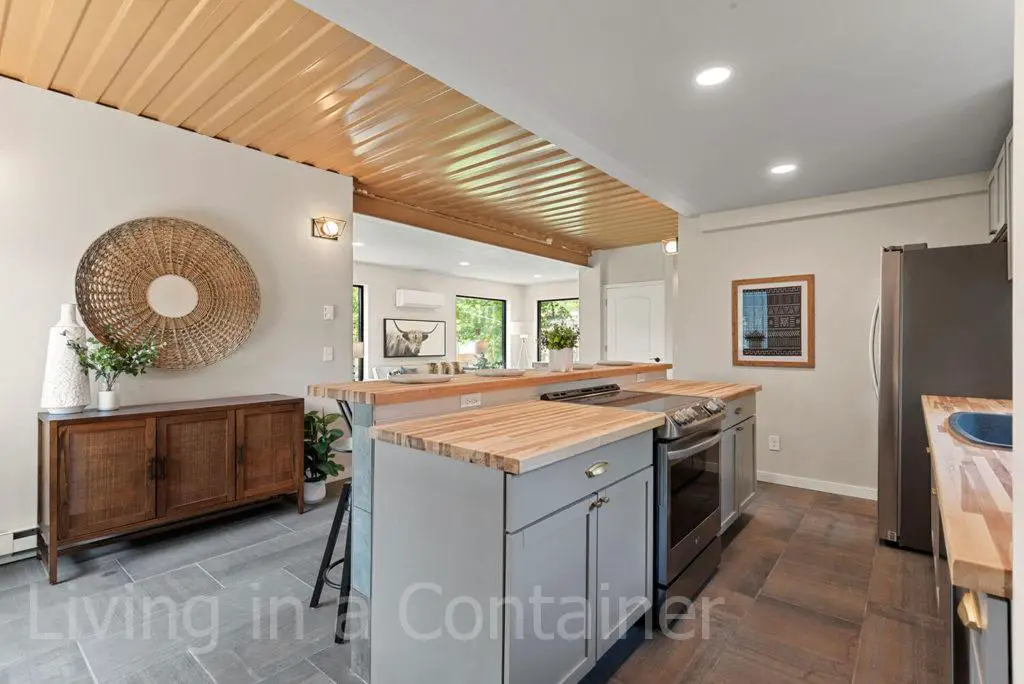 The kitchen is full with all kind of supplies. Kitchen has all utensils for use and cabins for keeping all spices. Kitchen is painted white. Dining table consists of chairs and table. Prepared meal must deserve a well seating place for eating. So, here it is.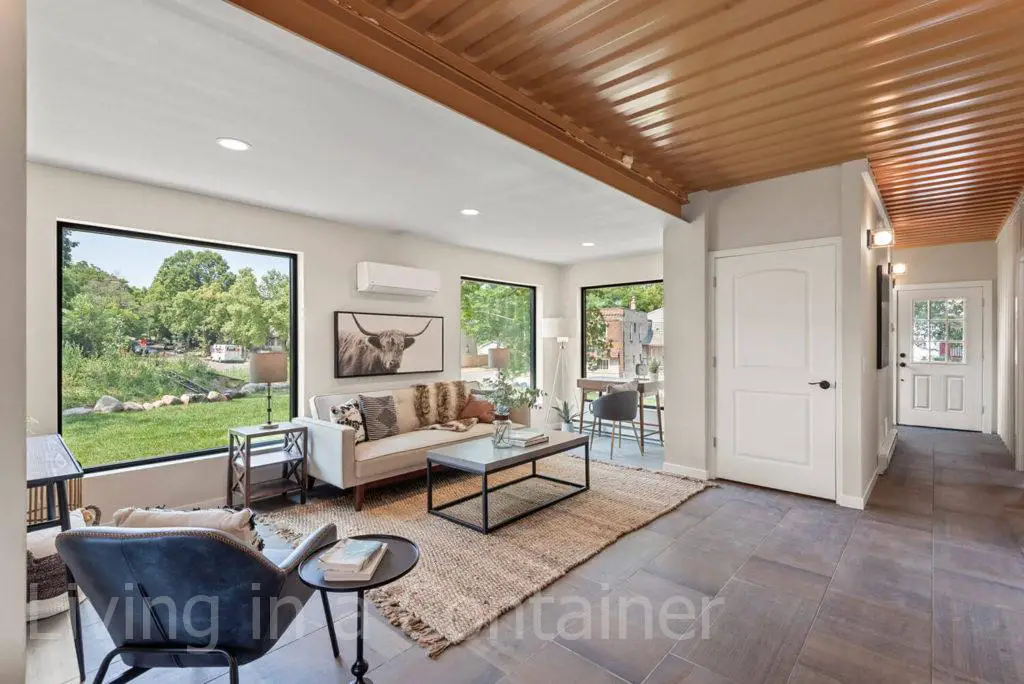 Living room is the are of everyone's choice. This is the gossip place for family or it can be entertaining area if there is an LED in this room. Use of glass windows is done. These are sliding glass windows through which a person can move in and out.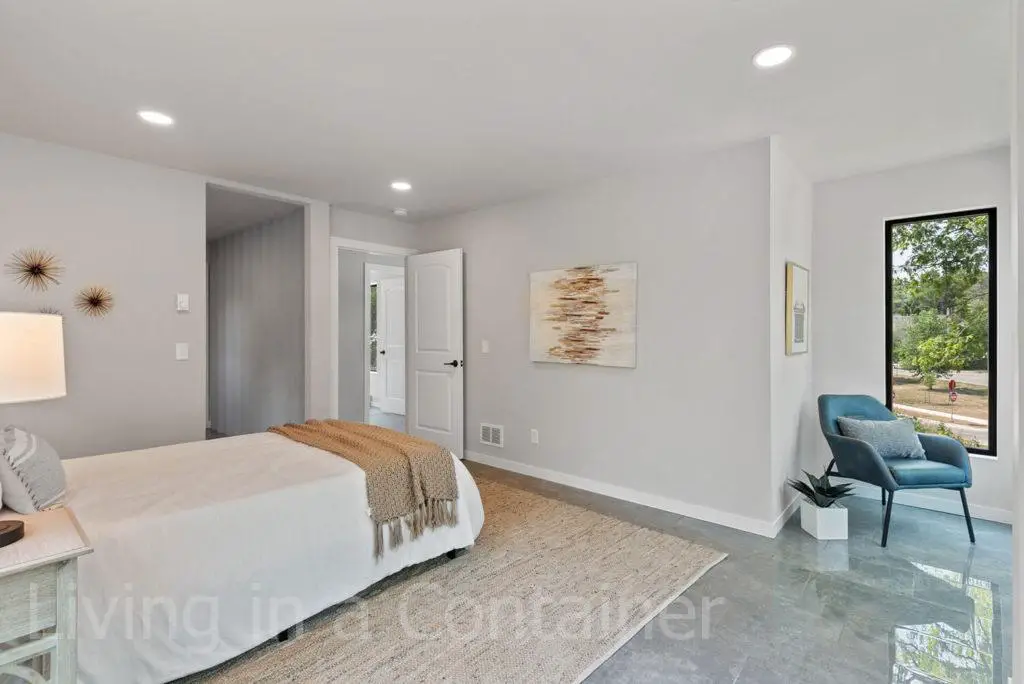 There is a bedroom on this floor with a single bed. This bedroom has a closet and a sliding glass window with a curtain.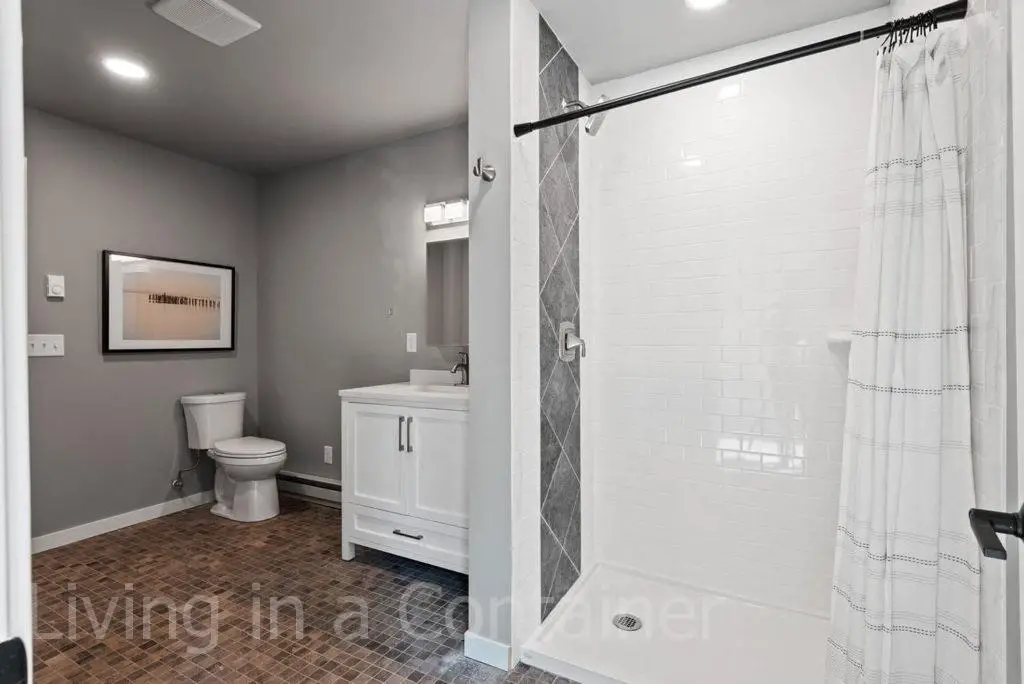 Bathroom is also on this floor. This bathroom is made by using tiles.
Stairs move up from the living room. Let us go to the upper floor to know about the parts.
Upper storey of the home has two bedrooms
This floor has a master bedroom. This bedroom has a large sized bed. A large closet is designed in this room for keeping all attire.
A glass sliding window leads to the terrace. This terrace is making front of the home.
Then comes an other bedroom. This bedroom is located at the other corner and it is smaller in size. These bedrooms share a single bathroom.
Vanity area is also part of this bathroom. Second bedroom also has a small balcony attached to it.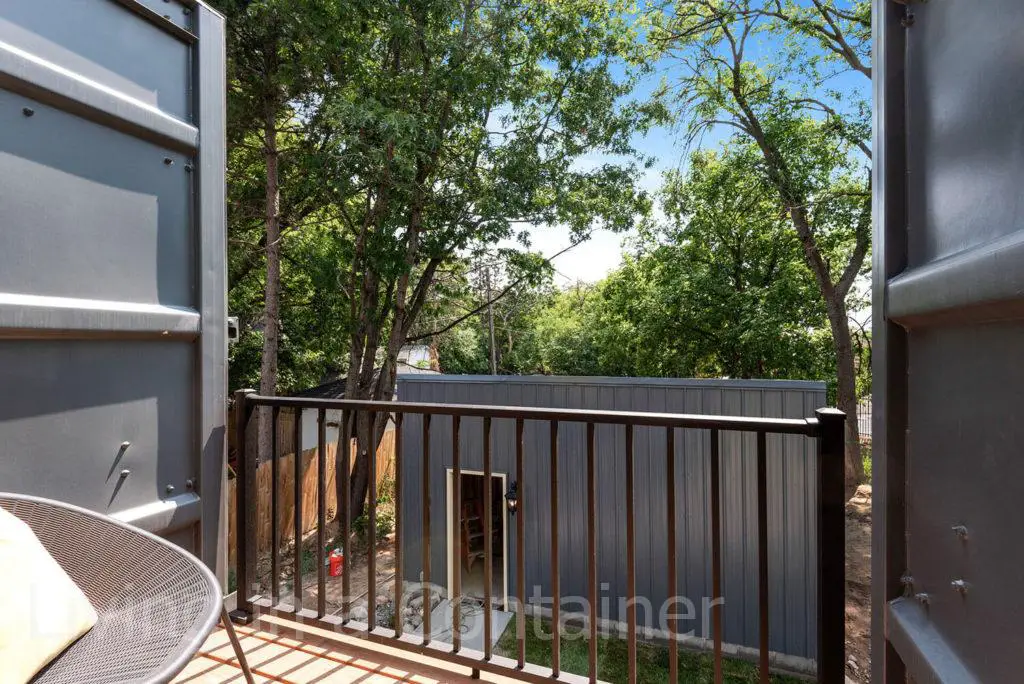 This balcony is at the back of the house. The glass sliding window is also part of this room.
Description of this living space for modular living experience ends here.
If you want to build such a perfect container house, you can reach Paragon Designs here.
INTERESTED IN MORE CONTAINER HOUSE PLANS?
---
CHECK OUT MORE AMAZING CONTAINER HOMES BELOW!
The Lily Pad Cozy Container Home
Life Uncontained Shipping Container Home
Shipping Container Home Ontario
Triple Storey Container House Design
Wonderful Two Story Shipping Container Home, Peru
Building Your Dream Home by A Shipping Cargo Container: Definitive Guide