Steel shipping containers are making gorgeous villas. These are made by using large number if steel shipping containers.
The end result of home is just amazing. These marvellous container homes are designed in different parts of the world. These look stunning and one gets mesmerised after entering into These beautiful steel shipping containers.
No doubt, containers are making their place in industry and therefore, very rich companies are using steel shipping containers to make their homes or other buildings.
To lay, a very new styled building has been discovered which is just like a villa and it is made by using steel shipping containers. This indicates the importance of steel shipping containers in construction industry.
Homes are just amazing in their architecture when these are designed with a great concern and each step of construction is given a huge attention. If someone wants that homes must be resilient enough to stay for many years, he must pay full attention to each step if the construction.
The home which is going to be discussed is made by using containers which are designed at work shop. To know about in detail if this living place, let us step in this home.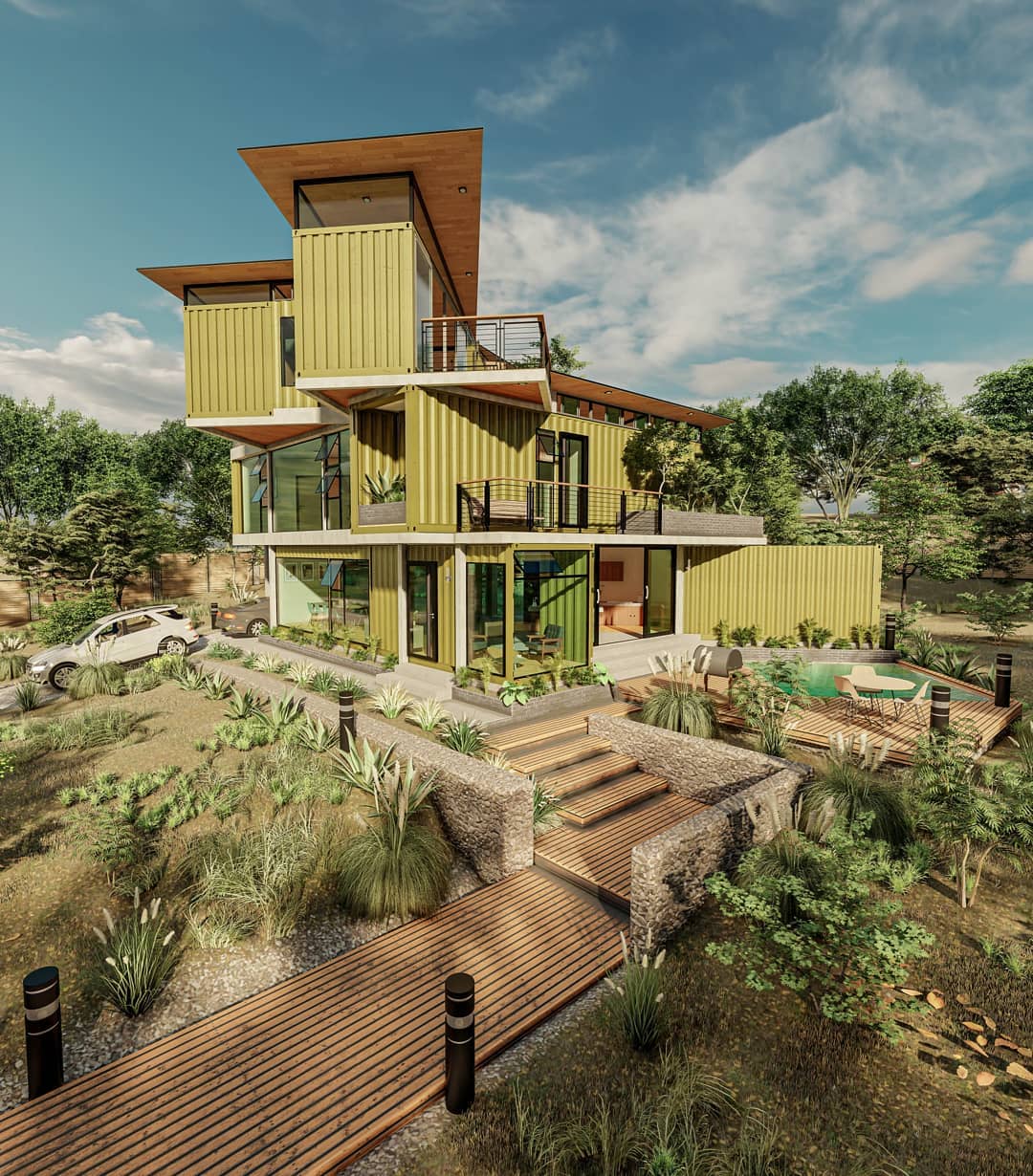 Steel shipping container Villa painted green
This home just looks like a villa. The containers are painted green. Wood has been used in construction.
The house is triple storey. There are three levels of this living place. Two types of steel shipping containers have been used. 40 feet and 20 feet steel shipping containers have been used. These have been joined at this site where final home is designed.
There are many parts of the home and each part is unique. Very unique material is used in construction of this house. To take a complete access list, let us go in detail of architectural structure.
Ground level of the house
This home ha smart parts on ground level which has been set on a strong foundation. There is a living room on a wooden floor inside.
One go to inner place after passing through a sliding glass window. The home has beautiful seating sofas in living room. All furniture is modern.
( Read Also: Life Uncontained Shipping Container Home )
Then there is a place that is kitchen. It has wooden shelves. The cabins are made after using wood. The stainless steel material is used in kitchen. Stools are placed along the shelves. There is a dining table with many wooden chairs and a table. These are set near the glass window. This window is giving view of outer side. The window is large and scene is good.
First floor of the house
This house has parts on first floor after rising the stairs which are made of wood. Upper level floor is also made of wood. There are seating chairs near the window on first floor.
There is a master sized bedroom with a large bed and two walls of this bedroom are made of window which slide and a small terrace is joined to this. ( Container House Models )
An attached bathroom is also there with shining tiles and there is separation of toilet system and shower system. These all structures collectively make the upper floor.
Second floor of the home
This floor comes after rising stairs which are located on first floor. These are also made of wood. There are many parts on this floor.
There is an arrangement of sofas for seating. The window is on front wall. There is a small shelf along with seating stools are placed which are 4 to 5 in number. There is an office room where one can work.
Also there is a music room. This indicates the taste of owner. May be, the owner of this house is part of a singing band. Well, it is not our concern. The floor is again made of wood. There is a black colored sofa is placed near the window.
Outside area of the large container home
There are seating arrangements outside the home. These are made under the shade. Also there is a garage for all cars.
There is a swimming pool on front of the house. Large homes are incomplete without such leisure places. These earn important parts of such buildings. Thus swimming pool is designed in front of home. Seating chairs and table are placed near the swimming pool.
Facilities of this living place are complete. Modern lights are fixed in ceiling of this building. All facilities are provided in kitchen.
The temperature of home is maintained according to weather changes.
Terraces are on first and second floors. There are surrounded with wooden railings and wooden floors are made. One comes to terrace through sliding glass window.
So, it was a practical example of use of steel shipping containers in construction of large structures. There are many more. We will introduce you about all one by one. Thanks.
If you want to get more detailed information about the design, I leave the designer instagram account below.
Bu gönderiyi Instagram'da gör

 
INTERESTED IN MORE CONTAINER HOUSE PLANS?
---
CHECK OUT MORE AMAZING CONTAINER HOMES BELOW!
$193.000 Shipping Container House in Mexico
Great Container House from Mexico
The Lily Pad Cozy Container Home
Life Uncontained Shipping Container Home
Shipping Container Home Ontario – Canada
Living in a Container explores projects made with shipping containers around the world and shares them for you. Don't forget to take a look at the structures made with other amazing shipping containers on our site!
We invite you to send in your story and container homes photos too so we can re-share and inspire others towards a simple life too. Thank you! You can share this using the link and social media re-share buttons below. Thanks!
» Follow Living in a Container on Social Media for regular shipping container house updates here «