Hi everybody
We continue to discover for you. Our container house on today's tour is from Silver Spring, Maryland, USA.
Very elegant homes made of steel shipping containers are attracting all. These are just amazing and very unique. These homes are designed by steel shipping containers.
Steel shipping containers are used to transport goods from one place to other place. These are made of steel and these are very resilient in nature. These containers are then reformed and are used in construction of homes. Homes, hotels, cafes, guest houses all are made of steel shipping containers.
These are very modern and stylish and one building does not match with other building. This is really impressive quality of steel shipping containers.
Qualities of steel shipping containers
Containers consume less money and these are customized homes and become available for middle class person as well. Homes made of steel shipping containers consume less time.
At places where there is instant need of homing like at places where disaster is occurring, containers become first choice to build homes because these provide very instant homing.
Homes made of steel shipping containers are really durable. These last longer than 25 years if one maintain them. Owner of the house obviously loves it and he will do maintenance.
But, construction of steel shipping containers also matter. If foundation of container home is made stronger, then these will stay resilient. Containers provide basic framework to the home. So, these should be maintained accordingly. The paint of the house must do perfectly. It protects a building from the damaging effects of the weather. So, paint plays a very important role in maintenance of container homes. Mostly, container homes are located in areas where weather is intense.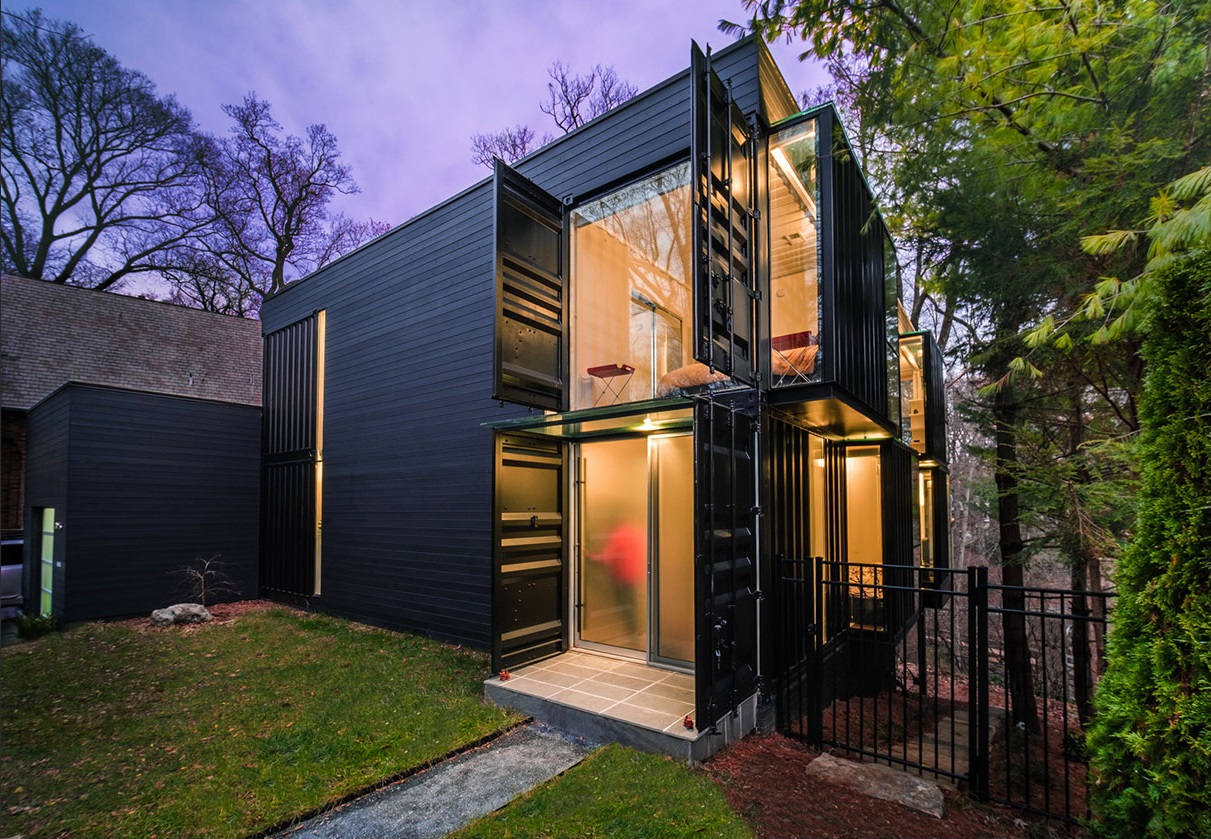 Uniquely designed steel shipping container home in a corner of the world
Shah – Arumugaswamy Residence by Travis Price Architects
This is double storey steel shipping container house. The containers have been painted black in color. The interior of the home is painted white in color. The floor of the house is made of wood.
Two types of steel shipping containers are there. These are 20 feet as well as 40 feet.
These containers are joined together to make any building. Containers are prepared at construction site and then are transferred to desired place where these have to be inserted.
Therefore, transportation of steel shipping containers in hilly areas is quite easy then the transfer of concrete material for construction.
Architectural structure of the home.
Two bedrooms
One bathroom
One living room
One kitchen
One terrace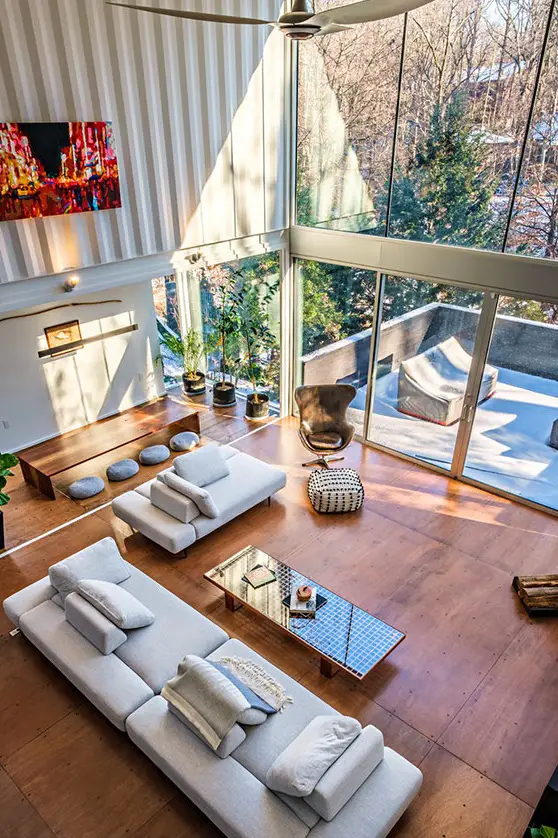 Detail description of each part of this living place
Place is entirely unique in interior designing. Very elegant material has been used in construction of this place. Furniture which is set, is different in its own way.
Polished wood is making floor of the house. Thermoregulation of this place is done.
On ground floor, there is a living room. White colored sofas are placed in this room. These sofas are modern and are according to design which is demand of the present.
A lot of glass is used in the design. The sun rays entering through these windows make the house very bright. The light is proper in the house.
There is modern styled kitchen nearby. Stainless steel has been used in construction. Sink is made of this material. Cabins are made of wood.
There is a bedroom in which single bed is placed for children. This is white painted wooden bed. This also has a glass window which on front wall.
The stairs are in side in the living room. These stairs are made of wood. These are leading to first floor.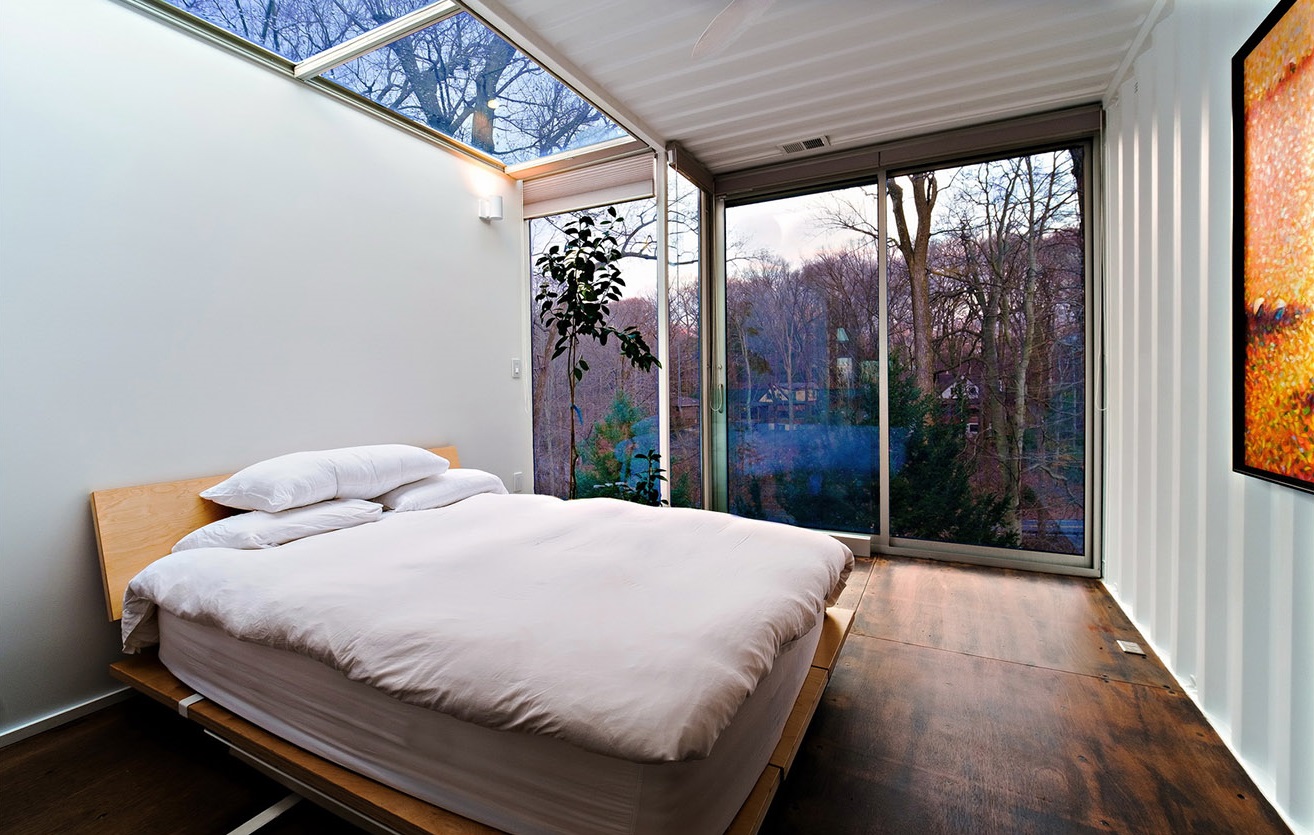 Parts of upper floor of the house
Upper floor is again made of wood.
The bed is large sized which is set there. This bed is near to posterior wall and window is on the side wall. This window is sliding glass window. The closet is in the room.
Coming out through the window, there is a terrace. This is having a seating arrangement. The comfortable sofas are placed there. It is surrounded with glass railing.
Trees are near and leaves fall on its floor. The scenery becomes attractive and if weather is good, the charm of enjoying coffee or tea here, increases two times.
Bathroom is attached to bedroom and it is made after using tiles. Tile use in bathroom is perfect because these save from the damaging effects of water sanitary material is properly set in bathroom.
Description of this living place ends here. Soon, there will be a new container house.
This unique shipping container house was designed by Travis Price Architects. If you want to reach them, you can reach them from the links below.
Web: Travis Price Architects – Facebook: facebook.com/travis.price.739
INTERESTED IN MORE CONTAINER HOUSE PLANS?
---
CHECK OUT MORE AMAZING CONTAINER HOMES BELOW!
Great Container House from Mexico
The Lily Pad Cozy Container Home
Life Uncontained Shipping Container Home
Shipping Container Home Ontario – Canada
Living in a Container explores projects made with shipping containers around the world and shares them for you. Don't forget to take a look at the structures made with other amazing shipping containers on our site!
We invite you to send in your story and container homes photos too so we can re-share and inspire others towards a simple life too. Thank you! You can share this using the link and social media re-share buttons below. Thanks!
» Follow Living in a Container on Social Media for regular shipping container house updates here «