Hi everybody
We continue to discover for you. Our container house on today's tour is from Ba Vì – Hà Nội, Vietnam.
Homes are made of different kinds. There are various tyoes which are constructed by using different kinds of materials. Homes are mostly for living whole life.
But homes are also constructed as guest houses. Such homes are mostly located at some nature existing places. Like hills, deserts, oceans all are places where container homes are constructed.
These homes are for the rest of people and adventurers who go there for spending holidays. Hotels are also made like which can adjust more than 50 persons. These offer living for two persons in room as well as one person.
Transforming a Used Shipping Container into a Luxury Villa!
Nature attracting places freshen one' mind. So, it is really a nice thing to make homes there for facilitating the people who are going to visit such places.
Shipping containers are providing housing facilities at nature attracting places.
There are many locations in the world which are attractive. Like, New Zealand, Australia, Malaysia, and all hill stations. These are providing living facilities for rich as well as middle class persons.
Now, the point is this, that how homes are constructed at such places?
Is not this difficult to transfer building materials to such different places?
Yup, these questions are genuine. There would be difficulties in constructing places at such locations with concrete building materials.
But now, shipping containers have been introduced to the society. These containers are made at the work shop then these are transferred to the locations where owner wants to make a home. This vecomes really easy. It is not difficult for the workers. Then final look is given at the desired place according yo the architecture.
A similar place has discovered today. This one is located at the site where people come for visiting. Place is really expensive. But this one is really luxurious.
Amazing Luxurious Container Villa
This place is full of leisure places and it is designed after using shipping containers. These containers are making this elegant villa. To know about the detail of architectural structure, let us move in this beautiful residential rental place.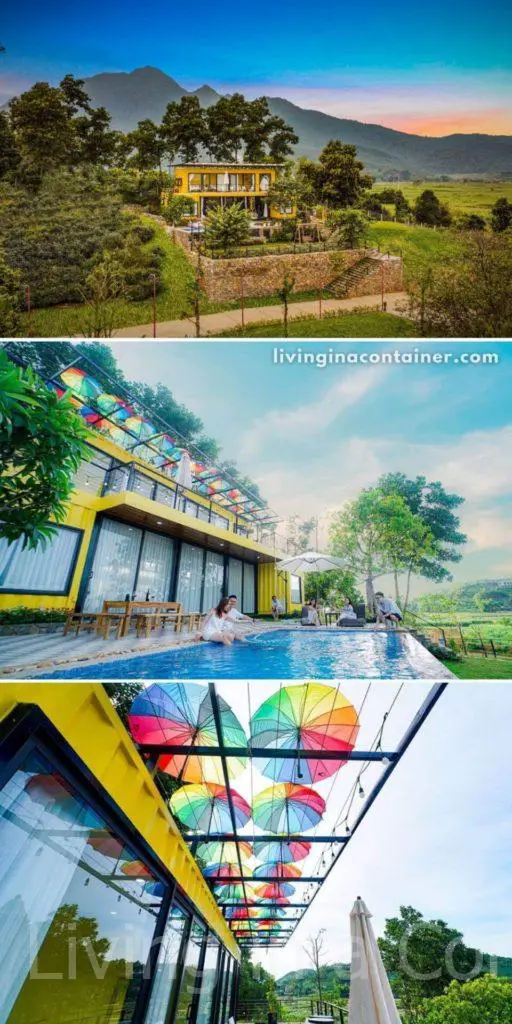 Yellow painted container villa in Hanoi
This villa is located in Hanoi. This is made of shipping containers. This villa is double storey. The containers have been joined together to make this place. There are two types of containers that are 20 feet and 40 feet.
Containers have been painted yellow. Rest, glass windows have been used in construction of this place. Containers are painted white from inside.
Leisure places are many like swimming pool, grilling places and all these are parts of this container villa.
Nuwara Eliya Container Villa from Sri Lanka
Parts of this luxurious villas.
Two bedrooms
One bathroom
One kitchen
One dining table
One living room
One swimming pool
Grilling areas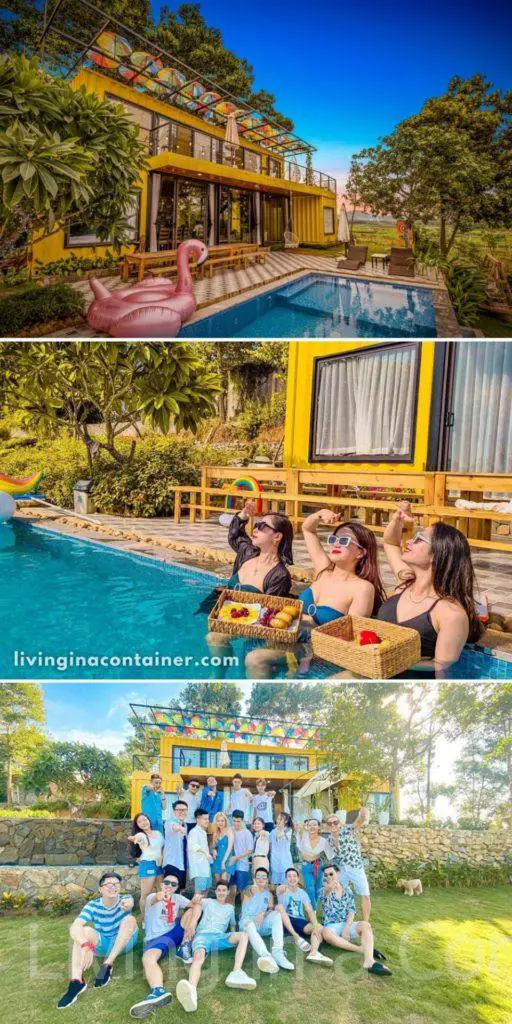 Details of interior architectural structure of this living place
After entering into this villa, there is a living room. One sofa which is large, is placed in the room other two small sofas are placed in front of it. Central table is placed in between them. The ceiling of house is made of wood. Floor of the home is made of tiles.
Place is according to modern design and this is really beautiful place for spending holidays. The charges are according to the facilities which are provided at this place.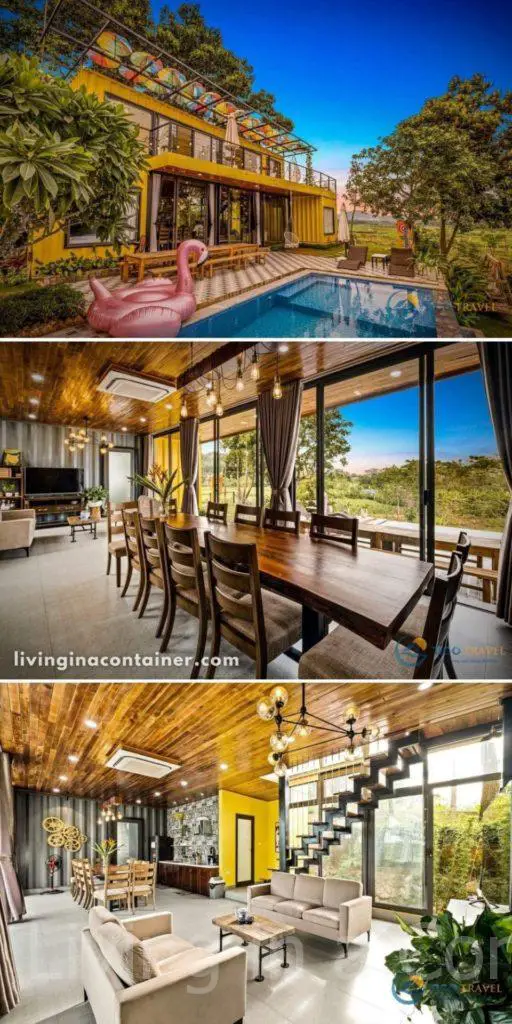 Kitchen and dining table
Kitchen is full of all accessories. Refrigerator, microwave, stoves, coffee maker, all are parts of this kitchen set up. Lights are fixed in ceiling. The cabins are made of wood.
These are glass windows which slide on railings. There is a dining table. Chairs are placed along the glass window and table is placed there. This adjusts large number of people.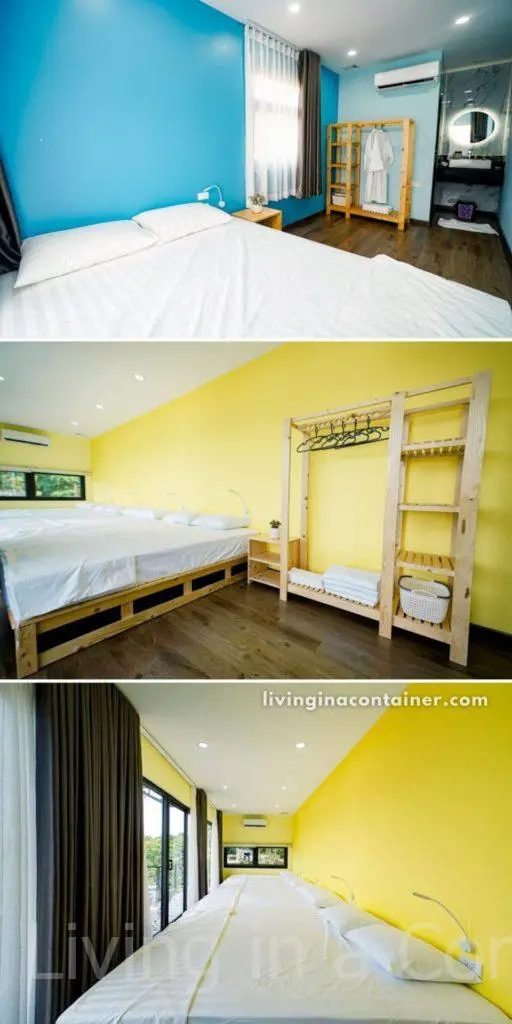 Bedrooms and bathroom
Moving to the stairs, these are wooden stairs. The upper floor has two bedrooms and one bathroom.
Bedrooms have large beds and glass windows are there in the room. The curtains are hanged along the windows. The floor is made of wood. There is a bathroom which is made of tiles. This is luxurious bathroom. Bedrooms are directly connected to the balconies. These come after sliding glass windows.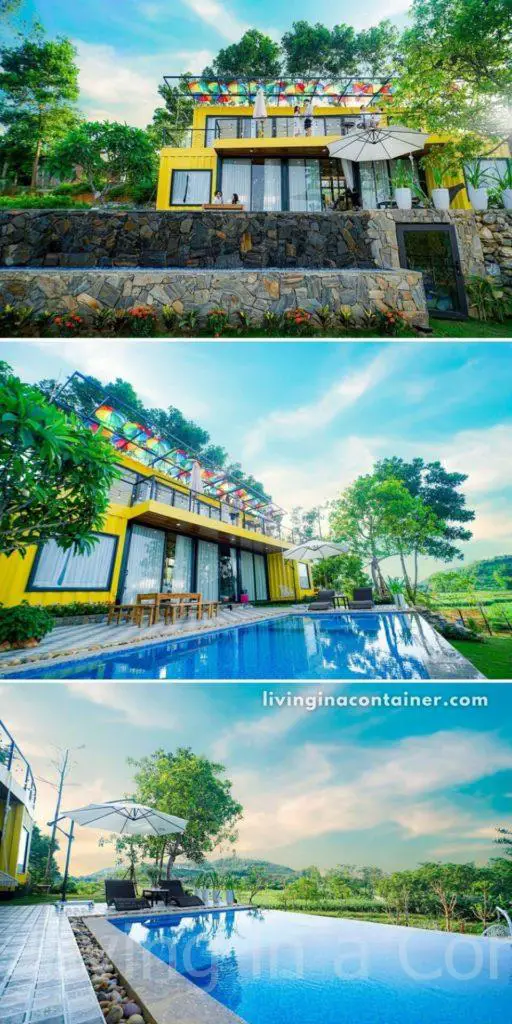 Swimming pool and grilling machine
Swimming pool is in front of this villa. This pool is covering all the front area. The place is giving a really peaceful site look.
Unique Container Villa with Vintage Loft Style from Phuket
There are seating arrangements around the swimming pool. The grilling facility is outside the house. This is set at the back area of this place. One can run a party here. All facilities are provided.
Dinner can be enjoyed outside the home during night. This is one of the best place for spending holidays like a friend group, a family trip can be enjoyed in this villa.
Charges are bit expensive but luxurious of this villa, compensates this. So, if you go to Hanoi, must visit this place of modular living.
If you want to stay in these wonderful container villa, you can reach the booking page here.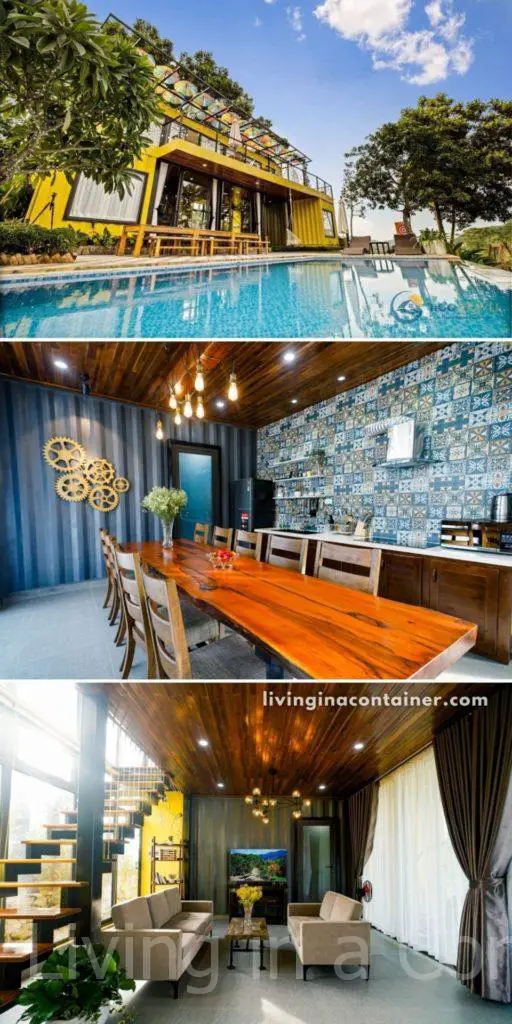 We are researching and showing you the structures made with shipping containers around the world to give you an idea.
Do you come across stunning stories of individuals who built their cargo container houses with their own hands on Youtube, Instagram, or many other platforms? Okay, so now is the time to be one of them!
This e-book, which we offer you and contains all the theoretical details and practical steps you need about the container home building process, will be your real assistant! What's in this book? Let's explore now!
Buy now for more!