Hello Everyone,
We continue to discover for you. Today we will examine the container house design of the K800-MB model designed by Kubed Living.
Homes are places for living. These are made according to one's dream and them ultimately it depends on someone's budget.
Homes are beautiful when these are designed accurately. Homes must be designed under great concern. So that, these may get full attention regarding each part of the house. This is because of some reason.
A house is built once and it is mostly built for almost whole life. It is built for once. So, house must be resilient enough.
It should withstand all the damaging effects of weather and all other effects which cause damage to the house. And this resiliency depends on the material which a person selects for building of home.
Best insulation, best paint and best framework to the house should be provided. It decides the durability of a house. If you want to make your home to be durable for entire life then you have to maintain this.
You have to make insulation best and then paint must be good enough so that no weather changes could affect the outer look of house. But paints have to be done again and again in life.
Containers are, now, option for buildings because these are rising in trend now.
World is expecting that containers will increase in usage in next 25 years up to ten times more. This expectation is going to prove right because containers are using at higher rate.
There are many reasons behind the use of steel shipping containers in building of homes. Containers are made of very tough material and durability is very good.
Read Also : Shipping Container House Plans – Making a Home in a Container
Containers can provide instant homing at the place where disasters have occurred. These can provide instant shelter to them.
Containers are making homes at cheaper prices than any other material used in construction. These are providing home sat very high speeds. In short time, a home can be designed.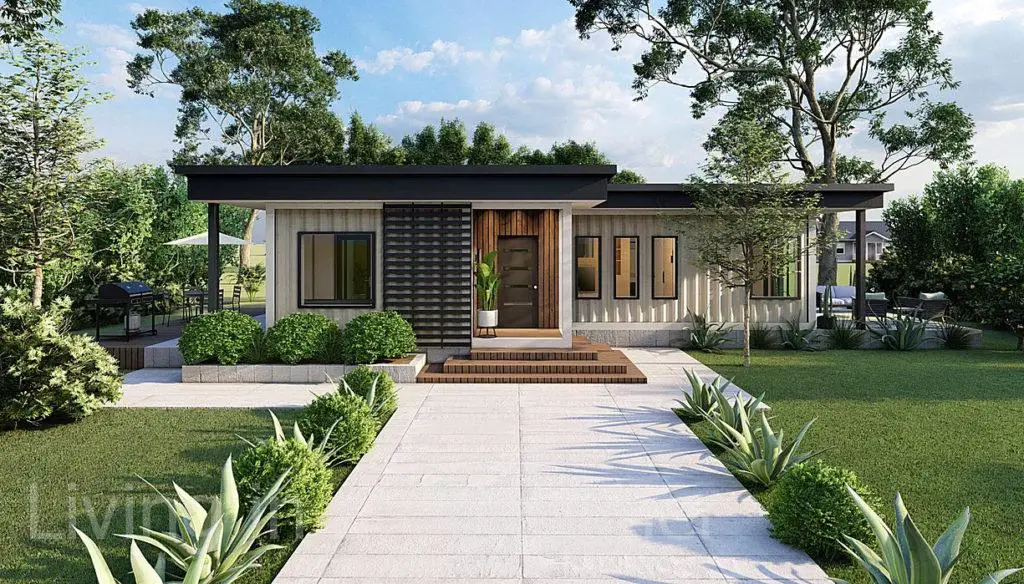 Home made of shipping containers
A very elegant home has been designed by using white painted steel shipping containers. This is a very decent looking steel shipping container house.
2*40′ HC Containers and 1*20′ HC Containers were used in the design of this container house designed by Kubed Living. If you are interested in design, you can contact Kubed Living here.
Average Price: $200,000 ( Includes $17,000 allowance for finishes )
The house is single storey. There is broad area around the living place. There is neat lawn in front of the house. Many beautiful decorative spots are parts of this living area. Architectural structure of the house is unique and interesting.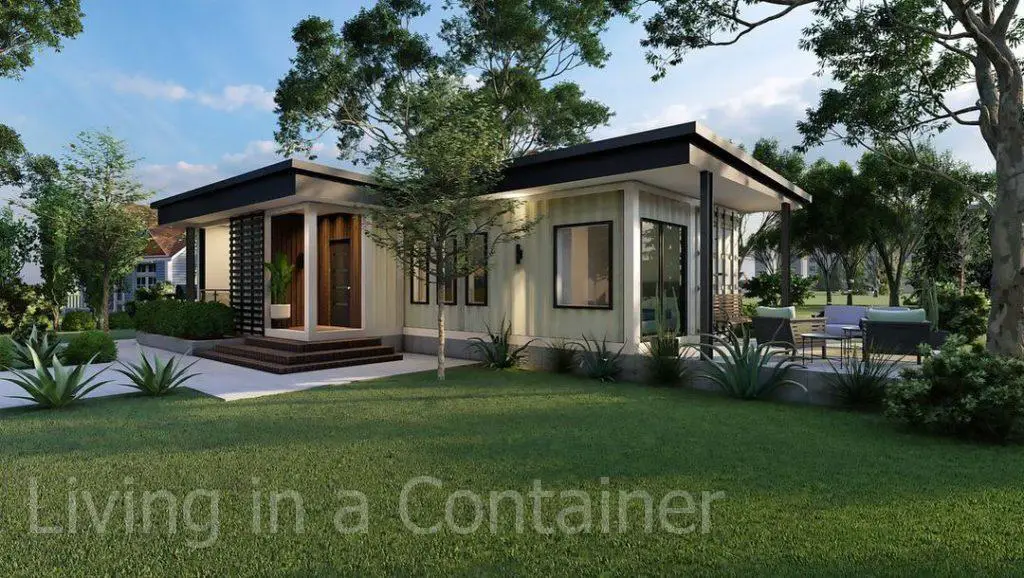 Different parts of this living place
Two bedrooms, Two bathrooms, Kitchen, Living room, Lawn and Outer dining table.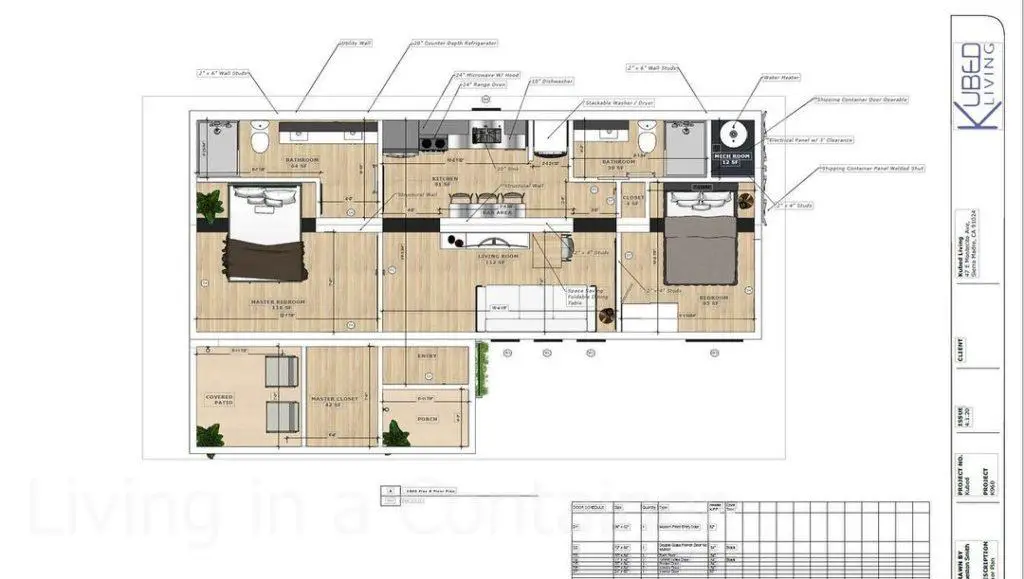 Detailed description of each part of the container house
There is a wooden entrance door on the front of the house. Small glass windows have designed in the containers. Three steps, by using tiles, have been made in front of the house. There is a decorative pot on front of the door. The floor is made by using tiles. These are set in white colour.
There is a living room. This room has seating sofas. These are set according to nature of the owner. I mean these are set in a very decent way. The window is part of living room. The surrounding of the window is made by using wood. There is an LED in this living room.
There is kitchen with all kind of appliances. These are set in this beat kitchen according to need. There are microwave, refrigerator, stove and sink in this kitchen. Stainless steel has been used in the construction of the kitchen. Cabins are part of this kitchenette. These cabins are made of wood. The kitchen has space for keeping all kind of spices. The utensils are there to use.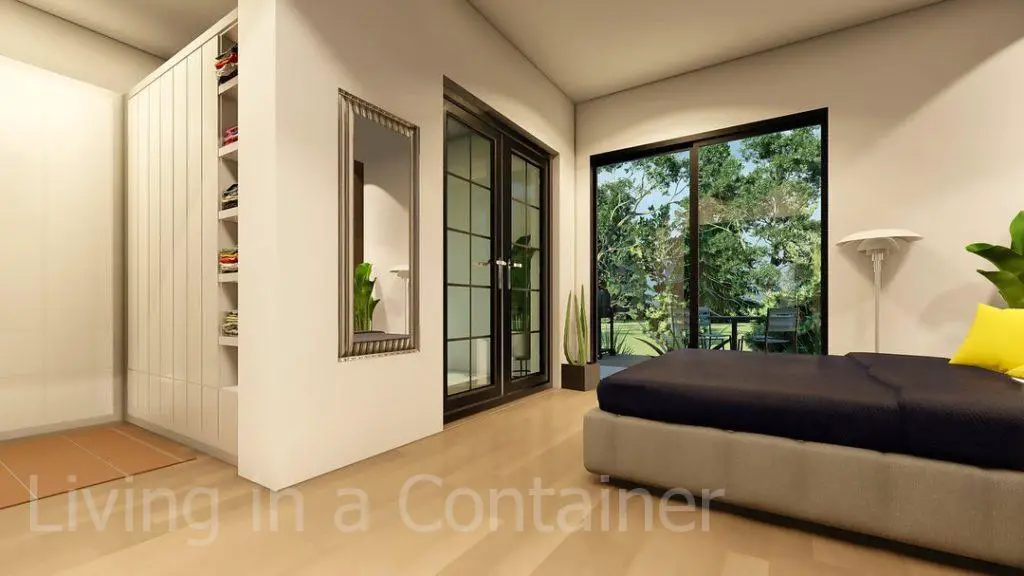 There are two bedrooms. Beds are set in this bedrooms. Windows are parts of these bedrooms. There are closets which are walk in design. Both bedrooms have these closets for keeping all kind of attire and all other necessities.
Bathrooms are attached to the bedrooms. The toilet and shower systems of the homes are separated.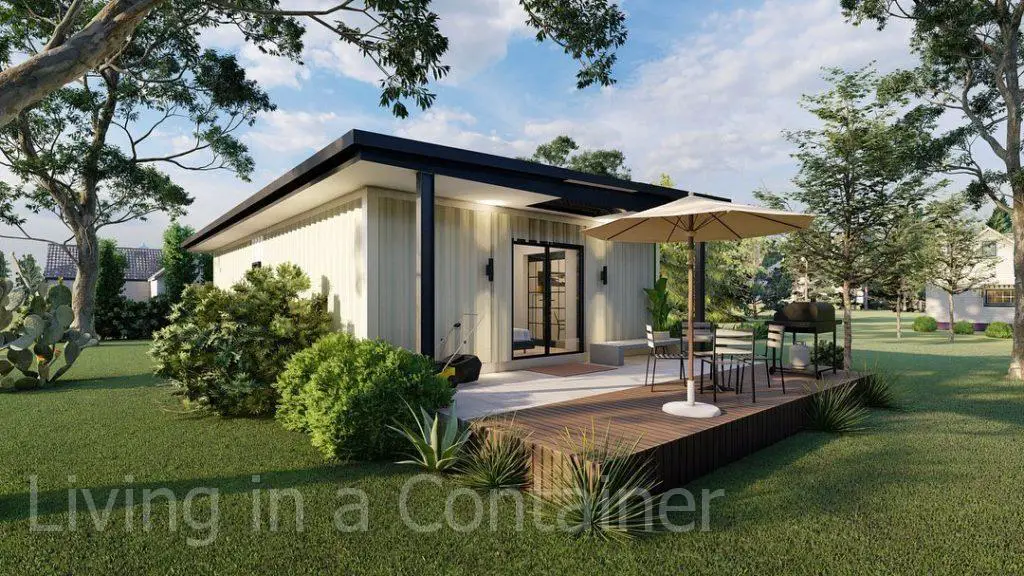 Outside area of the container house
There is a seating arrangement under the shade at the side of the house. The chairs are black in color and black colored table is also set there. This can be treated as dining table. Meal can be enjoyed here in good weather. Or meal can have here during night.
There is plan grass in the lawn. Lawn is in the front of whole house but a pathway made of tiles is made in centre of the house. This pathway is white in color. On both sides, there is grown grass. The plants are set along the wall.
This was all about this living structure. Home made by steel shipping containers are unique and interesting. One when gets step in a container home for the first time, gets mesmerised.
Because containers are entirely new structures in this new world and are really interesting. These are making really classic homes.
Homes made of shipping containers are making place in this new world and world is welcoming them with open heart.
INTERESTED IN MORE CONTAINER HOUSE PLANS?
---
CHECK OUT MORE AMAZING CONTAINER HOMES BELOW!
Great Container House from Mexico
The Lily Pad Cozy Container Home
Life Uncontained Shipping Container Home
Shipping Container Home Ontario – Canada
We are researching and showing you the structures made with shipping containers around the world to give you an idea.
Do you come across stunning stories of individuals who built their cargo container houses with their own hands on Youtube, Instagram, or many other platforms? Okay, so now is the time to be one of them!
This e-book, which we offer you and contains all the theoretical details and practical steps you need about the container home building process, will be your real assistant! What's in this book? Let's explore now!
Buy now for more!