The use of shipping containers to build houses is becoming more and more common. Container houses are being built in the city center or in quieter areas.
Architectural options in the world are advancing day by day. People's needs are constantly increasing. This increasing need forces everyone to have something of their own. As a result, this also applies to homes.
Everyone wants to build their own house.
However, there are some reasons that become obstacles. For example, someone wants to build a house but can't afford it.
The advancement of architectural solutions brings a slightly more viable solution to this problem. The problem can be fixed before it even occurs. These problems have also been alleviated somewhat with the introduction of shipping containers into the construction industry.
These containers have replaced other materials like concrete materials. Now, these are used to build homes of various styles at all types of locations.
These containers make very fast homes. These homes become available in very short period of time without any tension.
These are manufactured at working site and then these are transferred to the place where these need to be fixed. If you want to make a container home durable then you have to fix it on a very strong foundation and if you want temporary installation of containers, then no need to do this.
Yellow painted shipping container house design
1 x 40ft shipping container was used in the design of this unique container house. Yellow is preferred as the exterior color.
The house is single storey. This is fixed a level higher than the ground. This is fixed on strong iron bar support.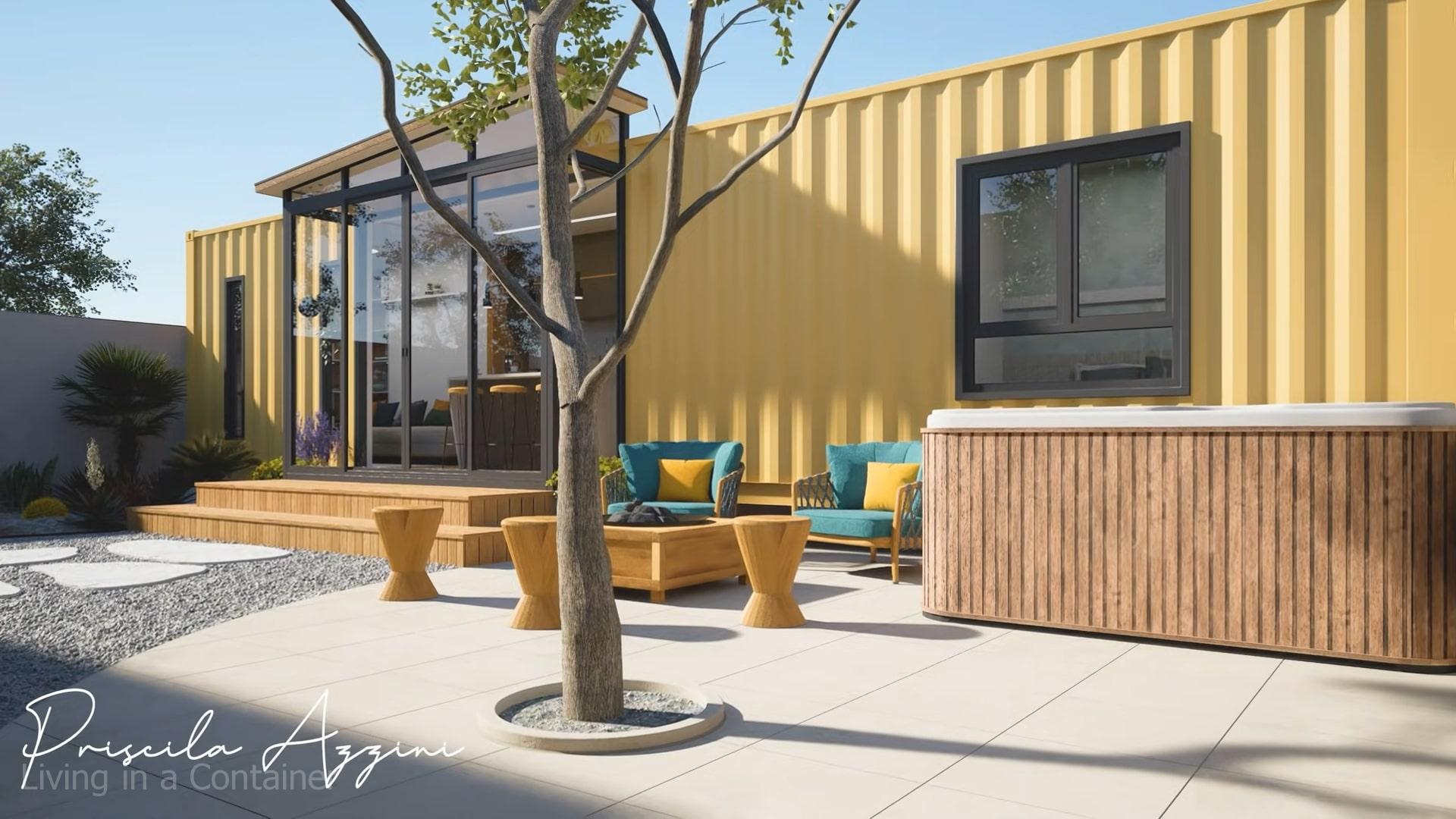 This house is providing two bedrooms for living.
There all necessary parts of home: Bedroom, bathroom, living room, kitchen.
Let us have a look in the interior designing of this living area.
After entering the house through the door, there is a living room on the left.. This living room is one of the modern rooms of the present era. Comfortable sofas are placed in this room. These sofas are two in number with comfortable cushions.
There is wooden shelf in this living room. This shelf has many parts. Decoration pieces are placed in this shelf. The books are also set in this shelf. Front of the room has a glass window. This is giving view of outer enviroment.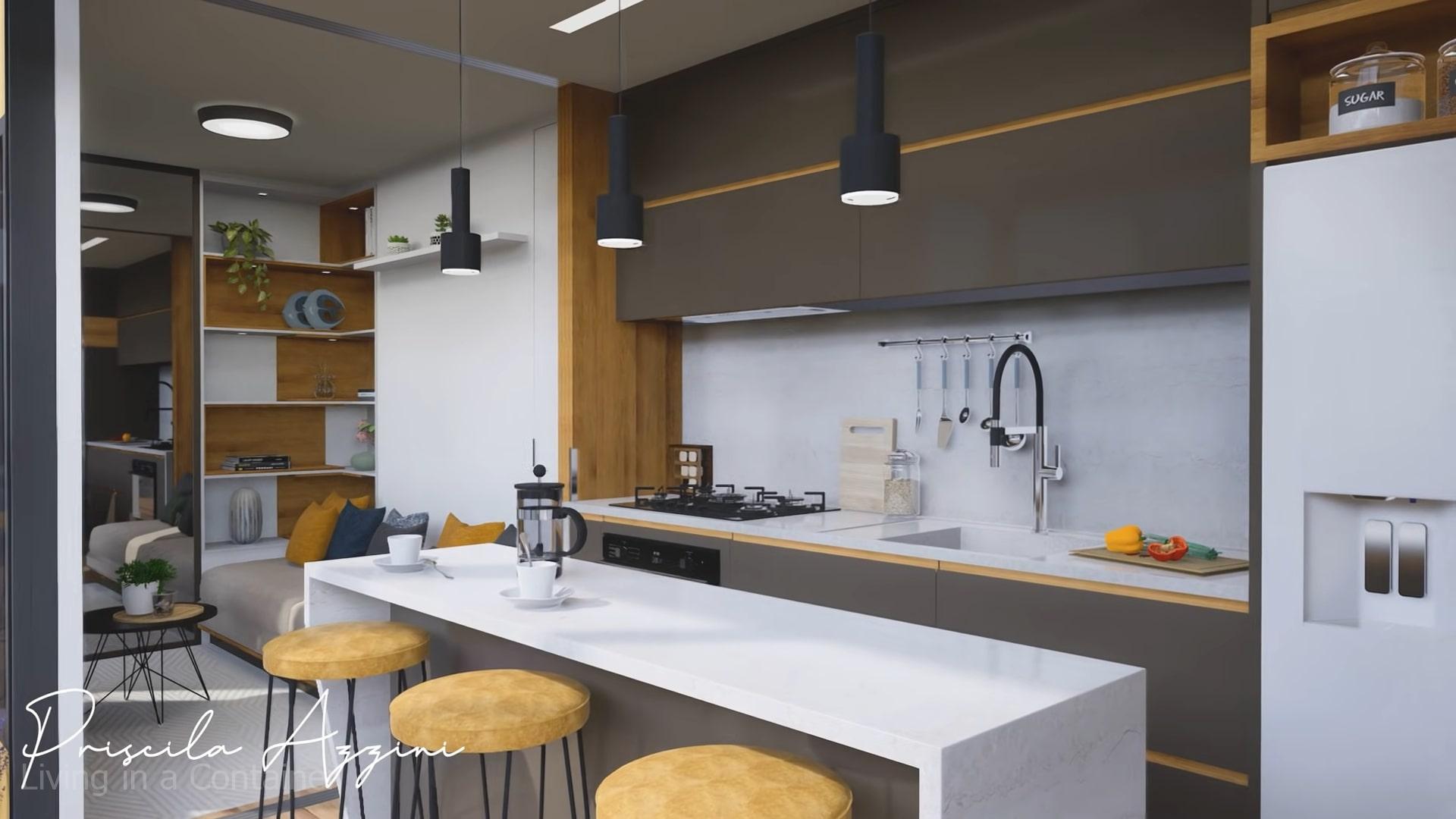 Kitchen is designed perfectly with all modern facilities. This kitchen has stoves fixed in the shelf. There are utensils of use in this room. Lights are hanged from the ceiling. The shelf is made of white tiles and stools are placed near it. There are refrigerator, microwave, coffee maker in this kitchen.
The container house has one bedroom. Here there is a large size bed placed directly opposite the window. There is another area in the house where you can sleep. The sofas in the living area can also be beds. Two people can easily sleep here, too.
A simple bathroom was considered in the design of the container house. A wooden sink and a flat shower cabin were preferred. White color is preferred for wall tiles. In this way, the bathroom gives a feeling of simplicity and spaciousness.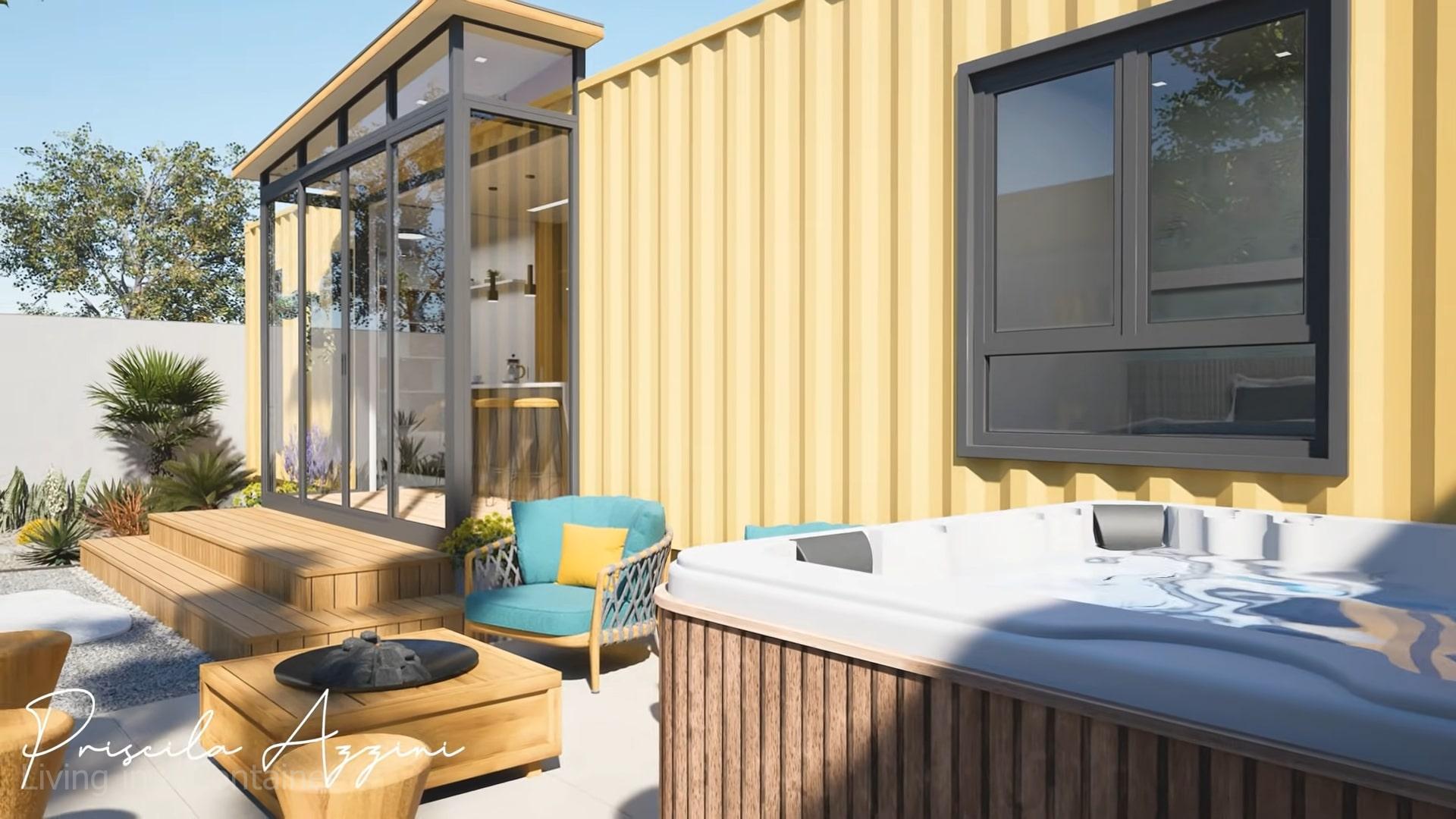 Outer look of the container house.
There are seating chairs outside the house. Seating sofas are placed as well. If anyone wants to sit there with meal, can enjoy there easily. These all are set for enjoying outer enviroment.
There is a bath tub outside the house. This is located on front area. These are small leisure places of the living place. One can enjoy according to condition of the weather.
Container house designs are discussed properly to enhance knowledge about them. If someone is going to make a home of modern style he must go for shipping containers.
The design of the container house we mentioned above belongs to Priscila Azzini. She has dozens of amazing works on container houses. You can find the Youtube page here.
If you'd like to take a look, below are some of Priscila's home designs.
Two Studio Apartment House Using Shipping Containers by Priscila Azzini
4 Bedrooms Luxury Shipping Container House Model by Priscila Azzini
3 Bedrooms Luxury Shipping Container House Model by Priscila Azzini
2x40ft Impressive Off-Grid Container House
We are researching and showing you the structures made with shipping containers around the world to give you an idea.
Do you come across stunning stories of individuals who built their cargo container houses with their own hands on Youtube, Instagram, or many other platforms? Okay, so now is the time to be one of them!