Shipping containers have long been the unsung heroes of international trade, traversing the globe with goods of all kinds. But in recent years, a new trend has emerged: the transformation of these metal boxes into astonishingly beautiful and functional living spaces.
If you've ever found yourself asking, "Can you really turn a shipping container into a home?", you're not alone. Google trends show that searches related to container homes have surged by over 200% in the past five years.
As sustainability and efficient use of resources become ever more crucial, container homes offer a unique blend of eco-friendliness and innovative design.
So, for those dreaming of a container home or simply curious, we've compiled a list of the world's most jaw-dropping container transformations. You'll be amazed at what's possible with a little imagination and a steel box.
Ready to be inspired? Let's dive in.
How did Emily & Seth revolutionize the idea of shipping containers into luxurious residences?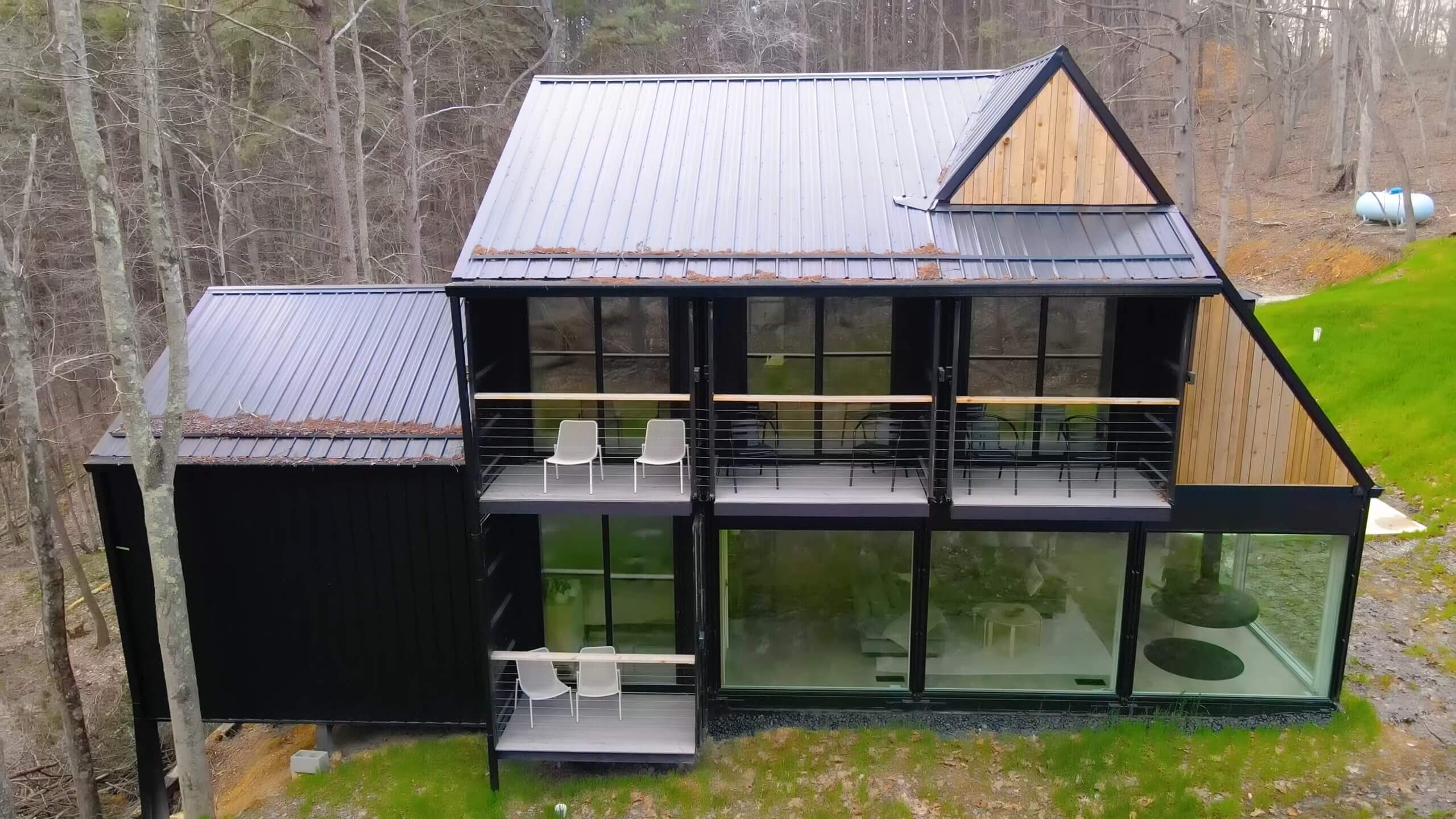 Nestled in the serene woodlands of Rockbridge, Ohio, The Hygge Box Hop stands as a testament to innovative design and sustainable living. Hosted by Emily & Seth, this luxury-equipped container house is more than just a place to stay—it's an experience. Constructed using seven shipping containers, the meticulous design of this residence showcases just how versatile and functional container architecture can be.
The spacious abode boasts five bedrooms, comfortably accommodating 10-12 guests. With its expansive windows, the home invites the outside in, allowing guests to bask in natural light while enjoying panoramic views of the surrounding forest.
The exterior's minimalist black finish contrasts beautifully with the warm wooden accents, creating an aesthetic that's both modern and cozy—true to the "hygge" spirit, a Danish word that embodies the feeling of cozy contentment.
But what truly sets The Hygge Box Hop apart is its origin story. This isn't the first time Emily & Seth have dabbled in container home design. Their other unique creations, The Box Hop and The BoHo Box Hop, have already established the duo as pioneers in the realm of container transformations.
How do Melissa and Tony revolutionize container homes with their design and architectural expertise?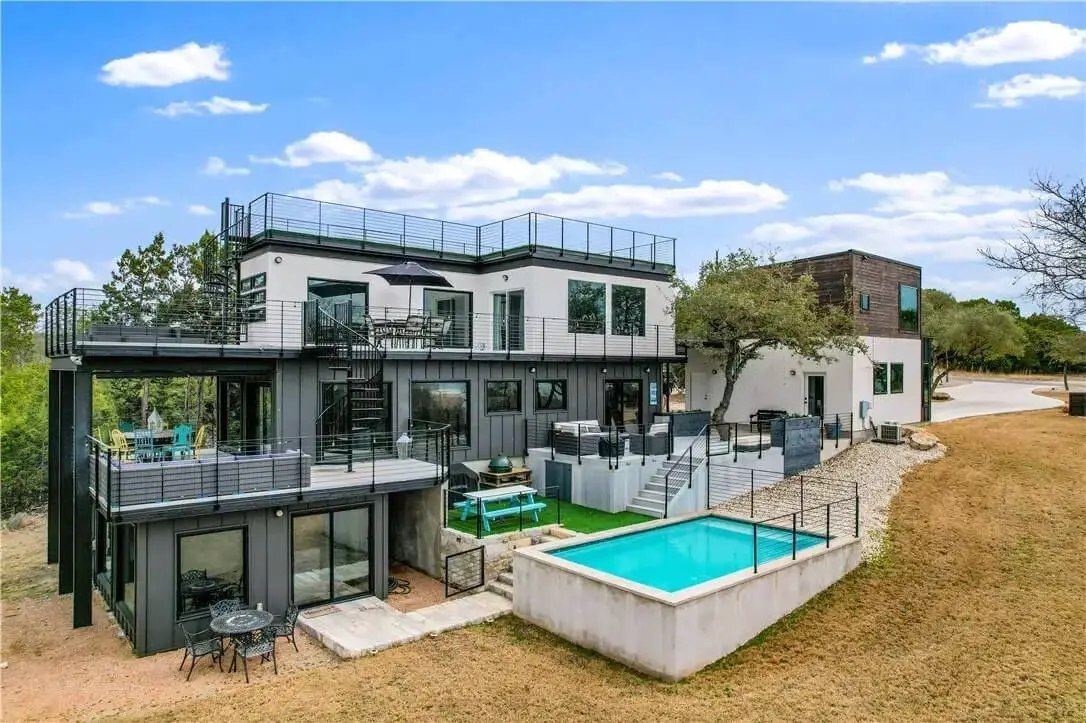 Deep in Lago Vista, Texas, emerges a gem of architectural innovation. Owned by Melissa and Tony of Emerie Custom Homes, this particular structure is a perfect example of how container homes can transcend their humble beginnings to epitomize luxury.
The structure sprawls across 2238 sqft. and utilizes an interesting mix of eight 20 ft. containers and three 45 ft. high cube containers. The configuration of these containers creates a layout that's both functional and aesthetically appealing.
The home boasts four spacious bedrooms and two lavish bathrooms. Additional rooms such as a small office and a mudroom provide utility and convenience. However, it's the expansive kitchen and grand living room that truly steal the show, acting as the heart of the home where residents can gather and socialize.
But what's truly awe-inspiring about this design is its attention to detail and uncompromising quality. Each corner, every finish, and every amenity reflects Melissa and Tony's dedication to high-performance homes that don't sacrifice aesthetics. From the sleek exteriors to the sophisticated interiors, the house exudes a modern flair.
The large terraces and outdoor spaces further enhance the appeal of the home, while the stunning swimming pool offers a cool oasis in the heart of Texas. The blend of containers, both in size and positioning, showcases the versatility and potential of using such materials in home construction.
Last year on Realtor, this container home was listed at a price of $1,300,000. Now, according to Realtor data, its current market value stands at $863k. This home is a testament to how container architecture can not only rival but also surpass traditional home designs in terms of luxury, design, and functionality.
The Idaho Marvel: A Showcase of Container Architecture Mastery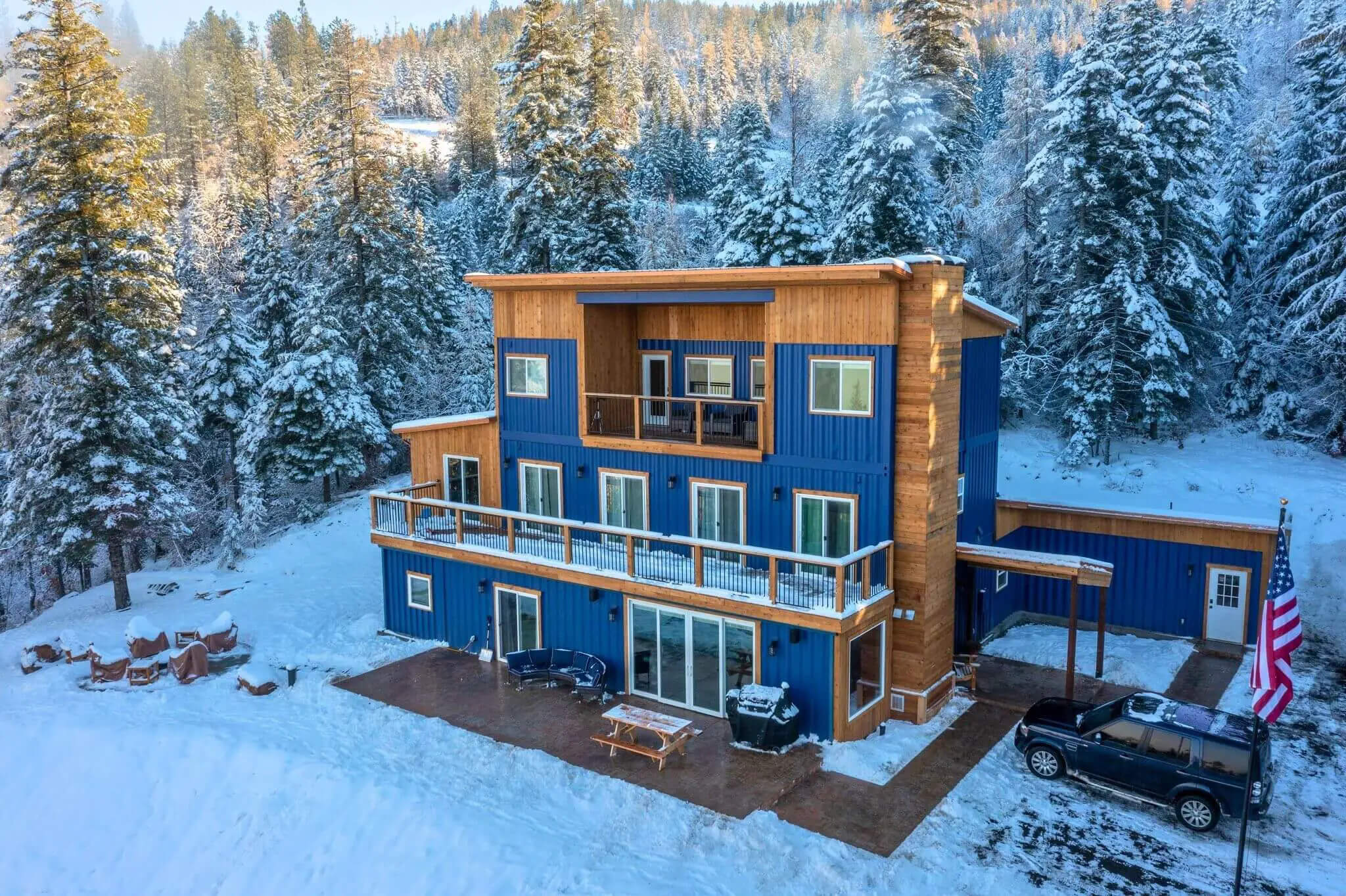 Nestled amidst the pristine snow-laden landscapes of Idaho stands a majestic testament to modern architectural ingenuity – America's largest shipping container home. With its vivid blue façade contrasted against the warm wooden accents, this structure stands out not only for its size but for its unparalleled design execution.
Rowe, the visionary behind this ambitious project, ventured into the uncharted territory of crafting a colossal 4,000-square-foot abode entirely out of shipping containers. To bring this dream to fruition, he procured 15 brand new containers directly from China. This endeavor set a new benchmark, making it the largest shipping container house in the U.S.
Distributed across three stories, the residence effortlessly marries space with functionality. It offers seven commodious bedrooms and five well-appointed bathrooms, ensuring ample living space for a large family or even for those who love to host guests.
While the sheer scale of this project is commendable, what's truly remarkable is Rowe's approach to budgeting. Despite confronting unexpected financial hurdles during the construction process, the total expenditure for this mammoth project is projected to reach $525,000. When juxtaposed with the prevailing housing rates, Rowe anticipates a substantial saving of approximately $275,000. This differential underscores the potential of container homes as a cost-effective alternative to conventional housing, especially for those willing to think outside the proverbial box.
The home's exterior exudes a rustic charm, harmoniously blending with the surrounding natural beauty of Idaho's wintry landscapes. The balconies on various levels provide panoramic views of the serene surroundings, offering residents a tranquil retreat. The carport and expansive outdoor spaces further enhance the home's appeal, making it an ideal dwelling for those who cherish both luxury and nature.
In a world where sustainable and innovative housing solutions are becoming paramount, Rowe's container home serves as an inspiring example. It's a beacon for aspiring architects and homeowners alike, showcasing the limitless possibilities of container architecture.
Kialla's Modern Marvel: The Elevated Container Home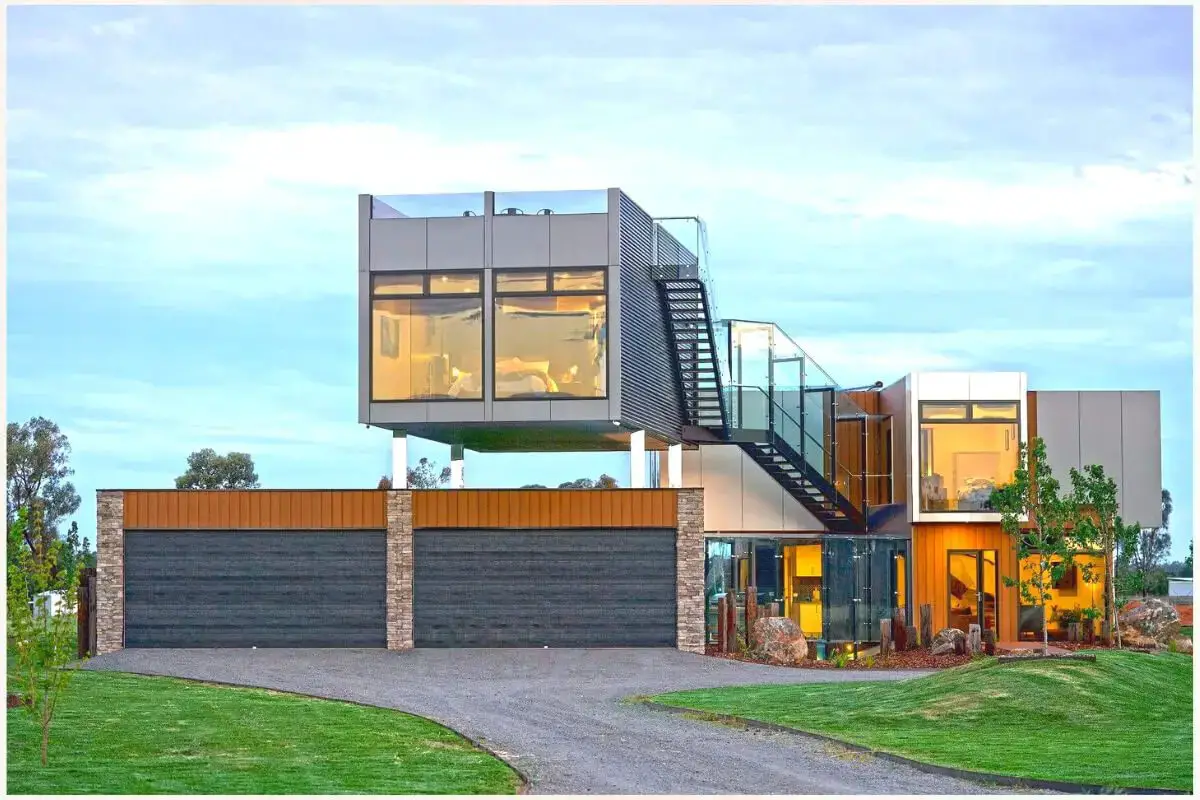 Located in Kialla, Northern Victoria, Australia this impressive container residence stands as a testament to the innovative vision of Rachel and James Briggs. Constructed using seven high cube shipping containers, which are notably taller than standard ones, this home sets itself apart in the realm of container architecture. The owners, who also helm JMB Modular Buildings, firmly believe that the popularity of container homes is on an upward trajectory as more individuals discover their vast potential.
The Fusion of Tradition and Innovation: Vancouver's $2M Asian-Inspired Container Home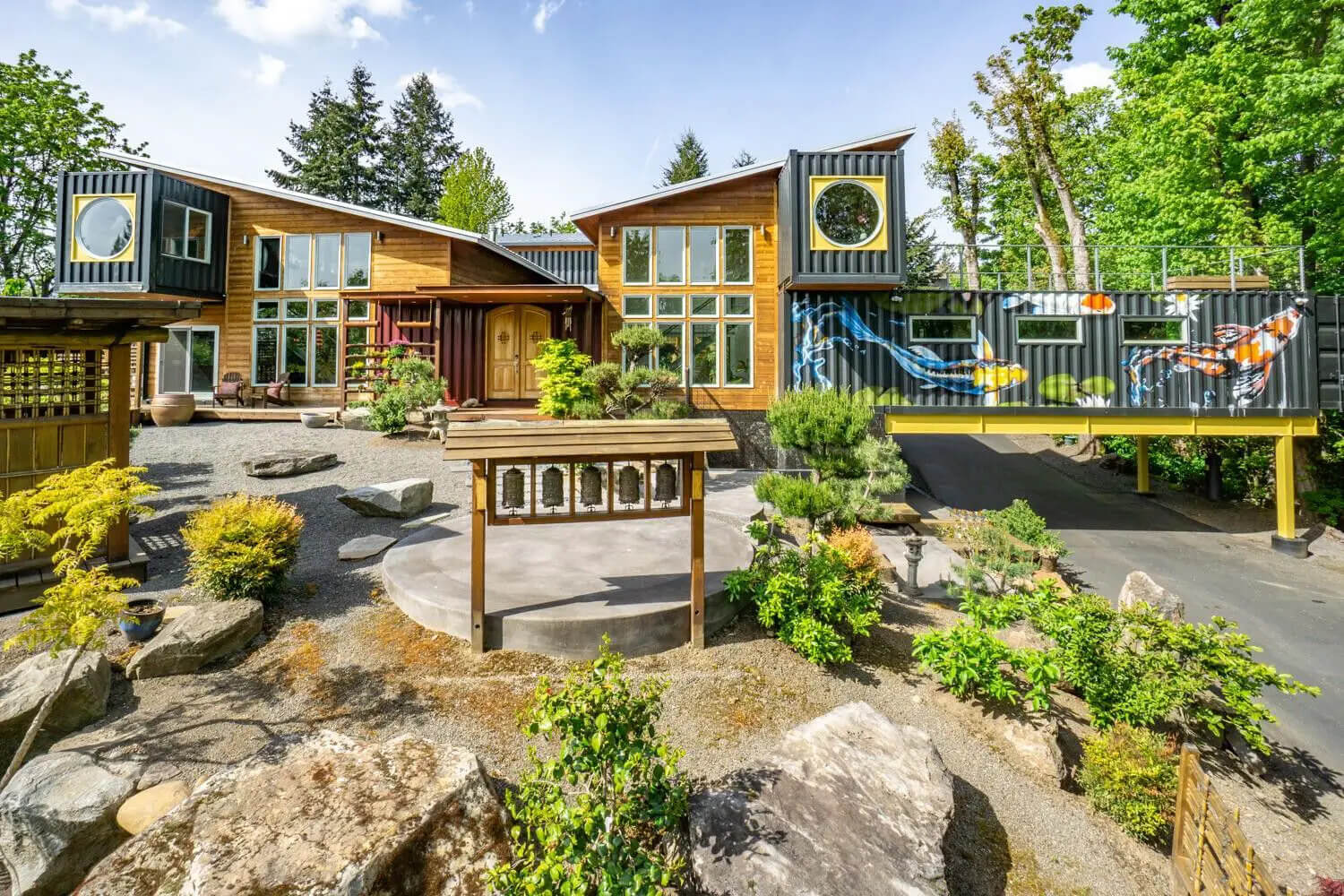 Nestled in the heart of Vancouver, Washington, stands a magnificent blend of traditional Asian architecture and contemporary container design. Built in 2015, this sprawling estate spans an impressive 4,074 sqft, making it evident that it's not just any regular dwelling.
The home's expansive nature is facilitated by the use of 11 shipping containers. Eight of these are large, stretching 40 feet each, while the remaining three are compact, measuring 20 feet. The majority of these containers are bathed in a sleek black hue, with one notable exception standing out in vibrant red.
Beyond its architectural ingenuity, the home's Asian-inspired elements manifest in its design intricacies, offering a serene ambiance amidst its industrial foundation. The fusion of culture and innovation positions this residence as not only a luxurious living space but also a testament to the boundless possibilities of container home constructions.
Conclusion: The Evolution of Container Living
Shipping container homes have gained immense popularity in recent years for their sustainable and repurposable nature. Through this journey, we've showcased five remarkable homes that stand as testament to the boundless creativity and architectural wonders possible with simple shipping containers.
From sprawling mansions to chic urban havens, these structures have undoubtedly left us in awe. We hope you too were taken aback by the ingenuity and elegance of these five stunning container homes.
The world of architecture is ever-evolving, and it's exciting to see how everyday materials can be transformed into dream residences. If you weren't already a fan, perhaps these homes have kindled a newfound appreciation for the potential of shipping containers in modern construction.