Hello Everyone,
We continue to discover for you. Our container house on today's tour is from Cuenca, Azuay, Ecuador.
Container homes are one of the best things in this world. Because these are fully modern and stylish. Container homes are different from the homes made of concrete material. There are many benefits of steel shipping container houses. List is actually very long. Focusing on these benefits, the homes are preferable to other homes in town.
Let us have a look on benefits of steel shipping containers.
Containers consume less time in construction. Homes become rapidly available to the persons who want a home at any place.
Containers consume less money. If you are a hard working person, and you can use your hard work in construction of homes, then container homes become very cheap. These consume less cost as compared to homes made of concrete material.
Containers make home at difficult places. This is one of the charming facilities of containers. Containers make home for you. Adventurers make homes at difficult places like hill stations, deserts, near ocean, near beach. I mean, at every place, you can make homes by using steel shipping containers.
Containers make small as well as large homes. Mansions and villas can also be made of steel shipping containers. Small homes can also be made by using one or two steel shipping containers. Like one 40 feet container can make a home of one person.
Steel shipping container homes last longer. Durability of steel shipping containers is really good. You have to maintain your home. Every thing demands care to last longer. Do maintenance with concern and then containers will provide you with best homes.
A container home is going to be discussed which is different in its architectural structure. Containers are joined together to make this living area. Discovery of steel shopping containers house is continued for your ease. Stay with us to know about modern construction industry work.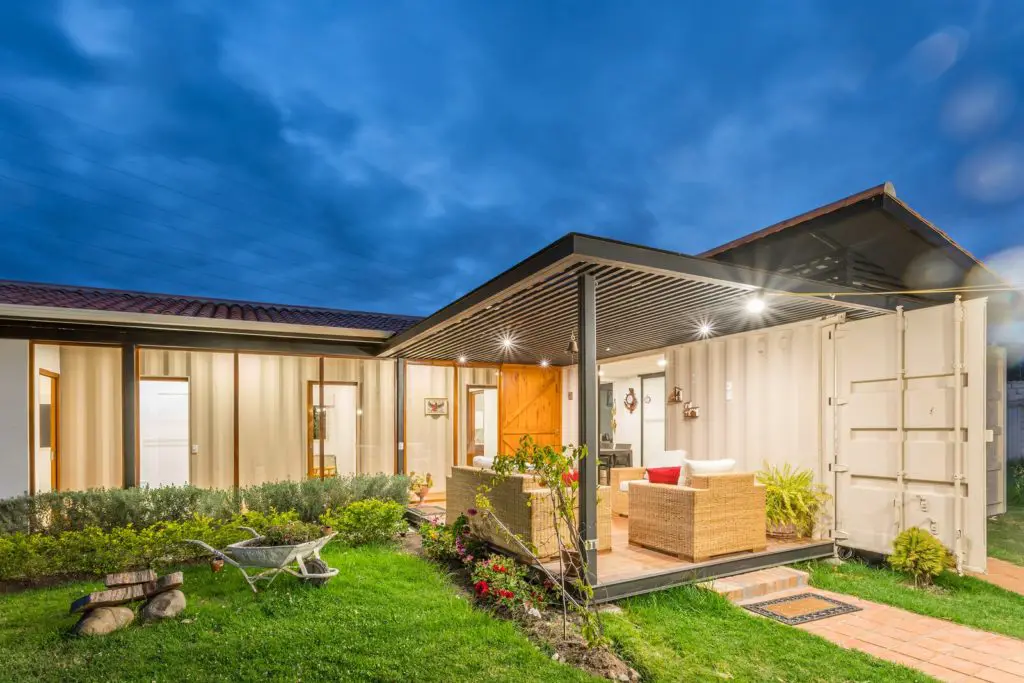 L shaped home made of steel shipping containers
This is white painted container house. This home is made by using one 40 feet and one 20 feet steel shipping containers. So, this is made of two steel shipping containers. House is single storey. Outer look of home is very decent. Architectural design of this living place is L shaped. This is set on strong foundation on the ground. To make a home which must be stronger, you have to set its foundation very strong. If foundation is hard enough, then home will be durable with out any worries.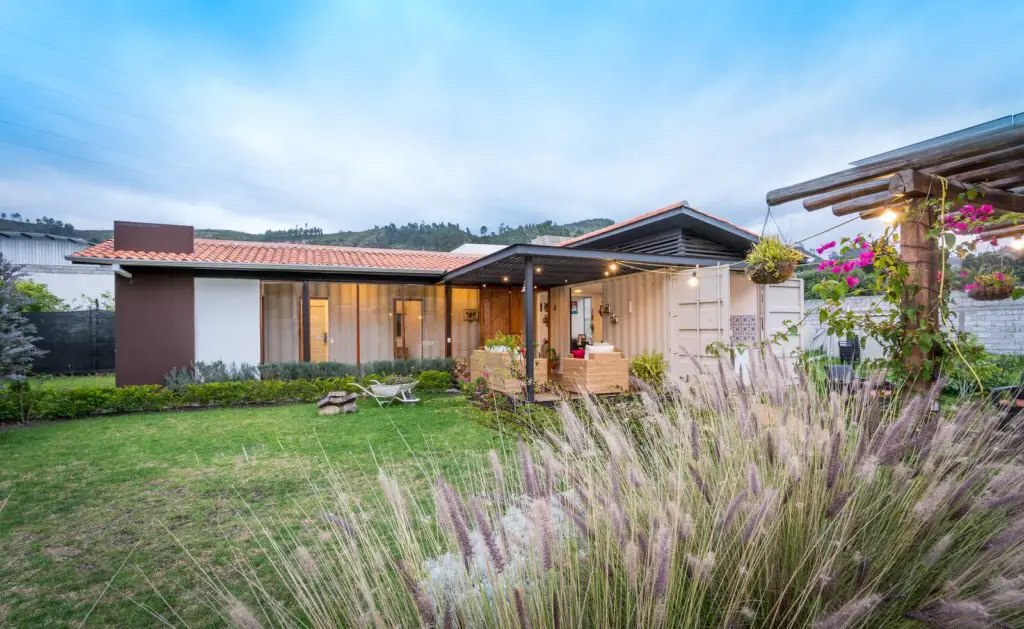 Architectural structure of this steel shipping container house
This home has many parts. Here we will make list of all parts of this home.
Three bedrooms
Two bathrooms
One kitchen
One outer seating area
Interior designing of container home in detail
This house has three bedrooms which are set side by side in large container. These have beds in them and closets as well. You can set your entire attire in these closets. Then comes the glass windows which have been designed in these rooms. These are sliding glass doors.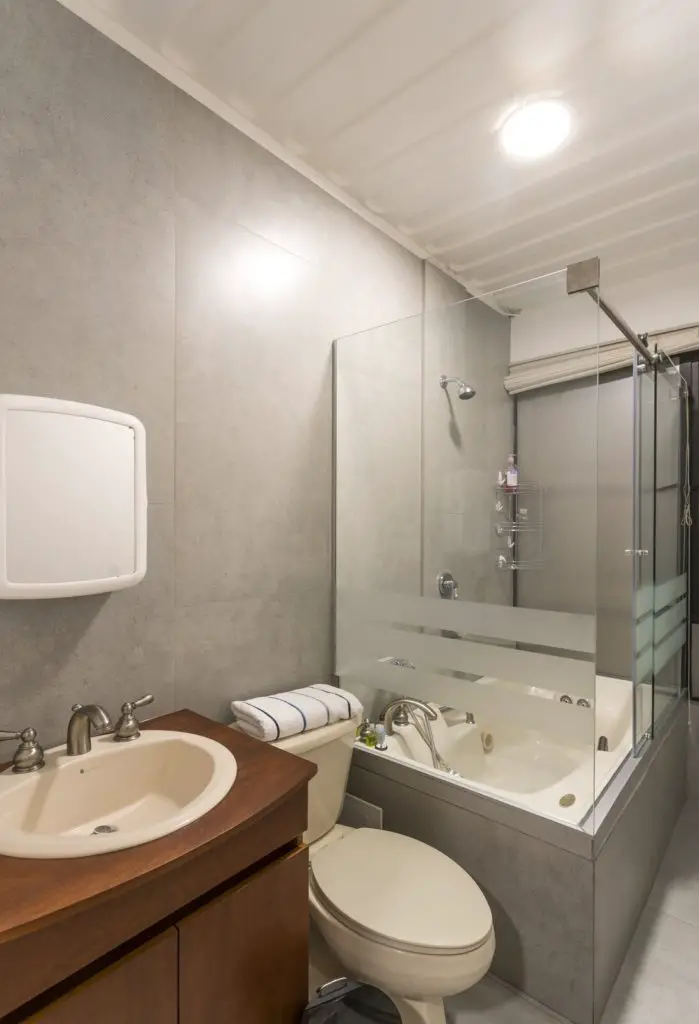 Bathrooms are there. Both of them have all facilities. Tiles have been used in construction. Tiles are preferred in bathrooms because water can damage other concrete material. The toilet and shower systems are present in both of them.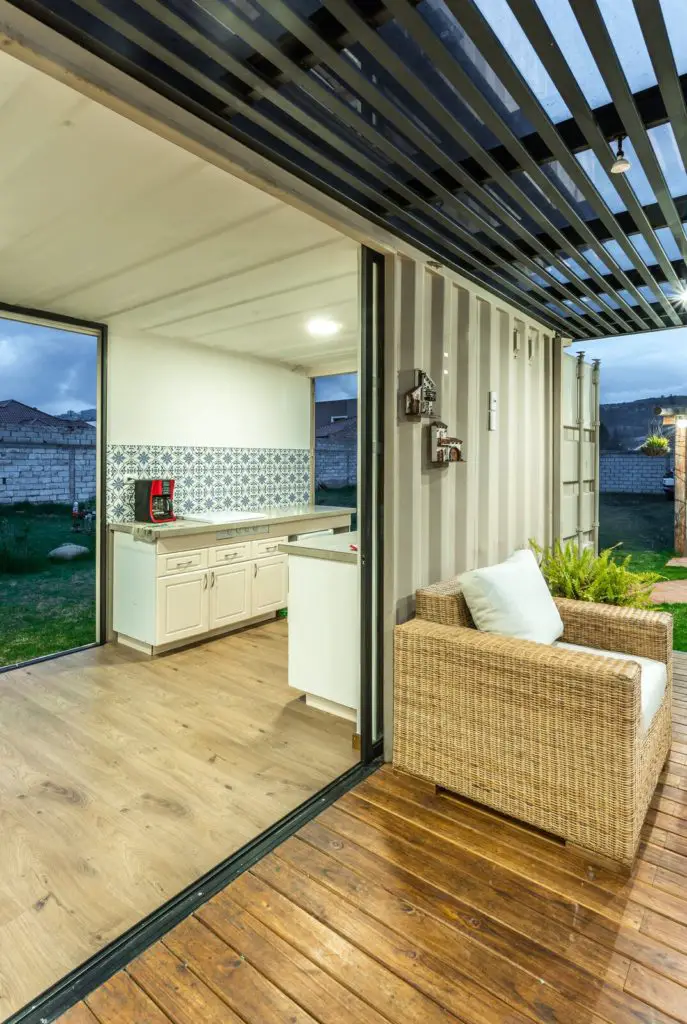 Kitchen is set separate in small steel shipping container. This kitchen has wooden shelves, cabins, sink, refrigerator, microwave oven, stove and all other stuff related to kitchen. All material is set in cabins. The stainless steel material has been used in its construction. The seating stools are placed near to shelves.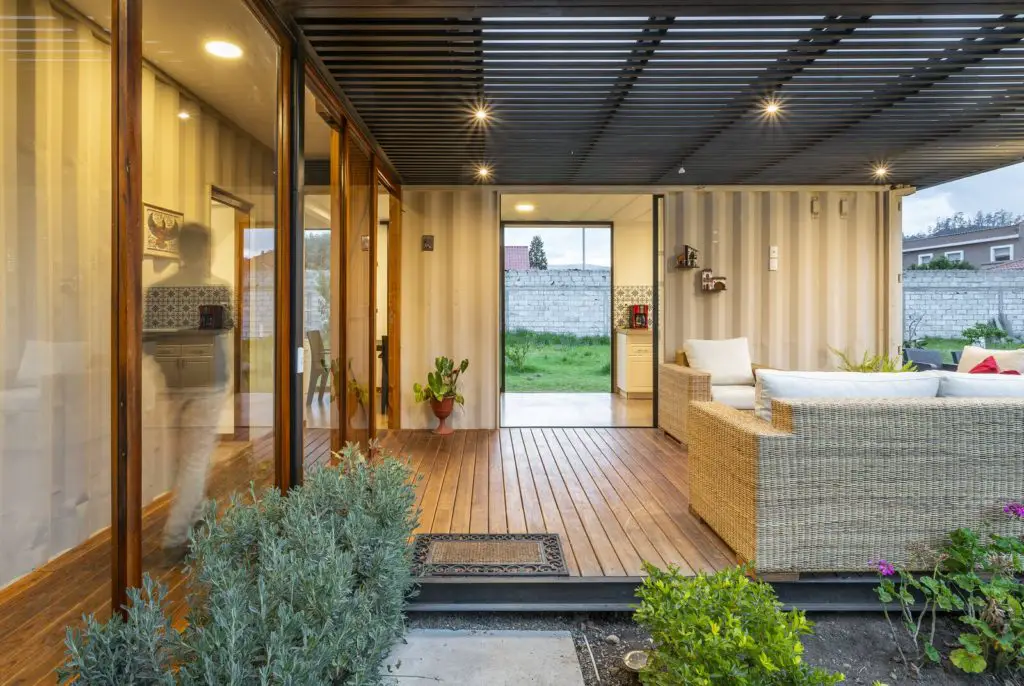 Living room like area has been set on outer deck outside the home. But this portion is covered by a shade. Floor is made of wood. Seating sofas are placed here. These are white in color. Gossips can be done here in evening with tea and biscuits. You can have a meeting here as well. This area is beautiful as it is connected with outer environment. Weather can be enjoyed here. Night meal can also be enjoyed in this portion.
Facilities of this living place
Well, house is full with all kind of facilities. Water supply is there. Hot and cold water is supplied in kitchen, bathrooms. This is used without any hindrance. Electricity system runs on voltage supply. This enlightens the house like lights fixed in ceiling. Interior of home is also painted in off white shade. So, as whole, this home gives a look of calmness.
Glass windows have been used in construction of this living area. Glass material usage is important in this aspect that it gives a shiny look to the house. Tiles and glass make a home just like a crystal. Wood is used in furniture work as well as in making floor, shelves, walls interior and side of windows.
All material collectively make a perfect living place. Always give a huge importance to framework of any building. This framework decides that homes are going to be fallen down or to stay long with you. Make tough base and give support to home through pillars.
Description of this living area ends here. Soon, we will be here with a new container house. Thanks.
ARCHITECT / INTERIOR DESIGN / BUILDER – Pablo Cisneros R.
INTERESTED IN MORE CONTAINER HOUSE PLANS?
CHECK OUT MORE AMAZING CONTAINER HOMES BELOW!
Torch and Timber Container Home
The Lily Pad Cozy Container Home
Life Uncontained Shipping Container Home
Shipping Container Home Ontario – Canada
Unique and Creative Shipping Container House from Creative-Cabins
If you are interested in structures made with shipping containers, you can find what you want among thousands of container house models. Be aware of the contents by following our Facebook and Pintereset accounts.