Hello Everyone,
We continue to discover for you. Our container house on today's tour is from Twentynine Palms, California,  United States.
Interestingly, container homes are located in each corner of the world. These are in hilly areas as well as in deserts.
Today, discussion of a container is going to be which is located in desert. Basically, this one is located in California. Container homes are beautiful from outer side as well as inner side. These are unique and attractive. These containers can take any look. Any style can ne made through combination of steel shipping containers.
Steel shipping containers are used to transport goods from one place to other. These are made of firm material. Goods are packed in these and then are transported across the world through trucks as well as shipping transportation.
Then people discover this that containers can also be used in building of homes. These are transformed into different shapes. Very hard metal is used in their manufacturing. These are joined together at construction site and give the shape of a living place. Surprisingly, these look unique and appreciation is mandatory.
Containers are used in making different buildings and trend is increasing day by day. Because containers are perfect in construction of buildings at places where construction with concrete material is impossible.
Hilly areas are very difficult sites for manufacturing or construction purposes. Roads are dangerous and transportation is really difficult. Only solution to build a home is there, to transport a prepared container at desired place. Similarly, near an ocean, containers are also very helpful.
Rich people want their homes for vacation at place where nature exists. This dream is fulfilled by steel shipping containers. Now, people can easily make their farm houses at any place.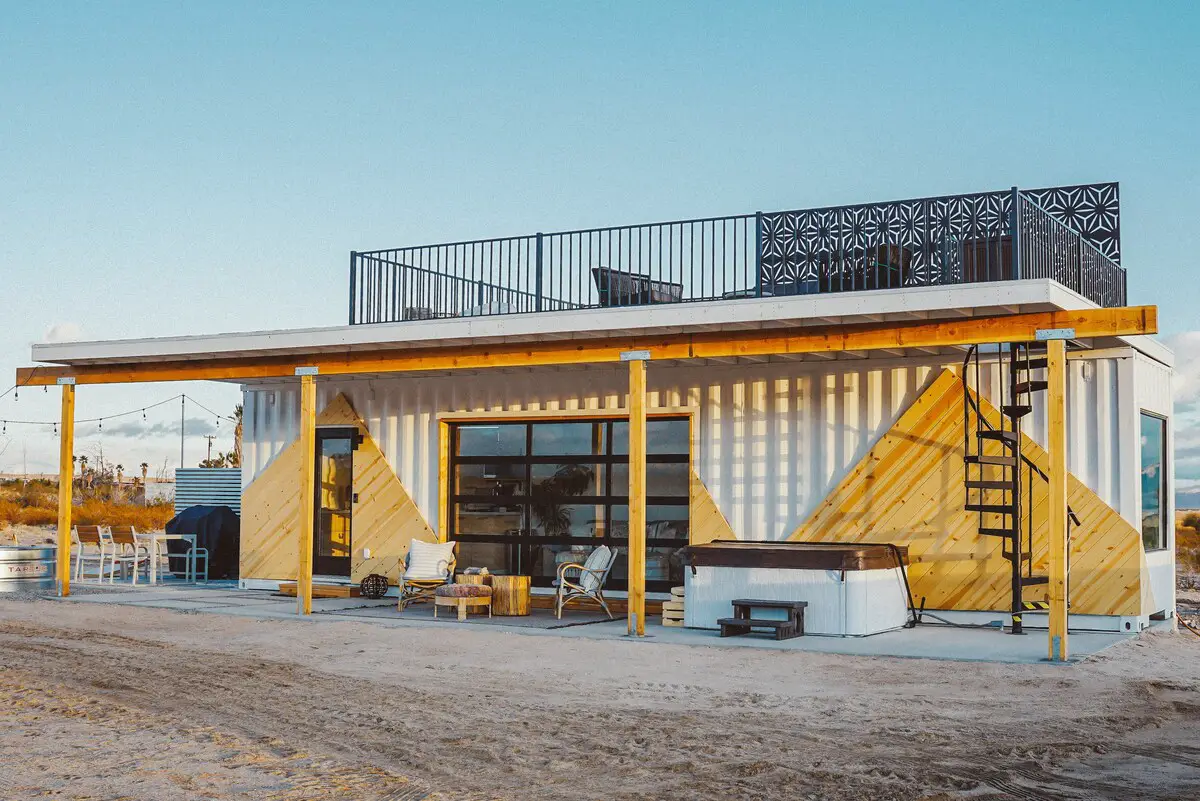 Container home in desert of California.
This is double storey container home. This home is painted white from inner as well as outer side. Basically, the shade is off white. Very decent color it is. This house is made of a single shipping container. This container has an area of 40 feet.
There are also small containers. These are of 20 feet. A large container is enough for making home for one or two persons.
On the top of the house, there is a roof. Black colored stairs lead to roof of the home.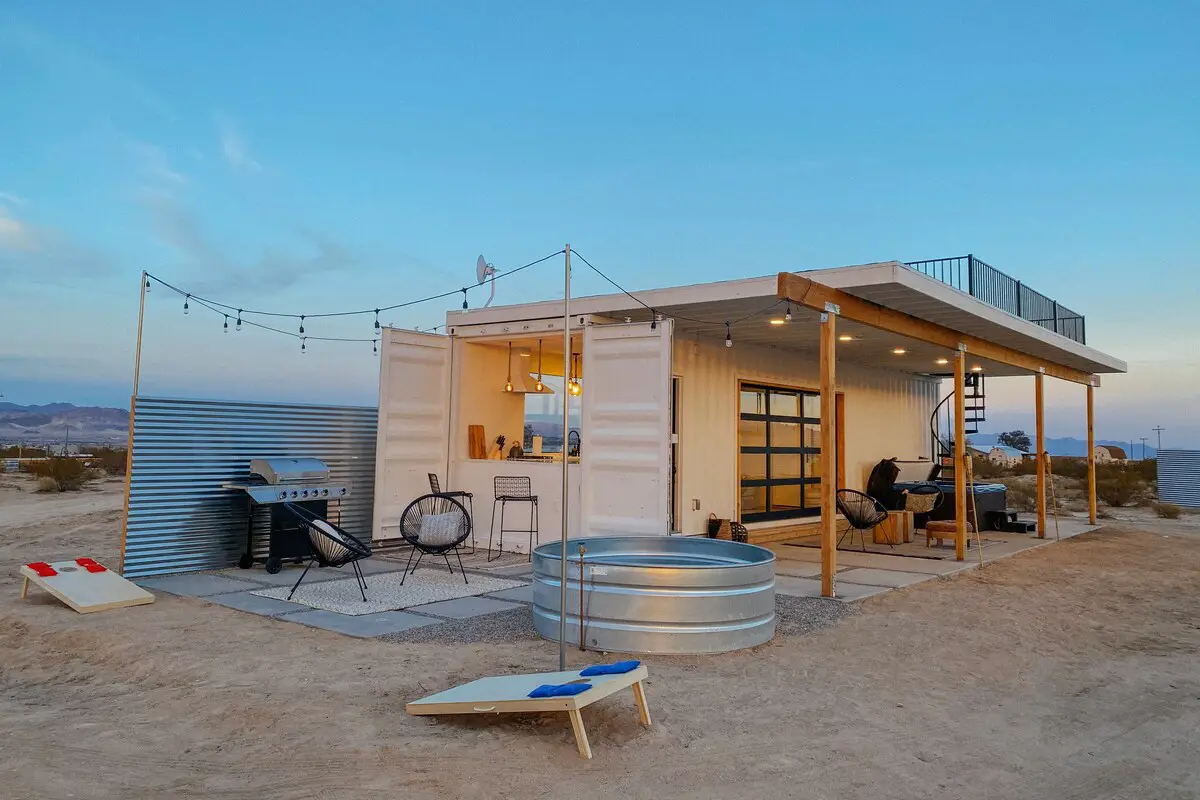 Different parts of this living area
This container home had all parts. These are simple but fully equipped. All furniture is set. The floor is made of shining tiles. We will make a list of all portions of this living area. It will helpful in understanding of parts of this container home.
One bedroom
One bathroom
One living room
One kitchen
One roof
Outer grilling site
Outer dining table
Hot Tub
Detail about each part of this white container house
Well, architectural structure is not complex.
Bedroom is in one corner. White bed is set in this room. Very classic furniture is set here according to the location. Copper tinge is used here. Side table is made of metal and is round in shape. This bedroom has glass windows. White colored curtains are there for hanging. Room gives a very peaceful view.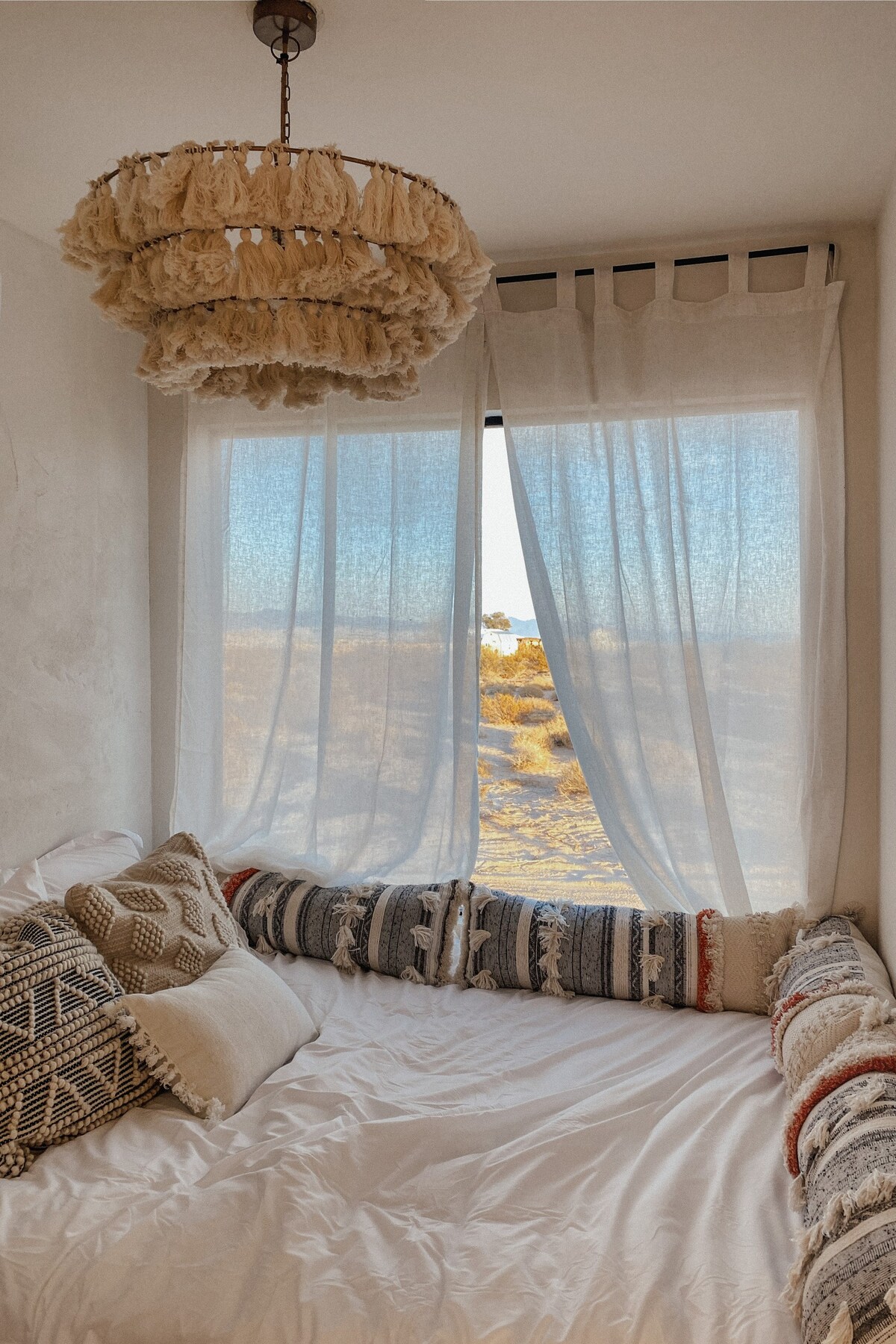 Bathroom is decorated with white tiles. This bathroom has showering system separately. The mirror is hanged on front wall. White colored basin and other all stuff is inserted in this bathroom. Water supply is there. All type of water is provided. No problem about hot or cold water.
Living room has very cozy white colored sofas. These are two in number. Front wall has glass windows. These are sliding glass windows. These can play the role of glass doors as well. LED is in this room. No tension about Wi Fi networks. Walls of living room are white in color and floor is of white tiles.
Kitchen is actually beautiful with all accessories are set in this. Front wall of kitchen has glass windows. The sink is set in the shelf. The utensils are set in shelves. Wood has been used in construction of kitchen cabins. Many equipment is there and free to use.
Outer view of the container house
This home has a shade in front of the house. Simply it presents a deck area which has wooden floor. A few stairs are there to move in this portion.
This is also for sitting. In front of kitchen, in outer part, the grilling equipment is there. At night, meat can ne grilled there to enjoy a party. Nearby, a small dining table having wooden chairs and table. So, you can have your favorite meat there.
Water tub is also located in outer side of the home. This is made at front of this living container home. This home is surrounded with desert all around. At night, when lights of the house glow, this place looks very enchanting. A golden light container house in dark desert is mesmerizing.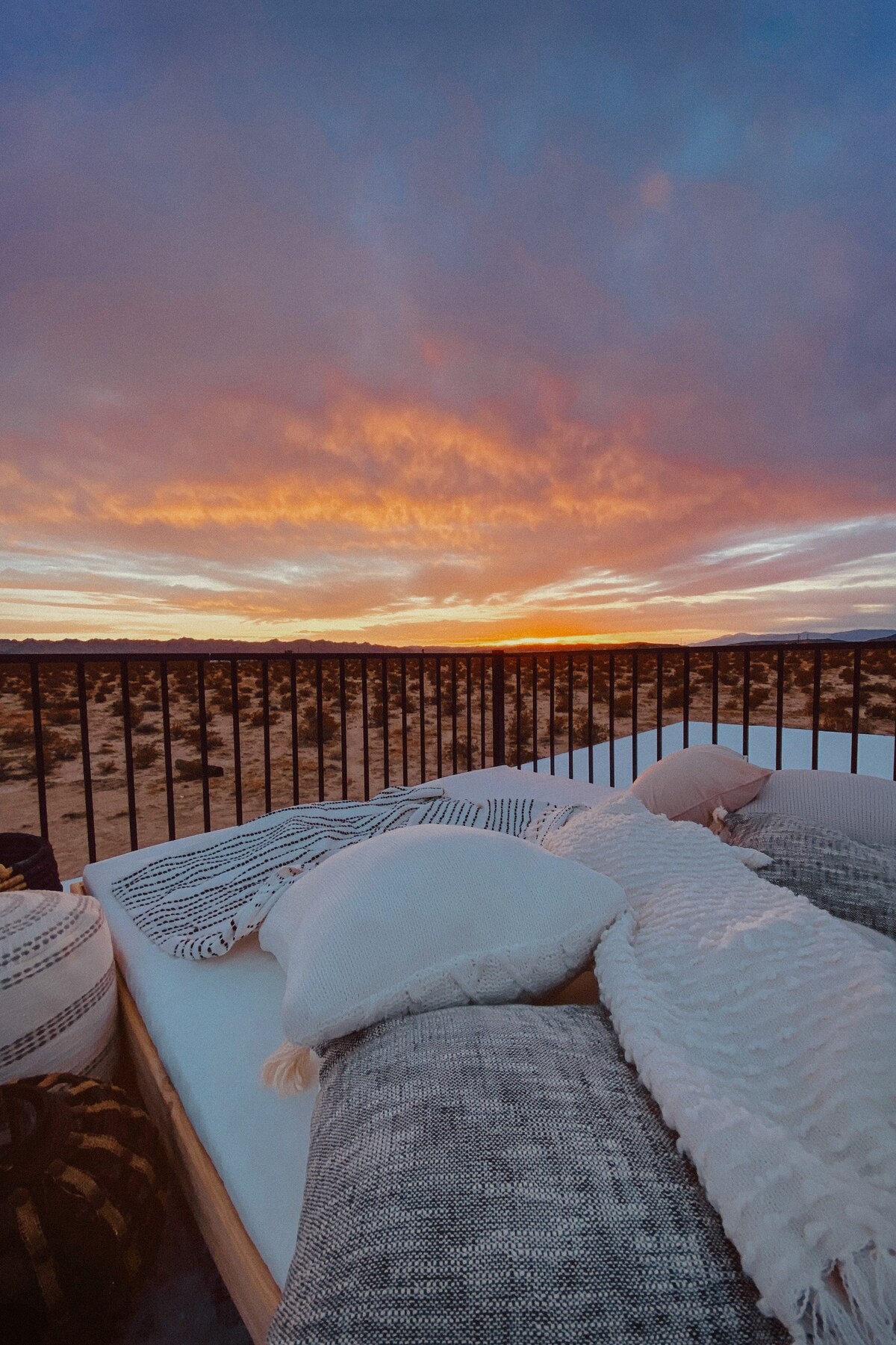 Roof of this living area
Black stairs move up to the roof. The roof is surrounded with black colored railings. One couch is set in the corner of this roof. This couch is comfortable and white in color. Cushions are also set on this sofa. At night, one can go to roof to enjoy nature and have a comfortable sitting there.This was all about this uniquely located living place.
The cozy container house was built in 2021. Prices start at $197 per night through Airbnb.
INTERESTED IN MORE TINY CONTAINER HOUSE PLANS?
CHECK OUT MORE AMAZING CONTAINER HOMES BELOW!
Torch and Timber Container Home
Stylish Container Home Less Than 50.000 $
The Lily Pad Cozy Container Home
Life Uncontained Shipping Container Home
Shipping Container Home Ontario – Canada
Top 6 Most Expensive Container Homes in the World
If you are interested in structures made with shipping containers, you can find what you want among thousands of container house models. Be aware of the contents by following our Facebook and Pintereset accounts.