We continue to discover for you. Our container house on today's tour is from Arizona, USA.
A new home has discovered in Arizona. It is discovered to know about use of shipping containers in construction.
Are you the person who loves innovative things?
Are you the person who is in search of beautiful homes at beautiful locations?
Are you the person who wants to build a home which must be different from the older one?
Then you are at the right place. This website is to inform you about the importance of steel shipping containers ant to tell you about the use of containers in building of homes. How the world is shifting from concrete material to steel shipping containers, this will be explained on this site.
Talking about the shipping containers, it is necessary to mention that containers are used to build every style of building.
These can build hotels as well homes for permanent living. Guest homes are also made by using them and villas are also designed on behalf of containers. These are made of steel.
Not only for construction purposes, containers are also used to transport goods from one place to other. Depending on the budget, shipping containers can be reformed to use for construction purposes.
Such containers also last longer with maintenance. Everything demands maintenance. If you love your property, then you have to be careful about this.
We will explain you this living area in detail. At the end of article, you will know about this in detail. Must go through the whole description. Let us move in this home.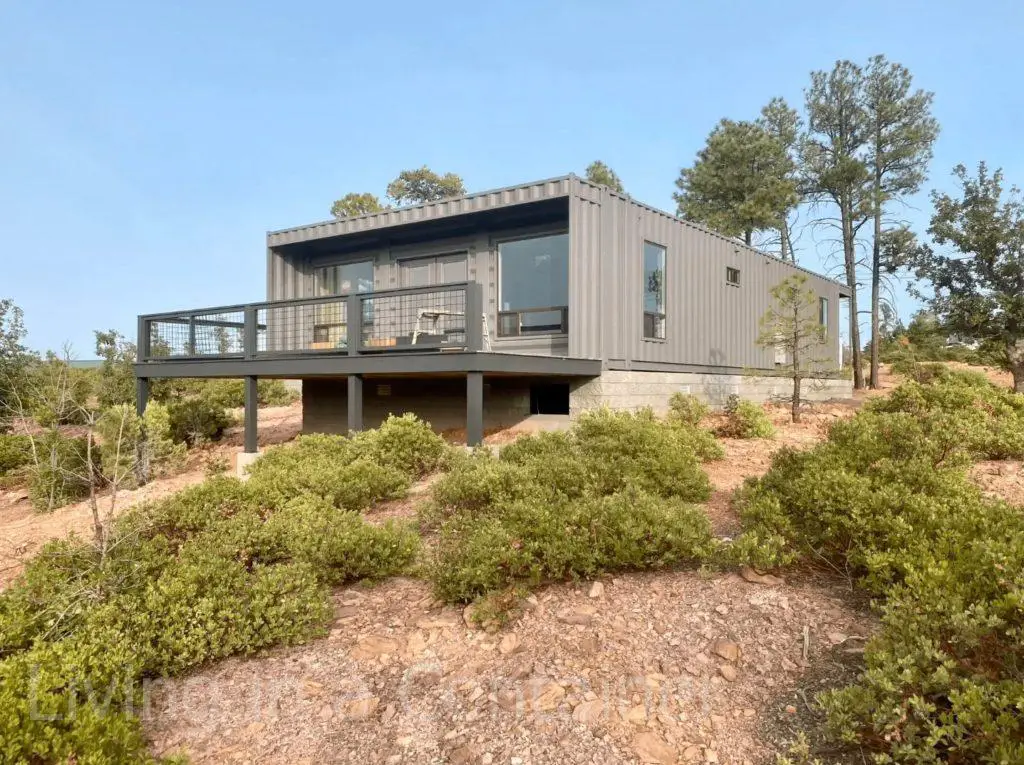 Container home in Arizona, United States.
A total of 6 shipping containers were used in the construction of this house. 3 x 40 FT shipping containers were used for the main building. 3 x 20 FT shipping containers were also used for garage construction.
The exterior is painted black. Interior of home is painted white. House is set higher than the ground level. The ground of home is uneven. Therefore, huge support is given to the house.
This house has all portions which are important in a home for living.
Home is designed in this way that all portions lie on the ground floor.
Bedroom, Bathroom, Living room, Kitchen, Dining table, Office area, Laundry room, Balcony, Garage
To know about detail of interior of the house, we will discuss each portion of this living space in detail.
Interior look of home is fully calm. There is long hallway after opening the main door. All walls and doors are painted white. Wood is making floor of the house.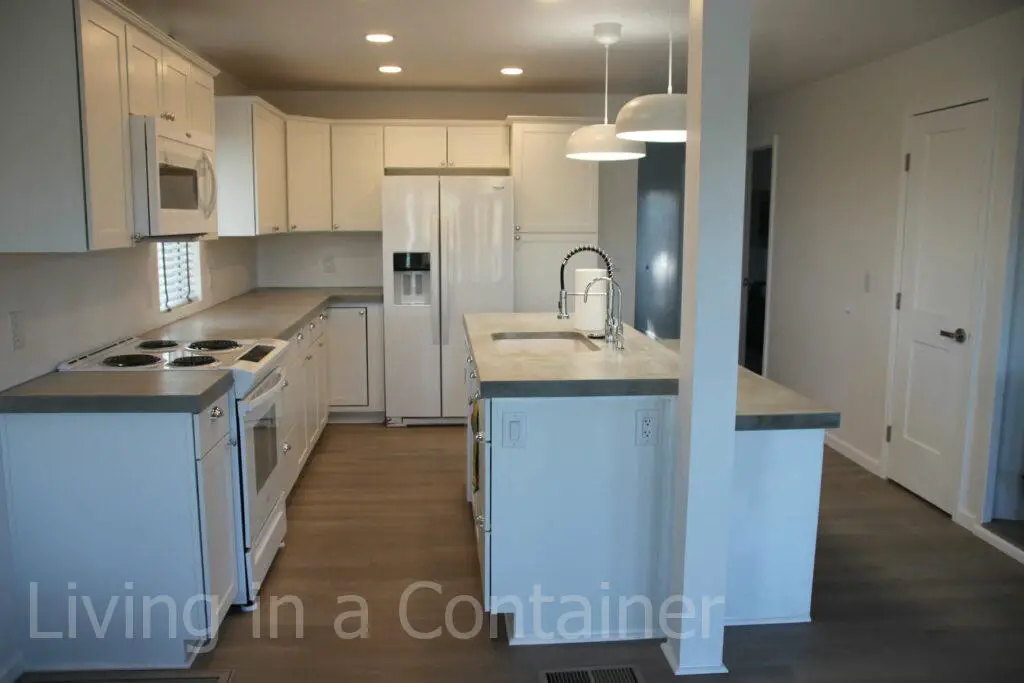 Kitchen is fully white. Cabins, shelves and all other appliances are white in color. Refrigerator, stove, microwave oven, sink all are set in this kitchen. Stainless steel bins are placed in this room. Two stools are placed along the shelf. A large black colored hanging light is in the kitchen.
Kitchen is incomplete without dining table.
Dining table and wooden chairs are placed in an area on a mat. The glass window is nearby which has white colored curtains hanged. This looks classy. Four chairs are placed around the table.
An area is designed for working in home.
Office work can be done in this house as a chair and a computer is placed along the wall. The window is in front wall. The Sundays are coming through this window. Internet facility is also in this home for modular living.
A red colored sofa is placed in living room.
Living room has many sofas for sitting. These sofas are placed in line. A red colored sofa is in the room. A black colored large chair is also there. A fireplace is also set in this room for cold weather. Facilities are proper.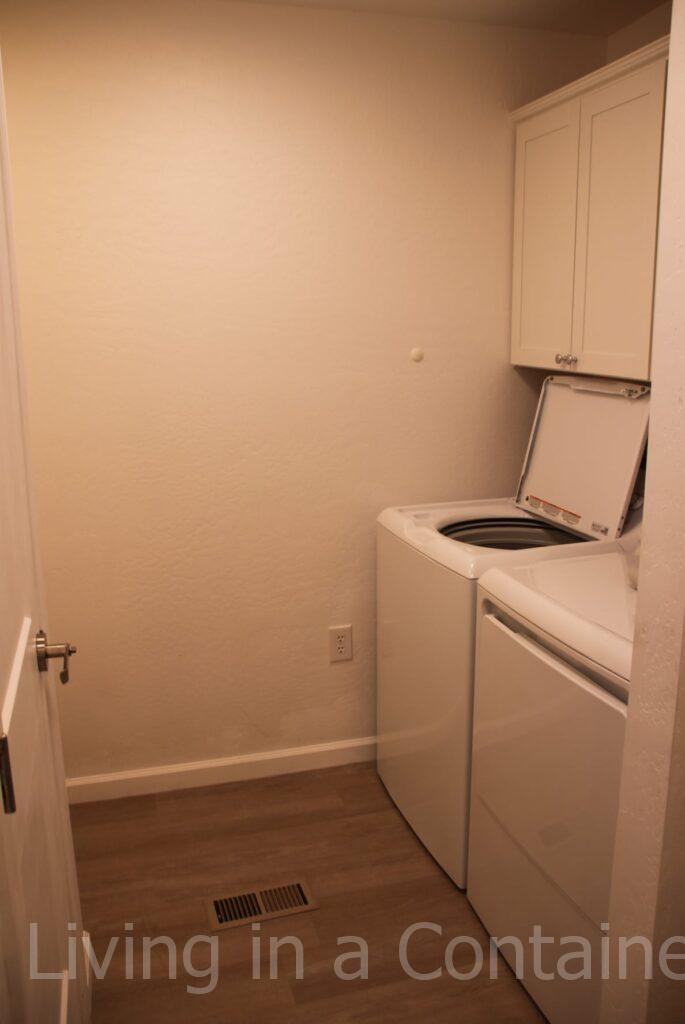 Laundry appliances are also set in this house.
Laundry room ha swashing machine and a dryer machine. These are set in a corner. These machines are set here to wash the clothes.

Bathroom is attached with bedroom.
Bedroom is with a bed, closet and area for sitting. The window is in bedroom. The bed is of large size. Closet can adjust all stuff. Bathroom is attached and with all kind of accessories. The basin, toilet, shower, all are set in this bathroom.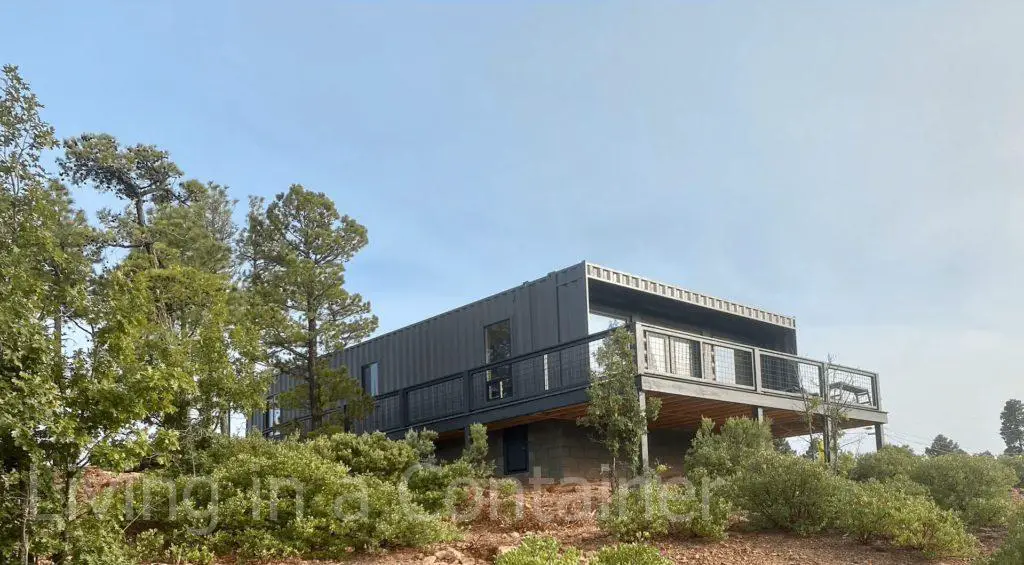 Balcony seating can be enjoyed in good weather with a cup of coffee.
There is balcony with a black colored railing all around. This balcony is located on front of the house. Below the level of this balcony, there are iron pillars which are supporting this house framework. Foundation is provided by iron and by the use of concrete material on which this house is standing.

Garage is made for parking of transport.
Garage area is separate. This is made by using three steel shipping containers. The ground of garage is made by using concrete material. So, there is no worry about the parking of the transport.
This was all about this living area. Containers are making homes for modular living. Living in a container house is really a new and enthusiastic experience. Adventures must want to do this experience. If you are also a person who lover modernity, then you should go for a home made of steel shipping containers. Thanks.
INTERESTED IN MORE CONTAINER HOUSE PLANS?
---
CHECK OUT MORE AMAZING CONTAINER HOMES BELOW!
The Lily Pad Cozy Container Home
Life Uncontained Shipping Container Home
Shipping Container Home Ontario
Triple Storey Container House Design
Wonderful Two Story Shipping Container Home, Peru
Building Your Dream Home by A Shipping Cargo Container: Definitive Guide
Do you come across stunning stories of individuals who built their cargo container houses with their own hands on Youtube, Instagram, or many other platforms? Okay, so now is the time to be one of them!
This e-book, which we offer you and contains all the theoretical details and practical steps you need about the container home building process, will be your real assistant! What's in this book? Let's explore now!
Buy now for more!