An innovative container house in the forest.
Restarting the chain of discovering new container homes in the world, we are here with one more shipping container house.
Today, we are here to gain your attention towards a new uniquely designed house in a beautiful nature existing location. This container house is going to inspire you and will gain your attention surely.
We are continuously discovering recycled shipping container homes with excitement and joy. These marvelously designed master pieces are for true nature lovers.
So, let's start our journey with one more differently crafting container home in the centre of woods and it will leave a charming impression on you, I promise.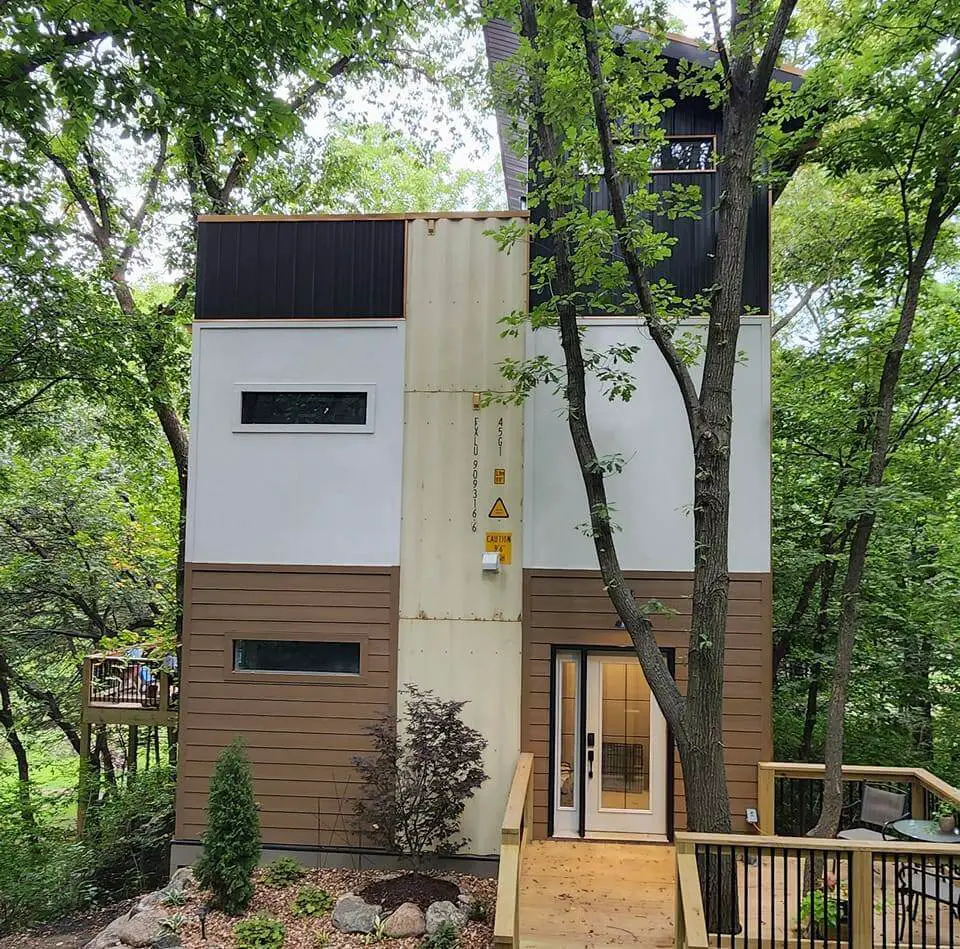 Shipping container home hosted by Brian in Fort Calhoun, Nebraska, United States.
Well, we will discover the entire architectural structure of this harmonious container house hosted by Brian.
This container home is a guest house with three bedrooms, three bathrooms and two living rooms.
The world's top engineers are behind the design of container homes, which are beautifully renovated old steel shipping containers transformed into comfortable living spaces. Those who undertake this task are known for their passionate and enthusiastic approach to their work.
Sustainability and durability of steel shipping containers make these aesthetic for discoverers.
Steel shipping containers are rising in trend in the market. To date, thousands of shipping containers have been used for construction.
We appreciate the hard work of engineers, workers in construction of this harmonious container home making a bond with existing nature beauty around.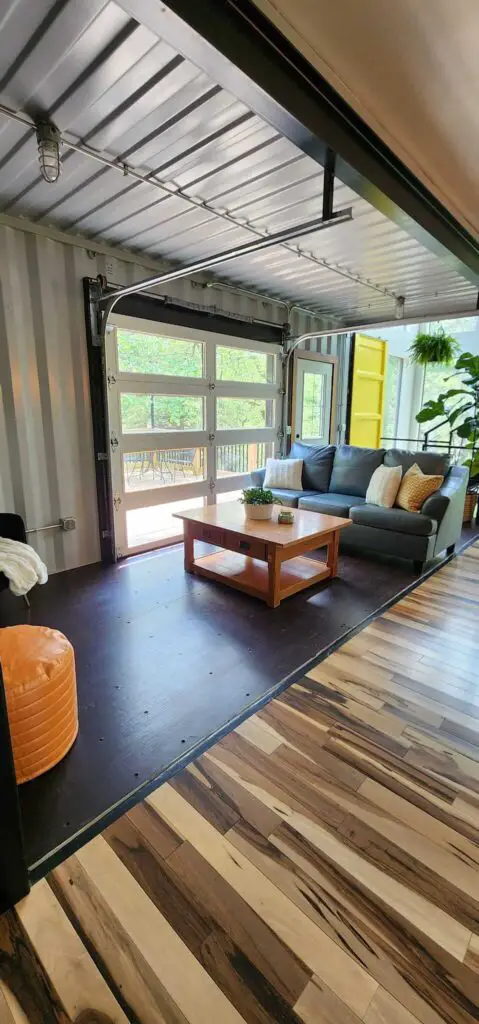 Let's discover architectural structure of this dwelling space.
Geniously constructed this particular design of container home is four story. House has harmony of wood, glass and container use, making it one of the modern homes in United States.
10 guests can stay at this place during holidays and price per night is $550.
Home is set near a pond with all facilities for living. Cozy and comfortable furniture is giving a modern era look to the house.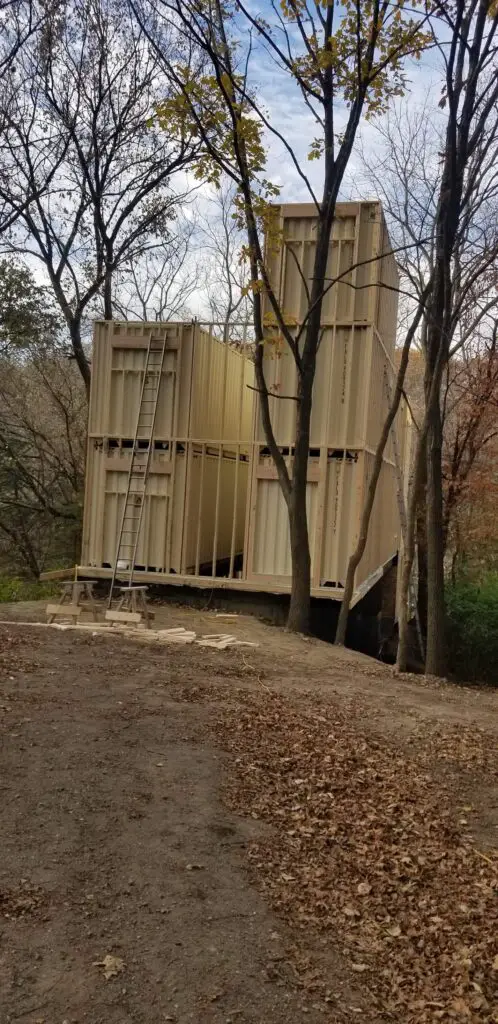 Home is designed with four 40 ft shipping containers and one 20 ft shipping container.
This eye capturing place has various spots to enjoy nature around. Containers are giving striking layout by placing one above the other.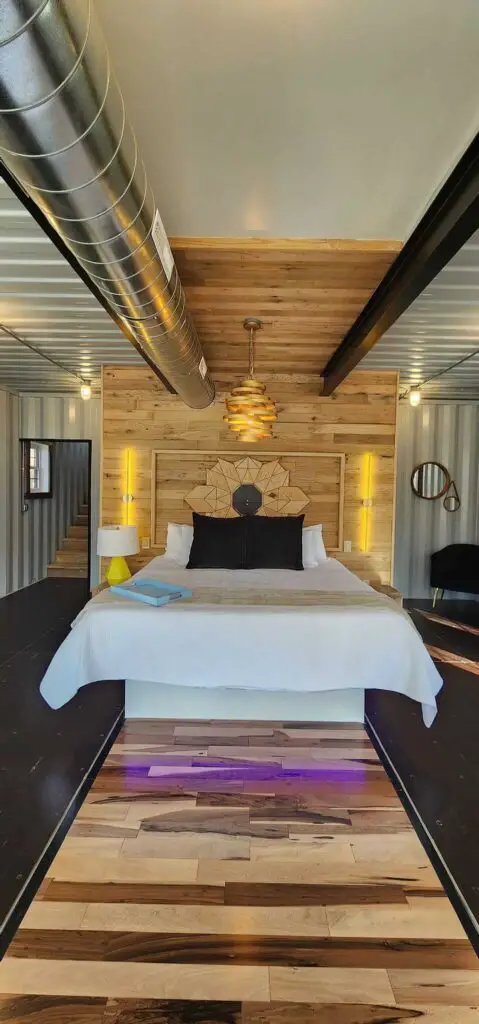 Sustainability of containers is maintained well. One king bedroom and two queen bedrooms have three beds while two sofa beds are set in living rooms.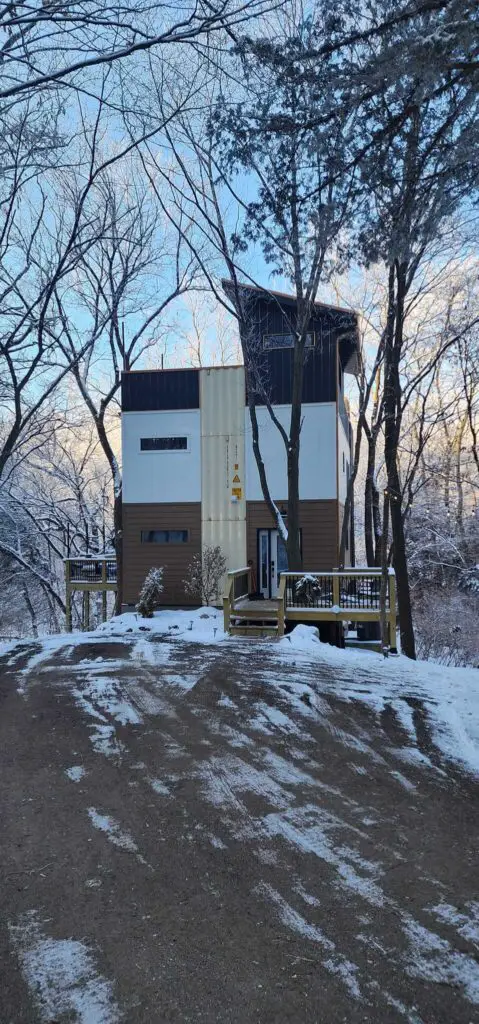 Spacious open veranda is before entering the house for sitting and dining tables are set at the balcony. The entire set up is for making a connection of dwellers with the mesmerizing charmness of woods.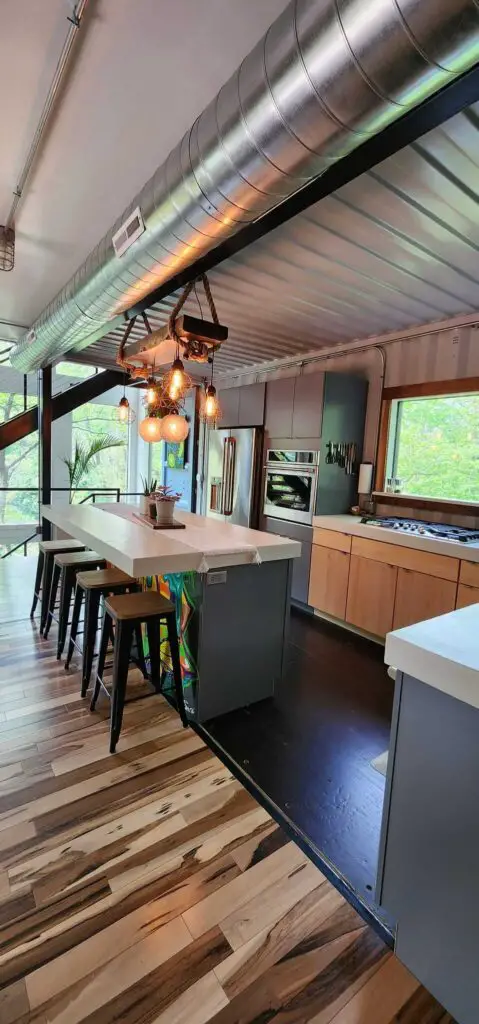 Enjoy calmness and modern style of living at the same time.
Container home is designed in best way to give serenity and welcomes its guests with big heart as having all amenities according to the modern era.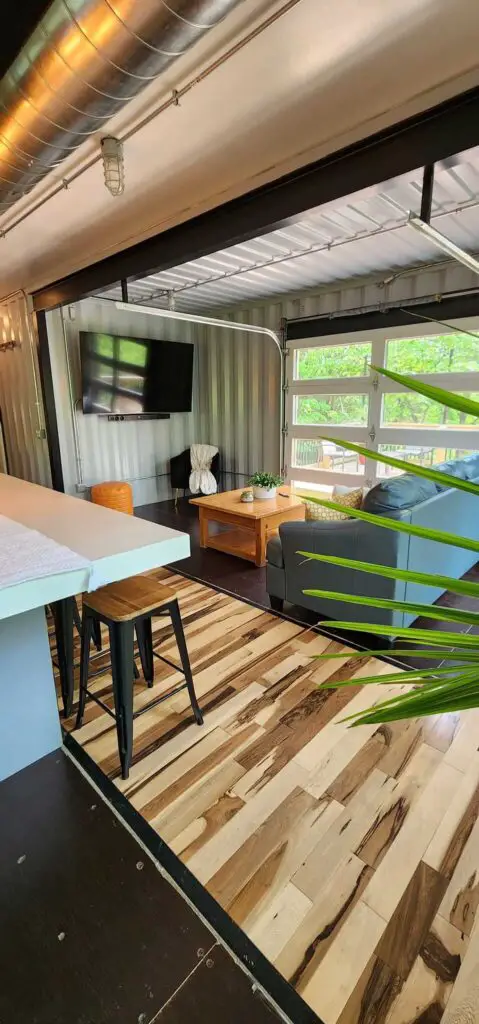 The wood used in construction of floor and use of tiles in construction of roof, bring aesthetic touch to this living place.
Kitchen is inter-connected with living rooms.
Each bedroom is showing a restful place for staying with comfortable beds.
Bathrooms are attached and well-equipped.
Uniquely designed living place is for those who want to live away from the hustle and bustle of worldy life.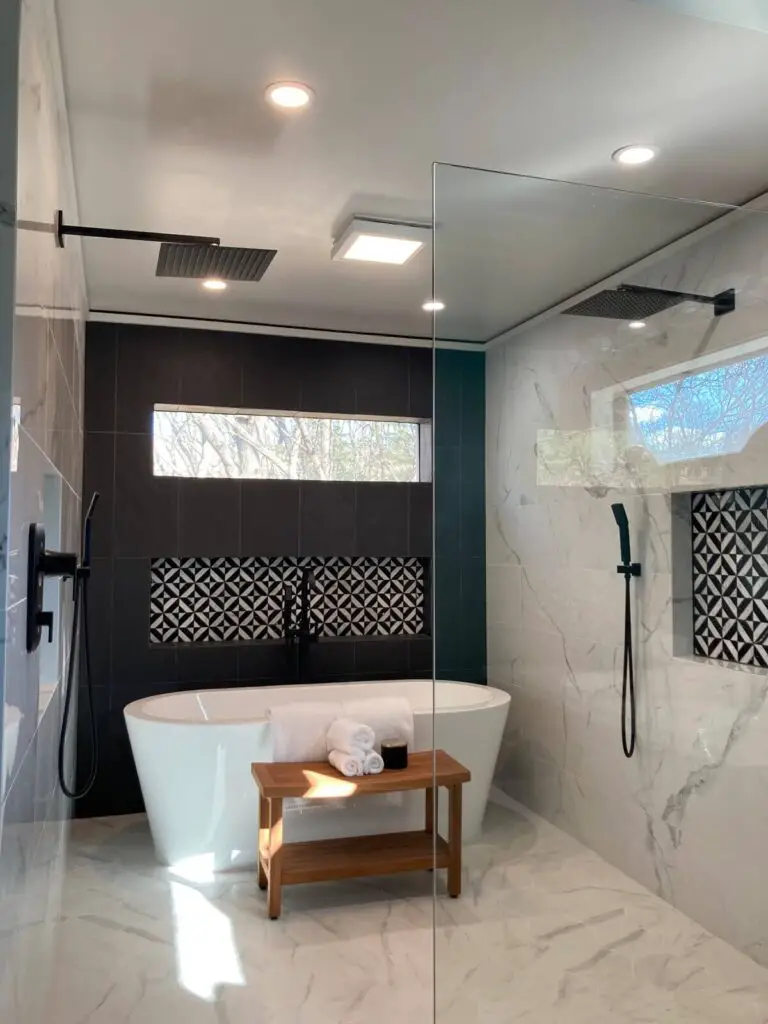 Home made of recycled shipping containers is giving a relaxing refuge to the people who want to enjoy nature. Imagine living in this house, near a pond, in the centre of woods, starring at the sky with stars at night while sitting in balcony. Just imagine!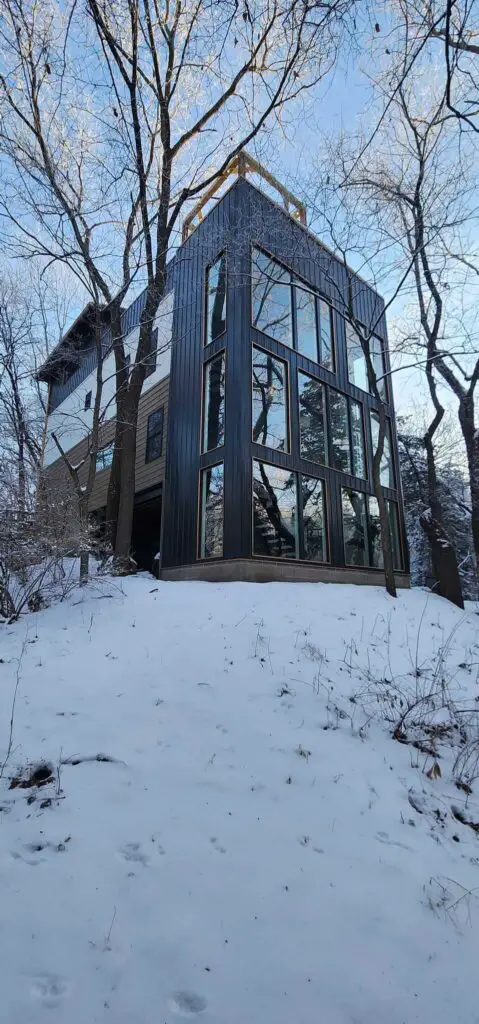 Steel shipping containers influence and demand in housing market.
In past few years, steel shipping containers are increasing in demand. If you remember, COVID-19 pandemic affect people so much that they became helpless in case of living in communities full of crowd. Shipping containers use raised at that time. After that, now, people have realized the importance of steel shipping containers in construction of homes.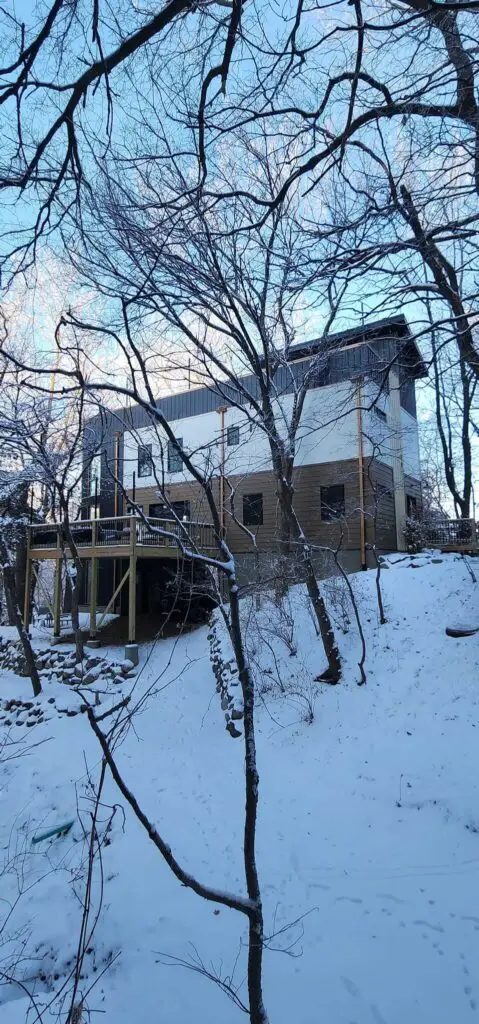 Shipping containers have durability of almost 20 to 25 years. Containers are eco-friendly and versatile. Containers can be easily transported from working areas to remote nature existing areas where one wants to construct a place for family.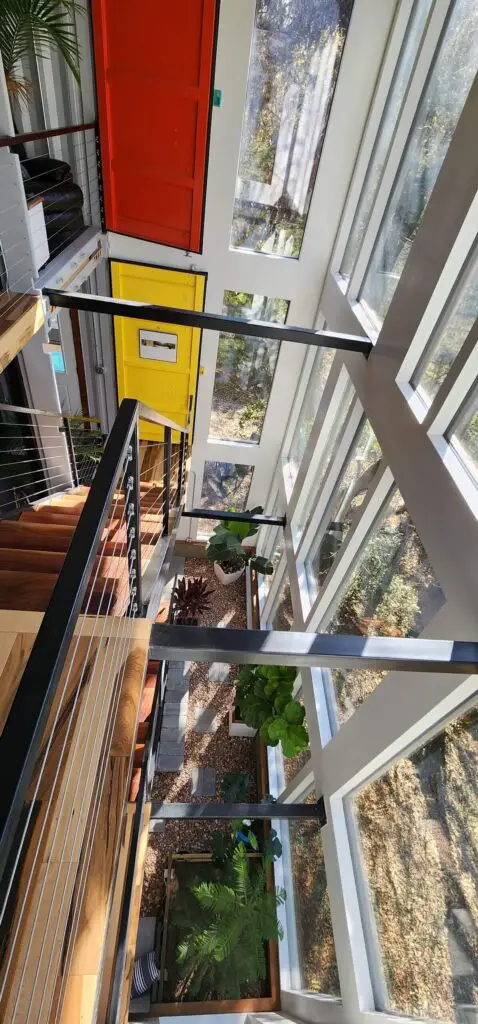 Increasing interest in containers is mainly due to this fact as owners live in comfort zone with all facilities of modern era.
Follow Living in a Container on Facebook, Instagram and Pinterest for more stories like this. If you have a story to share, email us at [email protected].