ROAM is a beautiful home constructed of two repurposed shipping containers complete with nearly 1000 sqft deck area, great views and rooftop hot tub!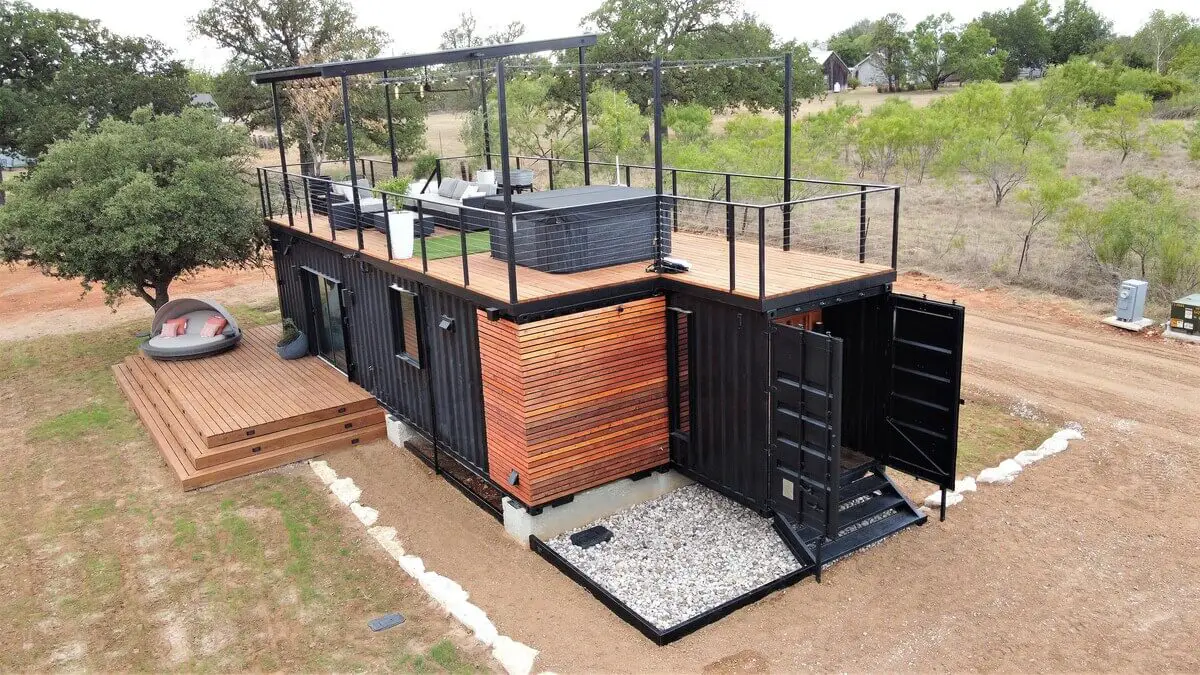 This cool space located right on the 290 Wine Trail just outside Fredericksburg City limits – short drive to downtown spend your unforgettable holiday in this enchanting surroundings. The perfect place if you like small town charm & hospitality.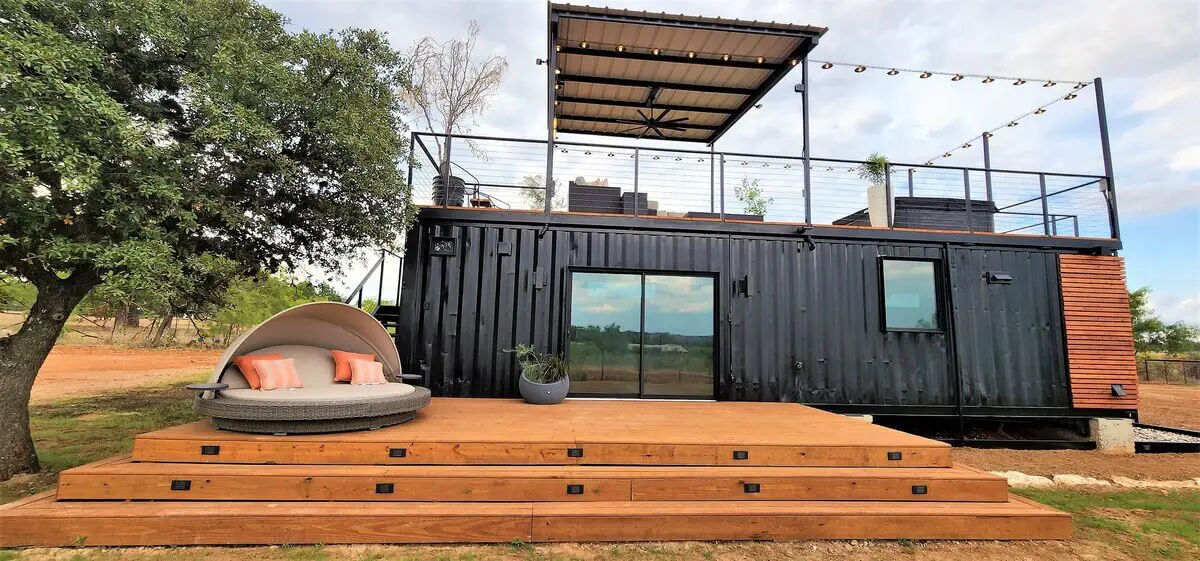 The inviting and bright space is constructed of two shipping containers that have been side by-side, providing plenty roomy windows to relax in.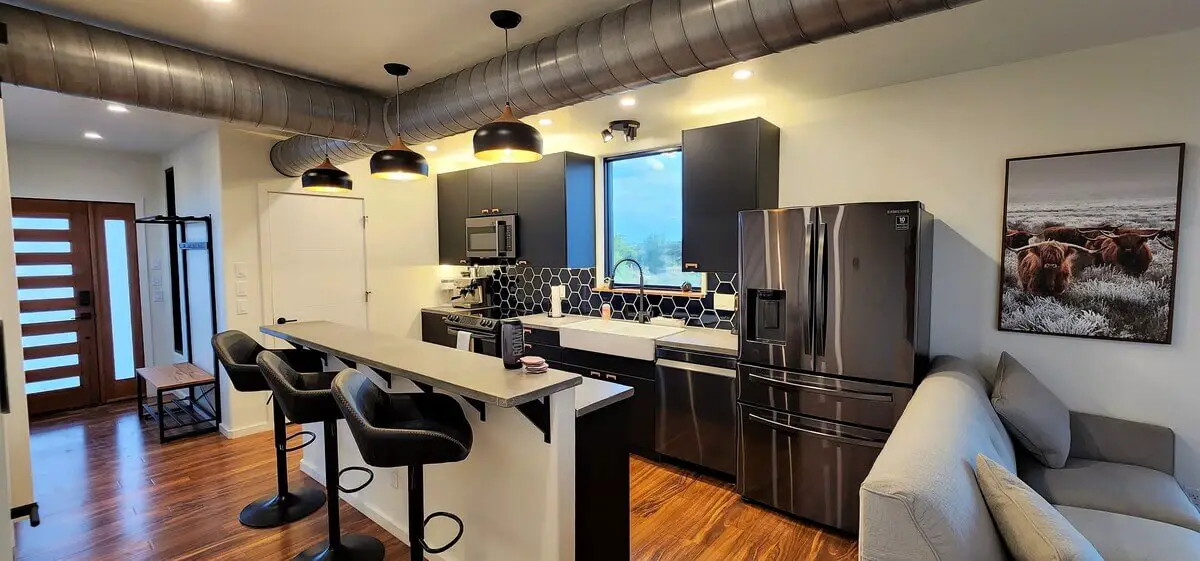 The Full Size Kitchen of Shipping Container Home
The full size kitchen provides an excellent atmosphere for cooking while you enjoy the cozy booth seating which also acts as great workstation!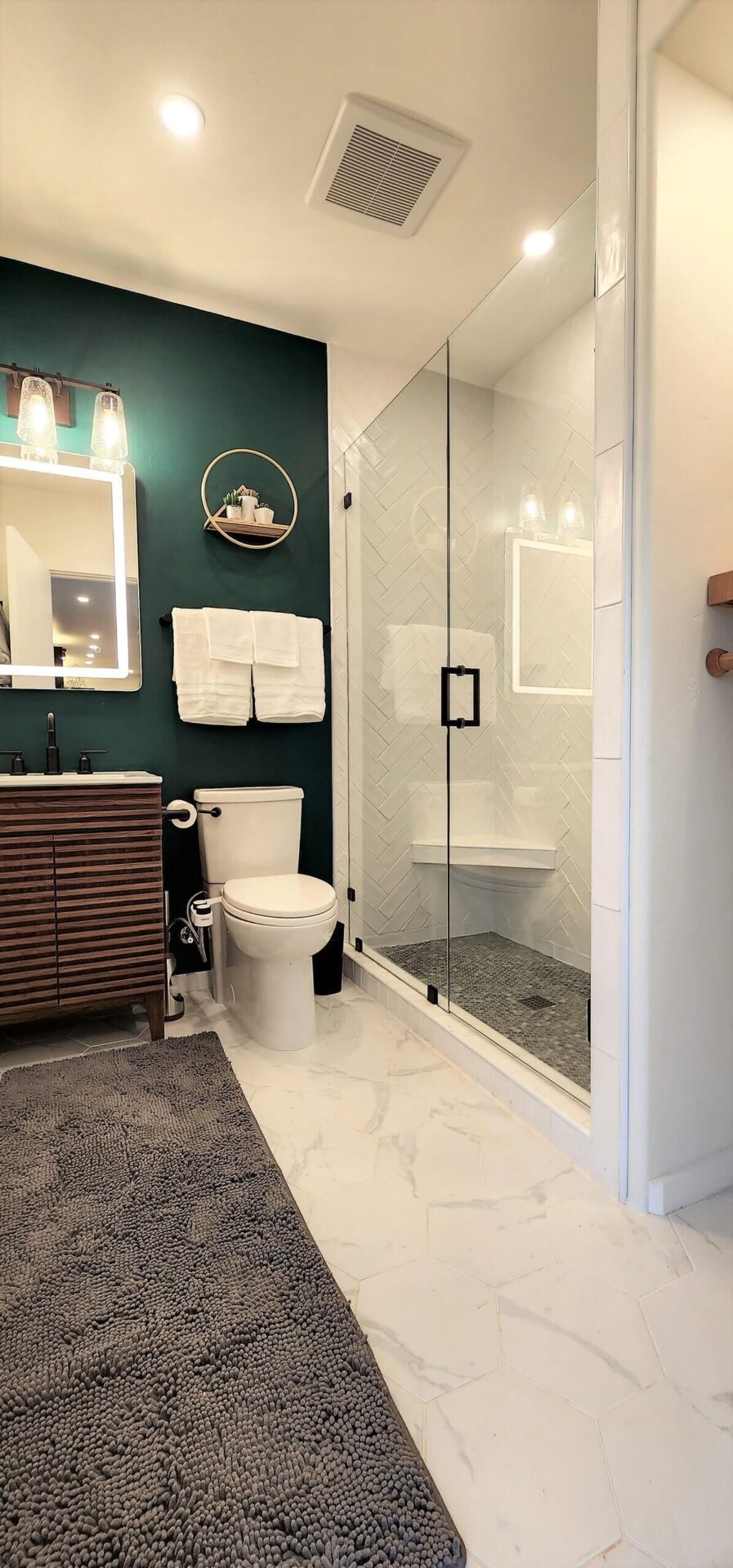 Container House with 2 Bathrooms
Imagine waking up each morning feeling refreshed after taking a long, hot bath in one of the two bathrooms with floor-toceiling tile showers and modern glass doors. The toilets also feature bidets for that extra luxury touch!
The view from our large glass doors is unbeatable. You can sit and watch the sunset or sunrise while enjoying a coffee, courtesy of the available espresso machine!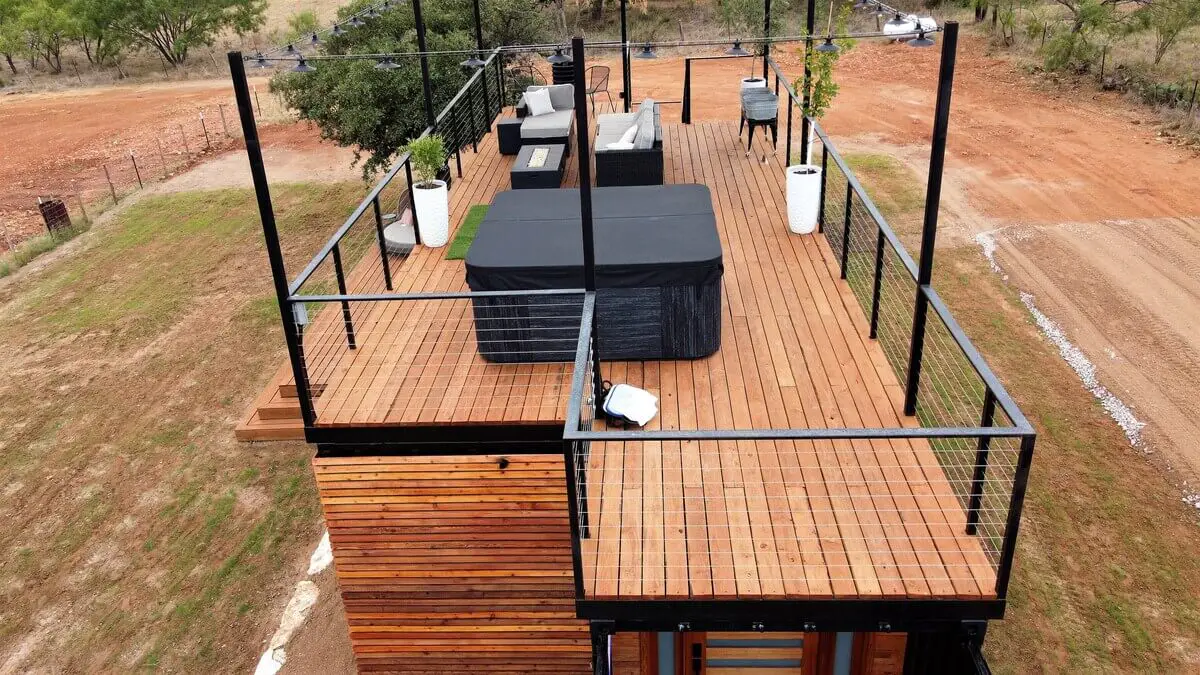 What's not to love about this outdoor retreat?
You'll be basking under the stars and enjoying your own private hot tub, complete with an elegant fire table for entertaining guests.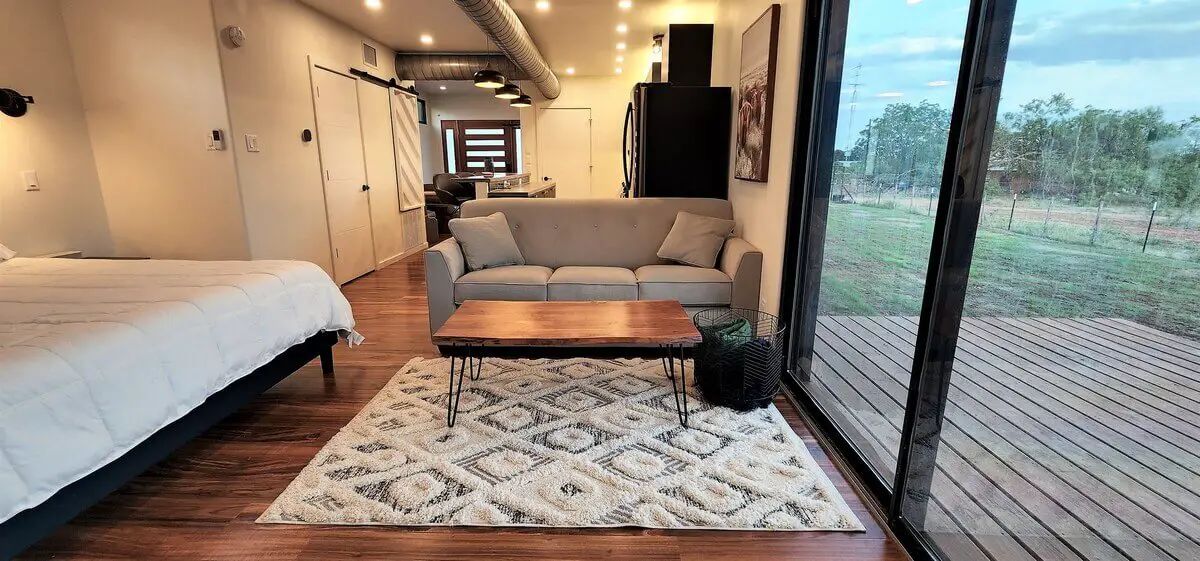 With plenty of space inside so you can kick back or get some work done while soaking up that Texas sunshine – it doesn't get much better than this!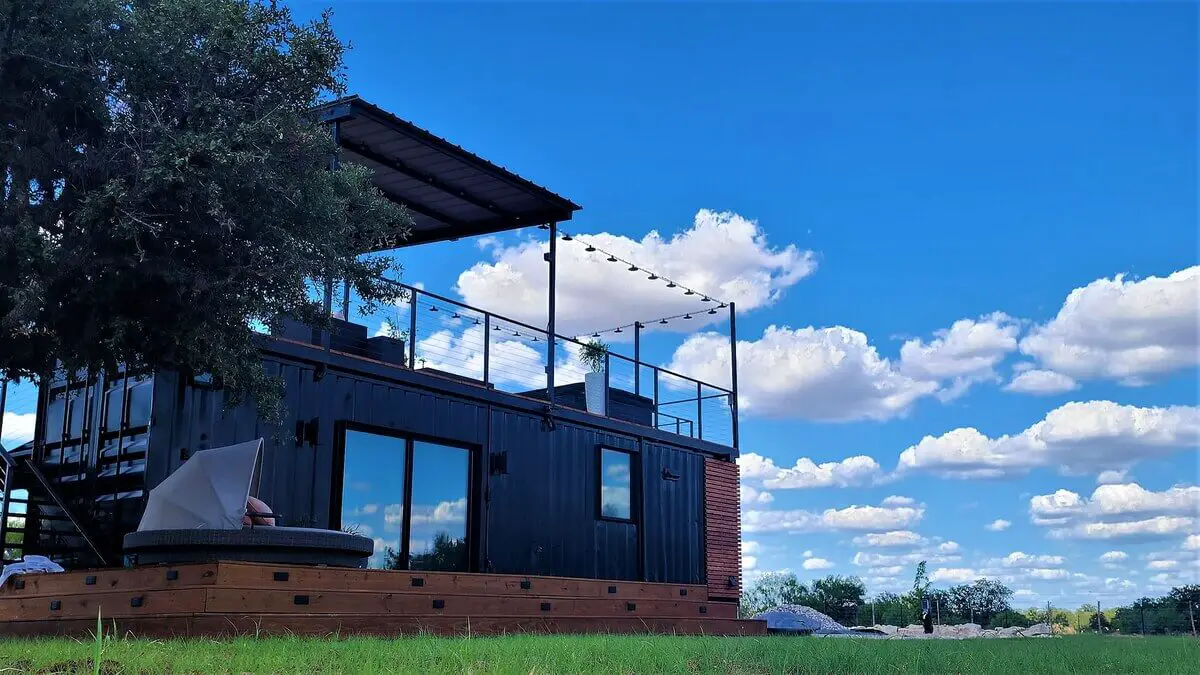 Stylish Black Shipping Container House with Wood Tone Accent Exterior
The exterior of this shipping container home is a beautiful sleek black with wood tone accents. There's also plenty more to love on the inside- including an inviting yard full native grass, lots wildlife and even some parking space!
This is a perfect place for a romantic getaway for couples, families, or great for small groups of 3-4. A second bed is available that folds out from the sofa and easily inflates creating a very comfortable queen size bed. There is also a TV available that has a full swiveling mount to adjust to your desired viewing position.
What are you waiting for? The perfect getaway awaits!
If you're looking for an interesting and unique accommodation option, why not try spending a night in an actual shipping container? This Shipping container home for just $319 a night.
So if you're interested in learning more about shipping container homes, be sure to check out the Living in a Container today! What are your favorite shipping container homes?
Follow Living in a Container on Facebook, Instagram and Pinterest for more stories like this. If you have a story to share, email us at [email protected].