Hello dear readers of Living in a Container,
We realize we've been rather silent lately, and for that, we apologize. Circumstances beyond our control have limited us from bringing you the usual array of fascinating container house examples this month, but we're back on track now!
Today, we're thrilled to introduce you to a unique shipping container conversion located in the serene Boulder Creek, California, United States. This one-of-a-kind dwelling, aptly named 'Fynix', is an architectural marvel that beautifully blends sustainability with luxury.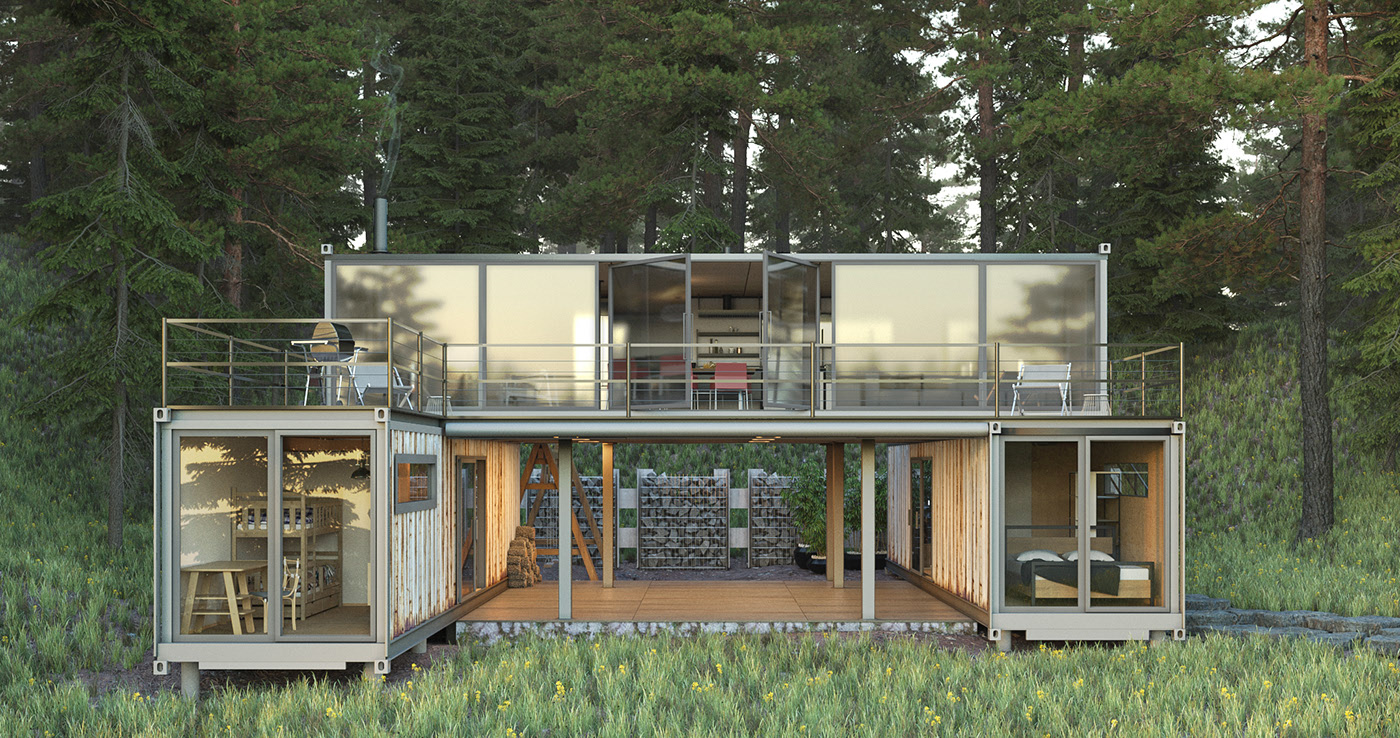 As you feast your eyes on Fynix, you might find yourself reminiscing about a similar container house design we featured years ago. The resemblance is uncanny, indeed, with the only notable differences being subtle exterior details.
Now, let's dive into some specifics.
Fynix is the product of four repurposed shipping containers. On the ground floor, you'll find three 20ft recycled shipping containers meticulously arranged. Ascend to the upper level, and you're greeted by a single, expansive 40ft shipping container.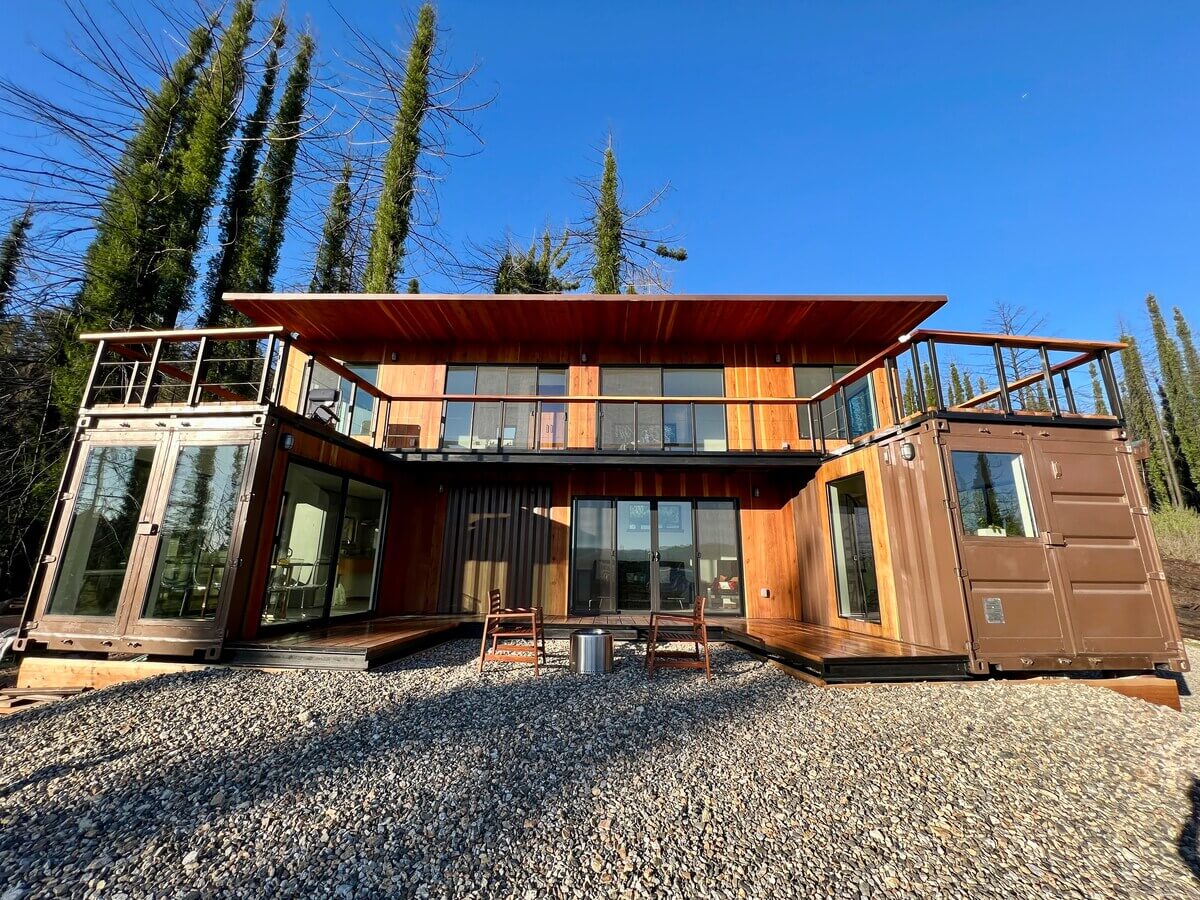 The exterior of Fynix is a harmonious blend of brown facade paint and wooden cladding, a choice that lends the house an appealing rustic aura. Despite its recent construction, the brown paint gives the house an enchanting touch of antiquity.
One of the most striking features of Fynix is its generous use of glass, both on the ground and upper floors. This strategic design choice results in an abundance of natural light streaming into the house, creating a bright and welcoming interior environment.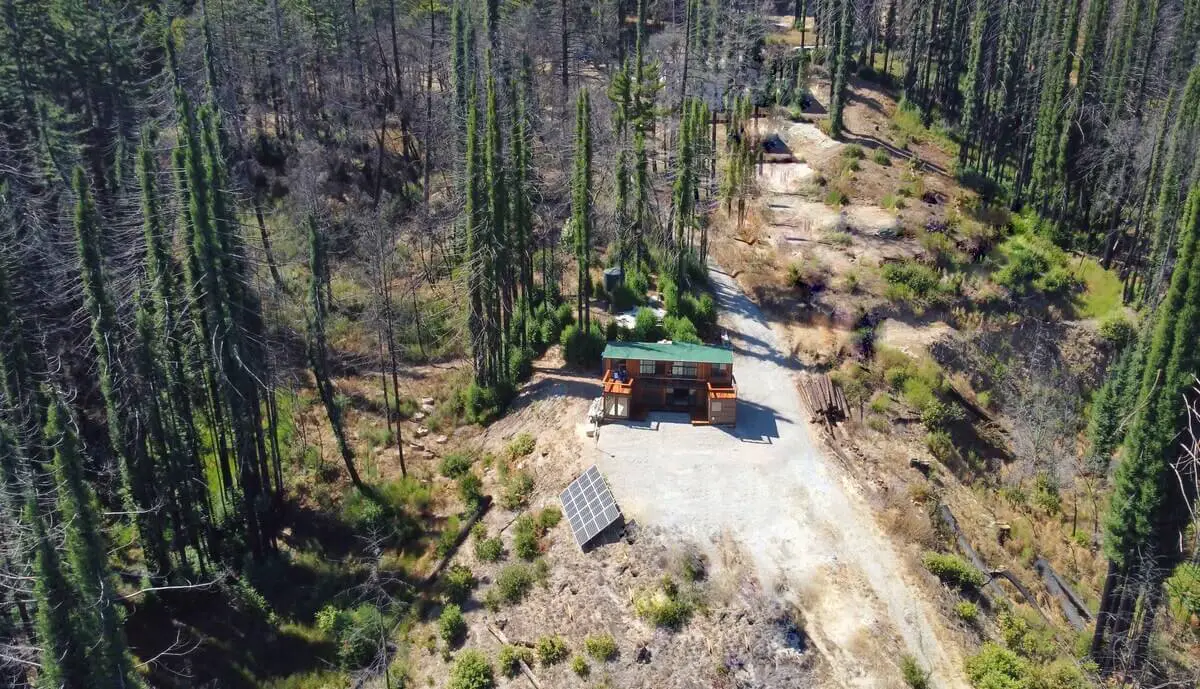 Nestled in a lush forest, the location of Fynix is as captivating as the house itself. Here, tranquility reigns, offering an ideal retreat for those seeking respite from the hustle and bustle of modern life.
Fynix boasts one bedroom and two bathrooms and can comfortably accommodate up to four people. For those interested in experiencing this unique living space, the accommodation price is $250 per night.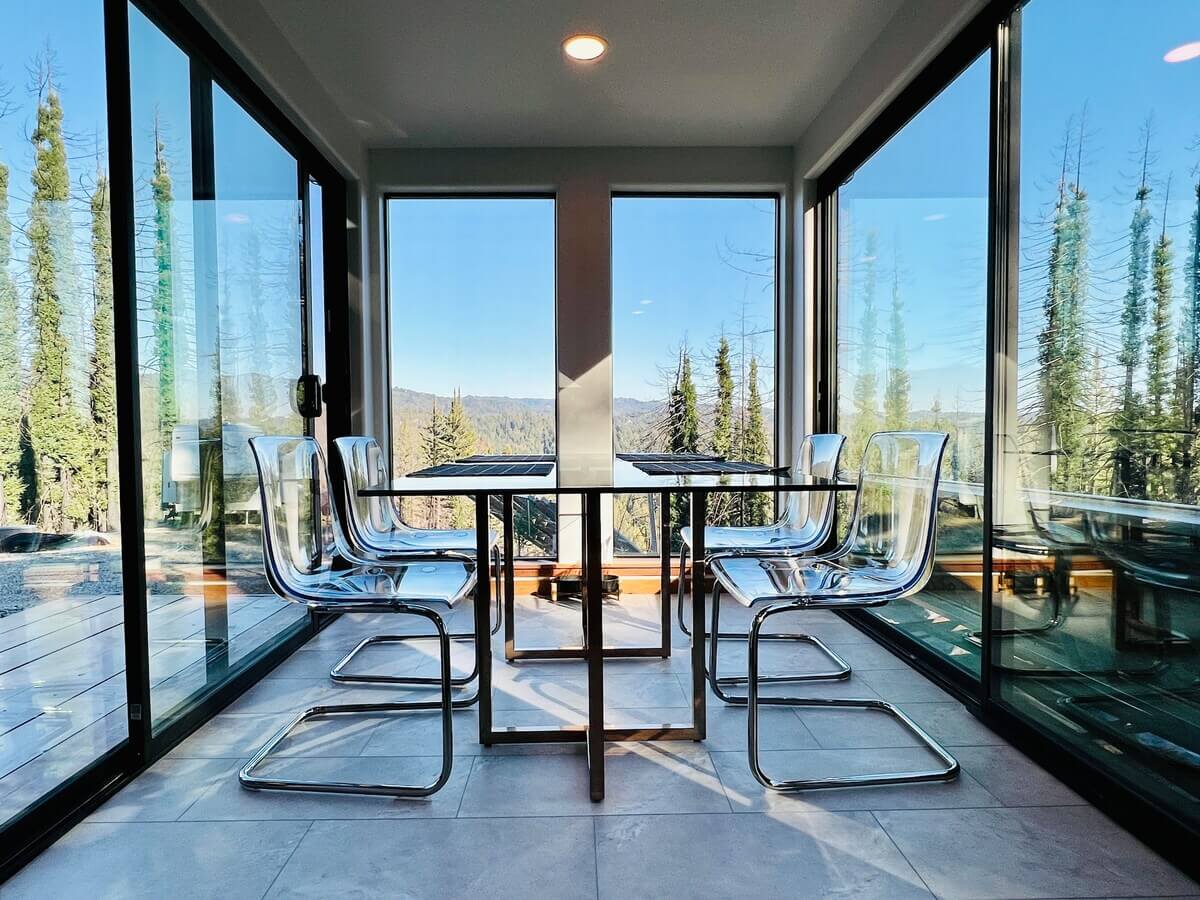 The interior design of Fynix is a testament to quality and elegance.
The two-story container house features a tasteful selection of wooden details and high-quality materials, resulting in a warm and inviting atmosphere.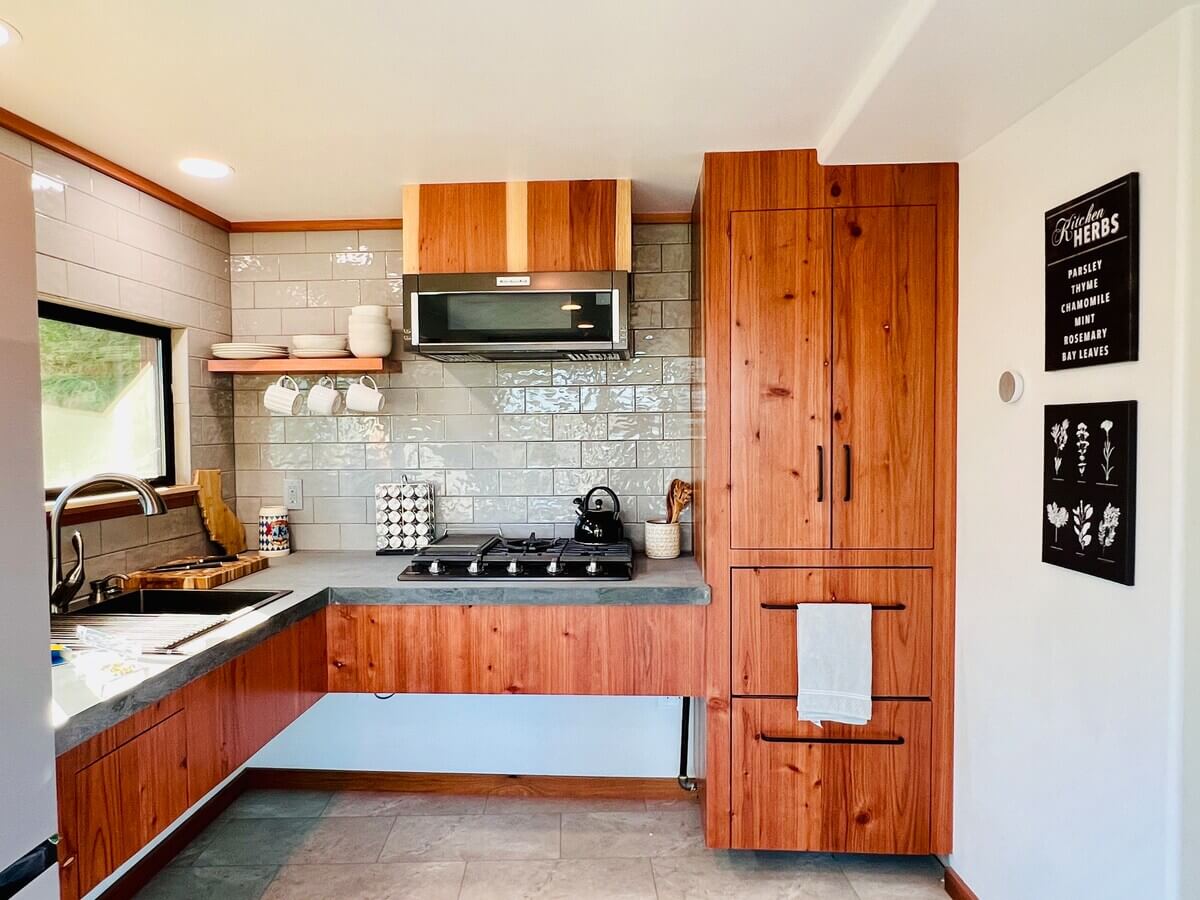 On the ground floor, you'll find a cozy living room equipped with a sofa bed that can sleep two people. There's also a full bathroom with a shower, a fully-equipped kitchen complete with a gas stove, microwave, dishwasher, and fridge, and a dining room that seats four. Additionally, there's an office/entertainment room featuring a desk, computer monitor, and TV. Outdoor amenities include a firepit and seating area.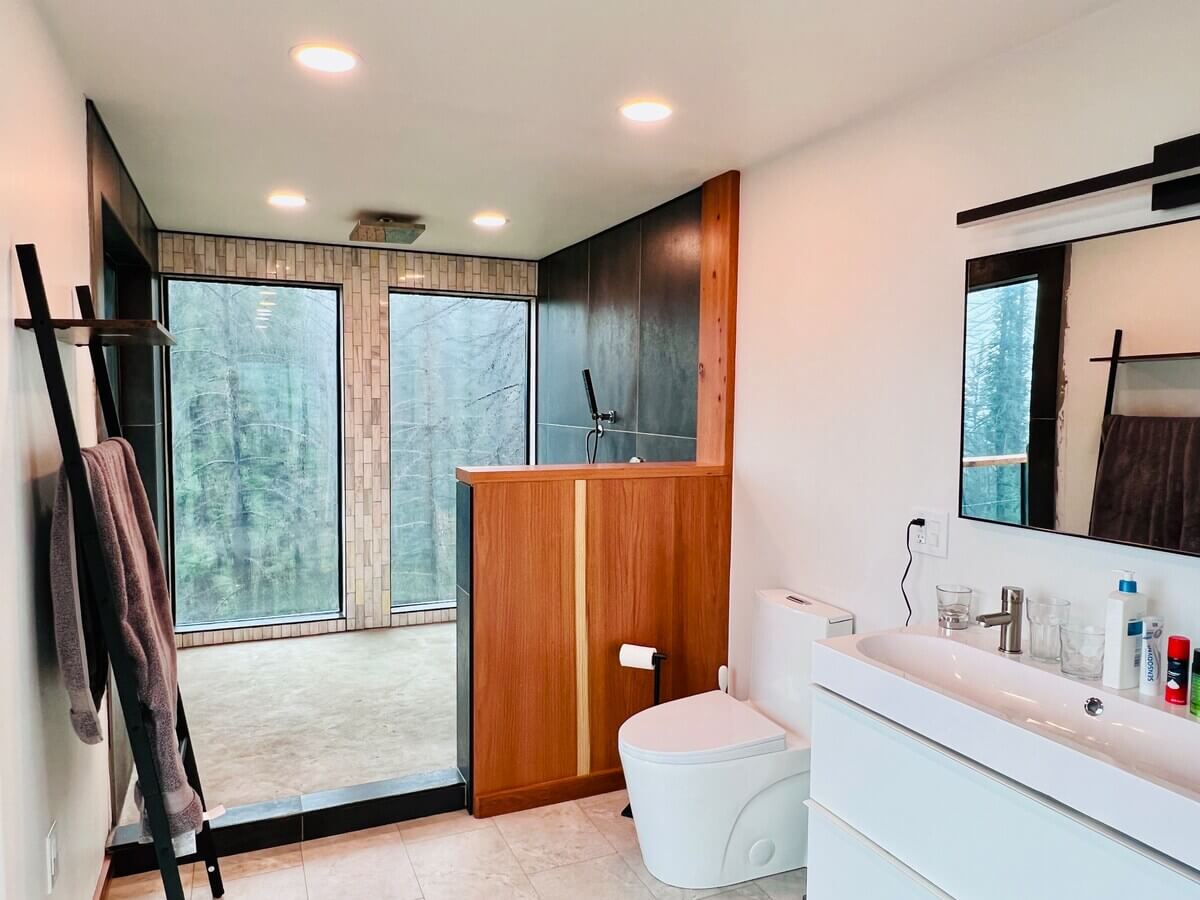 The upper floor houses the master bedroom with a queen bed, a full bathroom featuring an oversized rainforest shower, and a washer/dryer combo. You can also unwind in the outdoor lounge on the upper deck.
One of the unique highlights of staying at Fynix is the off-grid living experience it offers. This mountain retreat immerses you in a natural environment teeming with lush forest and diverse wildlife—an opportunity to disconnect and reconnect with nature.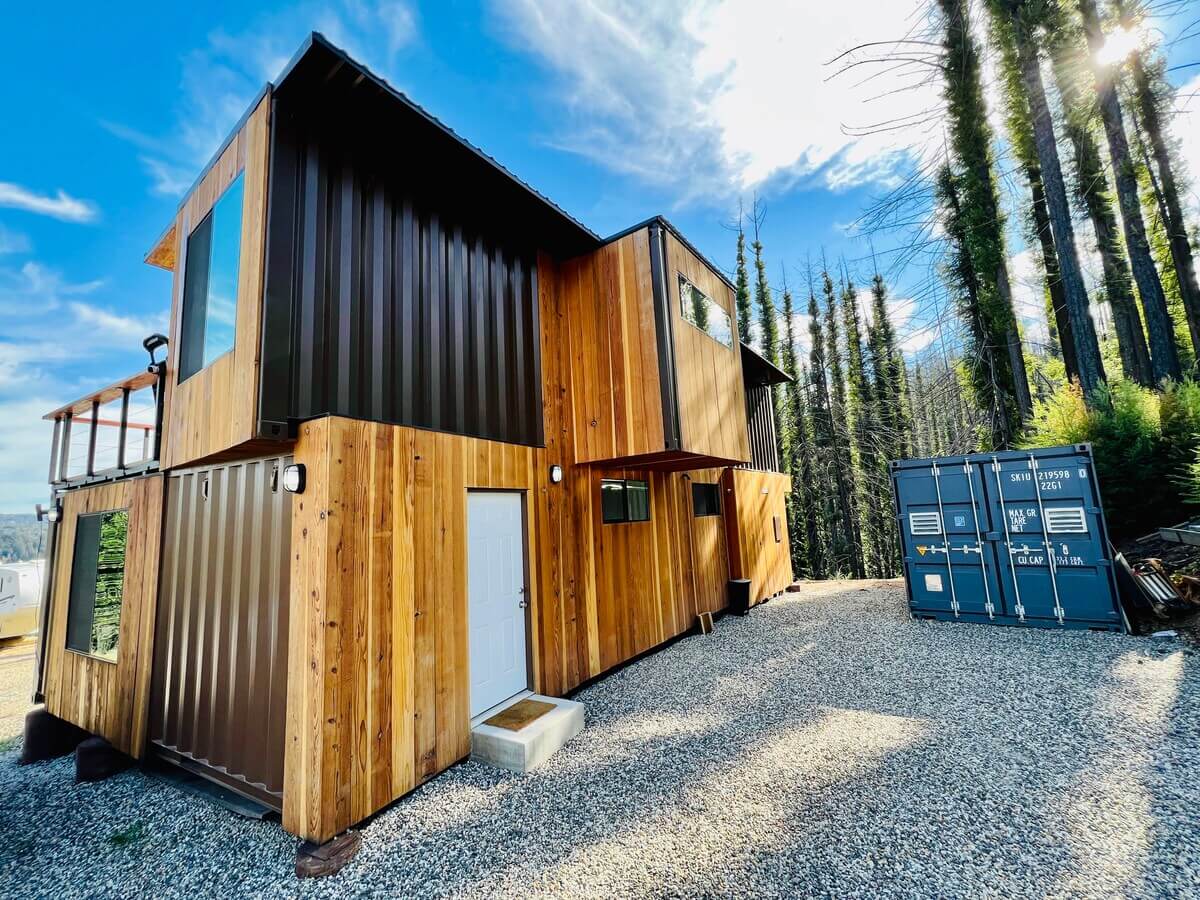 Container homes continue to gain popularity for their innovative design and eco-friendly credentials. If you're considering building a container house, be sure to explore the hundreds of models featured on our blog for inspiration.
Until next time, keep dreaming, planning, and building!
If you want to see more container houses, you can check the links below.
25+ Creative And Inspiring Container Houses
Brilliant Shipping Container Conversion
Life Uncontained Shipping Container Home
2 x 40ft Shipping Container Home
Love what you see? Share your home makeover with us and we'll feature it on our blog.
Email us at [email protected] and tell us about your project.
For more container home improvement and renovation ideas, click here.