You've probably seen shipping container houses pop up all over your social media feeds, right? And I bet it's got you thinking about buying some land and building your very own container home. Well, guess what? You're in the right spot!
We've got thousands of container house designs for you to explore, so get ready to turn that dream into a reality. In this post, we'll be showcasing a super cool single-container home designed by moar.estudio – and trust me, it's one you won't want to miss!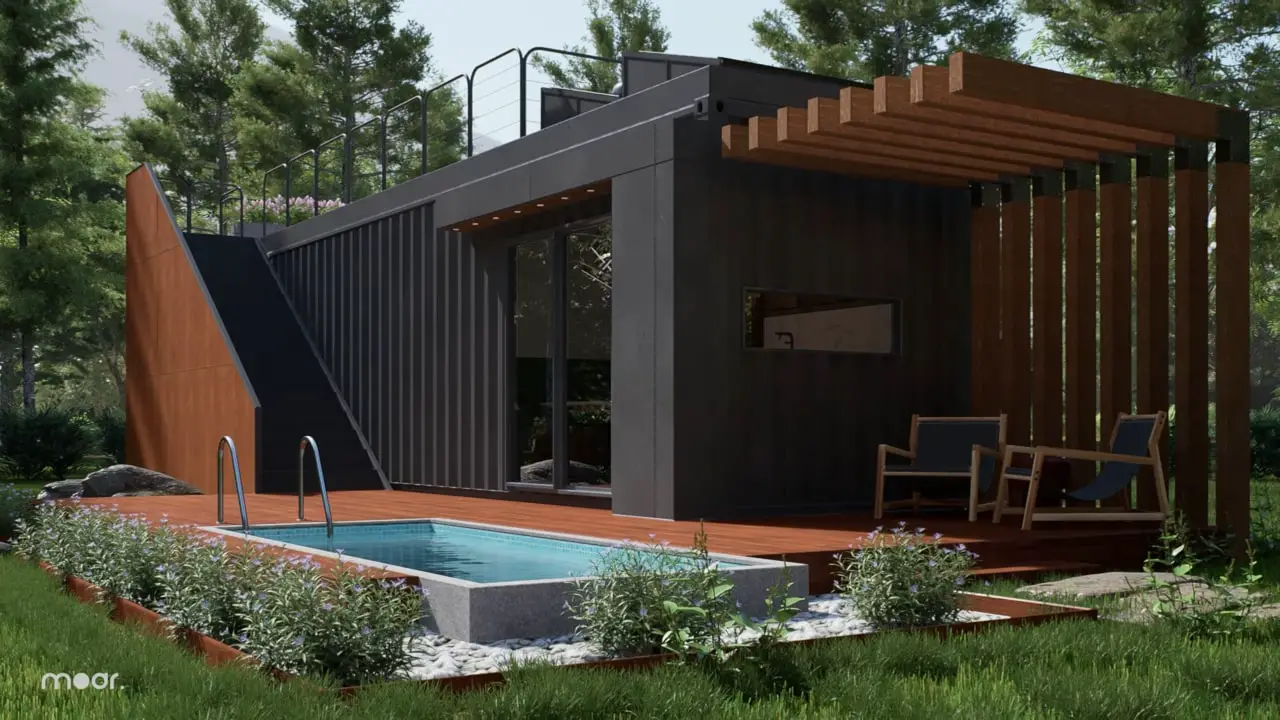 One Bedroom Shipping Container House Design – A Quiet Place to
Live, built from a 40 ft high cube shipping container. This awesome design features a bedroom, bathroom, kitchen, and even a rooftop space.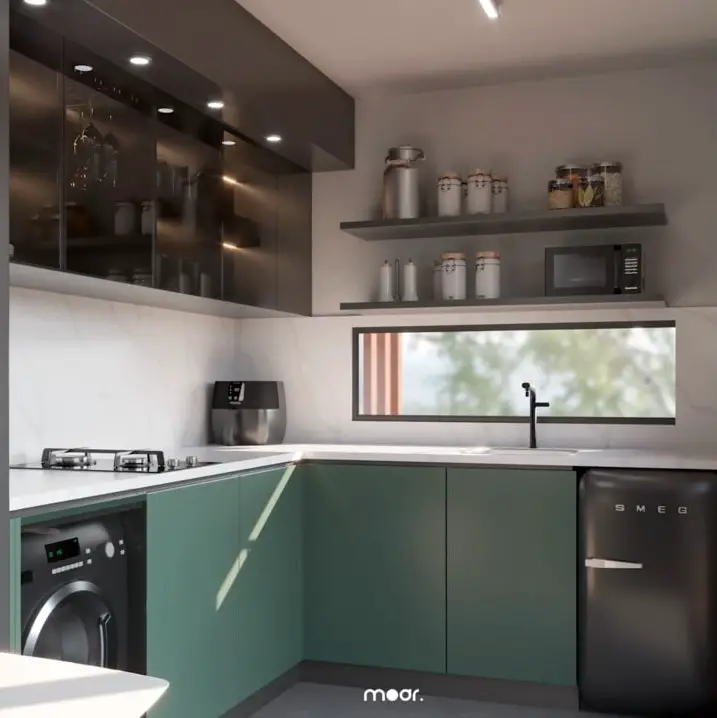 The interior has a modern and minimalist vibe, with a stylish combo of green, white, black, and wood in the kitchen, while the bathroom rocks a sleek mix of concrete, black, and wood.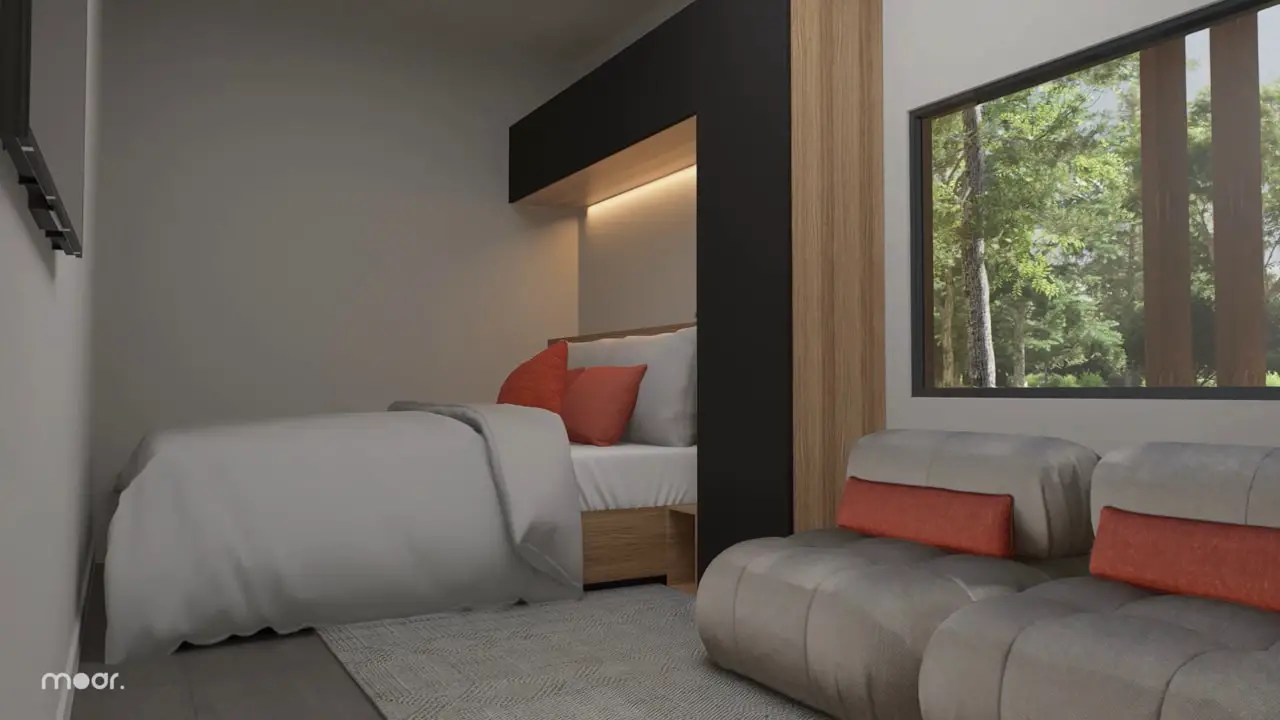 The bedroom is a cozy retreat with ample natural light and storage solutions, ensuring a comfortable living experience.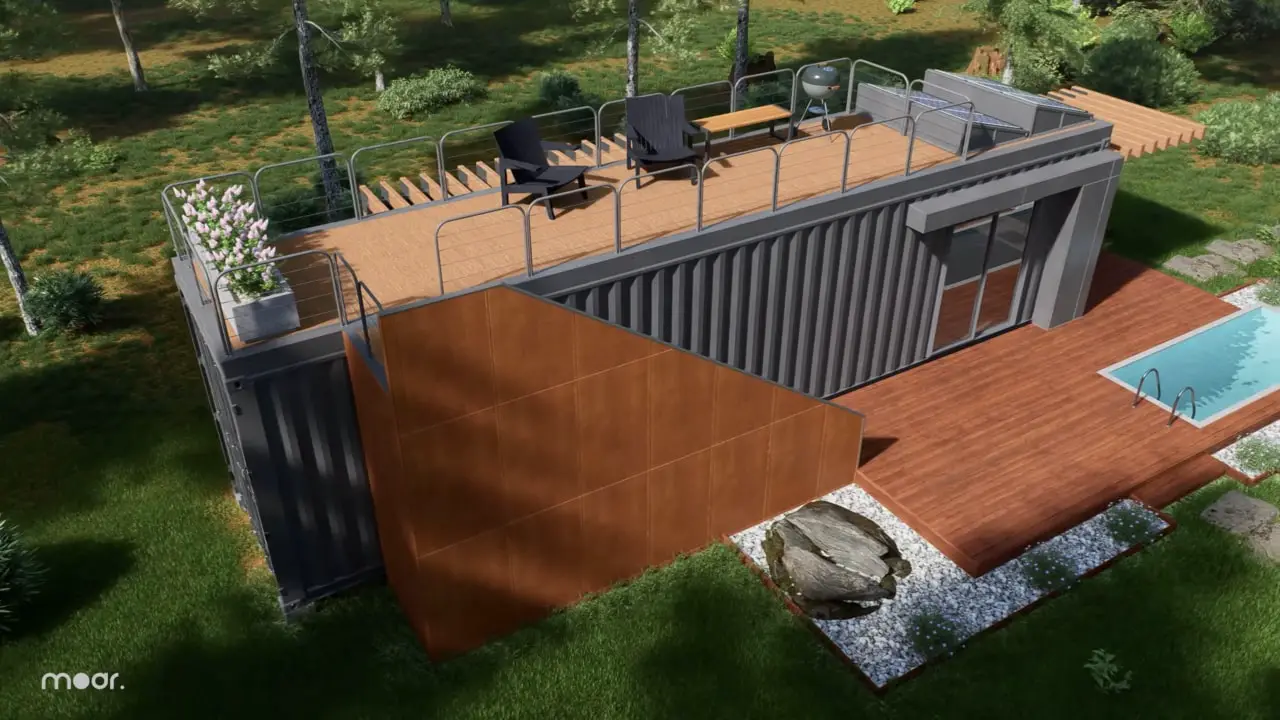 Now let's talk about the exterior – it's a showstopper!
With contrasting black paint, corten steel, and wood, this container home is truly one-of-a-kind. The corten steel and wood wrap around the entire container, tying the whole look together.
But wait, there's more! The rooftop addition is a game-changer, offering stunning views and extra space to kick back and relax.
The staircase leading to the roof not only adds visual interest but also serves as a clever storage solution. It's these little details that make this container home stand out from the crowd.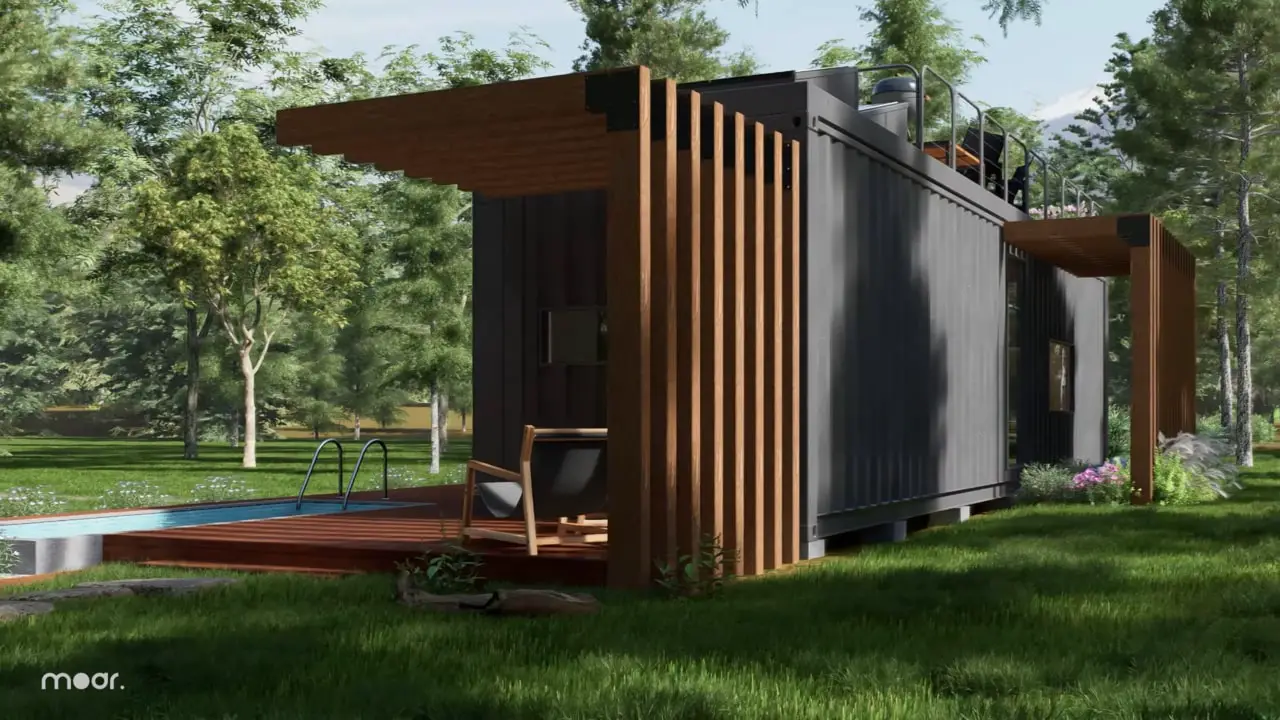 And let's not forget about the wooden canopies extending across the pool area – they add a super stylish touch to this already amazing home. The pool itself is a fantastic feature, perfect for cooling off on hot days or entertaining guests.
Now, you might be wondering why shipping container homes have become so popular. Well, there are several reasons!
For starters, they're eco-friendly since they repurpose used shipping containers that would otherwise go to waste.

Plus, they're often more affordable than traditional homes, making them an attractive option for budget-conscious buyers.

Container homes also offer a unique aesthetic, boasting an industrial yet modern look that's sure to impress.

But that's not all – shipping container homes are known for their versatility and adaptability. You can customize the layout to suit your needs, whether it's a single-container tiny home or a sprawling multi-container mansion. The possibilities are truly endless!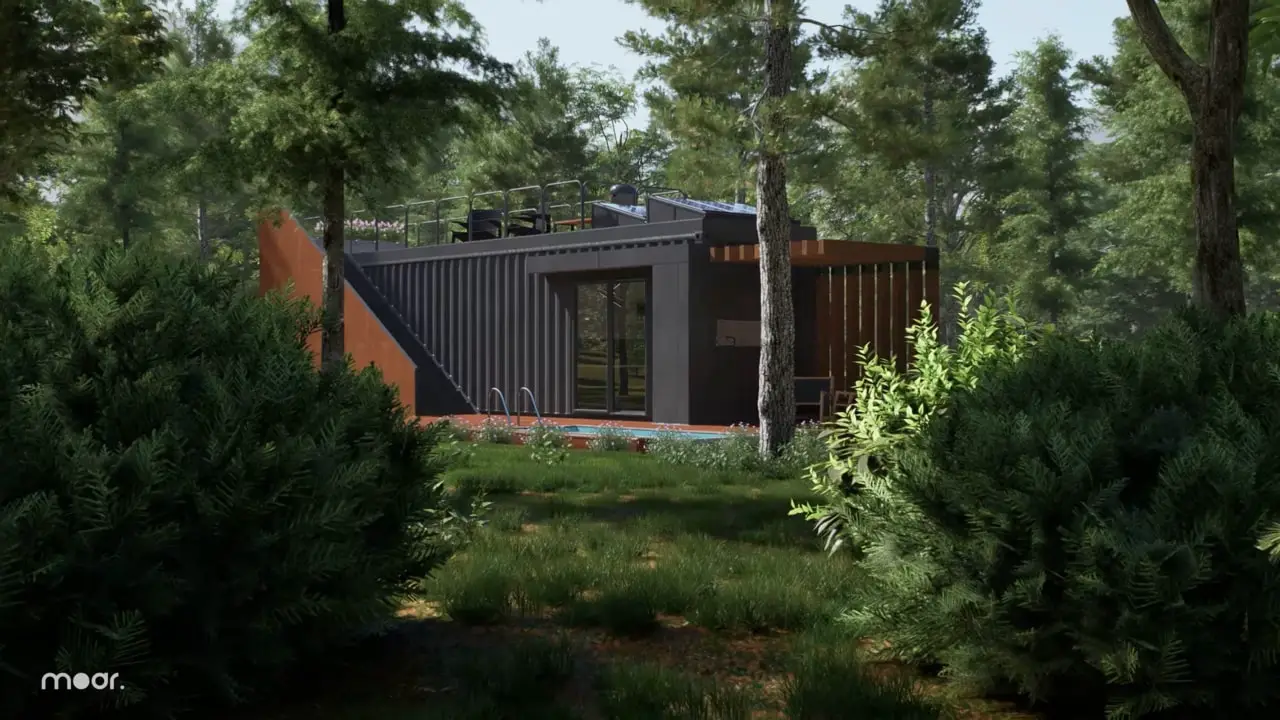 Container homes are making waves across the globe, with more and more local governments easing their permit policies for these unique dwellings.
So, if you're dreaming of building your very own metal box abode, be sure to check out the hundreds of models on our blog – you're bound to find something you love!
In addition to the design we've showcased today, there are plenty of other styles and configurations to choose from. Some popular options include two-story container homes, modular designs that can be expanded over time, and even off-grid container homes for those seeking self-sufficiency.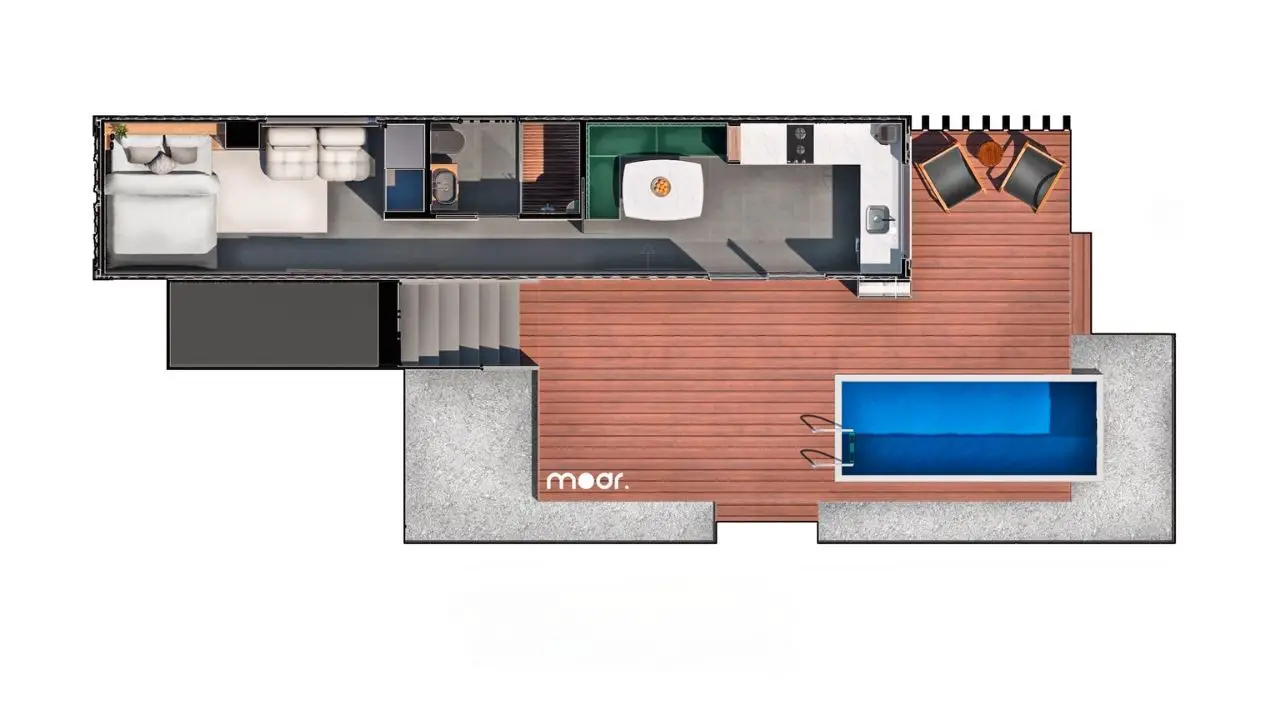 To get started on your container home journey, you'll need to do some research on local building codes and regulations, as well as secure a suitable piece of land.
From there, you can work with an architect or designer to bring your vision to life, or even opt for a pre-fabricated container home that can be delivered to your site, ready to move in!
So, what are you waiting for? Dive into the exciting world of shipping container homes and discover the incredible potential these metal boxes have to offer.
With a little creativity and determination, you'll be well on your way to creating a one-of-a-kind living space that you can truly call your own.
Follow Living in a Container on Facebook, Instagram and Pinterest for more stories like this. If you have a story to share, email us at [email protected].